Detox! Leave Your Bad Habits! #thoughtfuldailypost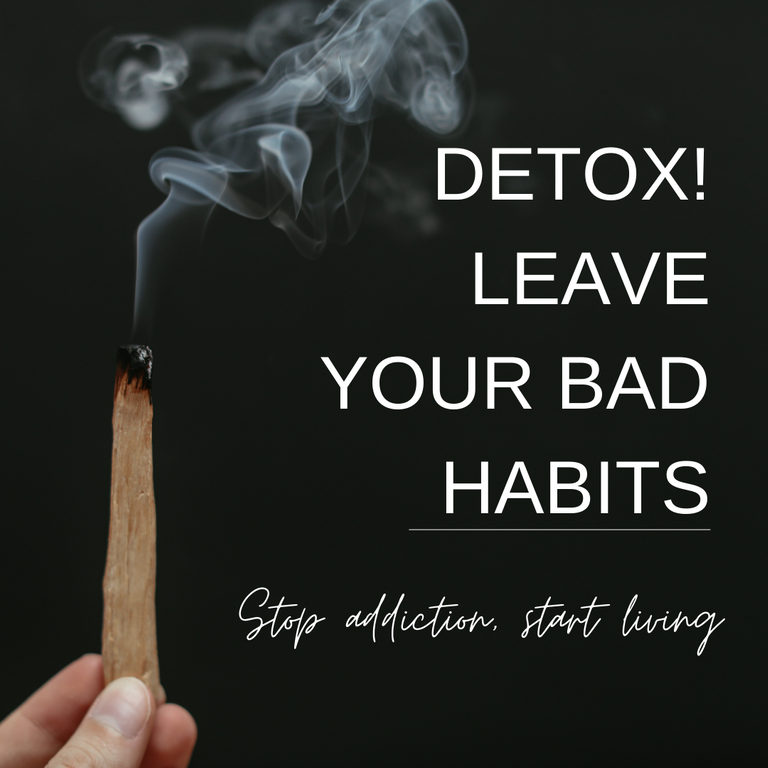 MADE WITH CANVA PRO
DETOX
The detox term is "to stop taking unhealthy or harmful foods, drinks, and other substances into your body for a period of time, to improve your health". Detox is usually used when talking about quitting smoking and alcohol. In simple terms, it means to stop doing a particular thing for a specific period of time for specific results.
Example: If you daily smoke around 8:30 of the evening with a group of friends then every day around the same time your body will build a habit of consuming cigarettes and will send signals to your brain. In Detox of smoking, you can start having gum at 8:30 and stop hanging out with the same friends. A plus point is if you engage your brain in healthy activities like sports.
Simplest Explaination:
Now we will use the DETOX method word but implement it outside of food consumption (It might be a made-up word). The detox method is to stop doing something for a specific period to get rid of addiction.
No Computer For You:
Hivelearner's organized a fun contest about no computer for a week, Why not I make it tough and share with you my real-life experience of not using a computer for 2 months?
I was in 3rd grade when my grandmother gifted me my personal computer. It started with runner games to racing games. Then those racing games toward the shooting and finally GTA. I started playing GTA 4 and got addicted to it. I was in 6 grade and because of this addiction whenever I studied a chapter I play GTA for half an hour. YUP, it was mid-term exams and it hardly have 5-6 chapters with usually a day or two days off between each exam. I daily go to tuition the whole year and already know all the chapters. It was just me doing my revision. My best friend always gets 1st position. It had the pressure of studies to perform better. I got addicted to GTA 4 too much that I was even playing in dreams. Yes, you heard it right even doing exams I played GTA 4 while sleeping. Before I start playing GTA in real life (xD) killing people, I started the DETOX method.
I chose the most difficult time for doing this. I was at my aunt's home for 2 months for summer vocations. I had no friends and only had a computer. The twist is computer was installed with GTA 5. I really wanted to try out GTA 5 but I was feeling bad about how I got addicted to GTA 4. Ironically my cousin played GTA sometimes in front of me. It was Ramazan month so we were fasting. It was hard to pass the day with no food and no entertainment. Still, not only I didn't play GTA but also I didn't use a computer during that whole 2 months period. Because of boredom, I go out and made some friends. It was me watching the world silently. I got used to the new routine and learned a lot. My social engagement was at its peak. two months ended and I stopped having dreams of playing GTA. Now, I could finally focus on my studies without being distracted.
Conclusion:
I shared my personal story with you all so those who have any kind of addiction can fight your addiction. Addiction can be even watching movies, it doesn't have to be drugs. I hope this Detox method will help you build good habits. Just do or don't do anything for 60 days strictly and you will see changes in your physical or mental health.
---
---