Is This The Future Of Coffee
Another question that would come to mind would be,
Are baristas going to be obsolete?
Well, they might as well be in the future. Love or hate it with the advancement of technology, somebody out there will figure out how to create a self-serving coffee machine that serves it just like how it's done at the cafe.
I know that usually self-serving coffee perhaps doesn't have the best beans, uses instant coffee, makes crappy coffee and all that but Tao-bin figured out how to solve those problems and offers new ways to bring coffee 24/7 in a much more economical and faster way than cafe.
The machine is disrupting the coffee and cafe industry and makes us rethink the way we see coffee and perhaps, cafe experience as a whole. Personally, I never see coffee just as a drink but rather as an experience but if you only see coffee as a beverage to get our caffeine addiction fixed, I am sure there is no need for a cafe especially with the self-serving coffee machine from a company called Tao-Bin.
When I discovered the machine, I was amazed. It made me rethink about the cafe industry in the future. To put it simply, Tao-bin is simply a vending machine that does not only coffee but also tea, protein shakes, smoothies, and water.They also serve some interesting coffee selections where they mix lychee with americano and also thai coffee. They have the menu printed on each side of the machine but for reference, here is their full menu Tao-Bin Menu.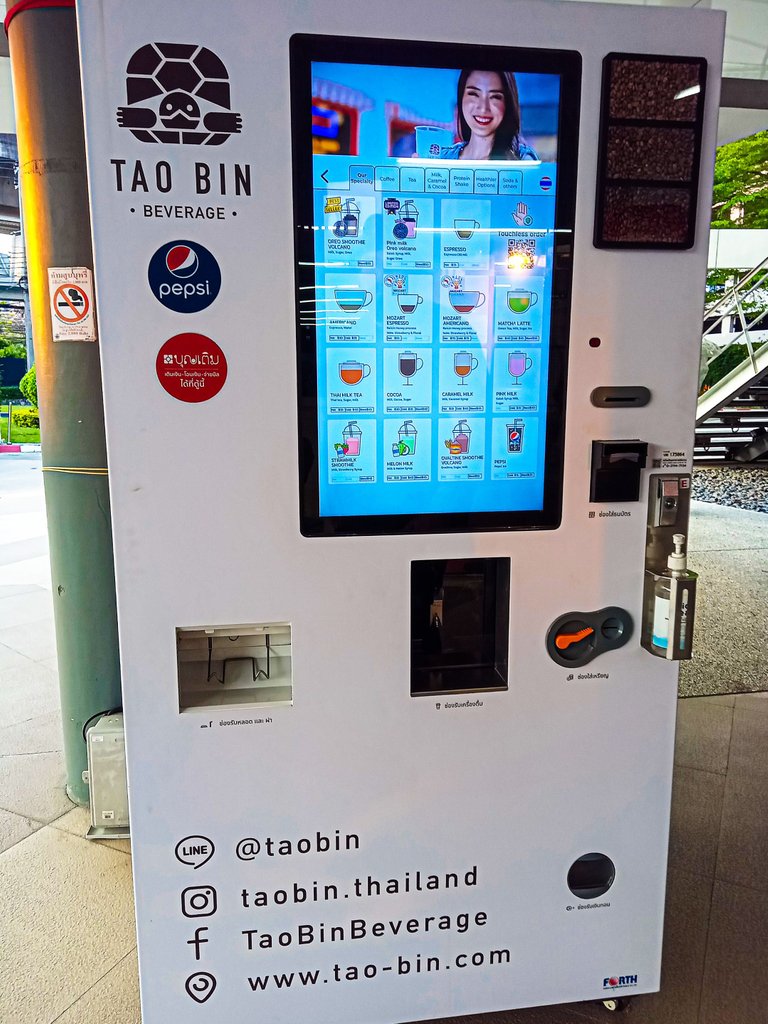 What's even crazy is that you can choose the level of sweetness and mix-matched it with toppings that you might like. Essentially, it's simply just like in a modern cafe where you can choose, hot, cold, blended and even make frappes from the machine. Except this machine does it faster and with extra conveniences for modern living.
What if you're picky about beans and a coffee connoisseurs ?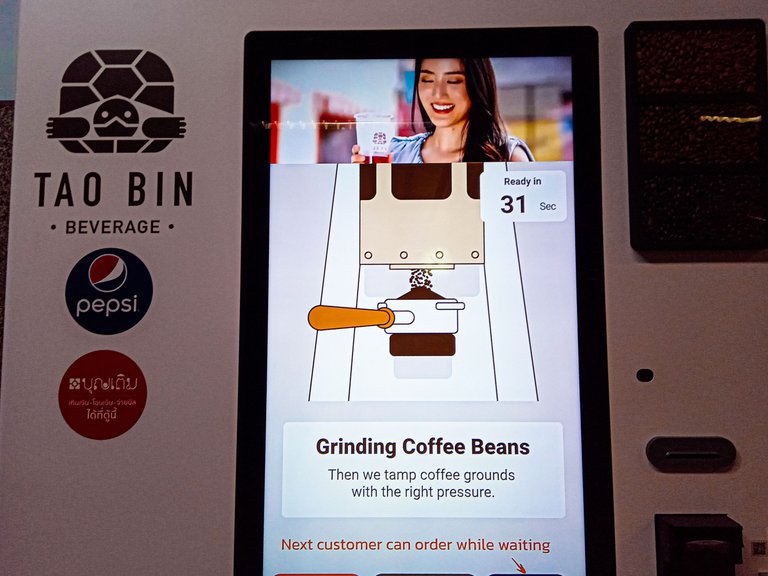 In many vending machines, they sell instant coffee and with some lower quality coffee but Tao bin thus far offers premium beans. They use arabica mostly locally sourced but also beans options from other countries if you opt for single origin and light roast series. You can find all their beans options here Tao-Bin coffee options. So, you should have no worries about the beans that they are using because it's not just some instant coffee. It's coffee made with selected beans with different types of acidity and boldness.
Is it easy to use?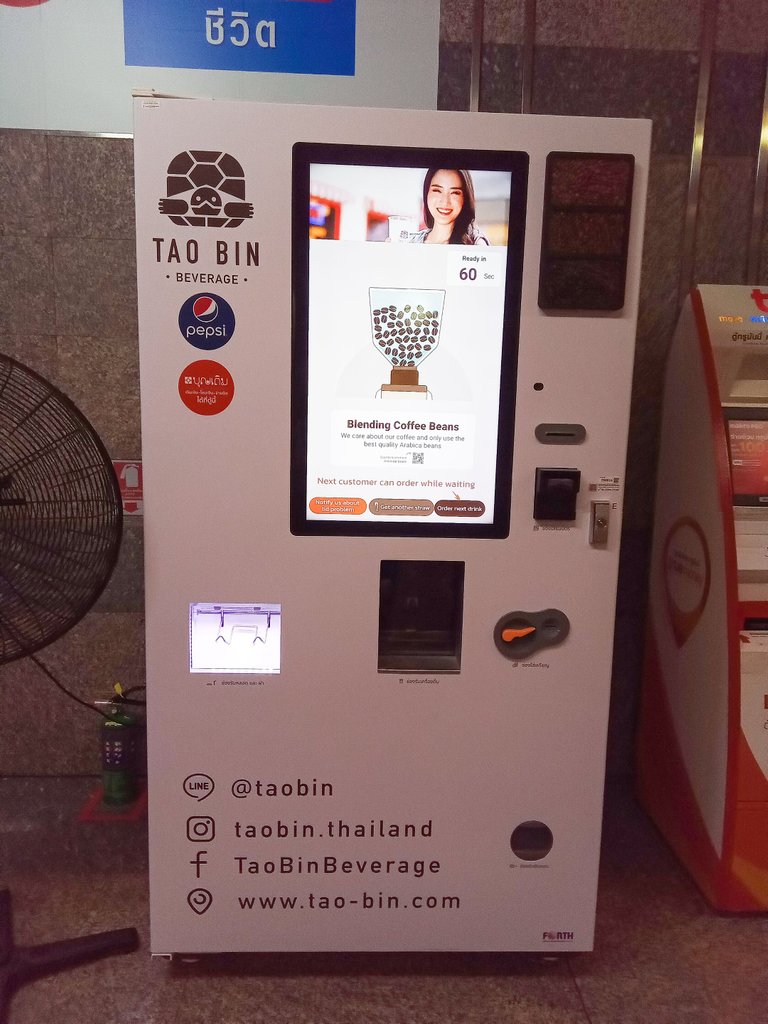 The machine comes with dual languages, Thai and English. Their user experience is pretty seamless and easy to use. You just have to pick the drinks that you want, customise it, and get the lid and the straw. They have an app but as a foreigner, you can simply opt for getting the change instead keeping it as a credit.
When it comes to pricing, they are slightly more expensive than local cafes but cheaper than Starbucks and Coffee in upscale places. With only 35 BATH, you could get some decent hot americano. There are also a few payment options that are customised to urbanised living in Thailand but as a foreigner, they also do cash which is extremely convenient.
If you don't like dealing with baristas or people in general, I think that this is your best bet to get a coffee. The Robotic barista will cater your needs especially if you enjoy coffee as is rather than the experience itself.
I personally have used it a few times and am always excited when I can find one because it's fast and somehow does the job. What I find interesting in Thailand is that the Starbucks is often too crowded and it's not my thing to work from a crowded place. They also have uncomfortable chairs and tables without adequate sockets. When it comes to cafes over here, some that I glanced over have small tables and I am sure they don't appreciate anyone opening up their laptop with full gears on. This is why, when it comes to coffee, I rely on Tao-bin and work from wherever I feel comfortable.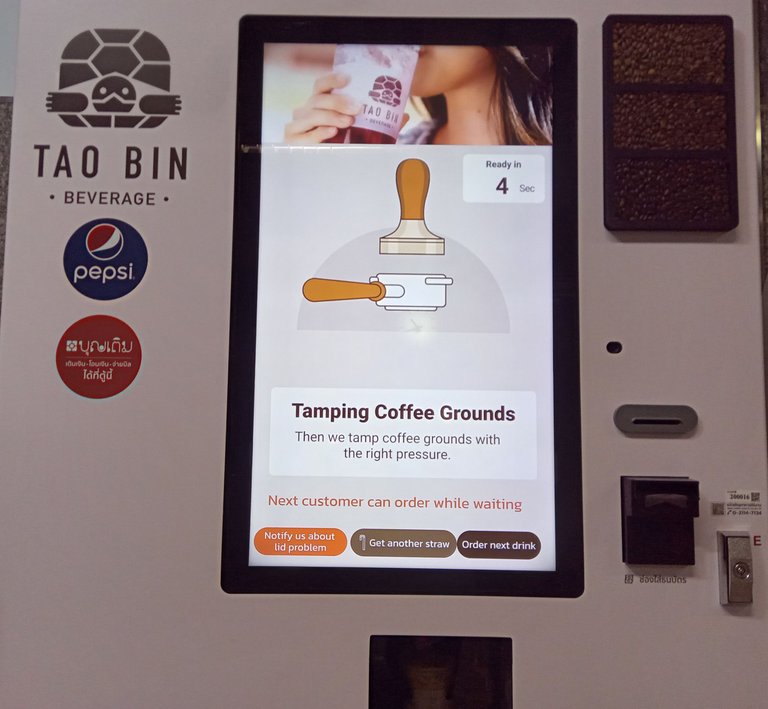 Tao-bin once again also makes me rethink about the future of barista but fortunately, I think this is only available in Thailand. Though with the conveniences that it has, I hope that it will be available abroad very soon and it seems like their team is looking for investors and expanding their business outside of Thailand. If they start popping out everywhere, I am sure personally there's no need for a lousy cafe with bad coffee and dealing with a bad barista attitude.
I have tried a couple of their coffee and they were always done well especially with the sweetness that I picked. Sometimes I didn't really put much sweetness in it and it tasted quite bitter which is actually pretty fine but it just tastes way better with more sugar. As I mentioned before, since their beans aren't instant coffee, it actually tastes really great and it doesn't have that "instant" coffee taste but just coffee made by a barista but it's made by a robot.
Considering everything, Taobin is really worth checking out. If you're in Thailand, check out one of these machines and don't forget to try the coffee, tea, or even protein shakes that you fancy.
Roaming For Roast is my newest series about all-things-coffee experience. If you enjoy coffee and cafe experiences, don't miss out on this series.

Don't hesitate to upvote for more content like this ! You can also support me below!

---
𝘔𝘢𝘤 𝘪𝘴 𝘢 𝘴𝘦𝘭𝘧-𝘦𝘮𝘱𝘭𝘰𝘺𝘦𝘥 𝘯𝘪𝘯𝘫𝘢 & 𝘤𝘰𝘧𝘧𝘦𝘦 𝘤𝘰𝘯𝘯𝘰𝘪𝘴𝘴𝘦𝘶𝘳 . 𝘈 𝘵𝘺𝘱𝘪𝘤𝘢𝘭 𝘪𝘯𝘵𝘳𝘰𝘷𝘦𝘳𝘵 𝘪𝘯 𝘭𝘰𝘷𝘦 𝘸𝘪𝘵𝘩 𝘭𝘪𝘵𝘦𝘳𝘢𝘵𝘶𝘳𝘦, 𝘣𝘰𝘰𝘬𝘴, 𝘵𝘦𝘤𝘩𝘯𝘰𝘭𝘰𝘨𝘺 𝘢𝘯𝘥 𝘱𝘩𝘪𝘭𝘰𝘴𝘰𝘱𝘩𝘺. 𝘛𝘩𝘪𝘴 𝘪𝘴 𝘩𝘦𝘳 𝘱𝘦𝘳𝘴𝘰𝘯𝘢𝘭 𝘣𝘭𝘰𝘨, 𝘢 𝘳𝘦𝘧𝘭𝘦𝘤𝘵𝘪𝘰𝘯 𝘰𝘧 𝘩𝘦𝘳 𝘸𝘢𝘯𝘥𝘦𝘳𝘭𝘶𝘴𝘵 𝘢𝘯𝘥 𝘵𝘩𝘪𝘳𝘴𝘵 𝘧𝘰𝘳 𝘬𝘯𝘰𝘸𝘭𝘦𝘥𝘨𝘦. 𝘚𝘩𝘦 𝘰𝘧𝘵𝘦𝘯 𝘤𝘰𝘷𝘦𝘳𝘴 𝘣𝘰𝘰𝘬𝘴, 𝘮𝘰𝘷𝘪𝘦 𝘢𝘯𝘥 𝘴𝘦𝘳𝘪𝘦𝘴 𝘳𝘦𝘷𝘪𝘦𝘸𝘴, 𝘵𝘦𝘤𝘩 𝘳𝘦𝘷𝘪𝘦𝘸𝘴 𝘢𝘯𝘥 𝘵𝘳𝘦𝘯𝘥𝘴, 𝘱𝘩𝘰𝘵𝘰𝘨𝘳𝘢𝘱𝘩𝘺, 𝘢𝘯𝘥 𝘱𝘦𝘳𝘴𝘰𝘯𝘢𝘭 𝘥𝘦𝘷𝘦𝘭𝘰𝘱𝘮𝘦𝘯𝘵. 𝘖𝘯𝘤𝘦 𝘪𝘯 𝘢 𝘣𝘭𝘶𝘦 𝘮𝘰𝘰𝘯, 𝘺𝘰𝘶 𝘤𝘢𝘯 𝘧𝘪𝘯𝘥 𝘩𝘦𝘳 𝘵𝘳𝘢𝘷𝘦𝘭𝘪𝘯𝘨, 𝘪𝘮𝘮𝘦𝘳𝘴𝘪𝘯𝘨 𝘩𝘦𝘳𝘴𝘦𝘭𝘧 𝘪𝘯 𝘭𝘰𝘤𝘢𝘭 𝘤𝘶𝘭𝘵𝘶𝘳𝘦𝘴 𝘢𝘯𝘥 𝘵𝘳𝘢𝘥𝘪𝘵𝘪𝘰𝘯𝘴, 𝘢𝘯𝘥 𝘵𝘢𝘬𝘪𝘯𝘨 𝘱𝘪𝘤𝘵𝘶𝘳𝘦𝘴 𝘰𝘧 𝘵𝘩𝘦 𝘣𝘦𝘢𝘶𝘵𝘪𝘧𝘶𝘭 𝘴𝘪𝘨𝘩𝘵𝘴 𝘴𝘩𝘦 𝘦𝘯𝘤𝘰𝘶𝘯𝘵𝘦𝘳𝘴 𝘢𝘭𝘰𝘯𝘨 𝘵𝘩𝘦 𝘸𝘢𝘺. 𝘚𝘩𝘦'𝘴 𝘢𝘯 𝘰𝘤𝘤𝘢𝘴𝘪𝘰𝘯𝘢𝘭 𝘧𝘰𝘰𝘥𝘪𝘦 𝘢𝘯𝘥 𝘭𝘰𝘷𝘦𝘴 𝘵𝘰 𝘦𝘹𝘱𝘭𝘰𝘳𝘦 𝘯𝘦𝘸 𝘢𝘯𝘥 𝘥𝘦𝘭𝘪𝘤𝘪𝘰𝘶𝘴 𝘤𝘶𝘭𝘪𝘯𝘢𝘳𝘺 𝘦𝘹𝘱𝘦𝘳𝘪𝘦𝘯𝘤𝘦𝘴. 𝘍𝘰𝘭𝘭𝘰𝘸 𝘢𝘭𝘰𝘯𝘨 𝘰𝘯 𝘩𝘦𝘳 𝘢𝘥𝘷𝘦𝘯𝘵𝘶𝘳𝘦𝘴 𝘢𝘯𝘥 𝘫𝘰𝘪𝘯 𝘵𝘩𝘦 𝘤𝘰𝘯𝘷𝘦𝘳𝘴𝘢𝘵𝘪𝘰𝘯! 𝘋𝘰𝘯'𝘵 𝘩𝘦𝘴𝘪𝘵𝘢𝘵𝘦 𝘵𝘰 𝘶𝘱𝘷𝘰𝘵𝘦, 𝘭𝘦𝘢𝘷𝘦 𝘢 𝘤𝘰𝘮𝘮𝘦𝘯𝘵 𝘰𝘳 𝘢 𝘧𝘦𝘦𝘥𝘣𝘢𝘤𝘬. 𝘈 𝘳𝘦-𝘣𝘭𝘰𝘨 𝘪𝘴 𝘢𝘭𝘴𝘰 𝘢𝘱𝘱𝘳𝘦𝘤𝘪𝘢𝘵𝘦𝘥 𝘵𝘰𝘰.