This publication was also written in SPANISH and PORTUGUESE.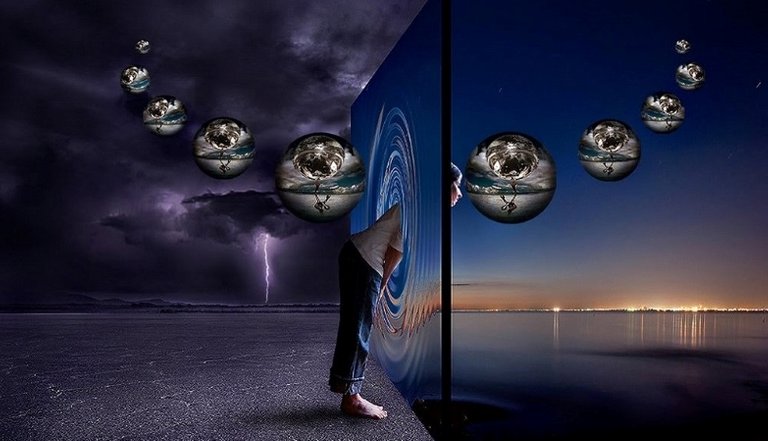 Segredos do Mundo
Whether through movies, books, music, photographs, drawings or paintings... You've certainly wondered about the existence of scenarios and people that we don't know yet (or that maybe should be part of our mind, but that we do we still don't remember). Considering the existence of another planet besides Earth, another dimension beyond which we already know or the existence of new peoples, and perhaps the other unit of time and place in space are extremely complex matters for each of us.
However, there are people who are more likely to believe all this. Studies and evidence in the territory of the "unknown" connect and reinforce the belief of those who are dedicated to studying the topic or simply believe in the existence of all these possibilities. Do we have copies out there and does the day have only 24 hours? Are there other intelligent beings living and creating their own societies somewhere that is far from our eyes? Yes, No, Maybe... Doubts.
Between certainties and assumptions, the fact is that there are much more things between heaven and earth than human beings are able to understand and that is precisely why, although I am skeptical about some subjects, I prefer to leave it to my mind open to believe what I have to believe. I hardly let myself be influenced by scientific theories or conspiracy theories about these topics, because I know that it still takes a lot of study to come up with a more concrete answer... However, I love reading about these topics.
The idea that only planet Earth exists, only our dimension or only human beings as an intelligent group of life is not something that also totally convinces me. The universe is too big, and thinking that things are that clear is perhaps a bit arrogant on our part. Nothing is certain and there are more doubts than certainties, but I prefer to remain willing to be "on the fence", and choose a side when I consider that there is already enough evidence to defend an idea / theory.
---
Mundos paralelos y realidades alternativas.
Ya sea a través de películas, libros, música, fotografías, dibujos o pinturas... Seguro que te has preguntado sobre la existencia de escenarios y personas que aún no conocemos (o que quizás deberían ser parte de nuestra mente, pero que sí sabemos). todavía no recordamos). Considerar la existencia de otro planeta además de la Tierra, otra dimensión más allá de la que ya conocemos o la existencia de nuevos pueblos, y quizás la otra unidad de tiempo y lugar en el espacio son asuntos extremadamente complejos para cada uno de nosotros.
Sin embargo, hay personas que son más propensas a creer todo esto. Estudios y evidencias en el territorio de lo "desconocido" conectan y refuerzan la creencia de quienes se dedican a estudiar el tema o simplemente creen en la existencia de todas estas posibilidades. ¿Tenemos copias y el día solo tiene 24 horas? ¿Hay otros seres inteligentes viviendo y creando sus propias sociedades en algún lugar que esté lejos de nuestros ojos? Sí, No, Quizás... Dudas.
Entre certezas y suposiciones, lo cierto es que hay muchas más cosas entre el cielo y la tierra de las que los seres humanos somos capaces de entender y es precisamente por eso que, aunque soy escéptico sobre algunos temas, prefiero dejarlo en mi mente abierta a creer. lo que tengo que creer. Difícilmente me dejo influenciar por las teorías científicas o las teorías de la conspiración sobre estos temas, porque sé que todavía se necesita mucho estudio para llegar a una respuesta más concreta... Sin embargo, me encanta leer sobre estos temas.
La idea de que solo existe el planeta Tierra, solo nuestra dimensión o solo los seres humanos como grupo inteligente de vida no es algo que también me convenza totalmente. El universo es demasiado grande y pensar que las cosas están tan claras es quizás un poco arrogante de nuestra parte. Nada es seguro y hay más dudas que certezas, pero prefiero quedarme dispuesto a estar "en la valla", y elegir un bando cuando considero que ya hay suficientes evidencias para defender una idea / teoría.
---
Mundos paralelos e realidades alternativas.
Seja através de filmes, livros, músicas, fotografias, desenhos ou pinturas... Você certamente já deve ter se perguntado sobre a existências de cenários e pessoas que nós ainda não conhecemos (ou que talvez deve fazer parte da nossa mente, mas que nós ainda não lembramos). Considerar a existência de outro planeta além da Terra, outra dimensão além da qual nós já conhecemos ou existência de novos povos, e talvez, a outra unidade de tempo e lugar no espaço são assuntos extremamente complexos para cada um de nós.
No entanto, existem pessoas que estão mais propensas a acreditar em tudo isso. Estudos e evidências no território do "desconhecido" se conectam e reforçam a crença de quem se dedica a estudar sobre o tema ou simplesmente acredita na existência de todas essas possibilidades. Será que nós temos cópias por aí e será que o dia tem apenas 24 horas mesmo? Será que existem outros seres inteligentes vivendo e criando suas próprias sociedades em algum lugar que está longe dos nossos olhos? Sim, Não, Talvez... Dúvidas.
Entre certezas e suposições, o fato é que existem muito mais coisas entre o céu e a terra do o ser humano é capaz de entender e é justamente por isso que apesar de eu ser cético em relação a alguns assuntos, eu prefiro deixar à minha mente aberta para acreditar no que eu tiver que acreditar. Eu dificilmente deixo me influenciar sobre teorias científicas ou teorias conspiratórias sobre esses temas, porque eu sei que ainda é preciso muito estudo para ter a uma resposta mais concreta... Porém, eu adoro ler sobre esses temas.
A ideia de que só existe o planeta Terra, apenas à nossa dimensão ou apenas os seres humanos como um grupo inteligente de vida não é algo que também me convence totalmente. O universo é grande demais, e pensar que as coisas são tão claras assim talvez até seja um pouco de arrogância da nossa parte. Nada é certo e há mais dúvidas do que certezas, mas eu prefiro me manter disposto a ficar "em cima do muro", e escolher um lado quando eu considerar que já existe evidência suficiente para defender uma ideia / teoria.
---
Posted via proofofbrain.io