The counterculture of diving itself had its fever around the 60s and 70s and ended up being overshadowed by other cultural waves that followed the natural process of human social evolution, thanks to numerous factors: from the change in the use of money in the following decades to the wars and conflicts that society experienced in these post-hippie periods. Even though it has "gone out of fashion", changing consciousness as a "new possible path" has been maintained as an acquired heritage of the human race, and little by little more and more serious and dedicated researchers have emerged to study the relationship between man and humankind. search for the greater meaning through the immersion in the own conscience. Not only with substances (such as Stanislav Grof, researching the alteration of consciousness through Holotropic Breathwork). Among so many great names who headed this era of pioneering the concept of "Psychonautics", we have the man who launched the theory of "Stoned Ape".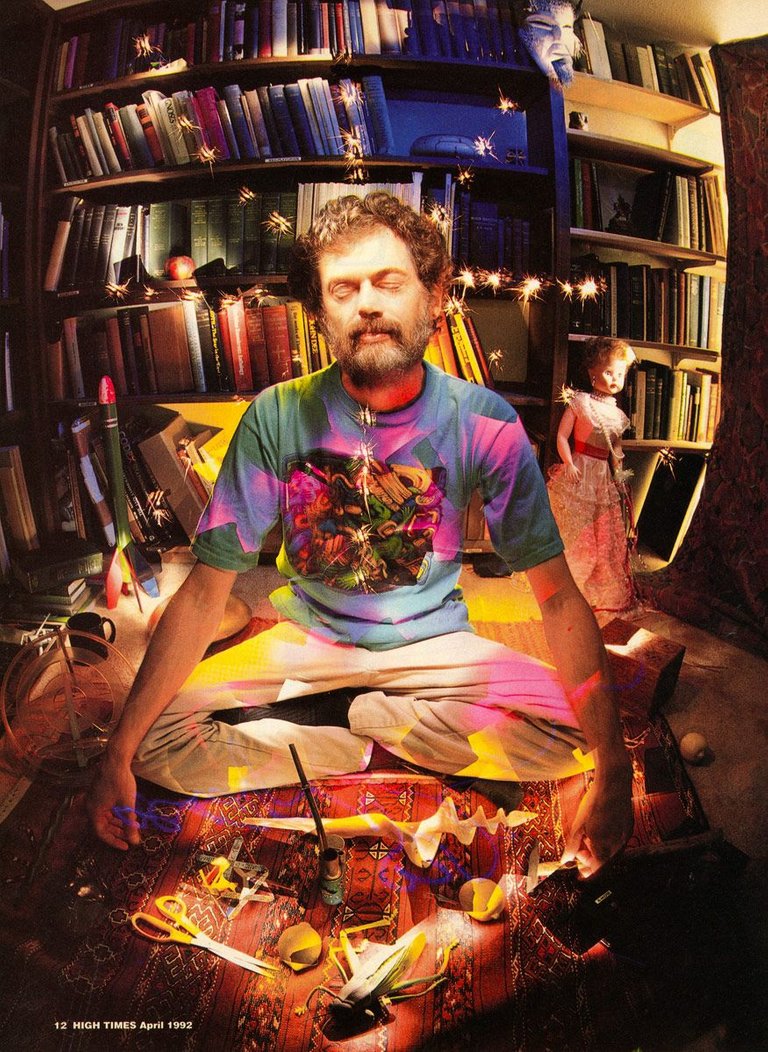 Source
Terence McKenna was called Timothy Leary of the 90s. Like Leary who advocated the importance of LSD being understood as a tool of human evolution, McKenna tried in countless ways to turn society's eyes to see through the vision of magic mushrooms. Not only "to pay attention" to the subject, but to work hard on these fascinating fungi that are still a complete mystery to human beings. And I don't think it's too much to say that, if today there are large studies using psilocybin for terminal patients in situations of depression and anxiety (with simply incredible results), this is partly thanks to Terence McKenna, who started to pioneer this incredible universe of "psychedelic journey" long before anyone conceived of this "new psychedelic revolution" that was approaching.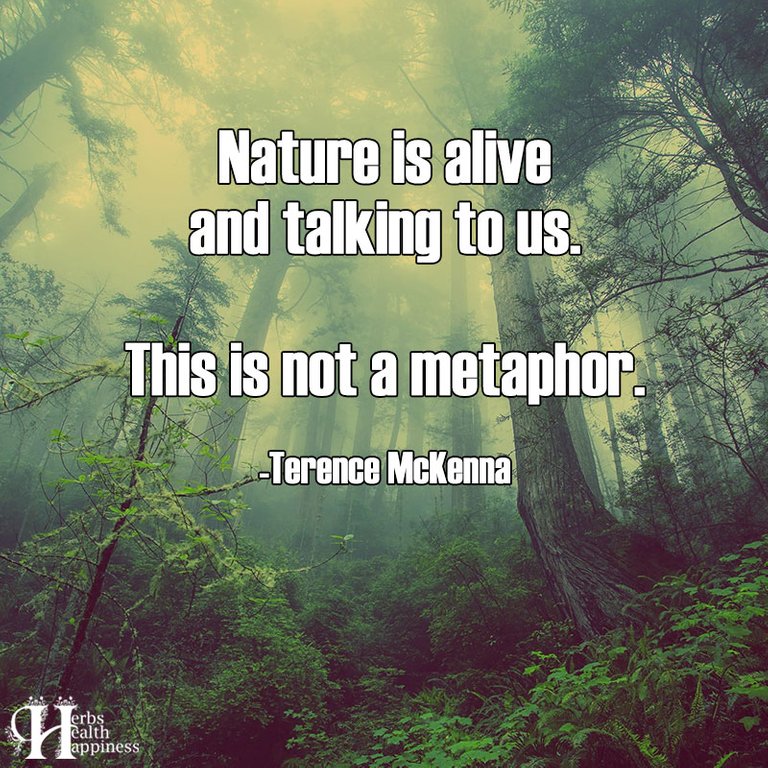 Source
McKenna was a great visionary, an accomplished scholar and researcher. His most popular theory is the "Stoned Ape". In a brief summary, his theory through a strenuous study of the time, botany and also society, concludes that there are many signs that Psilocybe Cubensis (in this case, its equivalent ancestors: -Stropharia Cubensis as it was cataloged when it was discovered) may have been the main catalyst for the expansion of man's consciousness. In this case: the transition between the animal that only lives in the immediate moment and survives, and the animal that thinks about tomorrow, that beats drums, worships figures, in short, the transition between a group of beings without beliefs and philosophies and a group that experiences rituals and seeks answers.
Cubensis was the most likely candidate due to its plentiful existence on the African continent (the cradle of humanity). The pislocybin present in the mushroom usually has a pattern of psychoactivity that demonstrates exactly the "evolved" parts of our mind: such as the relationship with creativity (drawing pictures, ideas, on cave walls), sexual and reproductive stimulation, almost aphrodisiac, the intensification of tribalism as a single organism, music (drums) as a method of accessing ritual trance, fluid and complex verbal expression (very common Xenoglossia in an intense experience of entheogens), among other factors. This theory is not taken very seriously by science, even because it ends up being little considered, as it comes from an "Ethnobotanist", an area unfortunately of little reach within the "scientific culture"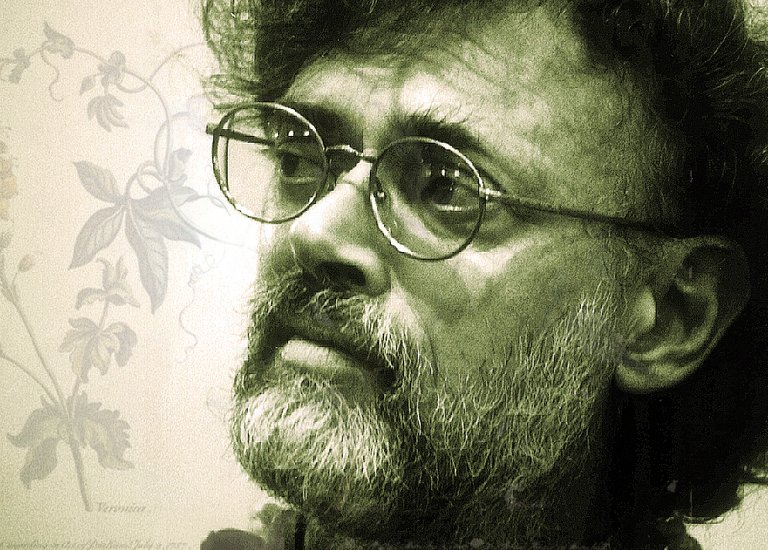 Source
McKenna went far beyond his theory and wrote great books, did great research, and had a special fondness for magic mushrooms, always trying to unravel the unspeakable complexity of the entheogenic experience of consuming them. Being the famous prepositor of the heroic dose of cubensis: -5 grams of dehydrated mushroom, blindfolded, in a dark room, lying down, without external stimuli.
Proposal that is definitely not for everyone. Anyone who has consumed something around 2.5 grams of psilocybe Cubensis, knows that this amount is enough to take the psychonaut to a unique state of contemplation of reality and non-reality, of the feeling that both the eye and the eye are closed. open gives you the same vision, of feeling connected to the earth, literally, as if it were that ground you lay on, the infinite maternal womb and that being close to it, you are forever at home. A cubensis experiment done right by taking the adventurer to access layers of himself that he wouldn't even be able to imagine, as well as officially (proven) doing a high-level reboot at synapses and generating an intense boost in brain neuroplasticity.
McKenna unfortunately left early, at age 53, in 2000, due to brain cancer. In a memorable interview, McKenna recounts a little of her perception of approaching death:
-I always thought death would hit the highway in some horrible moments, so you wouldn't have time to sort it out. Having months and months to look and think about it and talk to people and hear what they have to say is kind of a blessing. It is certainly an opportunity to grow, control and resolve everything. Just hearing from a dour guy in a white coat that you're going to die in four months definitely turns the lights on. ... It makes life rich and moving. When it first happened, and I received these diagnoses, I could see the light of eternity, à la William Blake, shining through every leaf. I mean, an insect walking across the floor made me cry.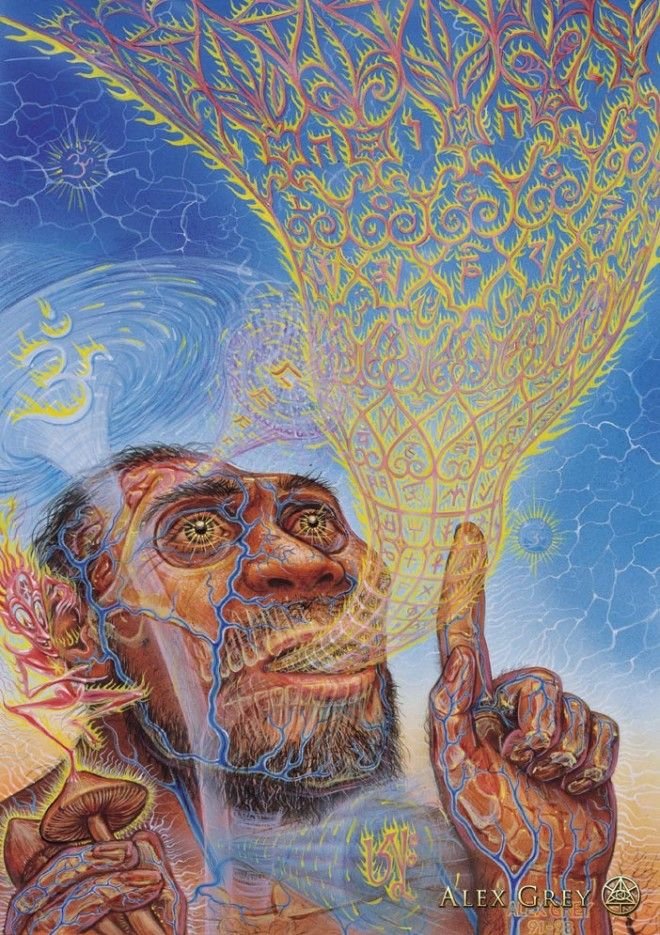 Source
I hope this content was interesting for you! Thank you for your vote and your "follow".
Thômas Helon Blum

A contracultura do mergulho em si mesmo teve sua febre por volta dos anos 60 e 70 e acabou ofuscada por outras ondas culturais que seguiram o processo natural da evolução social humana, graças à inúmeros fatores: desde a mudança do uso do dinheiro nas décadas seguintes até as guerras e conflitos que a sociedade vivenciou nesses períodos pós-hippies. Ainda que tenha "saído da moda", a alteração da consciência como "novo caminho possível" foi mantido como um patrimônio adquirido da raça humana, e pouco a pouco foram surgindo mais e mais pesquisadores sérios e dedicados para estudar a relação do homem com a busca pelo sentido maior através do mergulho na própria consciência. Não só com substâncias (como por exemplo Stanislav Grof, pesquisando a alteração da consciência através da Respiração Holotrópica). Dentre tantos grandes nomes que encabeçaram essa época de desbravamento do conceito da "Psiconautica", temos o homem que lançou a teoria do "Símio Chapado".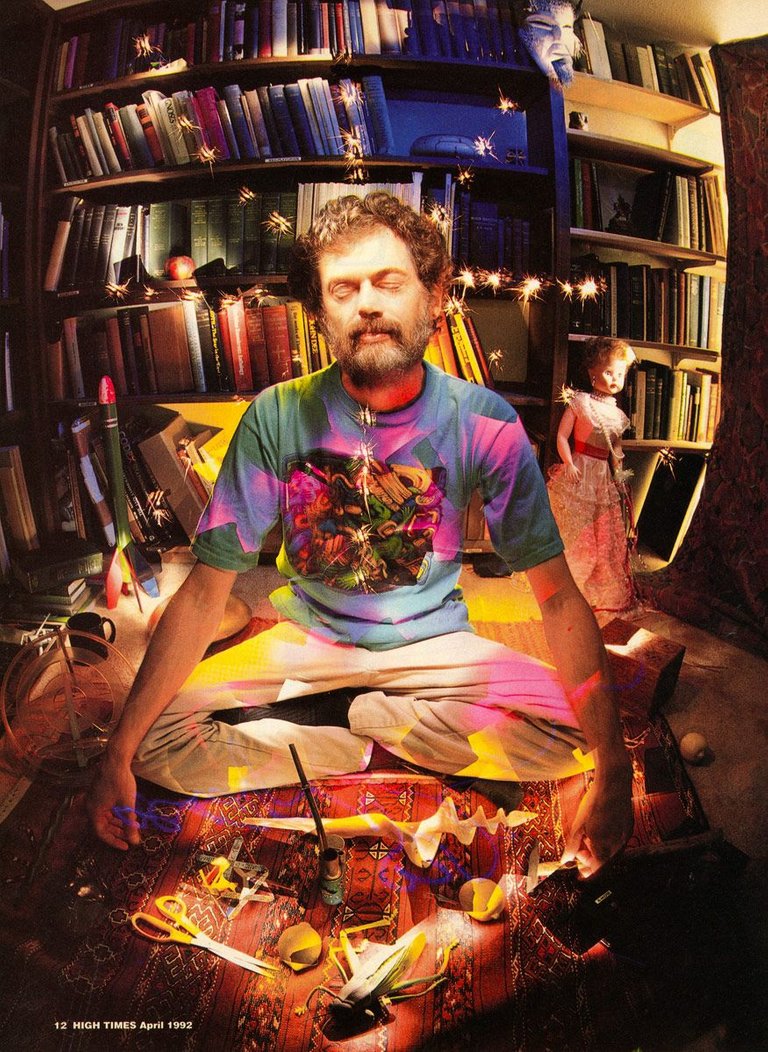 Source
Terence Mckenna era chamado de Timothy Leary dos anos 90. Tal como Leary que defendia a importância do LSD ser compreendido como uma ferramenta de evolução humana, Mckenna tentou de inúmeras formas virar os olhos da sociedade para enxergar através da visão dos cogumelos mágicos. Não só "dar atenção" ao tema, mas debruçar-se com afinco estes fascinantes fungos que ainda são um pleno mistério para os seres humanos. E não acho que seja demais afirmar que, se hoje estão havendo grandes estudos com a utilização da psilocibina para pacientes terminais em situação de depressão e ansiedade (com resultados simplesmente incríveis), isso é em partes graças a Terence Mckenna, que começou a desbravar esse universo incrível da "viagem psicodélica" muito antes de qualquer um conceber essa "nova revolução psicodélica" que vem se aproximando.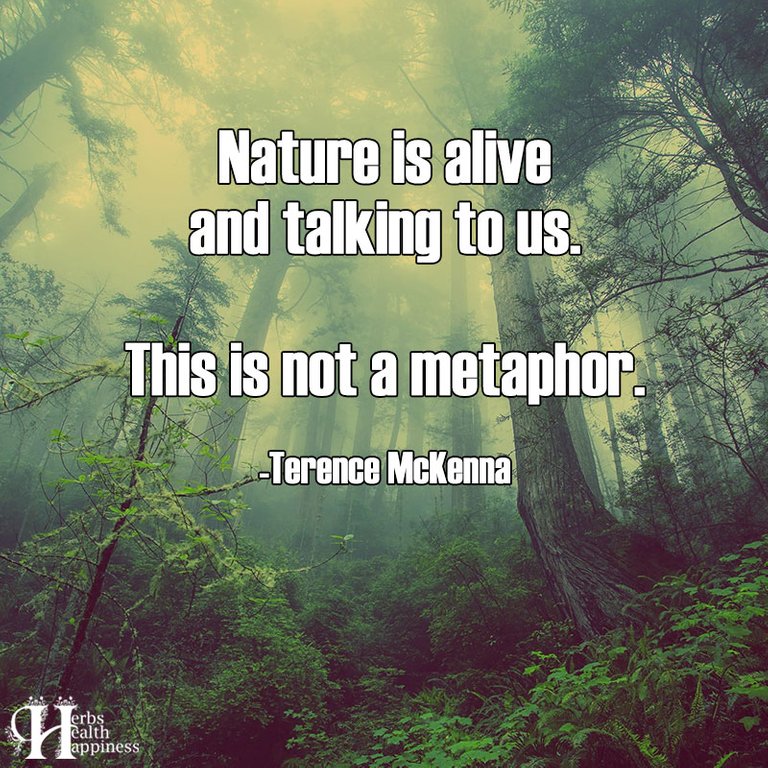 Source
Mckenna era um grande visionário, um exímio estudioso e pesquisador. Sua teoria mais popular é a o "Símio Chapado". Num resumo breve, sua teoria através de um extenuante estudo da época, da botânica e também da socieade, conclui que existem muitos sinais de que o Psilocybe Cubensis (no caso, seus ancestrais equivalentes: -Stropharia Cubensis como era catalogado quando foi descoberto) pode ter sido o principal catalisador para a expansão da consciência do homem. No caso: a transição entre o animal que apenas vive o momento imediato e sobrevive, e o animal que pensa no amanhã, que bate tambores, cultua figuras, enfim, a transição entre um grupo de seres sem crenças e filosofias e um grupo que vivencia rituais e busca respostas.
O cubensis foi o candidato mais provável devido a sua existência farta no continente Africano (o berço da humanidade). A pislocibina presente no cogumelo costuma ter um padrão de psicoatividade que demonstra exatamente as partes "evoluídas" de nossa menta: como a relação com a criatividade (desenhar figuras, ideias, nas paredes de cavernas), o estimulo sexual e reprodutor, quase afrodisíaco, a intensificação do tribalismo como um organismo único, a música (tambores) como método de acessar transe ritualístico, a expressão verbal fluída e complexa (Xenoglossia bastante comum em uma experiência intensa de enteógenos), entre outros fatores. Essa teoria não é levada muito à sério pela ciência, até por que ela acaba sendo pouco considerada, dado que vem de um "Etnobotânico", area infelizmente de pouco alcançe dentro da "cultura científica"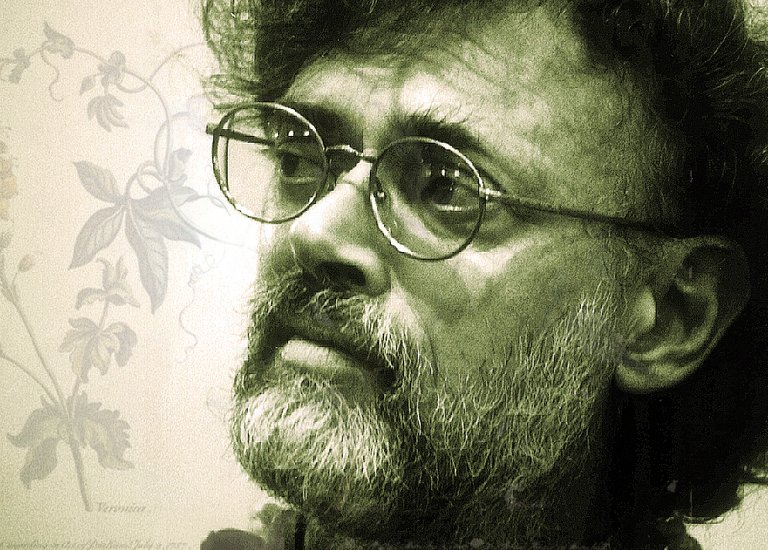 Source
Mckenna foi muito além de sua teoria e escreveu grandes livros, fez grandes pesquisas e tinha um carinho especial pelos cogumelos mágicos, sempre tentando desvendar a complixedidade inenarrável da experiência enteógena de consumi-los. Sendo o famoso prepositor da dose heróica de cubensis:-5 gramas de cogumelo desidratados, olhos vendados, num quarto escuro, deitado, sem estímulos externos.
Proposta que não é para qualquer um, definitivamente. Quem já consumiu algo em torno de 2,5gramas de psilocybe Cubensis, sabe que essa quantia já é suficiente para levar o psiconauta a um estado único de contemplação da realidade e da não-realidade, da sensação de que tanto o olho fechado como o olho aberto lhe dão a mesma visão, de sentir-se conectado à terra, literalmente, como se fosse esse chão onde você deitou, o útero materno infinito e que estando perto dele, você está pra sempre em casa. Uma experiência de cubensis feita da forma correta por levar o aventureiro a acessar camadas de si mesmo que ele nem mesmo seria capaz de imaginar, além de oficialmente (comprovadamente) fazer um reboot de alto nível nas sinapses e gerar um estímulo intenso na neuroplasticidade cerebral.
Mckenna infelizmente se foi cedo, aos 53 anos, no ano de 2000, devido à um câncer cerebral. Numa entrevista memorável, Mckenna relata um pouco de sua percepção à respeito da morte se aproximando:
-Sempre pensei que a morte chegaria na rodovia em alguns momentos horríveis, então você não teria tempo para resolver isso. Ter meses e meses para olhar e pensar sobre isso e falar com as pessoas e ouvir o que elas têm a dizer, é uma espécie de bênção. Certamente é uma oportunidade de crescer, controlar e resolver tudo. Apenas ouvir de um cara sisudo de jaleco branco que você vai morrer em quatro meses definitivamente acende as luzes. ... Torna a vida rica e comovente. Quando aconteceu pela primeira vez, e eu recebi esses diagnósticos, pude ver a luz da eternidade, à la William Blake, brilhando através de cada folha. Quero dizer, um inseto andando pelo chão me fez chorar.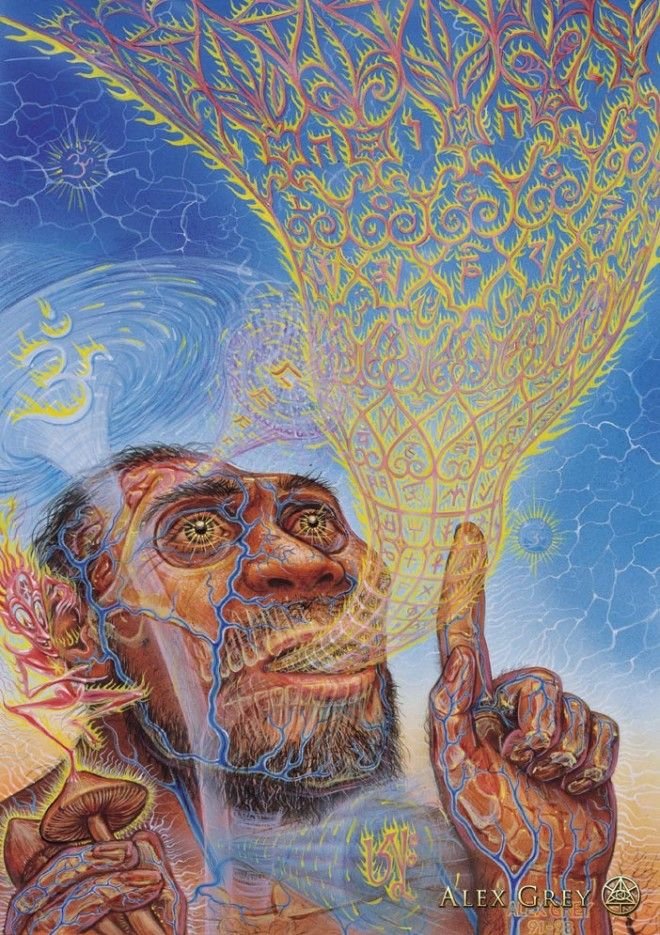 Source
Espero que esse conteúdo tenha sido interessante para você! Agradeço seu voto e seu "follow".
Thômas Helon Blum
---
Posted via proofofbrain.io