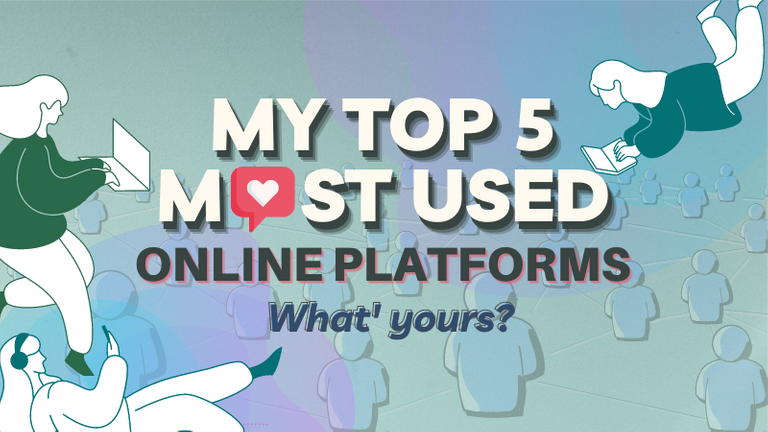 It's no denying that we've depended so much on Online Platforms. As the World Wide Web continues to improve, so as humanity.

It's so important to check our online status to know if our usage is still healthy for our body, mentally and physically. Are you an avid user of Facebook? Google? Netflix? or even Hive?
Upon seeing this blog, it's your time to check your usage so you can note the things you should do to maximize your usage and achieve efficient results!

As a fulfillment on one of my school projects, I've checked my Top 5 Online Platforms, and we're about to discover if I'm a productive person, lol.
Note: The infographics you'll see are done by me using Canva and Photoshop. I passed it to my professor as my project for her subject's requirement. 🤍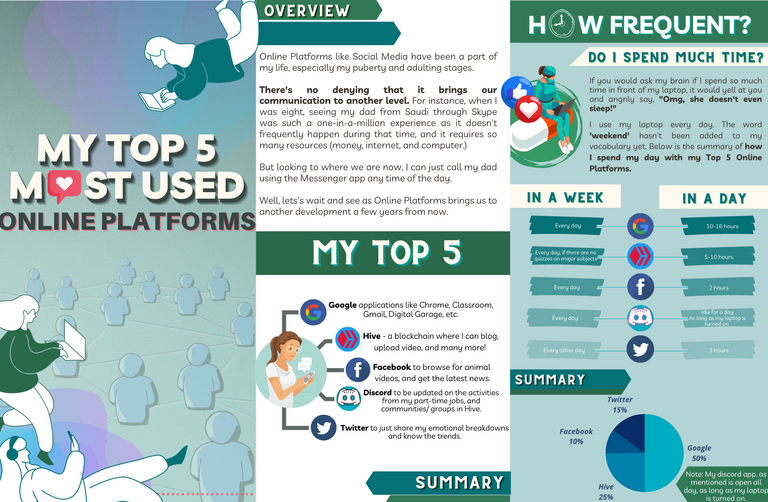 As stated in the picture, Online Platforms like Social Media have been a part of my life, especially during my puberty and adulting stages.
There's no denying that it brings our communication to another level. For instance, when I was eight, seeing my dad from Saudi through Skype was such a one-in-a-million experience as it doesn't frequently happen during that time, and it requires so many resources (money, internet, and computer.)
But looking to where we are now, I can just call my dad using the Messenger app any time of the day. Awesome, right?
Well, lets' wait and see as Online Platforms brings us to another development a few years from now. Are you excited about that? For me, I'm not quite sure. Online Platforms like Netflix urge me to procrastinate by binge-watching instead of studying, lol. Well, it's not Netflix's fault; it's mine.

What are my Top 5 platforms?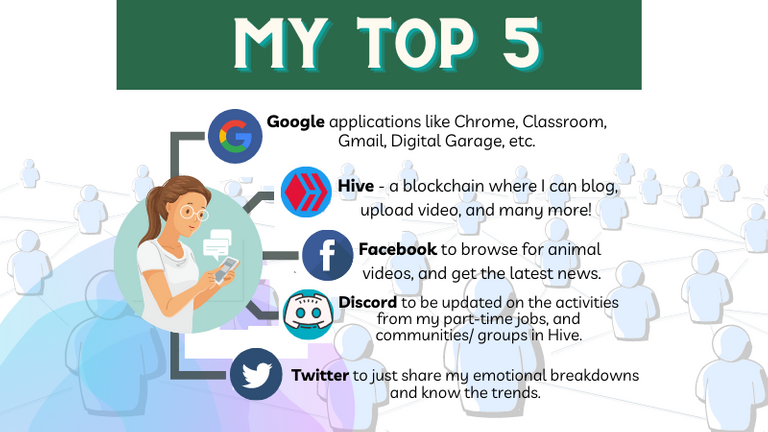 These are My Top 5 platforms:
1. Google
As my online class kicks in, and since I started pursuing freelancing, I've never been away from my laptop, lol. I'm not kidding when I said that I sleep beside my laptop almost all of the time!
2. Hive
I've been in Hive for a month now. Sadly, I've been inactive for the past few days. Pardon my action as major quizzes hit me simultaneously :< To be honest, I'm writing this coz I don't want to idle for too long. This week, we have upcoming major quizzes again. :<
3. Facebook
Well, I only use Facebook to check classroom group chats. Also, I share some news-worthy posts as the 2022 Election is fast approaching.
4. Discord
Lol, until my laptop is on, I'm on discord. So, add me up! (sellennee#0508) Let's talk about interesting things! As long as it's moral and legal, hehe.
5. Twitter
Like most of us, I share my emotional breakdowns on Twitter hehe. But then, most of the time, I usually delete it after a few minutes, lmao.

If you asked my brain if I spend so much time in front of my laptop, it would yell at you and angrily say, "Omg, she doesn't even sleep!"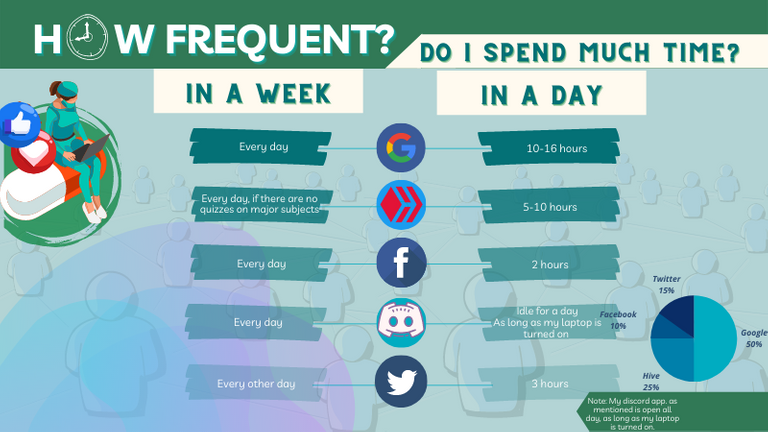 I use my laptop every day. The word 'weekend' hasn't been added to my vocabulary yet. Above is the summary of how I spend my day with my Top 5 Online Platforms.
So, this would answer my question earlier. Is my routine healthy for me?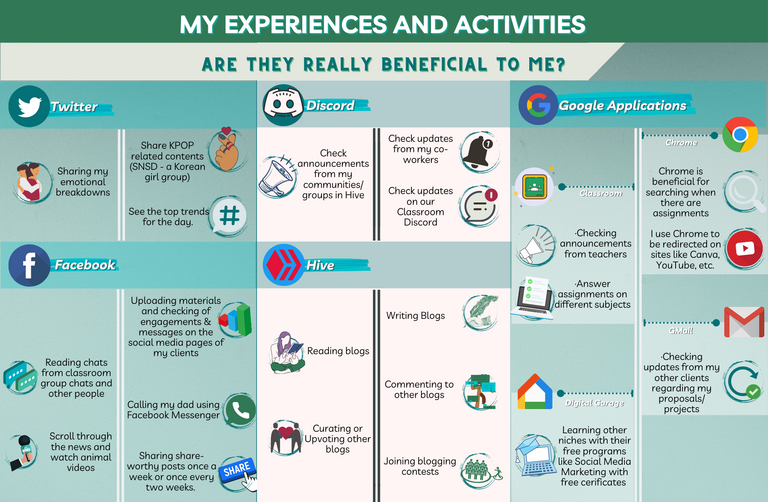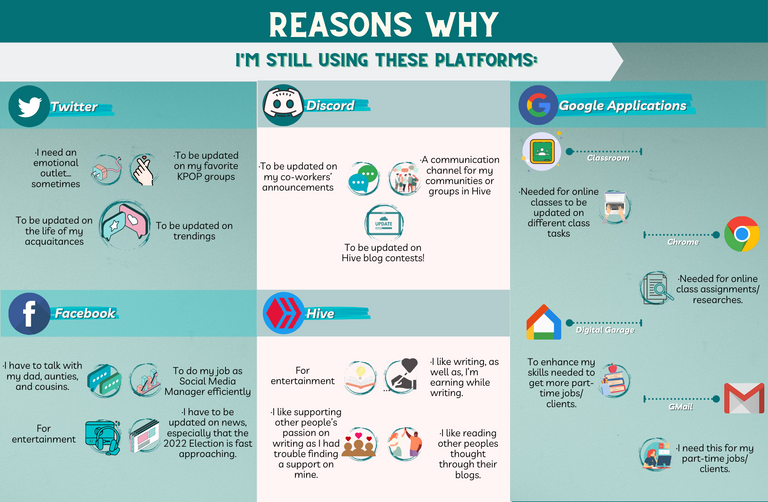 Knowing that I'm with my laptop for an average of 20 hours per day, it's not healthy. Absolutely!
But why do I still use them? What's the trade-off for me?
Well, as shown in the pictures, I study and freelance at the same time. I need them for my studies and work, especially Google, and of course, Hive, too! Blogging in Hive helps me pursue my passion in journalism (but more on writing.) Also, I'm saving up for my sibling's future, hehe.


Our neighbors have been telling me to sleep well because my acne breakouts are becoming worse even after two years since it started.
Then I answered, "It's okay to have acne and acne spots for now. Once I'm rich, I can do a laser treatment." 🤣 Am I wrong tho?
Just kidding, I wanna have a healthy sleeping habit too. But, constant reading and studying are needed for my course, sighs.

Now that you've reached here, it's your time to analyze your hours of using Online Platforms as radiation is terrible for our bodies. Do we have the same routine?
I'm glad that my teachers asked us to do this activity. I had the opportunity to look back on my daily activities. Thus, it made me realize that I have to change my routine.
Do you have a specific routine that could help me out? Let me know! Also, do you like my designs, or nah? And of course,