Free Bitcoins for every adult Citizen of El Salvador!!
Which crypto enthusiast won't like to receive free Bitcoins?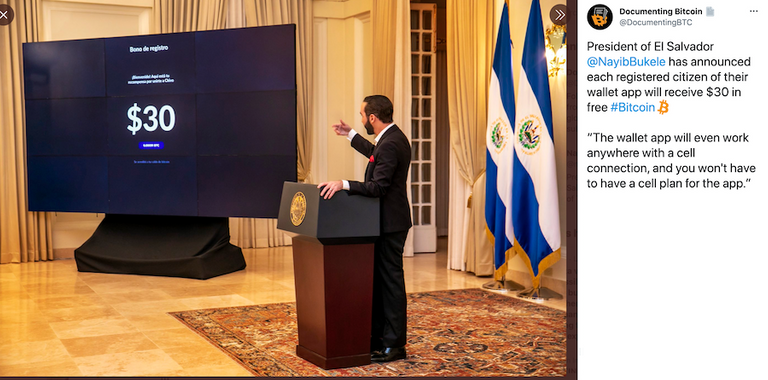 Twitter link
This is why this news interested me. Many minors look forward to turning 18, for adults can then do stuff minors are prohibited to do, however one more cool thing an adult El Salvador Citizen can do is get free Bitcoins worth 30$.
Yes, the famous President of El Salvador who has made news for successfully passing a Bitcoin law that made Bitcoin a legal tender in the country has announced that all adults of El Salvador who download the country's Bitcoin wallet app would receive 30$ worth of BTC. Damn cool is it not!!
Bitcoin looks geared to receive further investments from the Citizens of El Salvador!!
Bitcoin investors should surely view this news as being bullish for Bitcoin, because the 4.5 million adult population of El Salvador are incentivised by the Government led by president Nayib Bukele to hold BTC. Therefore, if they are on boarded into investing into this asset, it will grow the global usage of the Bitcoin Network by 2.5%, according to on-chain analyst Willy Woo.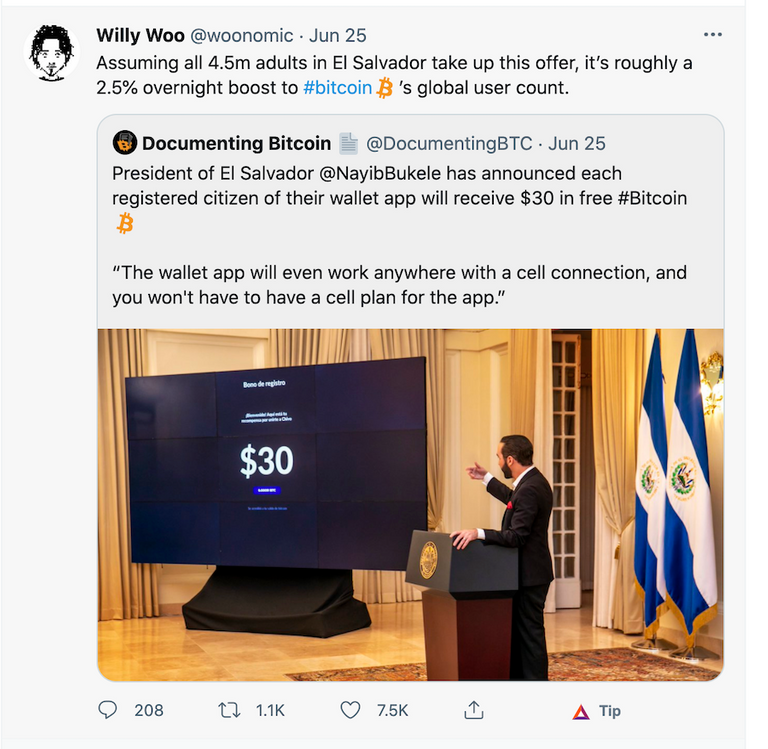 Willy Woo's Tweet
El Salvador's Bitcoin wallet app can function on simple mobiles without internet data


Image by Gerd Altmann from Pixabay
This Bitcoin wallet app can operate in ordinary phones without internet data connection as well. This is practical because mobile data coverage in El Salvador is poor. El Salvador's Bitcoin wallet app can operate on mobiles with basic cell phone connection. Peer to peer BTC transfers and receiving of BTC airdrops are possible with this Bitcoin app.
Bitcoin Law coming into effect on September 7th on El Salvodor
This BTC airdrop program will cost the El Salvodor Government 100 million dollars, the idea here is to have El Salvador's Citizens get into Bitcoin.
The Bitcoin Law, which has made Bitcoin a legal tender in El Salvador, will come into effect on 7th September. This means every merchant and person in the Central American country has to accept Bitcoin as a payment option, they cannot deny being paid in Bitcoin. Although provision will be there to convert the received Bitcoin into dollars instantly for those who want dollars instead of BTC.
El Salvador maybe a fundamental factor that could be a bullish push for Bitcoin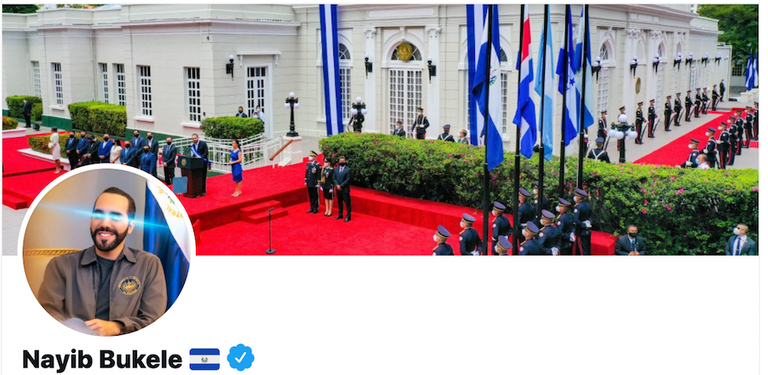 President of El Salvador Nayib Bukele showcases that he is a Bitcoin enthusiast in his twitter profile with those shiny eyes
Refreshing is it not?. It could be a good idea to get some Bitcoins before the El Salvador population dips into this asset class taking the price of BTC up. Can't help but think, Elon Musk is irritating news for crypto, but El Salvador's president is making fascinating news for the crypto world.
Ofcourse, we all have to keep in mind that president Nayib Bukele is having serious corruption charges against him, he has even sacked 5 judges of the country's court who were in charge of investigating these corruption charges. However, who cares?This Bitcoin adoption news is very exciting and exhilarating for a crypto enthusiast.
By chance if you have missed out on all this exciting happenings of El Salvador adopting Bitcoin as legal tender, you can catch up with that by reading my articles here -:
For the first time in the world somewhere Bitcoin gets recognized as a legal tender
Big bang Bitcoin news of El Salvador set on to adopt Bitcoin as a legal tender
Thank you for reading my post, have a nice day!!