https://depor.com/resizer/1LcyReXDZPQcnH-w4WYX5yFpGZQ=/580x330/smart/filters:format(jpeg):quality(75)/cloudfront-us-east-1.images.arcpublishing.com/elcomercio/5F7F2ZKX6RHXHC2JC3THCA3ICQ.jpg
LINK
In these cases, these types of equipment are aesthetically much more similar than a workstation and a server.
Dedicated equipment for playing video games needs high data and graphics processing power due to the audiovisual demands it requires, and this makes them different from workstations.
Although many people confuse this type of equipment with a desktop personal computer, we will see some of its main characteristics.
When we talk about utility as the main aspect, PC Gamers are powerful equipment that are used specifically for the processing and execution of video games. The workstations are designed for use with specific applications for different fields.
---
As for the characteristics, curiously in PC gamers, the strong ones are the video cards, these are the ones that carry all the load of the graphics processing power, while in terms of RAM they can be similar or even lower than the workstations, while workstations require a much more powerful processor than gaming PCs and RAM in many cases is a factor that makes the difference.
Regarding the price, although the cost of a gaming PC is high, the price of a specific workstation in many cases, such as when it is required for design or audiovisual areas, its price is much higher than a gaming PC.
---
ESPAÑOL
---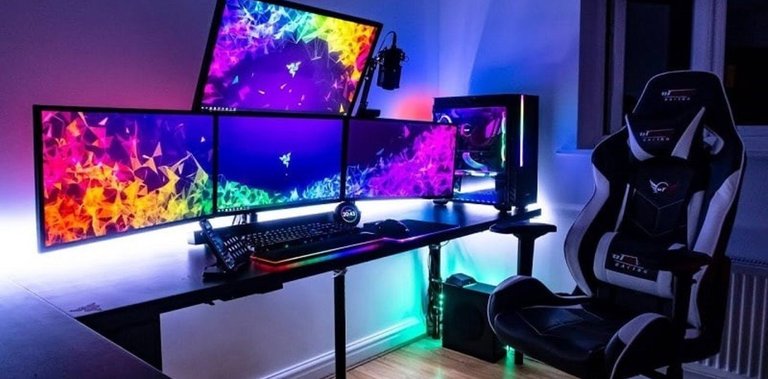 LINK
En estos casos estos tipos de equipos son estéticamente mucho mas parecidos que una estación de trabajo y un servidor.
Los equipos dedicados para jugar videojuegos necesitan un alto poder de procesamiento de datos y de gráficos por las exigencias audiovisuales que requiere y esto los hace diferente a las estaciones de trabajo.
Si bien muchas personas confunde este tipo de equipo con una computadora personal de escritorio, veremos algunas de sus principales características.
Cuando hablamos de la utilidad como aspecto principal, las PC Gamers son equipos potentes que se utilizan específicamente para el procesamiento y ejecución de videos Juegos. Las estaciones de trabajo están diseñados para su uso con aplicaciones específicas para distintos campos.
---
En cuanto a las características curiosamente en las pc gamers el fuerte son las tarjetas de video, estas son las que llevan toda la carga del poder de procesamiento de los gráficos, mientras que en cuanto a la memoria RAM pueden ser similares o hasta inferior a las estaciones de trabajo, mientras que las estaciones de trabajo, requieren un procesador mucho mas potente que las pc gamers y la memoria RAM en muchos casos es un factor que merca la diferencia.
En cuanto al precio, si bien el costo de una pc gamer es elevado, el precio de una estación de trabajo específica en muchos casos como cuando se requiere para áreas de diseño o audiovisual su precio es mucho mas elevado que una PC gamer.
Muchas gracias por visitar mi Blog!