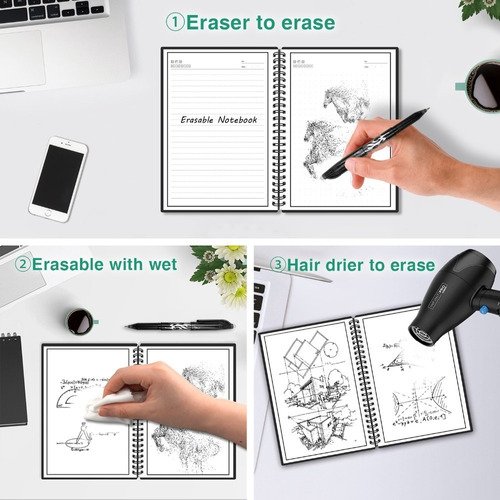 LINK
How do these types of notebooks work?
There are two basic versions of smart notebooks, one of them is the one whose sheet is erasable with a cloth, they are special sheets on which you can write and then erase without leaving any kind of trace, in this case you must have a device that allows you to perform a scan and store it in the cloud, you can download these apps for both android and iphone.
The other version, also popular, is the one that resembles a conventional notebook but has a pen that performs all the magic, this is connected to your mobile device and digitally reproduces everything you write in real time and in this way it is stored in the cloud. .
Each smart notebook has its own app for both Android and IOS, then these apps can be easily synced with the cloud storage service easily.
Are these notebooks easy to maintain? In the case of those that are erasable (with a cloth and water) their mechanism is simple, those that are used with smart pens have a limit since their leaves do not erase and then we have those that are completely cleaned when they are subjected to the heat, that is, if you put the notebook in the microwave for a few seconds you will have your notebook completely new again.
---
ESPAÑOL
---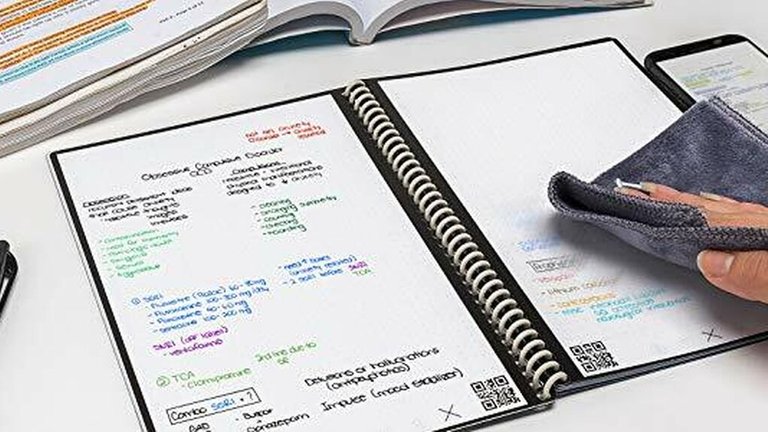 LINK
¿Cómo funcionan estos tipos de cuadernos?
Existen dos versiones básicas de los cuadernos inteligentes, uno de ellos es aquel cuya hoja es borrable con una tela, son hojas especiales en las cuales puedes escribir y luego borrar sin dejar algún tipo de rastro, en este caso debes contar con un dispositivo que te permita realizar un escaneo y almacenarlo en la nube, dicas apps las puedes descargar tanto para android como para iphone.
La otra versión también popular es aquella que se asemeja a un cuaderno convencional pero tiene una lapicera que realiza toda la magia, esta está conectada a tu dispositivo movil y reproduce digitalmente en tiempo real todo lo que escribes y de esta manera se almacena en la nube.
Cada cuaderno inteligente cuenta con su propia app tanto de Android como IOS, luego estas aplicaciones pueden ser facilemente sincronizadas con el servicio de almacenamiento en la nube de manera sencilla.
¿Son fáciles de mantener estos cuadernos? En el caso de los que son borrables (Con una tela y agua) su mecanismo es sencillo, los que se utilizan con las lapiceras inteligentes tienen un límite ya que sus hojas no se borran y luego tenemos los que se limpian completamente cuando son sometidos al calor, es decir, si se coloca el cuaderno en el microondas por unos segundos vuelves a tener tu cuaderno completamente nuevo.
Muchas gracias por visitar mi blog!