The return of the X37b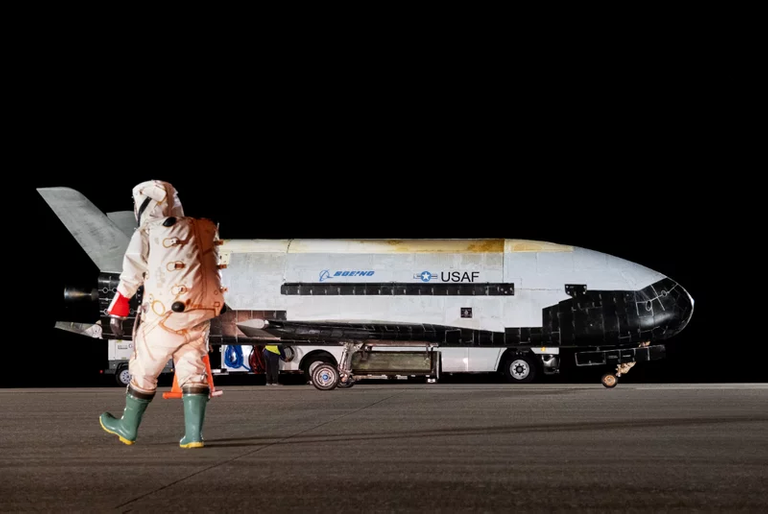 Souce
The X37b Ship that has returned from its mission, this ship or space plane, I prefer to speak of it as a space ship because it is a space ship, this ship belongs to the US space forces and has been circling the earth for 908 days, which constitutes a new record.
It landed at the NASA Kennedy Space Center, this is the image of the arrival that the United States space force has published; the operators dressed in space suits are not a matter of radiation, it is a matter of the fuel that the ship uses because it is quite dangerous.
The previous mission lasted 780 days, this has been a record 908 days, the space plane that looks like a miniature space shuttle has many of the similar features of the mythical space shuttles.
This ship has services similar to those of space shuttles, it can carry loads into space, carry out experiments and can even launch satellites. It is known that it launched a satellite called CONSAT 8 that was designed and built by Cadets from the academy in association with the laboratory. of research of the air force, was deployed in October 2021 and remains in orbit.
Souce
It is known from some experiments. not of all; there is an experiment that has been done with seeds to evaluate their prolonged exposure to the space environment, as you can imagine it is a military ship and there are also experiments and functions that remain totally secret.
The x37b has so far flown 2,090 million kilometers circling the Earth and has spent a total of 3,774 days in space, china has a very similar ship, sometimes certain designs have to resemble each other because they have to fulfill a mission or a or a specific function, all the planes of almost all the companies resemble each other have their wings have their body etc. have their tail, in this case China has a spaceship a very similar spaceplane.
The space defense squad of the United States space force managed to detect on October 31 that the plane this Chinese space plane had launched an unknown object into space, an object that was put into orbit to the earth is supposed to be about a mini satellite that carried this Chinese space plane and therefore it has the same capacity as the American plane, the ability to put satellites in orbit.
---
---
---
Thank you for visiting my blog. If you like posts about #science, #planet, #politics, #rights #crypto, #traveling and discovering secrets and beauties of the #universe, feel free to Follow me as these are the topics I write about the most. Have a wonderful day and stay on this great platform :) :)
! The truth will set us free and science is the one that is closest to the truth!