Robot escapando de la prisión
In the 1991 movie Terminator 2, the Terrible T1000 robot appears, it had a solid appearance, but it could liquefy to take various forms or go through a fence, turn its hands into weapons, lose part of its body, receive bullet impacts among other things, in the video shows a mini robot capable of doing something very similar, it can liquefy, escape from its cell and regain its shape.
In addition to changing quickly and reversibly from a liquid to a solid state, thanks to the new materials, these experimental robots are magnetic and can conduct electricity, it is also relatively strong, in another video we can see how the robot, this time in the form of a pill, moves through a stomach model and catches a ball.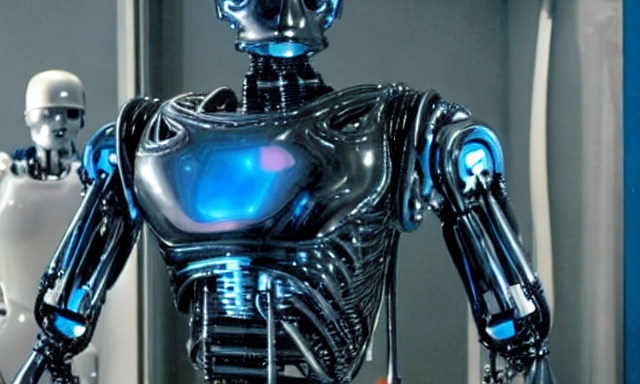 Robot de metal liquido similar a la de la pelicula Terminator II. Creado con IA.
The robot is the work of Chinese and American engineers who created it thanks to a new Phase Change material called the Solid Liquid Phase Transition Active Magneto machine, for this they basically managed to embed magnetic particles in gallium, gallium is a metal with a dot very low melting temperature of 29.8 degrees Celsius.
It is not a T1000, but it could be the granddaddy of future robots capable of liquefying to work in very special places, including inside the human body, to cure certain pathologies or extract foreign bodies from the human body.
Asombrosos robots de Boston Dynamics
The limit for the application of this new technology is the imagination, if much could be done with solid robots like the ones created by Boston Dynamics, what will be those robberies like the new phase-changing study.
It is very important that the person who designs these robots watch the movies or review it, because in it the machines put humans in trouble, it seems to me that we are recreating all the technologies from science fiction movies, what do you think?
---
---
---
Thank you for visiting my blog. If you like posts about #science, #planet, #politics, #rights #crypto, #traveling and discovering secrets and beauties of the #universe, feel free to Follow me as these are the topics I write about the most. Have a wonderful day and stay on this great platform :) :)
! The truth will set us free and science is the one that is closest to the truth!