Einstein Rings, A Natural Telescope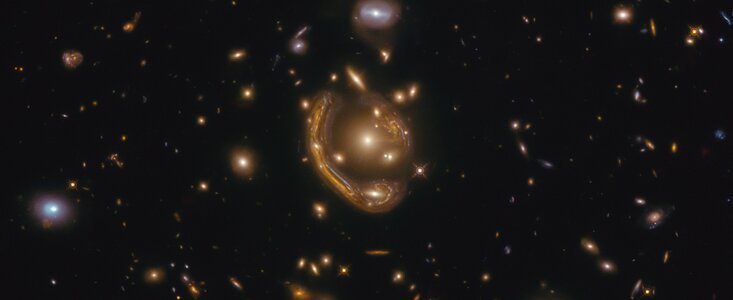 Souce
A team of European astronomers with Spanish participation re-analyzed the data of an object captured by the Hubble space telescope in December 2020, it is one of the largest and most complete Einstein rings known, which due to its appearance is has dubbed as molten ring.
It is located in the galaxy GAL-CLUS-022058s in the direction of the constellation of the southern hemisphere of Fornax or also known as the furnace, Einstein exposed in his general theory of relativity the existence of this type of objects or rather distortions, since what we see is due to a process called gravitational lensing, which causes light that comes from far away to be bent and attracted by the gravity of an object located between the light source and us.
In this case the light comes from a very distant galaxy whose image has been distorted in the ring that we see due to the gravity of the cluster of galaxies that is in front of it, but what advantages does all this have, since the gravitational lens acts as a natural telescope and allows us to see very distant objects in enormous detail, for example, the galaxy that we see magnified in the ring is 9,400 million light years from us.
Souce
The team of researchers determined that the magnification factor of the galaxy due to the gravitational lens was 20, which makes the observation capacity of the Hubble space telescope, thanks to this gravitational lens, equivalent to that of a 48-meter telescope. In diameter, that is something huge, thanks to this it has been possible to discover that in that distant galaxy there is molecular gas from which new stars are being born at a time when the universe was relatively young.
---
---
---
Thank you for visiting my blog. If you like posts about
#science
,
#planet
,
#politics
,
#rights
#crypto
,
#traveling
and discovering secrets and beauties of the
#universe
, feel free to Follow me as these are the topics I write about the most. Have a wonderful day and stay on this great platform :) :)
! The truth will set us free and science is the one that is closest to the truth!