@oldmans.pob was the biggest gainer last week. He gained 20 positions.
Its almost a week after @amr008 announced the end of engagement project. Delegators from different hive front-ends started withdrawing their delegations to his alternate accounts related to #sports, #dunk, #stem, #ctp #pob, #leo and #weed.
Many accounts have received their delegations back and this is now reflecting in the staked power. This has obviously changed the rich-list rankings.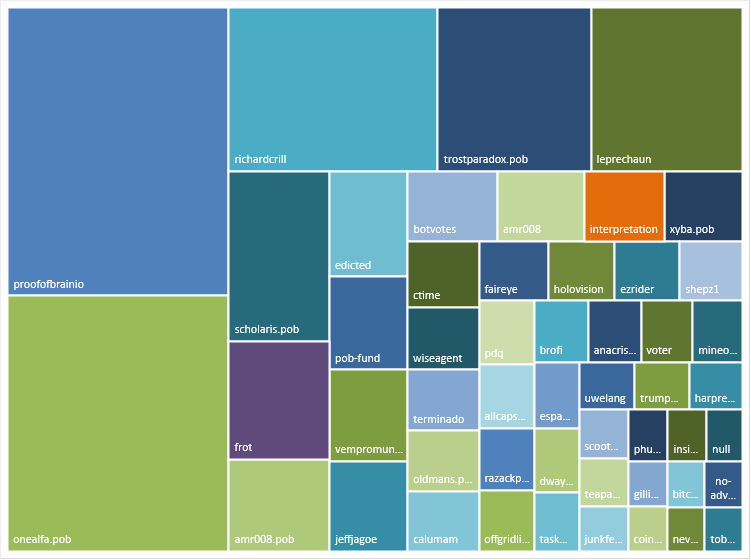 POB curation account of @amr008.pob failed further from 6th position to 8th position and still delegators have not yet withdrawn 15000 POB power from this project.
@amr008 seems to have withdrawn his delegation from the curation project and now along with his curation account his main account has entered the richlist at 14th position.
@shepz1 is another account that gained significant positions.
#POB Richlist
Following is the list of the top 50 accounts that hold the most #pob power.
Influence of Top 50 POB Holders
Last week when I posted the statistics, there were 1237748 POB tokens staked in the #pob power. Out of these 825822 POB power was staked in these 50 accounts.
This week the total POB power locked in the stakes is 1273180 and the total power with top 50 rich accounts increased to 856677.
Which means out of the total power staked, top 50 Rich accounts control 67% of the total power. The staked power of top 50 accounts is maintained at 67%. In the coming few days, more disruptions are possible because of the engagement project coming to an end.
How much POB Power you need ?
In order to be featured in this publication, you need atleast 4108 POB power staked. This amount keeps changing every week, last week it was 3885. This indicates that there is a good jump in the minimum threshold required. In last two weeks the same has jumped from 3382 to 4108.
---
Posted via proofofbrain.io