Growing up in traditional African society was a lot of fun, no doubt. However, the experience was also filled with a lot of beliefs that were thought to be genuine back then, but in retrospect, were borderline insane and weird. While African countries are generally categorized as developing or third world countries, a good number of Africans are educated and well exposed to modern life. Thanks to education, many of the beliefs are now being debunked, but unfortunately, even many educated folks are still holding on to some of the beliefs.
When I was younger and still under the care of my parent, my siblings and I was disbanded from eating one particular vegetable, whether within the household or outside of it. The belief is that the consumption of such a vegetable would bring something bad into the family health-wise. In Nigerian society, these kinds of beliefs are called taboos. Taboos can be related to society, an individual, a family, or a group of people. Well, in my own case, I now eat the family tradition-prohibited vegetable whenever I feel like and nothing has happened.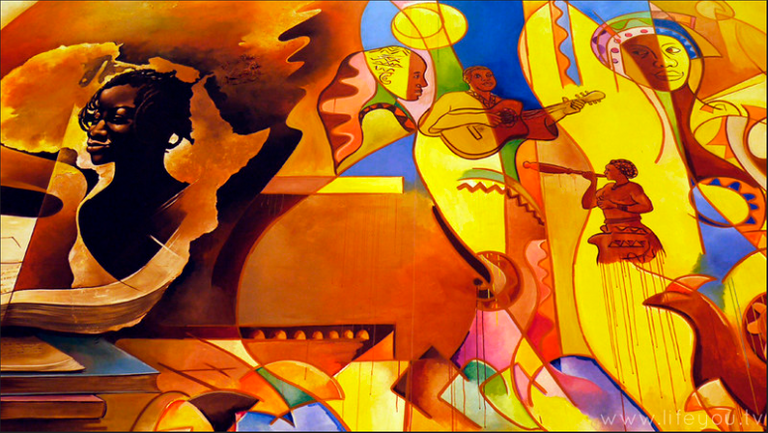 Image by Tokyo times on Flickr

The 'Abiku' or 'Ogbanje' belief
In Southwestern Nigeria, a couple suffers from repeated death of their children at tender ages is said to be plagued by 'Abiku'. It literarily means a child that keeps dying. In other Southern parts of the country, such a child is referred to as 'Ogbanje'. Nowadays, such a belief no longer holds any water, although many people still believe in it.
Thanks to Gregor Mendel and other scientists that contributed immensely to the development of genetics as a subject, the abiku/ogbanje belief has a science to it and it has to do with blood genotypes. Individuals with SS as their blood genotype are known to be sicklers (euphemistically preferred to be warriors) and they result from inheriting the sickling alleles from each of their parents. Warriors are a very low probability of surviving and a large percentage ends up dying at a very tender age.
When two carriers of the sickling trait (AS) becomes conjugally related, the probability of them giving birth to a normal child is 3/4 while that of giving birth to a warrior is 1/4. This probability remains the same irrespective of the number of children a couple has already produced. Chances in a limited population may result in the couple producing warrior children consecutively even though the probability remains 1/4 while they could also produce all-normal children consecutively. Hence, an all AS couple might be visited with a spirit of abiku/ogbanje in the form of warriors.

The 'Odoyo' belief
Among the Yorubas, some people with characteristic morphological appearance and behaviour are labeled as 'odoyo', a rather condescending word. These kinds of people are believed to be a result of some spiritual attacks either while they were still young or while they were still in the womb. Hence, it is somehow forbidden (a taboo) for pregnant women to walk in the open at certain times of the day.
I later got to know that the characteristic appearance and behaviour of the so-called 'odoyos' fit perfectly with those of the children with Down syndrome. The syndrome is due to genetic abnormality resulting from the non-disjunction of chromosomes in the mother or the father during the formation of gametes prior to mating/fertilization. Consequently, babies with an abnormal number of chromosomes (too many or too few) result from the union. Female babies with an extra chromosome hardly survive while male babies end up with Down syndrome. On the other hand, male babies hardly survive with one fewer chromosome while the surviving female babies end up with Turner syndrome.
Children with Down syndrome often have a characteristically flattened face, shorter neck, small hands and feet, and are usually slurred in speech among other features.

'Women are responsible for the sex of babies' belief
In Africa, especially in the Igbo culture, female children are seen as being inferior to male children and are often restricted in their rights. Female children have no rights to their father's properties in case of his demise while a woman that gives birth to all-female children is often looked down upon.
Hence, it is not uncommon to see women in such a culture giving birth to many children even at the detriment of their health just to have a male child that would be an heir to the properties of the father. Otherwise, the woman and all her female children would become an outcast once the husband packs up. This also happens even if the husband leaves a will because some cultural practices are held in superiority over the constitution. It will therefore take a good lawyer to get justice in such a case, amid the messed up justice system in the country.
Even though modernization is gradually replacing this belief that women are responsible for the sex of babies, many cultures still hold on tightly to the belief. Science has revealed that the event leading to the determination of the sex of a baby is a rather random one with neither of the parents having the direct or indirect power to influence the outcome. Although, research is still ongoing and new findings are emerging every day but nothing concrete has surfaced to change the status quo.
The sex chromosome of a man is known to be XY with the Y chromosome largely responsible for maleness. On the other hand, the sex chromosome of a woman is XX. Consequently, a man is able to produce two types of gametes (sperms) - X and Y, while a woman is only able to produce only X eggs. Whichever of the sperms that eventually fertilizes the X egg is determined by forces beyond the control of both parents and yet to be understood by scientists. When an X sperm wins, a female child results, and when a Y sperm wins, a male child results.

Final words
The list of the traditional African beliefs that negate science is far more than the ones I explained above. However, there are also several widely held beliefs and practices that are real and unexplainable within the context of science. For example, some herbalists are able to give incisions that are capable of protecting an individual from gunshots - an invisible bulletproof. Some practices are also able to able to make the body of individuals resistant to cuts - be it from knives, axes, or cutlasses. Some spiritually powerful individuals are also able to appear and disappear at wills and command non-living objects to obey their wills.
It is a truism that many of the African beliefs can be debunked and explained by science, but it is also a truism that many exist that are yet to, and perhaps can never, be explained by science.
What do you think?
---
Posted via proofofbrain.io