A not-so-new toy and some gratitude

A few days ago, I made a metaphorical post where I laid bare the issues I've been having with my laptop and how getting another one isn't just an option but a necessity. Fortunately for me, what I thought would be difficult came quite easy. @joerhino in his usual self read in between the lines of the post and sent me some hive out of his generous mind to support my quest to get another laptop. He did not stop at that, he made a whole call to action post to the hive community for more supports. As mother luck would have it, many hive users stood up to throw their supports behind the quest in different forms.
I gathered all the donated funds so far and did a bit of house cleaning myself. The result is in the image below.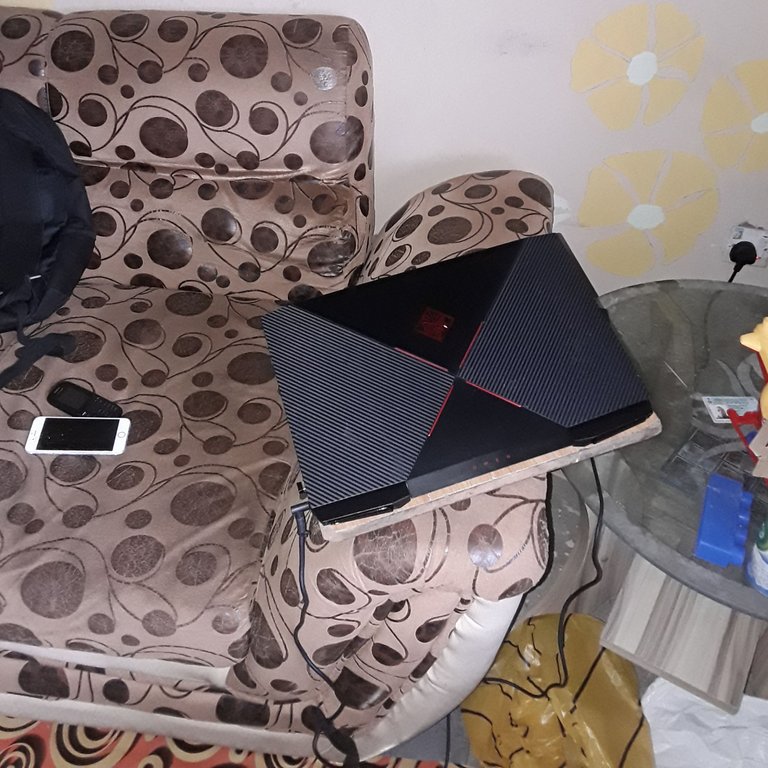 8th generation hp omen 15, hybrid 1 terabyte HDD 512 Ssd, 8 gigabyte Ram, Intel core i7, 4 gigabytes NVIDIA graphics, keyboard backlight, 4.5 hours battery life.
To some people, this is not a high spec pc while to others, what would someone like want to do with 4 gigabyte dedicated graphics? This was the first question asked by @noble-noah when he called to inquire about my laptop situation and I informed him of what I bought. My former laptop is just a 500 gigabytes HDD, 4 gigabyte Ram, core i5 with no dedicated graphics but an HD screen.
Why the spec?
It's no longer news that blogging on hive represents a major source of my income since last November. My family is just 4 including a toddler and a 7-month-old baby and we are all contented with little. I have been thinking about a career redirection for a while and recently, an opportunity presented itself. Going into tech was one of the things I was considering but where to start from was a major headache. Then, I had a little chat with @pangoli where my plight was discussed. It was during this discussion I decided to settle for UI-UX design to start with basically for 2 reasons:
It does not require coding knowledge for a start.
An immediate internship opportunity was available.
I quickly signed up for the internship and got accepted. The journey into the UI-UX world has since started. We are already about a month into the 6 months program and every bit of it has been interesting to me so far. Not long into the classes, I got to understand that my former laptop (which has started its problems before then) would be grossly inadequate for me as a UI-UX designer. Since then, I've made a mental note about getting another laptop, even though it's not going to be an emergency. Not until the problem with my former laptop worsened.
Immediately it was obvious that I would be needing another laptop as soon as possible and I was able to get helping hands, I made up my mind to get a spec that will not only serve my blogging purposes but also serve me as a UI-UX noob. I particularly placed importance on dedicated graphics with a minimum of 3 gigabytes of memory. That's how I ended up getting the above laptop.
Getting the spec
Approximately $400 was realized from donations while another $400 was raised from sweeping through my treasury. With $800, I thought getting a decent new laptop with my requirements is guaranteed. I was wrong.
I browsed through virtually all the available platforms for my spec but the prices I was seeing surprised me. It ranged from $1200 to as much as $5000 to get something close to my spec. Being already stretched thin on my budget, I decided to take a look at used laptops. I consulted with a vendor that imports used laptops directly from the United States and luckily enough, he had just a single one that seems to meet my requirements. However, the price was still a bit above my budget.
To cut the long story short, I raised the little funds left to meet up with the price and get the business done as soon as it was possible.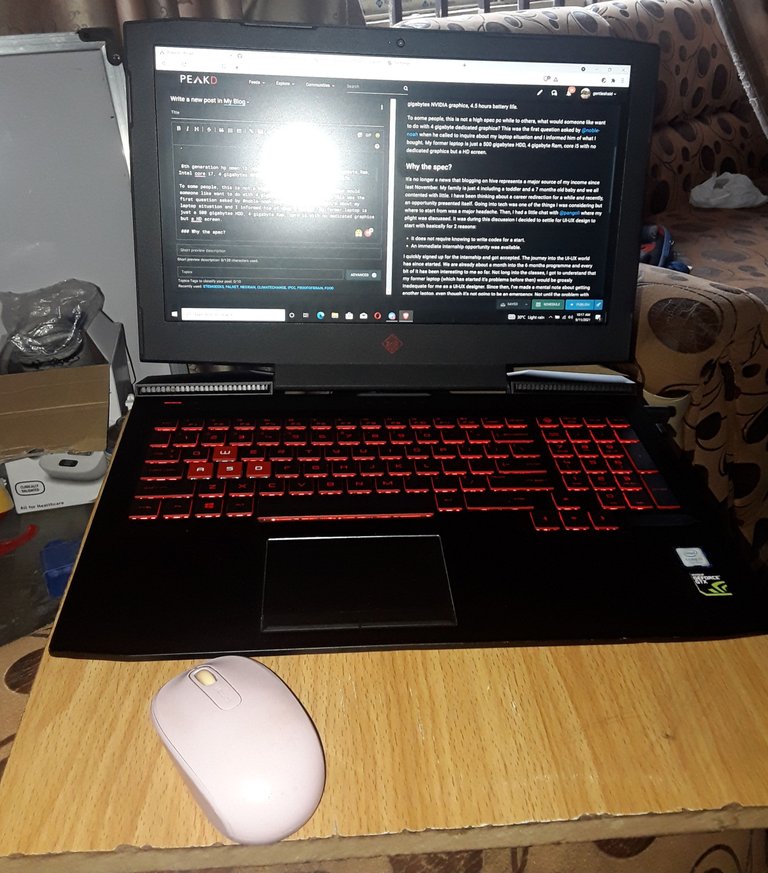 Gratitude
My gratitude to all of my supporters on the hive blockchain. I cannot list all names as that would take a lot of time. Even at that, I cannot do without mentioning the following folks:
@joerhino: donated 500 hives
@itsmiessyonpeakd: donated 5 hbd
@ryzeonline: donated 100 hives
To you, what you have done might be little, to my household, it is huge. In a world filled with toxicity, it is pleasant to see that some people chose to remain kind.
Thanks a whole bunch.
---
Posted via proofofbrain.io
---
---