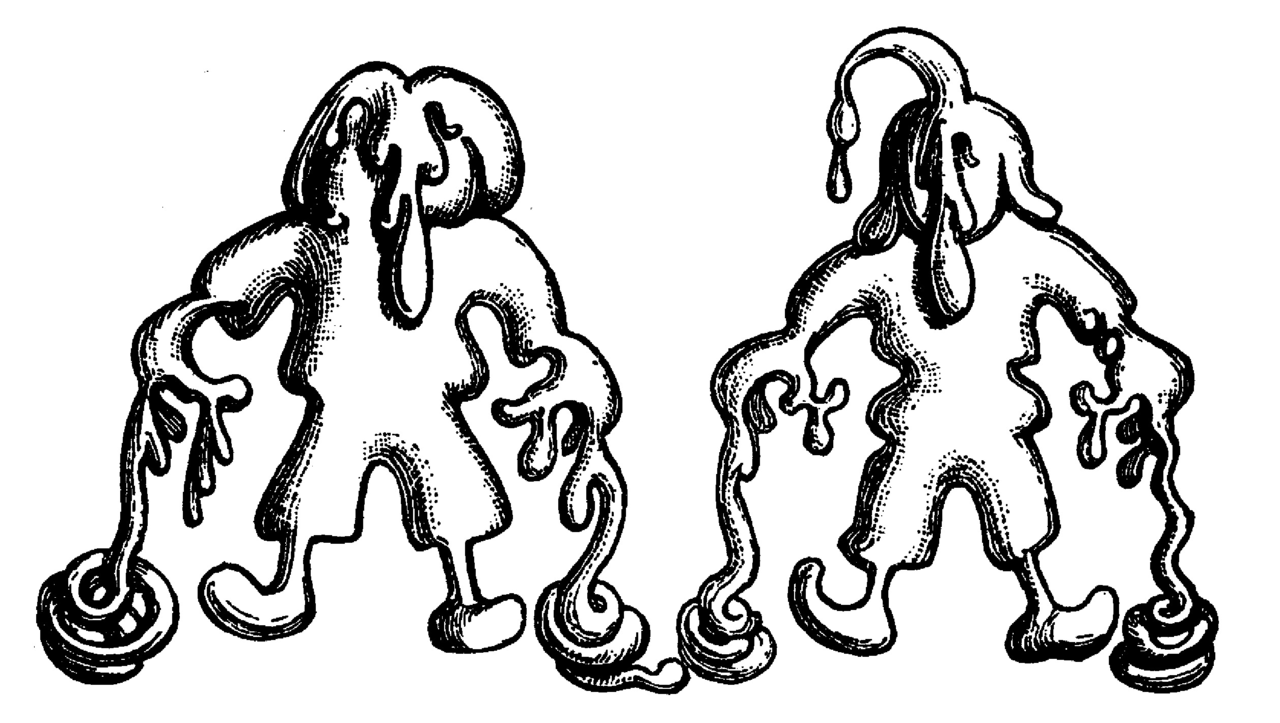 I focus on one of the seven deadly sins: "wrath".
While I type this words, it starts to be a process and I yet don't know the exact outcome of it. So I do not edit the parts which I call "process in flow".
My method of grasping the deeper dimension of this sin established by Christianity draws on Aristotle's logic in its approach, but develops it further with the help of modern philosophers and psychologists and the logical steps contained therein.
What often prevents me from thinking moderately about sins is the judge within me, his executioner and the accused. However, as soon as I am able to refrain from the punitive elements of my inherited culture and think less emotionally about virtue and sin, a new picture opens up to me, which I gladly follow.
Thinkers have further developed the Aristotelian method and at the same time mixed it with Asian teachings as well as scientific discoveries. This amalgamation of philosophy and science can be complemented by art. Today, I choose less of an artistic approach and more of an intellectual one. But it is not possible to separate the two so strictly.
Schulz von Thun's method is called the "four-value square". If I want to work it out logically, I can do so by thinking of certain problems that I would like to solve for myself. And as far as a recurring problem in my life is, for example, my unbridled fury, it offers me welcome cause to take a closer look at this fury.
In the square I place the word "wrath" in the lower left corner.
Then I start to think about what might actually be the mild form, the moderate expression of wrath. I come up with terms such as "justified anger", "energy", "feeling provoked" and "resistance". In this case, I decide to use the term "resistance". I write it vertically directly above the word "wrath", with some space in between. So it gets its own little box.
Now, "RESISTANCE" has become my first virtue in this square. "WRATH" the non-virtue.
Then the further mental journey begins.
I ask myself about the positive sister quality of "resistance". This is always the same procedure: Once I have identified a positive quality, I move on to find its sister. If you don't do it in that order, it can lead to logical fallacies.
Terms like "devotion" and "humility" come to mind. But I finally decide on the word "acceptance". It looks at the "resistance" and therefore fits very well into the picture. I make a box around the word, it has its place on the top right in the horizontal to the resistance term.
Now I am asked to think about the "more of the same", the exaggeration of acceptance.
What can that be? Is there such a thing as "accepting too much"? Sure, there is.
If I accept everything without resistance, every task, every demand on me, where would that lead me? (when you connote resistance just as a mild form of giving you time, it doesn't create the picture of a rising fist. Instead, it gives you a calm image).
How would I stand? Wouldn't I start to wobble because I would naturally be confronted with contradictory demands and requirements? Acceptance on all sides, if I overdo it, can lead to inertia and limpness, to indecision. I end up calling it "indifference". The wobbling is very tiring and in the absence of finding my footing, I fall over exhausted. Limp, sluggish, no longer capable of anything.
Note: I find something exciting here, namely, without it being my intention in the first place, one of the seven deadly sins: Sloth. So I happily replace "indifference" with my new found term.
Now, "WRATH" has become the left side non-virtue term in this square,
while "SLOTH" facing it horizontally as the other non-virtue.
What a perfect fit!
My square of values is almost completed!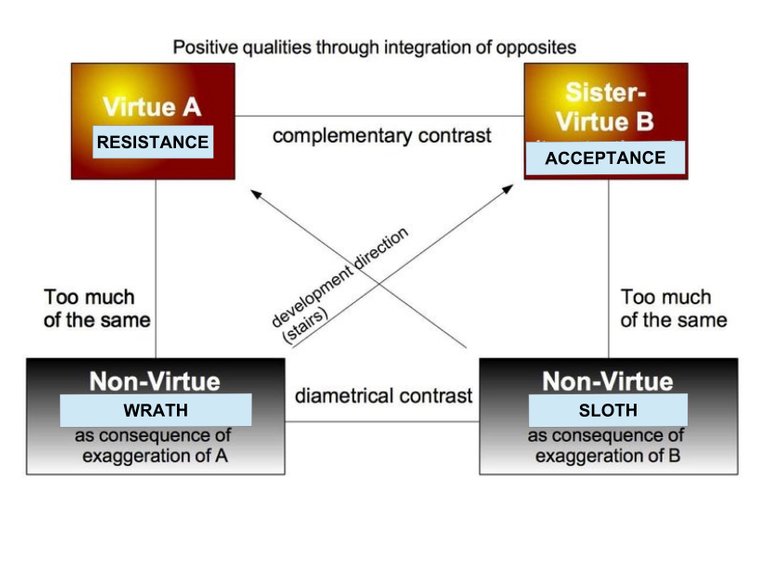 You may be asking yourself up to this point: So what? What is that supposed to tell me? But that's exactly what it's about. Go back to the beginning and try to see if wrath is a problem in your life. If you identify strongly with it, i.e. discover yourself (and even more, others) as a "sinner" in it, the task would be:
How can you develop your maturity, i.e.: become less prone to rage?
You now look at the square of values and recognise the redemptive steps from the problem upwards in a diagonal direction! Your learning staircase leads you up to "acceptance". This is the only logical step, as I have listed the procedure here. And you may think: Oh, that's mere trivia!
But first of all, it requires that you have relative clarity about what your recurring problem in life is. People are the best helpers because they always give you unsolicited criticism. You can recognise a certain amount of truth in what you see repeatedly being brought to you, through remarks, side-swipes or direct confrontation. The feedback of your fellow human beings is quite reliable in this respect.
On the opposite side, the non-virtue, inertia, is often a concomitant of fury.
Whether the rage is acted out or suppressed does not play a major role. Both lead to a depletion of life energy, and ultimately, because it is all too much (one's own ire is overwhelming!), one immediately falls prey to the second sin and simply allows oneself to drift into the nest of oblivion. Gripped by an all-encompassing inertia, feeling immobile, following the sleep of forgetfulness. In Asian, this may also be called "ignorance".
The process and the multidimensionality of this method revealed something to me:
If I tend to be quick to rage, I need a developmental goal. Of course, someone could have the whole procedure down in seconds with just one sentence and say, "Then learn to accept things better."
Presumably that would lead to the enraged person becoming furious all the more quickly. Which is not so bad if you are not prone to wrath yourself. And you can leave the mad person alone with it, so that he or she can steam out - preferably in solitude.
Following my certainty, sins and their virtues are not about educating others and proselytising them. It is first and foremost a process of self-knowledge and it would suit us not to think of others in all these sins and virtues, but rather always and first and foremost of myself (you).
In order to close the figure completely,
the staircase of the one who tends to inertia is still missing, i.e. his stages of maturity towards more resilience and life-energy: resistance.
Between the discovered virtues there is a positive, energy-giving tension, between the vices there is a grudging or completely flaccid tension that robs energy.
In summary,
I would say that moving in this processual form is a good way to remove oneself from the sins of others and give priority to oneself and one's own maturity development - it's "killing time" in a creative way. It is an interruption of habitual patterns of thought and action and insofar as I am still able to carry this method beyond its own horizon, I may find the artistic approach that offers me another form of expression.
I wish you much fun and success with the method!
Please counteract my prejudice: no one of you will give his own practical example in scribbling a square of values - ;-)
If you are interested but still have ?? about it, I am happy to be of service to you.
Thank you for reading.
---
Picture source - title:
Von Wilhelm Busch - extract from original an book, Gemeinfrei, https://commons.wikimedia.org/w/index.php?curid=1576385
Graphic:
my own.
---
This is part of the #pop-wotw competition announced by @scholaris, this time a series of entries can be posted as this is about seven deadly sins. One can be dealt with in each post. The text above is my way of dealing with it. For the terms, please read his original post. Thank you very much for this challenge!
---
Posted via proofofbrain.io