When I refer to Dogma, I am speaking of the act of deciding something is unquestionable, unassailable, the absolute truth, etc. When stated so bluntly I suspect most of us immediately will state we do not like dogma. We will likely talk about how people should question everything.
I am becoming increasingly convinced that there may be a system in our minds that drives us to form these dogmatic thoughts. We tend to simplify things. We do so because it allows us to operate in a much more complicated fashion. I want to talk about this simplification first...
Consider how I referred to Dogma above as "unquestionable, unassailable, the absolute truth, etc." We simplify by giving that a label such as Dogma. Often we will further specify by giving something that has Dogmatic ideas that tend to revolve around understanding reality, and what fashion the creator/God(s) exist in as Religion. From that point on we can simply use the term religion.
Do you see how we take concepts and define them as something more simple and then we can use that simple version to then go on and think of larger thoughts? We do this because through simplification we create modular components of thought that can be combined to build other thoughts. We call these words. We can create new words that encompass other words and then use the new word in place of those words.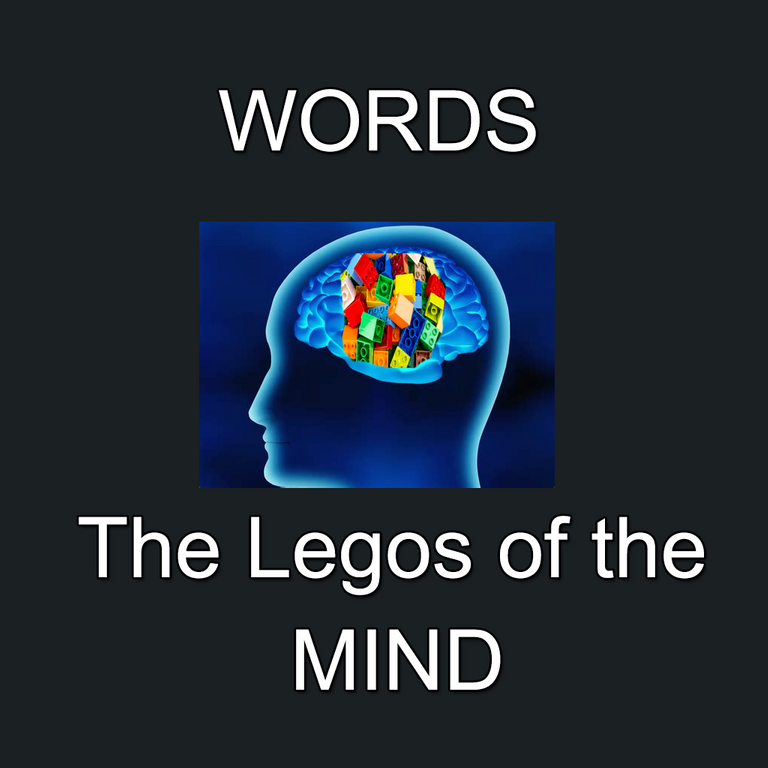 With this we can then construct larger things. If we did not have the ability to simplify we likely would not be able to achieve this in any timely fashion. Here is an example...
Instead of telling you that we need to build a house. If I could not simplify I'd need to be telling you we're going to mix water with mud and stir it. Then we are going to lay a line of stones like this and put the mud between the stones. We will let the mud dry some. Then we will put another line of stones above that and more mud around those stones. We will keep doing this until it is our height. At that point we will need to move some things into place to let us stand higher. We should repeat placing stones and mud until what we are building is as tall as if a half person stood on top of us.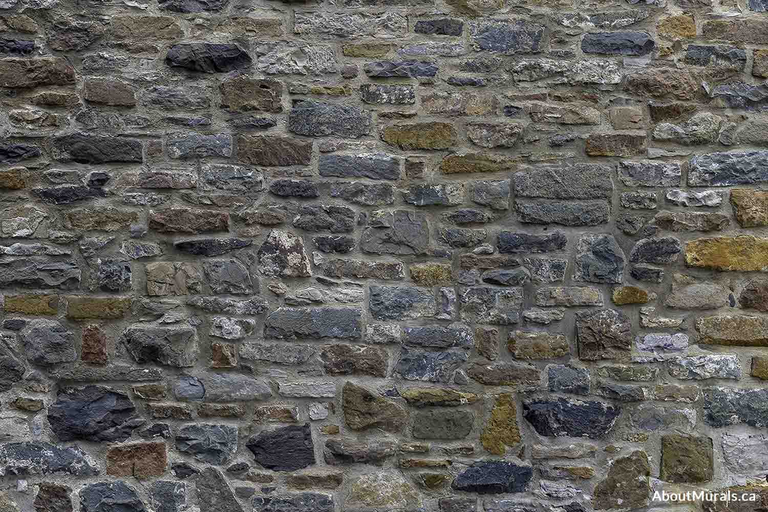 (Image Source: aboutmurals.ca)
That is my example of telling you how to build one wall. Yet I still used some simplified terms. I referred to mud. Mud is a simplified term for wet dirt. Describing how to build a simple square house without being able to use simplified terms such as walls, windows, bricks, mortar, windows, door frame, door, roof, flooring, etc. would take a huge amount of time. Using those terms takes longer than simply saying house. We are able to convey thoughts rapidly due to the modular nature of our thinking.
This is quite amazing. Our mind adapts to new complex ideas and allows us to encapsulate them into something we can quickly use to represent that thing.
---
It sounds wonderful right?
Well it is. It is amazing. Yet it is not without risk.
Our mind naturally wants to simplify concepts. It enables us to solve problems that would be too large to understand without this ability. Yet when we are not speaking simply about physical concepts as in the example above and we start thinking about the future, and trying to predict and explain complex things that we cannot see and we only hold in our mind, then we have a danger.
When considering the mental environment we simplify and create new mental components for our mind to work with. Yet what happens when in the simplification of the mental components we leave out important factors because we were unaware of them? Now we have a brick wall with no mortar so to speak. We then go on to build more complex ideas with that simplified mental component with a flaw as a piece of even larger things. As the ideas get bigger and bigger we are farther removed from the fact that initial component was missing some things. Now we have a very complicated idea and something is going wrong. Yet we don't know why it is going wrong because while we are very good at simplifying. We are not particularly skilled at reversing the process.
In fact our mind seems to have mechanisms such as Cognitive Dissonance that kick in when something is not right with a complex idea (sometimes called a belief). Rather than helping us to see the flaw and adjust accordingly it instead helps us try to look for excuses, or ways to ignore the flaw. This resides in all of us. We can resist its effects by being alert to when it seems to be happening in us. That seems to be a key to shutting down our own cognitive dissonance. Becoming aware of it. Yet you will still fail at detecting it some times. You can just work on your own at getting better at noticing it so it may not keep you fixated on not being wrong.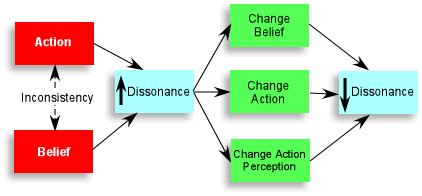 (Image Source: sites.psu.edu)
This is present in all of us.
---
The Trap of Dogma
One of the things we do as part of our simplification process is identify people we consider better at certain things than ourselves. When things occur that these people are better at we will usually defer to their judgement. We treat them as an authority. Perhaps we call them an expert. Maybe we call them elite. Maybe we call them smart. This often works out well as probability tends to favor this. Yet it also can be an extreme flaw. It is an exploitable flaw by those that have the drive to control and manipulate others.
We also do not like being wrong generally speaking. Depending upon how important we consider something to be that we finally admit we were wrong about we may feel shame, anger, etc. If the being wrong turns out to be only because we trusted or put our faith in someone we considered an authority/expert on the subject then we will likely feel duped, betrayed, hatred, sadness, anger, etc. If we view it as a system of thought that was flawed we may react and assume that anything coming from that system was flawed. This can occur even if most of the system actually was correct. If one detail in that system was flawed and of something you considered fundamentally important you can lash out and declare the entire system as corrupt and wrong. Yet often that is not the case. One flaw does not make the entirety wrong in many systems. It points out a flaw that we need to resolve. If we can replace it with another system (model) that accomplished the same needs as the original but addresses that flaw then we should do so.
Yet the trap of dogma is that this is not usually what people seem to do.
They are convinced by something they observe, or something they have been told that makes sense to them. Perhaps they are told X is not possible. They trust the person who told them this so now they too are repeating that X is not possible. Yet the person that originally told them this could have been ignorant about some knowledge and X was indeed possible, they simply didn't know. They possibly had become accustomed to being told they were an expert so they stated the absolute of "not possible". They told others. Now others are spreading that it is not possible.
This path leads to dogma. The language of dogma resides in absolutes. Absolutes block challenge. Absolutes abide no questions. Absolutes imply certainty.
Never, Always, All, Every, Every time, Nothing, In All Cases, No One, Everyone, etc. These are the language of dogma.
Often we will run to them when something we thought was important shifted our world view. Yet in running to the absolutes we shut the door on challenge, and questioning.
Absolutes do exist. Yet they are not even remotely as common as their usage would make them seem. Sometimes people are simply exaggerating. Yet words have power. As we simplify complex ideas into single words when we use those words not everyone that hears or uses those words may understand them in the same way.
---
Examples of the trap...
A person encounters some videos and images on the internet of people claiming the world is flat and they have proof. They show videos and state how if the world were a globe this would not be possible. Then perhaps they'll show shafts of light coming a certain way through some clouds in a forest with some colors and say this too is not possible if the world is a globe. I actually have had this happen. I blinked and said "Have you ever heard of refraction?" It is something we can do easily and replicate. Some of us know exactly how that is possible.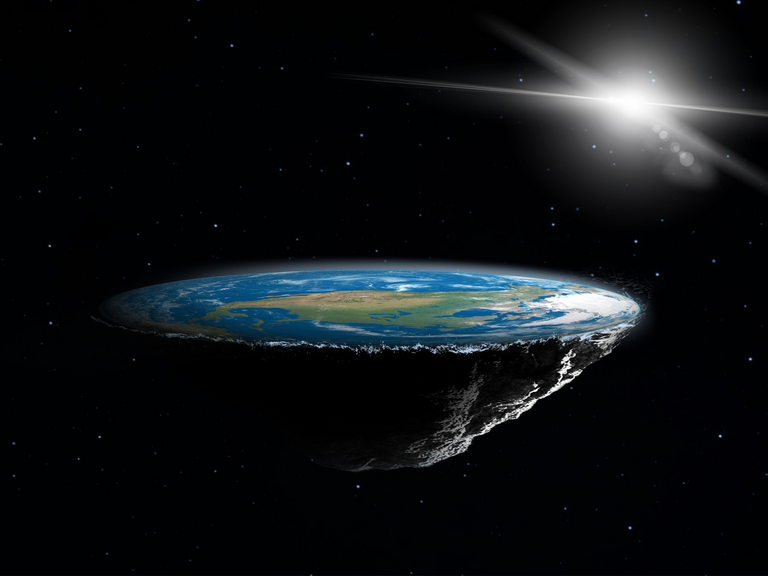 (Image Source: newsweek.com)
People will drape their ignorance solidly around themselves and state because THEY don't know how a thing can occur that it is not possible. Sometimes they will say it simply because an EXPERT told them it was not possible when that expert themselves pushing their ignorance on a subject as fact. They couldn't appear ignorant about anything to those they were trying to convince.
That does not mean we should not listen to people when they point out a flaw. They could be correct. We simply should be warry when they start claiming what is and is not possible. The language of dogma often conceals the ignorance of the person speaking it.
---
Another case is when I encountered a person in this community we are in now years ago who is convinced nuclear bombs do not exist and that the videos we see of nuclear detonations are fabricated.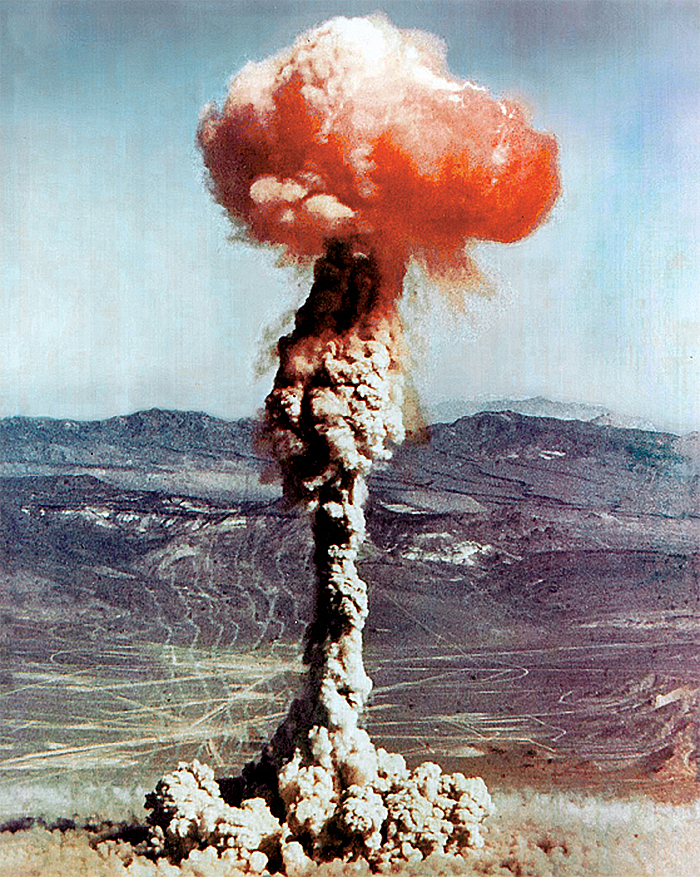 (Image Source: en.wikipedia.org)
I told him this was not the case because I happen to be well versed on how such videos would be faked. I know subtle techniques that reveal the fake if you know what to look for. In the case of nuclear explosions we are talking a very complex image with trillions (even more) of visible particles moving and interacting. To fake this convincingly we'd have to mimic that process. We do this in video games but we fake it by using different patterns that we rotate, scale, and color in different ways that we also confer motion to. We call this particle systems. If you've made enough of these like I have you know to look for the patterns and shapes used to make the individual particles. I have yet to have seen a movie sci-fi, modern, etc. using a thermonuclear explosion that I cannot see these things in.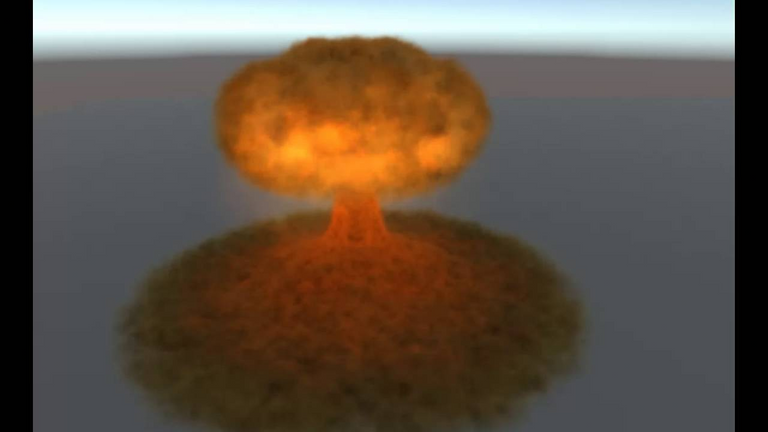 (Image Source: youtube.com)
Now step back to the earlier videos from the 1940s and onward this technology did not exist. They instead used overlays, splicing in other imagery, etc. That technique is even easier to see than using complex particle systems of today.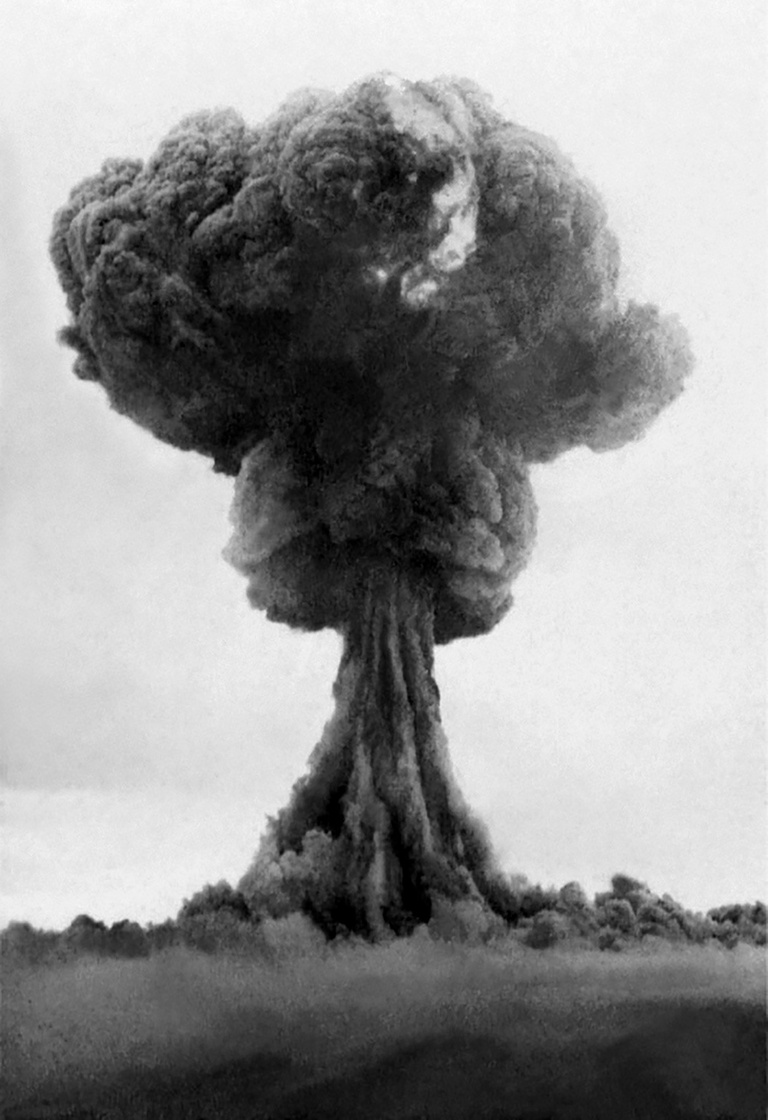 (Image Source: rbth.com - 1948)
Even today with the tech we have faking those earlier videos to look like they did would be extremely time consuming as the only way we could convincingly pull it off would be by actually simulating a vast number of particles of small size. Furthermore we'd have to get the movement and planning just right. When I say vast... I mean so large in number that it would be very time consuming, and extremely expensive just to pull it off.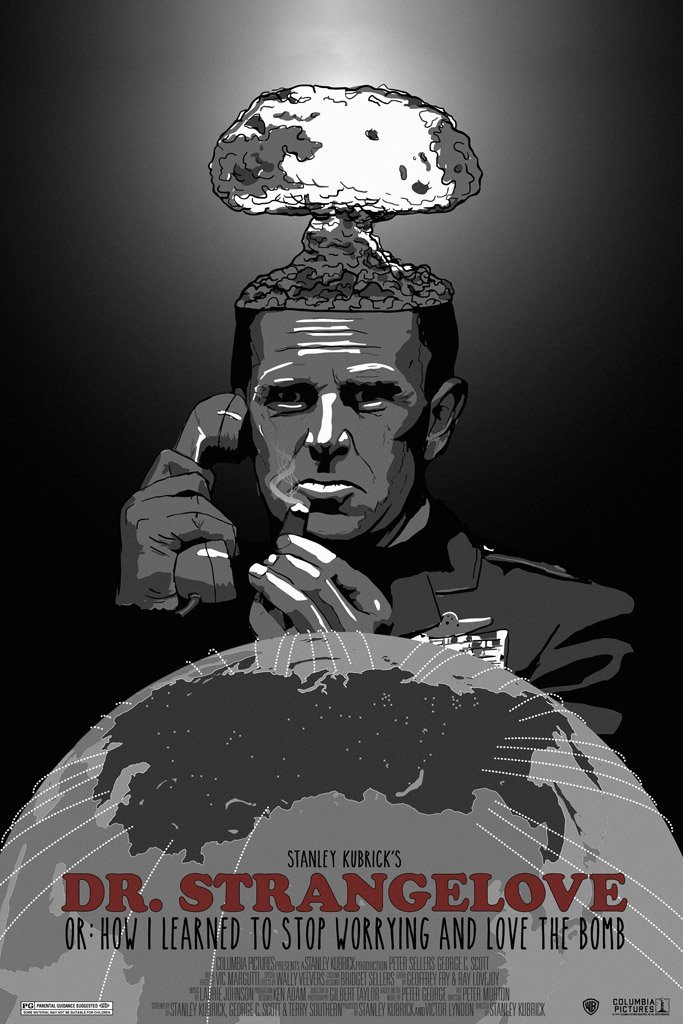 (Image Source: myhotposters.com)
Now to defend this dogma that nukes didn't go off and exist you can try to run to the "secret tech" and imply that they could do all of this in the 40s. Nah. I don't buy that. To me that enters the realm of what sometimes people call "magical thinking".
---
There are other examples of this that I see today. Seeing a flaw in some "scientific" theory and jumping to the conclusion that everything about that theory is wrong, and therefore this other theory must be correct. To me that is jumping from one dogma to another. Often both theories had aspects that may have been relevant. In trying to find the parts that make sense together we move forward. If we embrace dogma in this fashion we risk a ping pong type of situation of react to a flaw, bounce to another dogma, react to a flaw, bounce to another dogma.
Absolutes are the language of dogma. When I hear absolutes I immediately go into the red flag mode. "What do they want me to blindly believe?" "Who are they indicating I should trust, and who are they saying I should not trust?" Is it moving from the words of one authoritarian to simply blindly embrace the words of some other authoritarian?
This to me is not a path I wish to walk...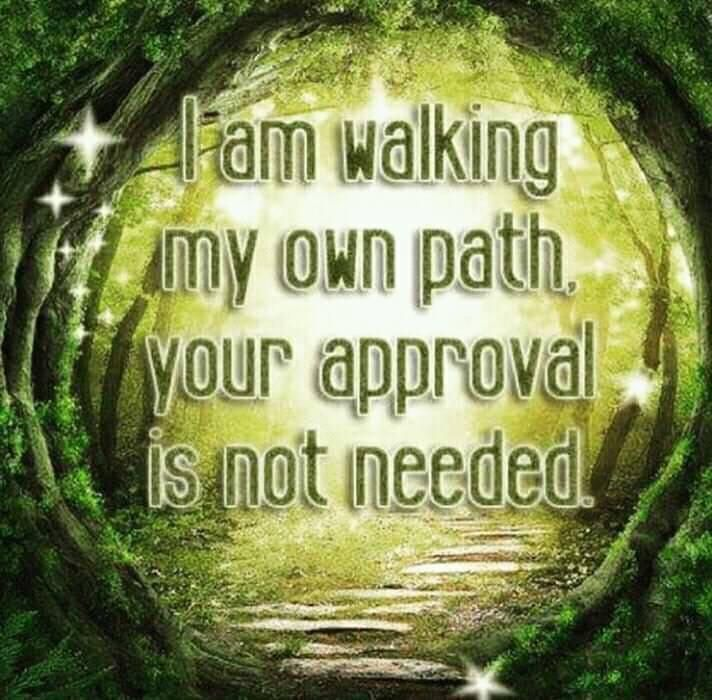 (Image Source: pinterest.com)
I want to parallel ideas from people and take what works for me and fits my life model best and keep walking. Hopefully my path takes me where I need to go. I do not want to blindly jump upon the same path as someone else and stop making my own choices.