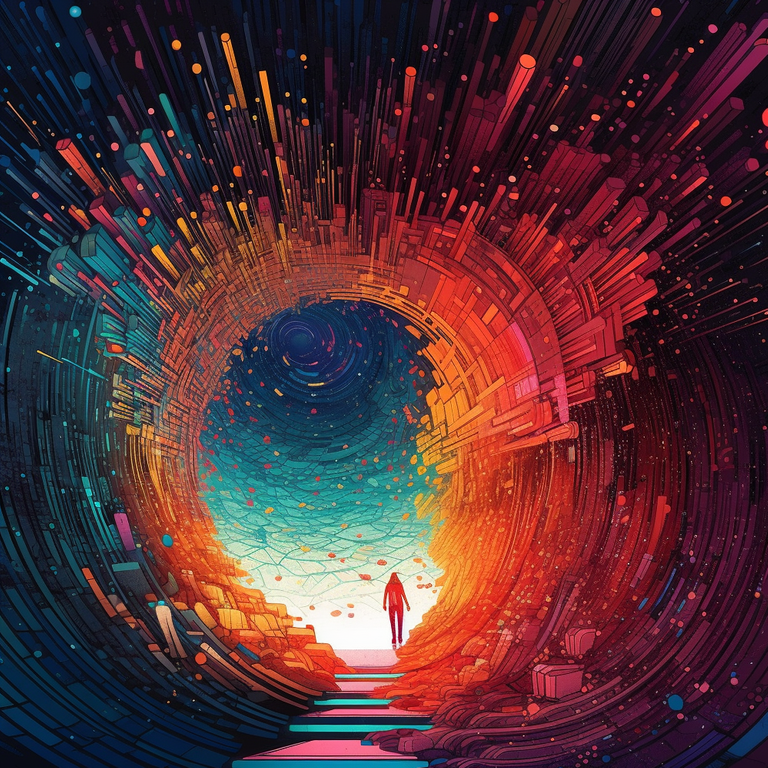 Hi everyone! 😄
I wanted to write an article today about AI. It is a subject that fascinate me, and as there are a lot of discussions about it, I wanted to give you my opinion about all this.
All the images in this article were created with Midjourney for the occasion.

What is art ?
Art seems to be a matter of intention.
A chair is industrial when it is used for sitting, but it is considered art when the person who created it intended it to be so, to seek to make it artistic.
An image generated by Midjourney is just a bunch of pixels. But it's the human who generated it who had the intention to make it artistic, to try to generate something beautiful. I think in that sense it can be considered as art.
And the discipline of this art would be based more on the skill of programming or art direction, the difficulty being to manage to direct the AI to where you want it to go.
Sometimes you have to use stratagems to get it to come out with what you want, instead of just using the first words that come along.
Art is something extremely difficult to define, as it is a concept (I'll come back to this later).
Defining what art is is more a matter of philosophy than of semantics.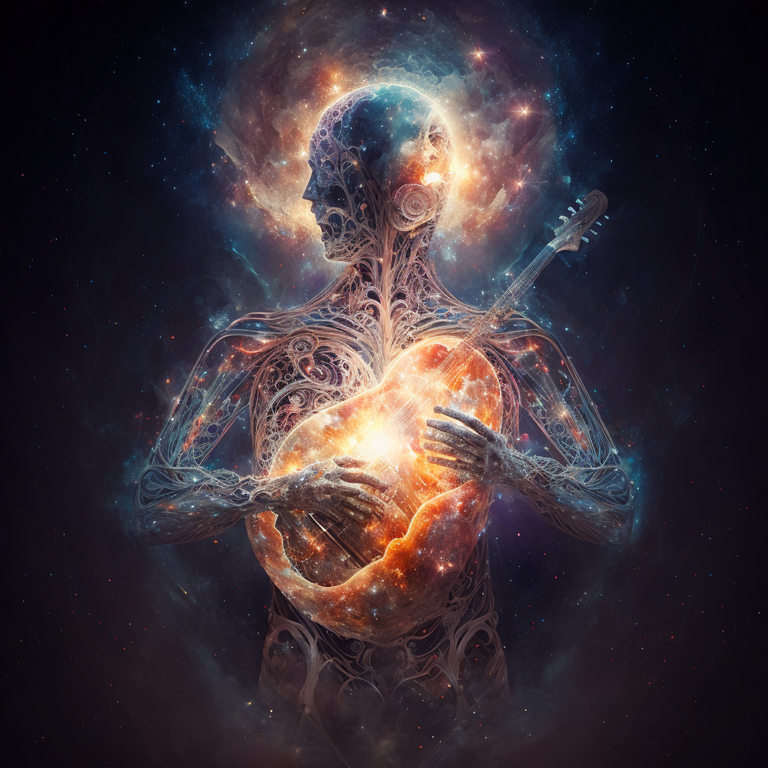 Does AI steal artists?
I could not speak about AI without mentioning the most criticized aspect about it : would it steal the work of artists?
In fact, we could not create an image starting from nothing.
It is not because you have a white paper with no reference in front of you that you start from nothing ; you will draw with all your baggage of experiences, influences and inspirations.
The first artists of history have been inspired by nature and by all the elements around them.
The next ones have been inspired by the previous artists, etc.
It is an intuitive principle, both from the point of view of the human brain and the evolution in general.
"Nothing is lost, nothing is created, everything is transformed."
AI just apply this intuitive concept. It litteraly learn from images, like the human brain.
It just make it better than us. (or sometimes less well, let's see how it draw the hands!)
It analyses billions of informations on the images, learn what makes a tree looking like a tree, what is "orange" and what is "a car", etc.
And finally, it hallucinates an new original image.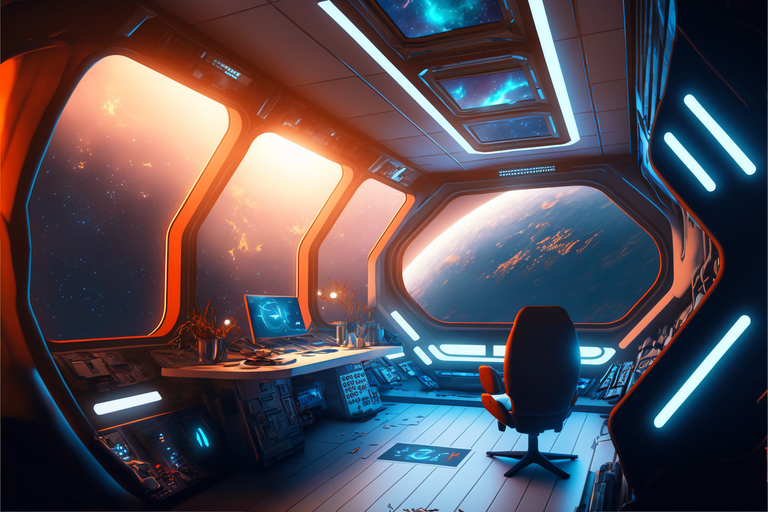 The society, not the AI
I have noticed that most of the critics of AI are about the world of work.
They are afraid of losing their jobs and also of the whole business side of AI in general.
What I think about that is that the big problem here is mostly about capitalism, the fact that people in society are mostly interested in the monetary aspect of things, more than the usefulness or simply the beauty of things.
People find themselves in direct competition with AI, so they are not let to see the potential of this technology, they just see it as an inhuman replacement.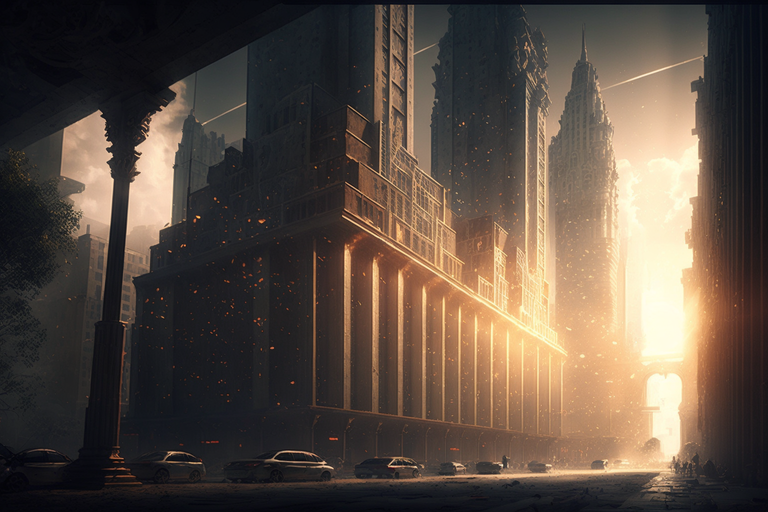 In fact, as every new revolution in sociecty (like industrial revolution) it brings movement to the trades. Some disappear, others are born, and still others are reinvented.
Maybe some technical artistic jobs will disappear, but a lot of others will emerge.
People who until now had no opportunity to share their ideas and develop their projects due to lack of artistic talent or money to pay artists will be able to bring their project to life.
I think that technical jobs as the jobs in the art area are destined to always evolve.
They depend on the technologies they use and are necessarily subject to change. It's inevitable. Learning to reinvent ourself is difficult, and it's even more painful when the world of work is toxic.
Reinvinting the concept of work
These years, we found, apart from AI, a lot of of trades in shortage due to technology, and people loosing their job. People find themselves unemployed, sometimes in misery, with the difficulty of finding a job. But this is because of the system.
In the future, it is impossible for the current "work for all" model to hold. There will be more and more of us, and there will be less and less work. And in fact, that's just as well.
I have never understood this obsession with making people work as often and as long as possible. It's exhausting, people don't have time for their own lives, and end up in burnout.
Actually, I do understand it. It's all about profitability, employing as few people as possible for as long as possible.
But, we could work less, like three people working 1/3 time each one the same work, for example.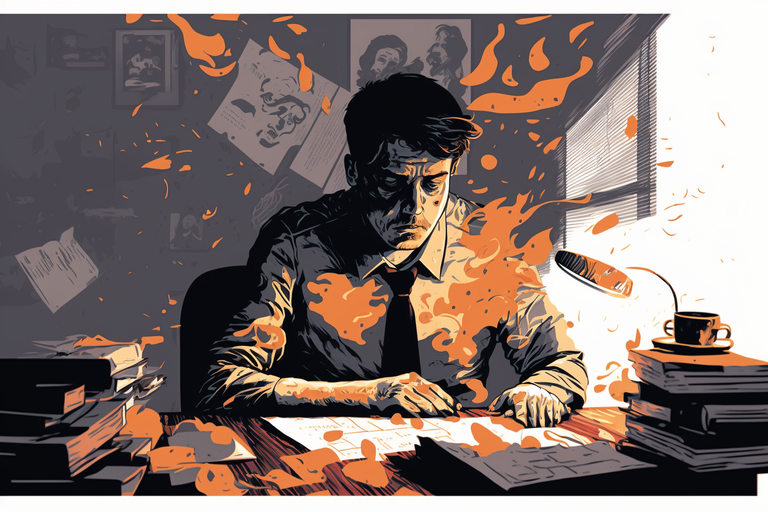 Thanks to the technology, we could delegate repetitive work, which is really inhumane, to the robots.
It doesn't mean that their will be less humanity and social interactions, because we need them.
We're naturally drawn to sociability, and if we don't have social interaction at work, we'll have it more in places like coffee shops, or maybe there'll be a resurgence of places like Agoras, where we would discuss philosophical discussions.
The only thing is not to fall into the trap of the metaverse, which would be extremely harmful.
This is the main purpose of promoting this to the people; to put them to sleep, to have limited interactions to be as controllable as possible.
While the elite would be in control of reality.
The reign of illusion
What distinguishes us from other animal species?
The Fiction.
Other animals can interact with each other in very complex ways. But they will always communicate about physicals things, such like the banana which is next to them.
Human, for its part, can think and speak about concepts. He can fight and sometimes even to the point of losing their lives for concept such like democraty, the political left and right, patriotism,...
But all that things are not tangible. Even the starbuck coffee we drink, we do not drink it because we especially like coffee, but because we like the brand, we believe in it, in its concept.
Little by little, we have increasingly fed this imaginary world, with art having contributed enormously.
My generation is in the thick of this case of imaginary construction.
I grow with cartoons, movies, illustrated books, toys, amusement parks, video games, music,...
We are permanently in this imaginary blur, so much so that we confuse reality with it.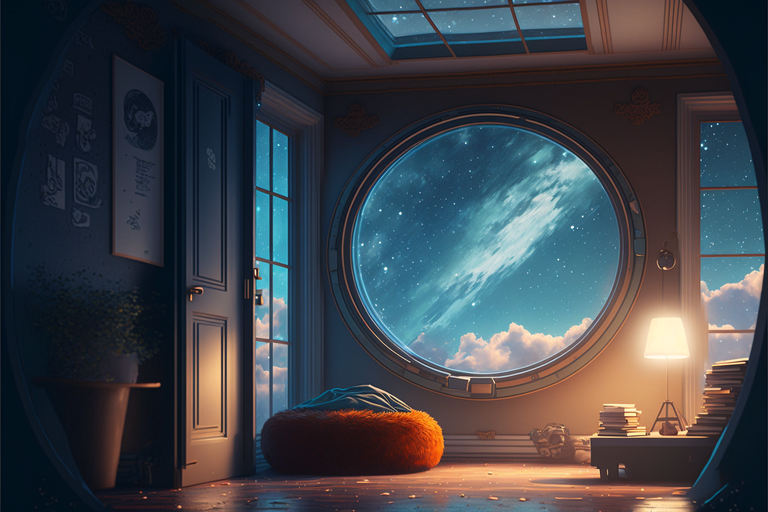 And this is exactly the fear of the people opposed to AI ; to lose even more authenticity, to live only in a virtual world.
Paradoxically, while I totally denounce the unreal aspect of society, it is not something I fear in relation to AI.
In fact, I'm quite fond of the "straw that broke the camel's back" concept. In politics or sociology, I think it's when humans tend towards an extreme that it comes out.
Now, we are so overwhelmed by the unreal, the fictional, the synthetical that people will get tired of it all, and will want to get back to basics. They will have been disgusted with the overload and will want to experience back the stimuli of reality, to see and experience real things.
An example I can give for to support my point is the case of vinyl; today there is a resurgence of listening to music on vinyl, instead of CDs. People have been so used to digital that they want to go back to something more authentic, more tangible.
History is an eternal restart
The actual discussion about AI makes me think about previous ones such like the transition of the photography ; at this period, painters was very critical about photography, and thought that their profession would die out, because anyone could now have his or her photograph, and would no longer have to request a painted portrait.
I'm sure that at this time, a lot of people criticized photography, saying that it was not art, as the photographer having "only" captured reality.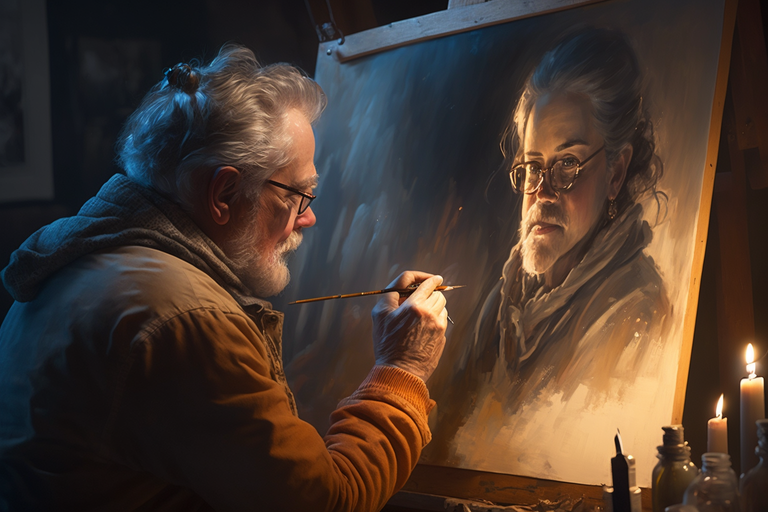 But the fact is that 2 century after, there are always photographers, and there are always painters.
After the apparition of photography, the painters reinvented themselves. As the photographers have seized on the realistic side of the image, painters started to search about less realistic form of expressivity, such like impressionnism.
I'm sure that it will be the same for AI.
In the future, they will always be both AI and artists.
But in what form ?
The technology given to the elite VS technology given to the people
In fact, I am mostly very reluctant to new technologies, because most of them are taken by elites. I am very afraid of surveillance technologies, which would bring us closer to an Orwellian world.
What happened in China reminds me a lot of that, and it is very worrying for the future.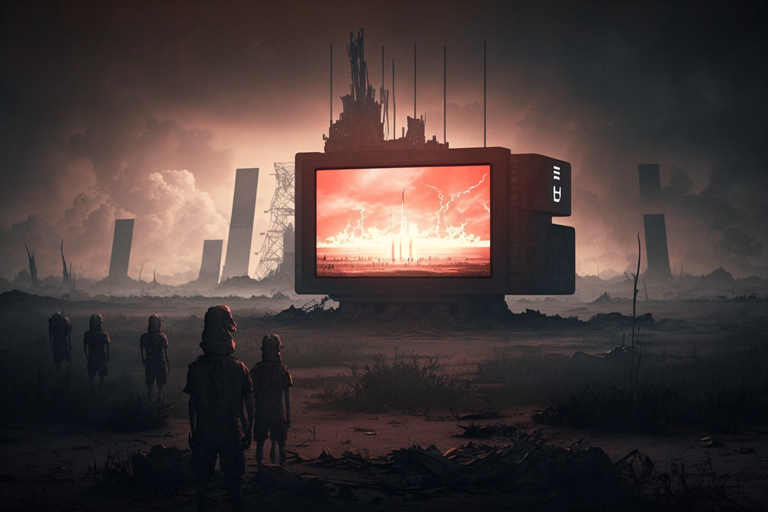 But when technology is given to the people, it is a big power.
The AI revolution makes me think about the internet revolution.
This is an example of a technology open to the people, which makes them freer and stronger (as long as you use it well, as with everything).
We can be aware of things that should not have been known, learn things by ourselfs. Communicate with people very far away.
The elites know that the internet is a threat, which is why they try to restrict it, or limit thought through social networks.
Jaques Attali, an important French man, in fact said :
"The Internet represents a threat to those who know and decide. Because it gives access to knowledge other than through the hierarchical process."
The prevailing intellectual laziness
An other point to mention, when we talk about the potential drift of AI in society, is the intellectual laziness, a phenomenon with which we are already very familiar.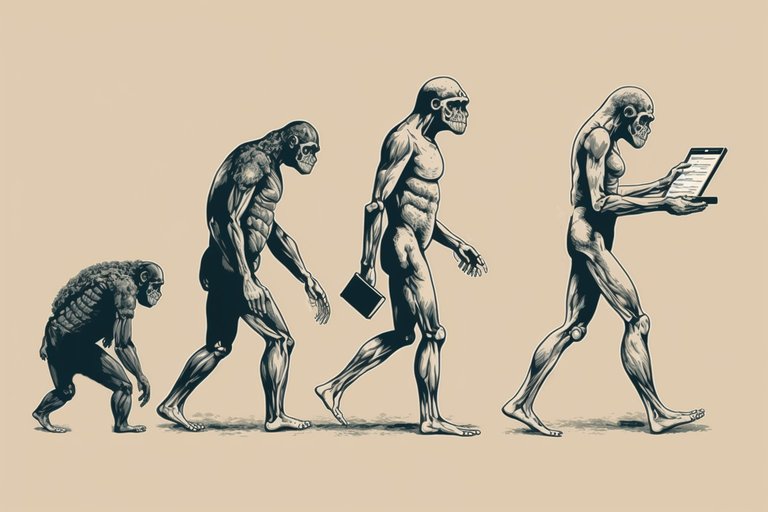 Accustomed to the facilities offered by everyday technology, we make less and less effort.
If we only use AI to create content on the assembly line without having to think, yes, it would suck.
But, if we use it as a tool to gain time to focus on most important things, or use it to build a project, find inspiration for painting,... then, AI would be a great support.
Again, technology should help us to improve reality, not substitute it.
It should elevate us, make us more intelligent, rather than dumbing us down.
It should help us save time to focus on the essentials, not waste it by being dependent.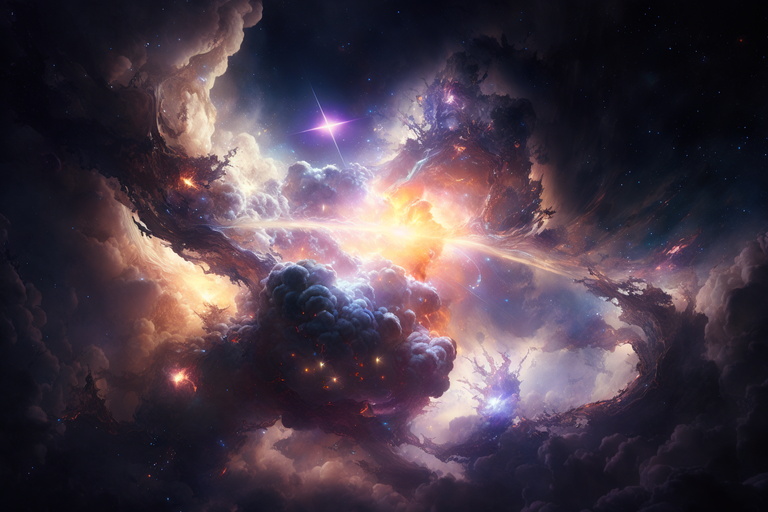 In conclusion, I would say that : tools given to the people are a strenght.
It is to us to appropriate them et makes them our allies, to push us beyond our limits.
I would like to discuss more about AI, especially about the use that we could have with, but I didn't want to spread myself too thin in this article, I preferred to concentrate on the sociological aspect of the subject.
So, the next article about AI will talk about its possibilities, some examples of uses that can be made of it.
Thanks for having reading me.
Don't hesitate to leave a comment with your opinion, I will be happy to exchange with you, whatever your opinion, it is welcome.
Have a nice day and see you soon! 😊