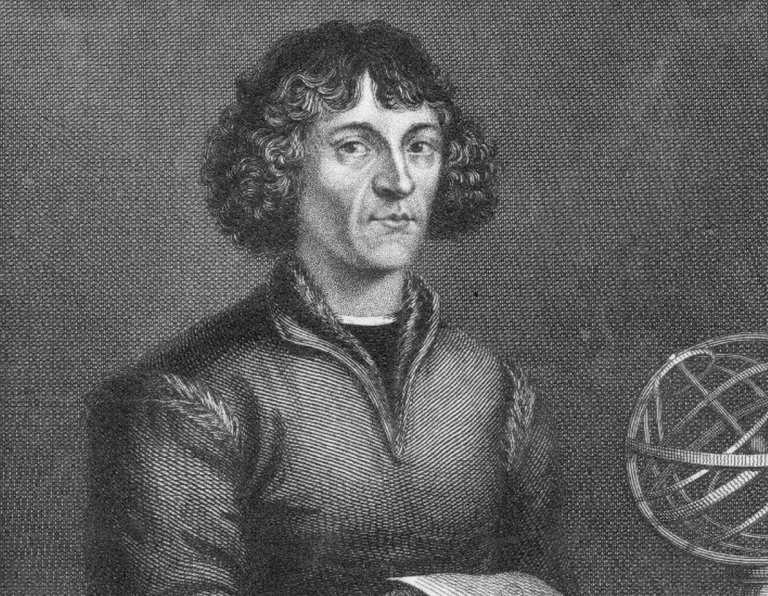 Image's Source - Fuente de la Imagen
---
Today, in 1473, Nicolás Copernicus is born, a Polish astronomer considered one of the bastions of scientific thought of his time, and a reference in the history of the science of the Western world.

He was orphaned at an early age due to a plague in Frombork, the native site of him, after it was under the care of his uncle, Bishop Lucas Watzenrode. This tragic event was not a rare occurrence, but in this case it allowed the young man to receive an exquisite education. A training that he then completed when traveling to Italy and studying canonical law, but he showed that he had no real vocation for this career, for luck of all of us.

His taste for life in Italy led him to postpone his return to his homeland for a long time, in his wanderings he had contact with Domenico Maria Novara da Ferrara, Astronomer of the University of Bologna, and this meeting began interest in astronomy.

Finally, in 1503, he returned to Poland and was named Canon of the Frauenburg Cathedral, it is not uncommon with his training, worse, worse what is striking is that he is recorded that he asked to be able to live in the tower to observe heaven, his interest led him to study the celestial bodies and his movements in the night sky.

Of his studies and observations, by applying mathematics and constant reviews, he went increasingly convinced that the dominant model, in which the earth was the center of everything and the celestial bodies spoke around him, was wrong, with what That the other model was, the heliocentric, where the sun is the central body and the other celestial bodies orbit around it. That idea had a touch of heresy, and is a luck that the Inquisition did not pay much attention.

He lived in that tower for 30 years, presented the ideas of him before Rome and managed to meet them in a book that was published three days before the death of him. It was after 80 years that the Inquisition prohibited his work for heretic or contrary to the religious dogma that the Earth should be the center of everything because God had placed the Humans there, and we were the "Beloved Children of God" ... I consider that It was forty that this man could live his life without being threatened and that his work could enjoy so much time, I do not know if it was for pure administrative delay or was because they did not consider what he said very important, and there was no danger of affecting it The dominion over the incultation masses.

In the way it was, it is also a very striking achievement from my point of view that a man of his time, very religious, managed to overcome the limiting of the criterion of authority (the truth is what a superior authority indicates that it is true) o The disclosure criterion (the truth is that faith indicates as truth), that way of thinking, to test, to contradict the ideas of the majorities, all that is very scientific, that ability to separate their religious beliefs From his observations of reality are undoubtedly what I appreciate all this.

For me, he is a character of the most striking and really wanted to share about the date of birth and some details about his life.
Hoy, en 1473, nació Nicolás Copérnico, astrónomo polaco considerado uno de los baluartes del pensamiento científico de su época, y un referente en la historia de la ciencia del mundo occidental.

Quedó huérfano a temprana edad debido a una plaga que asoló Frombork, su sitio natal, luego de ello quedó bajo el cuidado de su tío, el Obispo Lucas Watzenrode. Este evento trágico no era de rara ocurrencia, pero en este caso permitió que el joven recibiera una exquisita educación. Una formación que luego completó al viajar a Italia y cursar estudios de Derecho Canónico, pero demostró que no tenía real vocación por esta carrera, para suerte de todos nosotros.

Su gusto por la vida en Italia le llevó a postergar su retorno a su tierra natal por bastante tiempo, en sus andanzas tuvo contacto con Domenico Maria Novara da Ferrara, astrónomo de la Universidad de Bolonia, y de este encuentro inicia el interés por la astronomía.

Finalmente, para 1503, regresó a Polonia y fue nombrado canónigo de la catedral de Frauenburg, no es raro que con su formación fuera un canónigo, peor lo que es llamativo es que se registra que pidió poder vivir en la torre para poder observar el cielo, su interés le llevaba a estudiar los cuerpos celestes y sus movimientos en el cielo nocturno.

De sus estudios y observaciones, al aplicar matemáticas y revisiones constantes, se fue encontrando cada vez más convencido de que el modelo dominante, en el que la tierra era el centro de todo y los cuerpos celestes giraban a su alrededor, era errado, con lo que quedaba el otro modelo, el heliocéntrico, en donde el Sol es el cuerpo central y los demás cuerpos celestes orbitan a su alrededor. Esa idea tenía un toque de herejía y es toda una suerte que la inquisición no le prestara mucha atención.

Vivió en esa torre durante 30 años, presentó sus ideas ante Roma y logró reunirlas en un libro que se publicó tres días antes de su muerte. Fue después de 80 años que la inquisición prohibió su obra por hereje o contraria al dogma religioso de que la tierra debía ser el centro de todo porque Dios había colocado allí a los humanos y éramos los "hijos amados de Dios"... considero que fue toda una suerte que este hombre pudiera vivir su vida sin ser amenazado y que su obra pudiera gozar de tanto tiempo, no sé si fue por puro retardo administrativo o fue porque no consideraban muy importante lo que decía, y no había peligro de que afectara el dominio sobre las masas incultas.

De la manera que fuera, también es un logro muy llamativo desde mi punto de vista que un hombre de su época, muy religioso además, lograra superar la limitante del Criterio de Autoridad (la verdad es lo que una Autoridad superior indica que es verdad) o el Criterio de Revelación (la verdad es la que la Fe indica como verdad), esa manera de pensar, de poner a prueba, de contradecir las ideas de las mayorías, todo eso es algo muy científico, esa capacidad de separar sus creencias religiosas de sus observaciones de la realidad son sin duda lo que más aprecio de todo esto.

Para mí, es un personaje de lo más llamativo y de verdad que quería compartir acerca de su fecha de nacimiento y algunos detalles sobre su vida.