Shapes-Puzzle
[ESP]
¡Hola a todos familia!
Hoy quiero traerles un post diferente, les quiero contar algo más de mi. Soy profesor de matemática y siempre me intereso en todo lo que tenga que ver con en la tecnología y la forma de incluirlas en mis clases (secundaria/ univerisdad). En esta ocasión quiero traerles un trabajo que hice hace un tiempo con una herramienta fabulosa para los profesores que nos gusta innovar en el aula. Para hoy elegi una actividad realizada en GeoGebra (una herramienta digital gratuita). Les dejo más abajo el LINK para los que no la conocen.
[ENG]
Hello everyone family!
Today I want to bring you a different post, I want to tell you something more about me. I am a math teacher and I am always interested in everything that has to do with technology and how to include it in my classes (high school/university). This time I want to bring you a work I did some time ago with a fabulous tool for teachers who like to innovate in the classroom. For today I chose an activity done in GeoGebra (a free digital tool). I leave below the LINK for those who do not know it.
---

---
En este post no voy a hablar sobre cómo se trabaja con GeoGebra o cómo hay que hacer para programar. Simplemente hoy quiero compartirles un juego que programe utilizando esta herramienta.
Hace un tiempo escuche hablar sobre un juego de ingenio llamado "Polyssimo.
In this post I am not going to talk about how to work with GeoGebra or how to program. Today I simply want to share with you a game that I programmed using this tool.
Some time ago I heard about a puzzle game called "Polyssimo".
---
---
Este juego consiste en completar un tablero de 7x7 casilleros con las formas geométricas que contiene el juego ( 6 tetronimós - forma compuesta por cuatro cuadrados iguales- y 5 pentominós - forma compuesta por cinco cuadrados iguales-). Para esto se deberá usar las tarjetas en las que aparecen algunas formas sobre la cuadrícula. El jugador debe copiar esa imagen y completar luego el tablero.
This game consists of completing a 7x7 squares board with the geometric shapes contained in the game (6 tetrons -shape composed of four equal squares- and 5 pentominoes -shape composed of five equal squares-). To do this, the player must use the cards on which some shapes appear on the grid. The player must copy that image and then complete the board.
---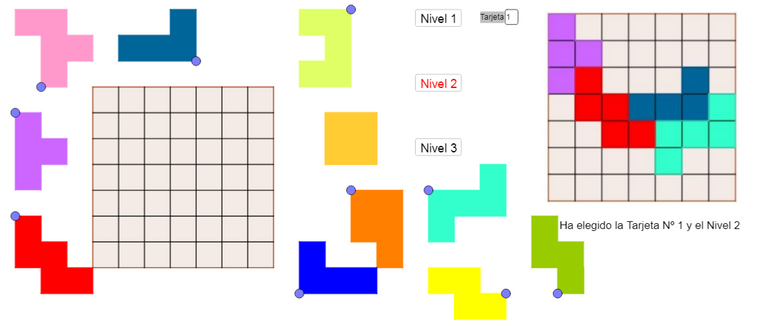 Fuente
---
Los desafíos están ordenadas por niveles (3 niveles) y cada nivel tiene 7 tarjetas. Cada figura tiene un círculo de color azul que sirve para rotar las formas geométricas (haciendo click con el mouse y manteniendo presionado sobre éste), luego puedes arrastras la forma hasta el lugar que crea conveniente sobre la cuadrícula.
The challenges are sorted by levels (3 levels) and each level has 7 cards. Each figure has a blue circle that you can use to rotate the geometric shapes (by clicking with the mouse and keeping pressed on it), then you can drag the shape to the place you want on the grid.
---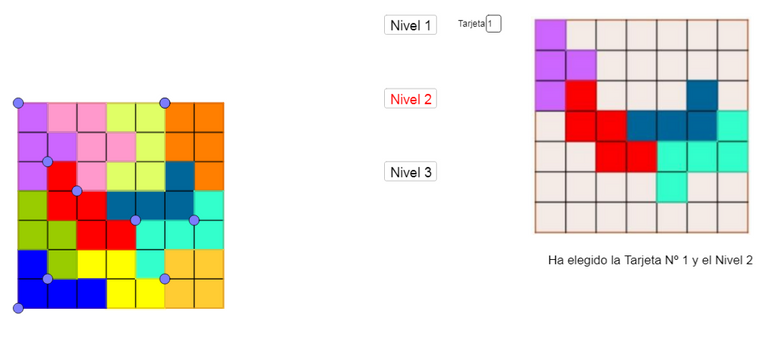 fuente
---
Al final de este post les voy dejar el LINK del juego para que puedan entretenerse un poco, si desean también pueden jugarlo utilizando un teléfono inteligente.
Todo este juego está programado utilizando GeoGebra. Más adelante me gustaría poder contarles algunos comandos que se utilizan para poder programar, incluso podría crear una guía rápida con los principales comandos.
At the end of this post I am going to leave you the LINK of the game so you can have some fun, if you want you can also play it using a smart phone.
All this game is programmed using GeoGebra. Later I would like to be able to tell you some commands that are used to be able to program, I could even create a quick guide with the main commands.
---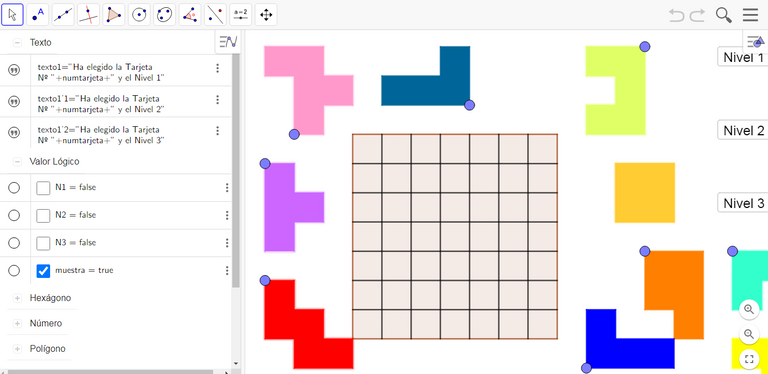 Fuente
---
Muchas gracias a todos los que se interesaron y leyeron este post. Tengo otros trabajos hechos en GeoGebra y que quizás también pueda compartirles. Espero que lo disfruten jugando como yo lo disfrute programando.
Por el momento me despido con mucha alegría por animarme a mostrarles mis trabajos.
Thank you very much to all who were interested and read this post. I have other works done in GeoGebra that maybe I can also share with you. I hope you enjoy playing it as much as I enjoyed programming it.
For the moment I say goodbye with a lot of joy for encouraging me to show you my work.
---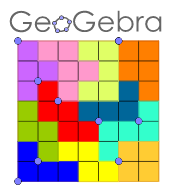 ---
Para la traducción utilicé el traductor online: DeepL
For the translation I used the online translator: DeepL
---
N1t0.