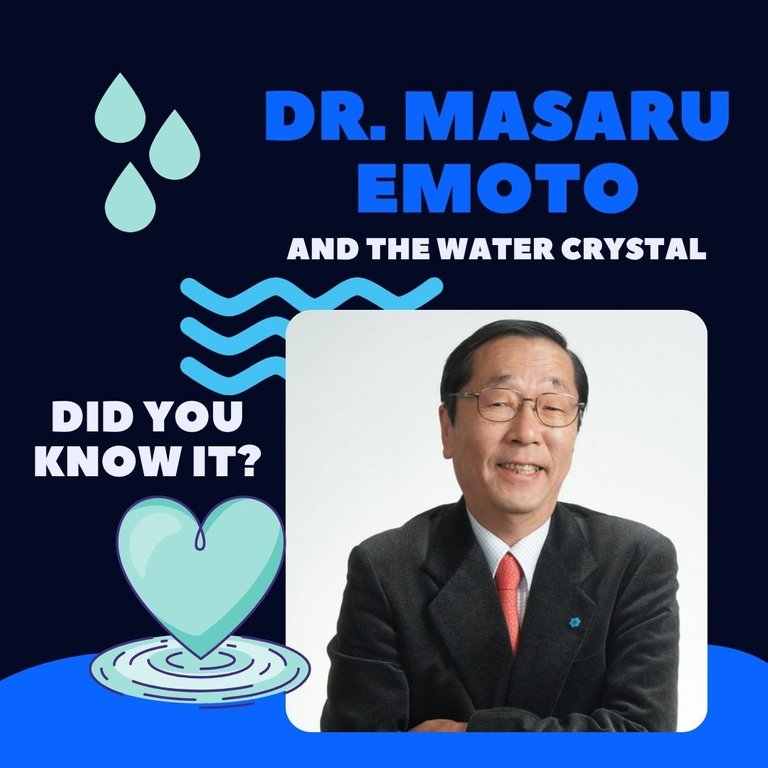 Antes de iniciar este post quiero aclarar que exclusivamente informativo, toda la información que funcionó como inspiración para redactar este post viene de acá y de este vídeo en particular que explica directamente el tema tratado por el Dr. Masaru Emoto, el vídeo a continuación:
Before I start this post I want to clarify that it is exclusively informative, all the information that served as inspiration to write this post comes from here and of this particular video that directly explains the topic addressed by Dr. Masaru Emoto, the video below:
---
También quisiera hablar un poco sobre quién era esta persona:
Nace 22 de julio de 1943 − Tokio, fallece el 17 de octubre de 2014. Fue un autor japonés conocido por sus controvertidas afirmaciones de que las palabras, oraciones, sonidos y pensamientos dirigidos hacia un volumen de agua influirían sobre la forma de los cristales de hielo obtenidos del mismo. Según Emoto, la apariencia estética de los cristales dependería de si las palabras o pensamientos sean positivos o negativos. Wikipedia fuente.
Emoto se graduó en relaciones internacionales por la Universidad Municipal de Yokohama (Departamento de Ciencias y Humanidades). También se graduó como doctor en medicina alternativa en 1992 por la universidad abierta internacional de medicina alternativa de India, una institución no acreditada para expedir títulos válidos. Investigó en como la mentalidad de las personas influenciaba en la curación parcial o total de las enfermedades. Wikipedia fuente.
I would also like to talk a little bit about who was this person:

Born July 22, 1943 - Tokyo, died October 17, 2014. He was a Japanese author known for his controversial claims that words, sentences, sounds and thoughts directed towards a volume of water would influence the shape of the ice crystals obtained from it. According to Emoto, the aesthetic appearance of the crystals would depend on whether the words or thoughts are positive or negative. Source Wikipedia.

Emoto graduated in international relations from Yokohama Municipal University (Department of Science and Humanities). He also graduated as a doctor of alternative medicine in 1992 from the International Open University of Alternative Medicine in India, an institution not accredited to issue valid degrees. He researched on how people's mentality influenced the partial or total cure of diseases. Source Wikipedia.
---

Los trabajos investigativos iniciales del Dr. Masaru Emoto, reflejaban una necesidad imperiosa por encontrar sanación a través del agua. En ese objetivo concentro sus primeras investigaciones, y creo el agua estructurada HADO utilizando un aparato llamado ARM (analizador de resonancia magnética).
La aplicación de dicha agua en diez mil pacientes resulto en mejoras sustantivas de muchos síntomas provocados por algunas enfermedades. Pero la comunidad médica se mantuvo reacia a que el agua pudiera curar por sí sola, y entonces el Dr. Masaru Emoto tuvo que demostrar sus convicciones.
Mientras intuía la manera de enfocar sus nuevos estudios probatorios de sus convicciones, leyó un libro que hablaba de la nieve y de que los copos de nieve todos eran diferentes. Entonces se dijo, que si la nieve era agua, el agua también contenía cristales y debían ser diferentes.
Sus próximos estudios fueron dirigidos a los cristales producidos por el agua helada. Y aunque sus primeros dos meses fueron infructuosos, los siguientes 50 días dieron resultados, al anexarse al equipo un fotógrafo llamado Kazuya Ishibashi, quien logró tomar fotografías de los cristales desde el microscopio.
Luego de la primera foto lograda con el microscopio, en lo sucesivo los estudios se enfocaron en la pertinencia de los diferentes tipos de agua que existían en el medio ambiente, y de sus respuestas a las estimulaciones externas.

Dr. Masaru Emoto's initial research work reflected a pressing need to find healing through water. He focused his early research on this objective, and created HADO structured water using a device called MRA (magnetic resonance analyzer).
The application of this water in ten thousand patients resulted in substantial improvements in many symptoms caused by some diseases. But the medical community remained reluctant to believe that water alone could cure, and so Dr. Masaru Emoto had to prove his convictions.
While he was trying to figure out how to approach his new studies to prove his convictions, he read a book that talked about snow and how snowflakes were all different. Then he said to himself, if snow was water, water also contained crystals and they must be different.
His next studies were directed at the crystals produced by frozen water. And although his first two months were unsuccessful, the next 50 days yielded results, when a photographer named Kazuya Ishibashi joined the team and managed to take pictures of the crystals from the microscope.
After the first microscope photo, studies focused on the relevance of the different types of water in the environment and their responses to external stimulation.
---
Primera foto lograda | First photo achieved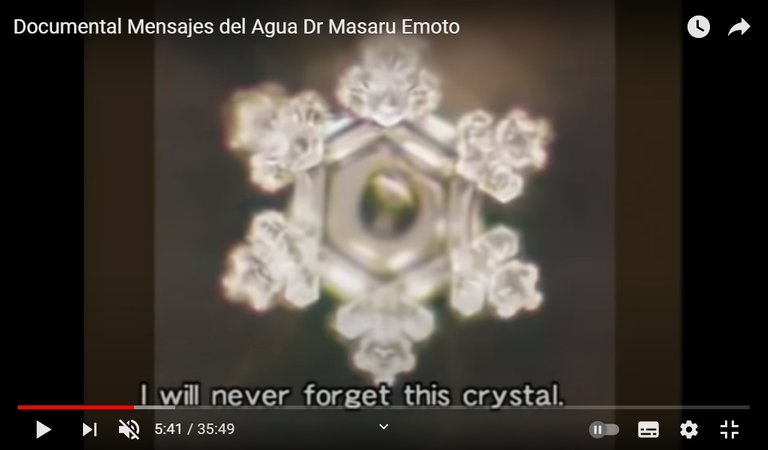 Captura realizada desde este vídeo | Capture made from this video
---
Fotografía de cristales de agua del grifo de Tokio | Photograph of Tokyo tap water crystals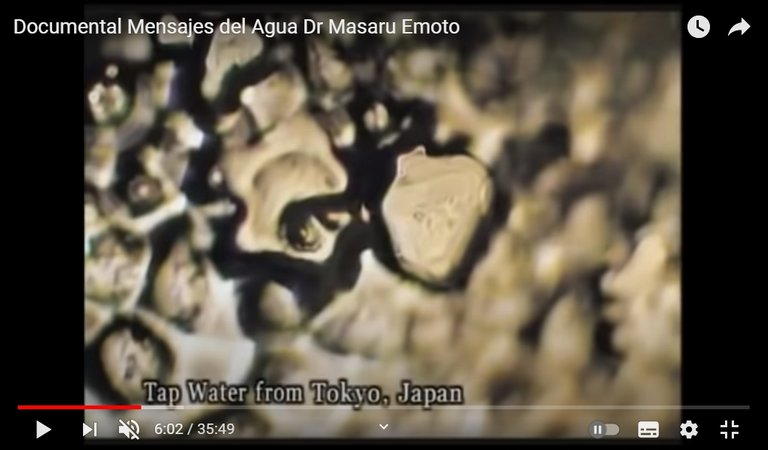 Captura realizada desde este vídeo | Capture made from this video
---
Fotografía de agua del Monte Fuji | Mount Fuji water photography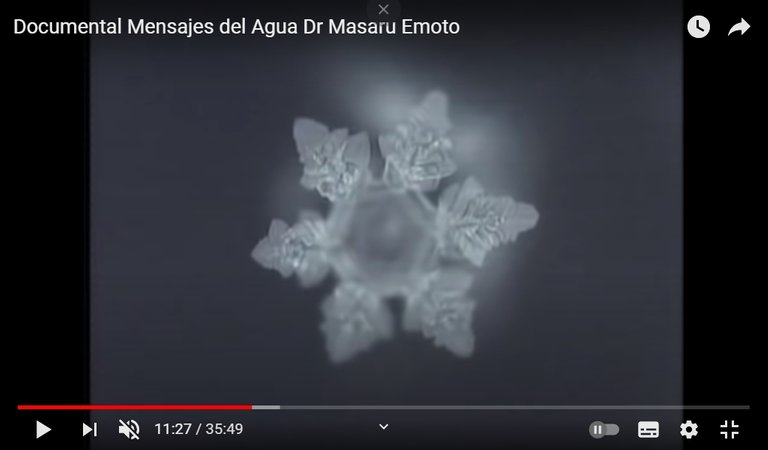 Captura realizada desde este vídeo | Capture made from this video
---
Afirmaciones hechas por el Dr. Masaru Emoto indican que todos los cuerpos emiten vibraciones. Por lo que la vibración es solo energía. Textualmente el Dr. Dice que el agua es quien trasmite la energía.
Yo difiero con él en mi concepto más introspectivo, debido a que yo considero que viaja a través del espacio por medio de ondas o partículas, las cuales el agua o algún otro material retienen haciéndolas suya, y dándoles la forma particular que lo define en el medio ambiente.
Statements made by Dr. Masaru Emoto indicate that all bodies emit vibrations. Therefore, vibration is only energy. Textually Dr. Emoto says that water is the one who transmits energy.
I differ with him in my more introspective concept, because I consider that it travels through space by means of waves or particles, which the water or some other material retains making them its own, and giving them the particular form that defines it in the environment.
---
Investigaciones hechas sometiendo el agua a factores externos.
Research done by subjecting water to external factors.
---
-Fotografía de cristales de agua destilada base para la experimentación:
-Photograph of crystals of distilled water base for experimentation: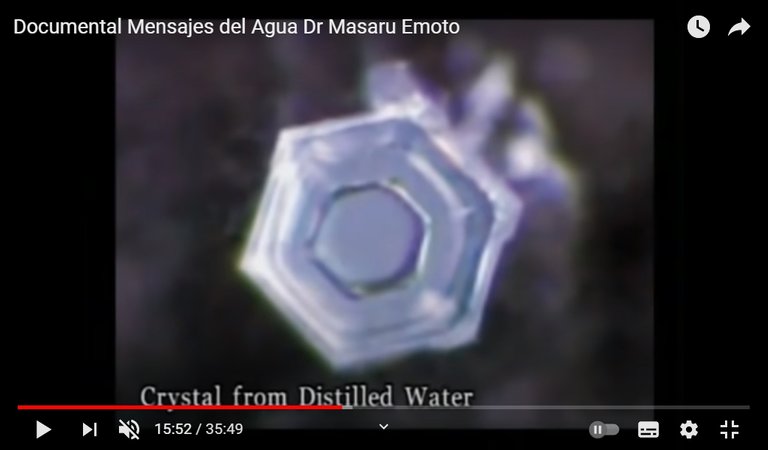 -Fotografía cuando el agua es expuesta a la música de Mozart:
-Photograph when the water is exposed to Mozart's music: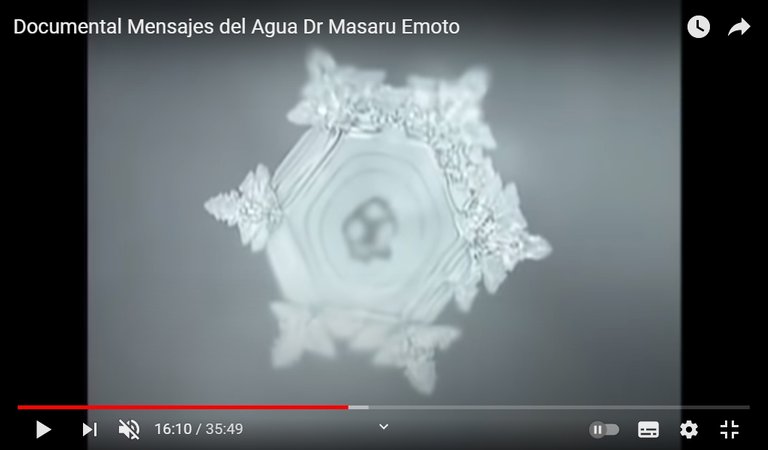 ---
Fotografía con el agua expuesta a la música de Beethoven | Photography with water exposed to Beethoven's music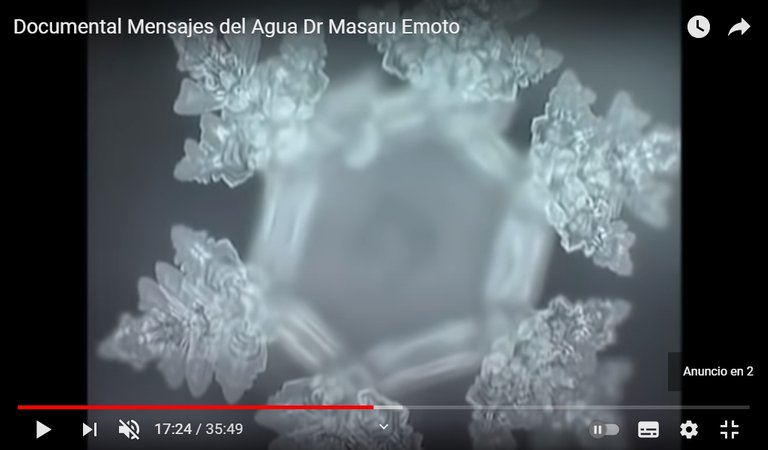 Captura realizada desde este vídeo | Capture made from this video
---
Siguiente experimentación hecha por el Dr. Masaru Emoto, fue motivada por la necesidad de curación de personas a distancia atreves de fotografías. Esto le dio pie para trabajar en la próxima experimentación con cristales de agua, colocándoles etiquetas con textos escritos. Estos fueron los resultados.
The next experimentation done by Dr. Masaru Emoto was motivated by the need to heal people at a distance through photographs. This led him to work on the next experimentation with water crystals, placing labels with written texts on them. These were the results.
---
Colocando la cinta con su palabra | Placing the ribbon with your word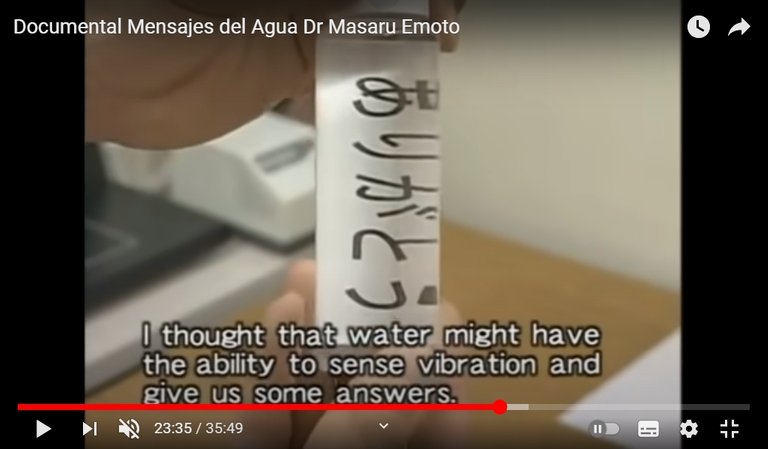 Captura realizada desde este vídeo | Capture made from this video
En Japonés Arigato (gracias) | In Japanese Arigato (thank you)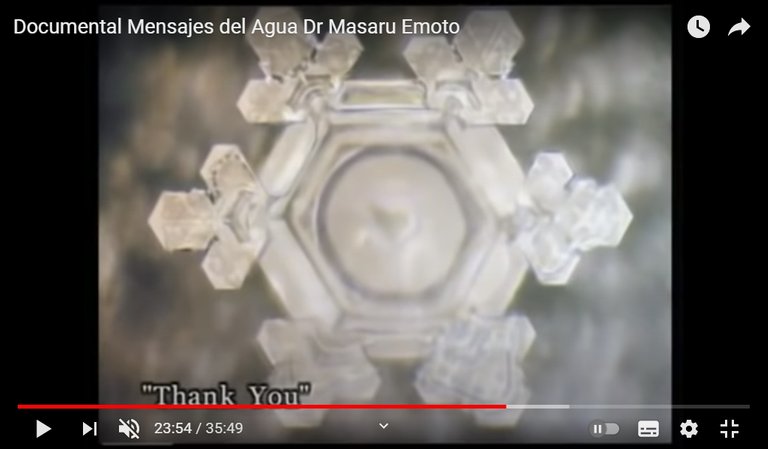 Captura realizada desde este vídeo | Capture made from this video
---
La palabra estúpido | The word stupid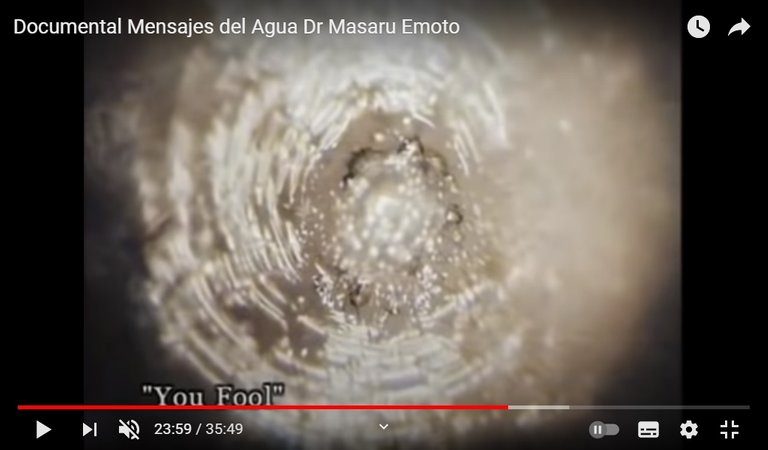 Captura realizada desde este vídeo | Capture made from this video
---
Otra experimento sugerido por el Dr. Masaru Emoto decidió usar la palabra hablada, la voz, para verificar los resultados, ya no a través de los cristales. En esta ocasión uso dos tarros de vidrio y en cada uno de ellos vertieron arroz cocido. En los sucesivos días, al tarro izquierdo le fueron emitidos sonidos de vocablos con significados desagradables, y al tarro de la derecha con vocablos agradables.
Another experiment suggested by Dr. Masaru Emoto decided to use the spoken word, the voice, to verify the results, no longer through crystals. This time he used two glass jars and in each of them he poured cooked rice. In the following days, the left jar was emitted sounds of words with unpleasant meanings, and the right jar with pleasant words.
---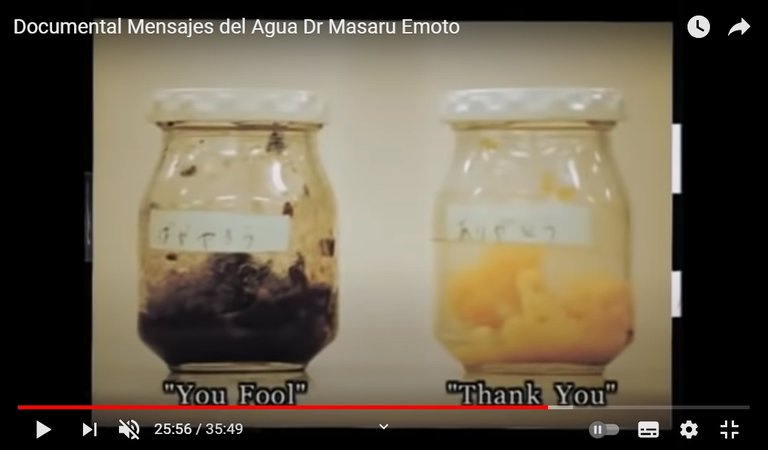 Captura realizada desde este vídeo | Capture made from this video
---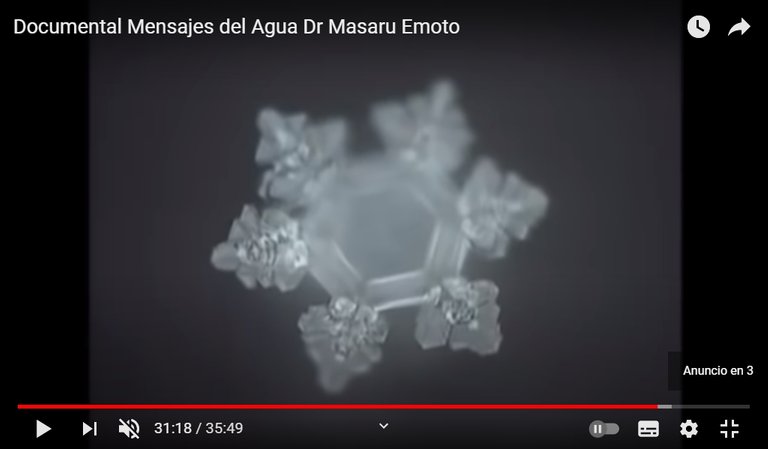 Captura realizada desde este vídeo | Capture made from this video
Como epilogo crucial el Dr. Masaru Emoto decide usar los pensamientos positivos del ser humano, dirigidos al agua de prueba, que este caso sería el agua del grifo de Tokio que jamás mostró cristales perfectos.
En conclusión el Dr. Masaru Emoto nos dice que los cristales nos tratan de decir que debemos conformar un equilibrio perfecto con la naturaleza, por lo que debemos procurar protegerla y no contaminarla.
En mi condición de lector proyecto todos estos resultados en la razón de que las vibraciones o energías, que emitimos de manera hablada, escritas y de pensamientos, tamizan a todos los cuerpos sólidos del universo, haciéndolos interactuar con su entorno de manera similar a la energía que se le ha proporcionado.
As a crucial epilogue, Dr. Masaru Emoto decides to use the positive thoughts of the human being, directed to the test water, which in this case would be the tap water of Tokyo that never showed perfect crystals.

In conclusion, Dr. Masaru Emoto tells us that the crystals try to tell us that we must conform a perfect balance with nature, so we must try to protect it and not contaminate it.

In my condition of reader I project all these results in the reason that the vibrations or energies, that we emit in a spoken, written and thought way, sift all the solid bodies of the universe, making them interact with their environment in a similar way to the energy that has been provided to them.
---

Texto traducido en DeepL.com
Imagen de portada editada en Canva.com
---