Hi, again, friends Hivespiritual.
I am Zulay Pulido, student of the extraordinary Philosophical Doctrine Spiritism Light and Truth.
" What is the Spirit? The intelligent beginning of the Universe." - Allan Kardec.
Featured Photography by Melissa Askew from Unsplash
Today is Friday, May 15, 2020.

Cómo nos Comunicamos con Otros Espíritus (Español - English)
Hola de nuevo, amigos Hivespirituales.
Soy Zulay Pulido, estudiante de la extraordinaria Doctrina Filosófica Espiritismo Luz y Verdad.
"¿Qué es el espíritu? El Principio Inteligente del Universo." — Allan Kardec.
La Fotografía destacada es de Melissa Askew desde Unsplash
Hoy es viernes 15 de mayo de 2020.

There is too much evidence about Communication with Spirits to deny it. Every day we see more television programs where they present people who speak with Spirits who tell them intimate things about the interviewees.
There are those who investigate in houses where Ghosts supposedly appear.
Many people have experiences where they see themselves outside their body and are so scared that they repress the next occurrence, and do not tell anything for fear.
But how does this happen?
In order to understand these facts, we must first know What We Are.
Since the Human Being appeared in the Earth World, it came as Man and Woman. Human Beings are the most valuable jewel of Creation. Everything that exists has been previously prepared to receive Human Beings.
We are Triune Beings; we have Body, Soul and Spirit.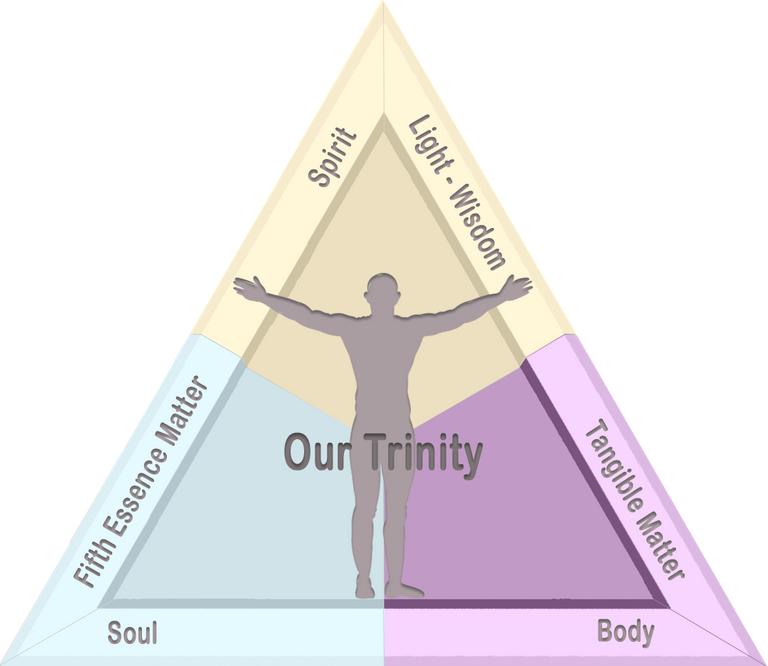 Image by Zulay Pulido
The Body is tangible Matter, made up of atoms of all the elements of nature; the Soul is the Fifth Essence of Matter, and is composed of the Essence of Instincts of all Animals that have existed; and, the Spirit is Light, Intelligence and Reasoning.
When we Disincarnate, the Body separates and disintegrates, while the Soul and the Spirit are eternally united. So, it seems that there are two different Worlds; that of the Incarnated and that of the Disincarnated; but, really, it is a single World and we can all communicate.
While we are Incarnated we possess speech, although it is a necessary instrument, only until we develop the faculty of contacting ourselves through Thought.
And, since, both Incarnated and Disincarnated, we have a Spirit, it means that we can also communicate, through Thought.
The complete Cosmogony has infinite Worlds. Most of the Worlds are inhabited by Human Beings. The inhabitants of the Earth World are united with the rest of the inhabitants of the Universe, because we are all equal, that is, Spirits children of the same Creator Father and, therefore, brothers, with which our Affinity is demonstrated.
We have all had communication with our kindred Spirits, always.
Matter is opaque, the Soul too, although much less dense, but for the Spirit, there is no opacity; everything is transparent. The Spirit in its clairvoyance, extends its free thought to where its Kindred Spirits are, and when they can hear it, all rejoice, beginning with the Creator Father, because it is necessary for Justice that we develop the Medium-fame Faculties, for the Progress of the Universe.
The Spirit, by its Law of Love, needs to be in contact with its Like-minded and attend to the calls that are made to it; and this is achieved alone, thanks to Elasticity (exclusive property of the Soul that serves as a dress), with which it can be presented in the figure that facilitates its recognition by those to whom it wants to show itself by Affinity, by Justice and because they have called, and without that Elasticity of the Soul, he could not do it, while he is Incarnate.
Then, Communication with other Spirits can occur while the Spirit is Incarnate or Disincarnate.
This point of Wisdom is of vital importance for the general Progress of the Worlds, because, by this means, a Spirit of the Earth achieves, being Incarnate, reaching other Worlds of more Progress and bringing what it manages to learn for its own advancement and common, and also descend to Worlds more Delayed to bring our Progress, to the degree that they can receive it.
Each Man or Woman is aware of many of these acts, which we classify in two ways: either as Dreams, which are nothing other than the Splitting of our own Spirit, or visits we receive from other Like-minded, relatives, etc .; or, in its second form, which is what we call Nightmares and which are the consequence of the persecution of our Enemy Spirits from previous existences.
Photography by Xevi Casanovas from Unsplash
Every time we go with our Thought to the Center of Light and we resort to our Guiding Spirits, they come joyfully and united to us to share their Wisdom and give us the best Advice that can help us in every moment. This is what we call Intuition, which is nothing more than the Suggestion of another Spirit, and is the most recognized Medium-faculty for all.
The Wise Spirits come to our call for Law of Love, because they want to shorten our path; because Affinity attracts us and enlightens us so that we can go back, to one of those infinite Worlds of Cosmogony and manage to capture what our degree of Power and Progress allows us to bring; and by our Study and Inspiration, we gather that knowledge that we often take for Dreams, but from which we form an idea with which we improve our laws, industries, knowledge and work in the beneficial action of the regeneration of customs.
There is no Man or Woman on Earth who has not been illustrated by a Related Spirit; but as our still materialized state also attracts Light and still Evil Spirits by Affinity or Hate, it happens that, as a high Spirit teaches us the Progress of Advanced Worlds, those other Retrograde Spirits teach us Stagnation and Dishonesty and hence the cause of our struggles and hecatombs; that finally they are necessary, to eradicate the Evil by the superposition of the Good, as a direct consequence of the Suffering, the Discernment and the Disappointment.
The Elasticity of the Soul increases as we reach higher levels of Morality.

Existen demasiadas evidencias sobre la Comunicación con Espíritus, como para negarla. Vemos cada día más programas televisivos donde presentan personas que hablan con Espíritus que les develan intimidades acerca de los entrevistados.
Hay quienes se ocupan de investigar en casas donde supuestamente aparecen Fantasmas.
Gran cantidad de personas tienen experiencias en las que se ven Fuera de su Cuerpo y se asustan tanto que reprimen la próxima ocurrencia, y no cuentan nada por temor.
Pero, ¿Cómo ocurre esto?
Para poder comprender estos hechos, debemos conocer, en primer lugar, Lo Que Somos.
Desde que el Ser Humano apareció en el Mundo Tierra vino como Hombre y Mujer. Los Seres Humanos somos la joya más valiosa de la Creación. Todo lo que existe se ha preparado previamente para recibir a los Seres Humanos.
Somos Seres Trinos; tenemos Cuerpo, Alma y Espíritu.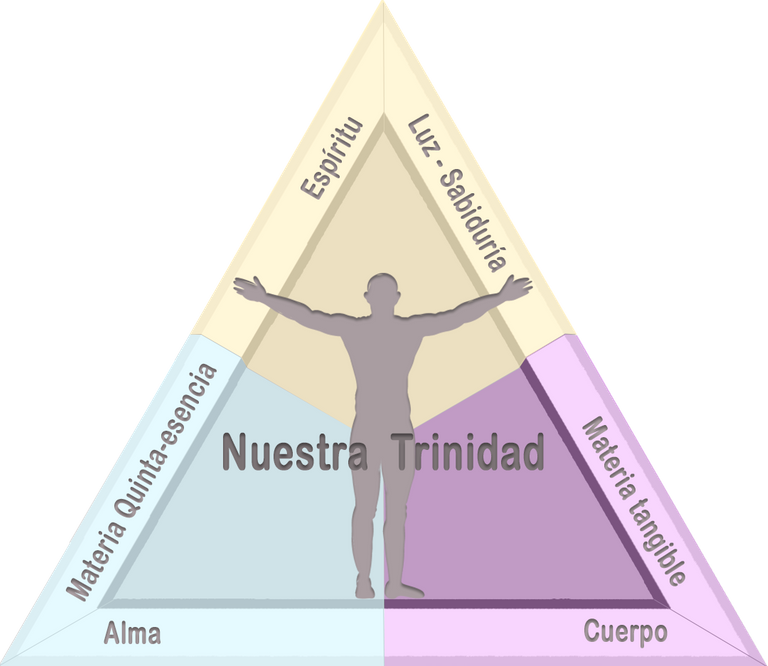 Imagen de Zulay Pulido
El Cuerpo es Materia Tangible, constituida por átomos de todos los elementos de la naturaleza; el Alma, es la Quinta Esencia de la Materia, y está compuesta de la Esencia de los Instintos de todos los Animales que han existido; y, el Espíritu, es Luz, Inteligencia y Raciocinio.
Cuando Desencarnamos, el Cuerpo se separa y se disgrega, mientras que el Alma y el Espíritu quedan unidos eternamente. Entonces, pareciera que existen dos Mundos diferentes; el de los Encarnados y el de los Desencarnados; pero, realmente, es un solo Mundo y todos podemos comunicarnos.
Mientras estamos Encarnados poseemos el habla, aunque es un instrumento necesario, solo hasta que desarrollemos la facultad de contactarnos por el Pensamiento.
Y, ya que, tanto Encarnados como Desencarnados, contamos con un Espíritu, significa que también podemos comunicarnos, por medio del Pensamiento.
La Cosmogonía completa cuenta con Infinitos Mundos. La mayoría de los Mundos están habitados por Seres Humanos. Los habitantes del Mundo Tierra estamos unidos con el resto de los moradores del Universo, pues somos todos iguales, es decir, Espíritus hijos del mismo Padre Creador y, por lo tanto, hermanos, con lo cual queda demostrada nuestra Afinidad.
Todos hemos tenido Comunicación con nuestros Espíritus Afines, desde siempre.
La Materia del Cuerpo es opaca; el Alma también, aunque mucho menos densa; pero para el Espíritu, no hay opacidad; todo lo ve transparente. El Espíritu en su Clarividencia, extiende su Pensamiento Liberto a donde están sus Espíritus Afines, y cuando pueden escucharlo, todos se regocijan, comenzando por el Padre Creador, pues es necesidad de Justicia que desarrollemos las Facultades Medianímicas, para Progreso del Universo.
El Espíritu necesita por su Ley de Amor estar en contacto con sus Afines y acudir a los llamados que se le hacen; y esto se consigue solo, gracias a la Elasticidad (propiedad exclusiva del Alma que le sirve de vestido), con la cual puede presentarse en la figura que le facilite ser reconocido por aquellos a quienes quiere mostrarse por Afinidad, por Justicia y porque lo hayan llamado, y sin esa Elasticidad del Alma, no podría hacerlo, mientras está Encarnado.
Entonces, la Comunicación con otros Espíritus puede ocurrir estando el Espíritu Encarnado o Desencarnado.
Este punto de Sabiduría tiene una importancia vital para el Progreso general de los Mundos, porque, por este medio, logra un Espíritu de la Tierra, estando Encarnado, llegar a otros Mundos de más Progreso y traer lo que consiga aprender para el adelanto propio y común, y descender igualmente a Mundos más Retrasados a llevarles nuestro Progreso, en el grado en que puedan recibirlo.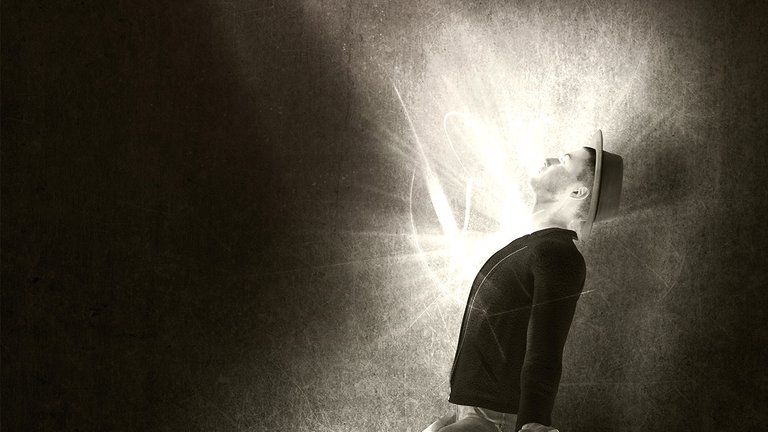 Fotografía por Kjpargeter desde freepik
Cada Hombre y Mujer tiene Conciencia de muchos de estos actos, a los que los clasificamos de dos maneras: ya sea como Sueños, que no son otra cosa que el Desdoblamientos de nuestro propio Espíritu, o visitas que recibimos de otros Afines, familiares, etc.; o, en su segunda forma, que es la que llamamos Pesadillas, y que son consecuencia de la persecución de nuestros Espíritus Enemigos de existencias anteriores.
Cada vez que vamos con nuestro Pensamiento al Centro de la Luz y recurrimos a nuestros Espíritus Guías, ellos acuden gozosos y unidos hasta nosotros para compartir su Sabiduría y darnos el mejor Consejo que pueda ayudarnos en cada momento. Esto es lo que llamamos Intuición, que no es más que la Sugerencia de otro Espíritu, y es la Facultad Medianímica más reconocida por todos.
Los Espíritus Sabios acuden a nuestro llamado por Ley de Amor, porque quieren abreviarnos el camino; porque la Afinidad nos atrae y nos ilustran para que podamos remontarnos, a uno de esos infinitos Mundos de la Cosmogonía y logremos captar lo que nuestro grado de Potencia y Progreso nos permita traer; y por nuestro Estudio e Inspiración, reunamos esos conocimientos que muchas veces tomamos por Sueños, pero de los cuales formamos una idea con la que mejoramos nuestras leyes, industrias, conocimientos y trabajamos en la acción provechosa de la regeneración de las costumbres.
No hay en la Tierra, Hombre o Mujer alguno que no haya sido ilustrado por un Espíritu Afín; pero como nuestro estado todavía Materializado atrae también por Afinidad u Odio a los Espíritus Ligeros y aún Malos, ocurre que, a la par que un Espíritu Elevado nos enseña el Progreso de Mundos Adelantados, aquellos otros Espíritus Retrógrados, nos enseñan el Estancamiento y la Deshonestidad y de ahí la causa de nuestras luchas y hecatombes; que finalmente resultan necesarias, para erradicar el Mal por la superposición del Bien, como consecuencia directa del Sufrimiento, el Discernimiento y el Desengaño.
La Elasticidad del Alma se agranda en la medida en que alcanzamos niveles superiores de Moral.

This information is based on the knowledge obtained from the Philosophical Doctrine "Spiritism Light and Truth", which is taught in the "Magnetic Spiritual School of the Universal Commune (EMECU)", founded on September 20, 1911, by the Master Judge, Joaquín Trincado.

Esta información está basada en los conocimientos obtenidos de la Doctrina Filosófica "Espiritismo Luz y Verdad", que se imparte en la "Escuela Magnético Espiritual de la Comuna Universal (EMECU)", fundada el 20 de septiembre de 1911, por el Maestro Juez, Joaquín Trincado.

Mis Redes Sociales personales son:
Facebook: https://www.facebook.com/zupulido,
y Twitter: https://twitter.com/zupulido, pero no las uso con frecuencia.
Sin embargo, las de la FAVTachira,
Facebook: https://www.facebook.com/FAVTachira/,
Twiiter: https://twitter.com/favtachira
e Instagram: https://www.instagram.com/favtachira/,
sí se actualizan constantemente.

If you liked this article, I thank you for leaving your comments, advice or recommendations to improve my collaboration in this important community.
Remember, you can find me at https://peakd.com/@librepensadora
A big hug from Venezuela, a country with much Spiritual Work.

Si te ha gustado este artículo, te agradezco dejar tus comentarios, consejos o recomendaciones, para mejorar mi colaboración en esta importante comunidad.
Recuerda, puedes encontrarme en https://peakd.com/@librepensadora
Un gran abrazo desde Venezuela, un país con mucho Trabajo Espiritual.