A mediado de los años 70, Edmond Onis, inventó la primera generación de equipos de cierre rápido. Las válvulas ONIS, son equipos de cierre rápido el cual le permite a una sola persona el bloqueo y aislamiento muy seguro en las lineas de procesos.
In the mid-1970s, Edmond Onis, invented the first generation of quick-release equipment. ONIS valves are quick closing equipment which allows a single person to block and isolate very safe in the process lines.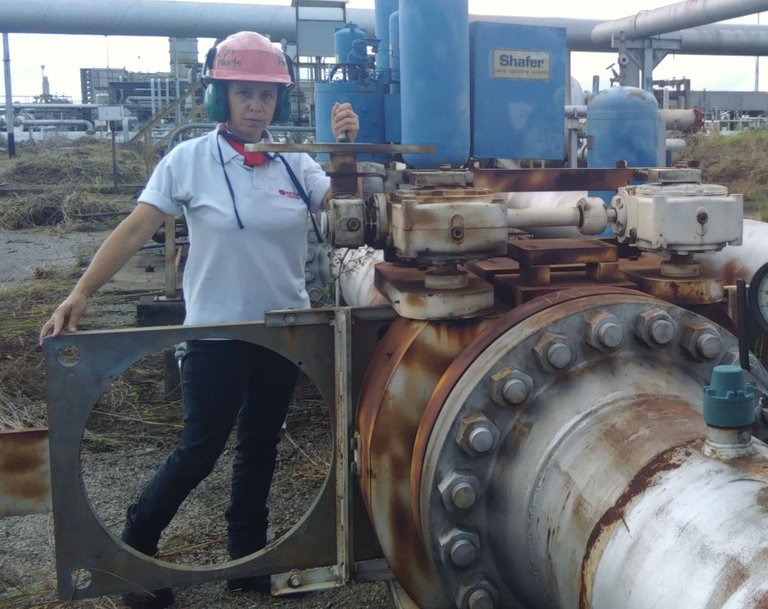 Hola mis amigos de HIVE, si han tenido la oportunidad de leer algunos de mis publicaciones habrán notado que laboró en una planta de gas de alta presión, me complace mucho hablarles de mi trabajo y de los equipos que se encuentran en mi sitio de trabajo, hoy les compartiré algunas imágenes de las válvulas ONIS, llamadas también de cierre rápido. En algunas instalaciones petroleras se pueden ver con mucha frecuencia este tipo de válvulas, aunque aún se mantienen algunas bridas con juntas las cuales deben ser sujetadas por pernos, los cuales se deben enroscar muchas veces manualmente, este tipo de bridas suelen agotar a los trabajadores, cada vez que deben hacer un mantenimiento o corregir alguna fuga. Por suerte en mi sitio de trabajo contamos con este tipo de válvulas, las cuales nos brindan un grado de seguridad.
Es necesario conocer el uso correcto de esta válvulas Onis, en primer lugar se debe entender primero, los métodos alternativos de cierre y bloqueo. Los más elementales, se utiliza una palanca de metal, la cual es insertada manualmente entre dos bridas.
En la siguiente imagen pueden observar una válvula ONIS, la cual fue retirada para un respectivo mantenimiento.
Hello my friends at HIVE, if you have had the opportunity to read some of my publications, you will have noticed that I worked in a high pressure gas plant, I am very pleased to tell you about my work and the equipment that is in my workplace, Today I will share with you some images of the ONIS valves, also called quick closing valves. In some oil facilities this type of valve can be seen very frequently, although some flanges with joints are still maintained, which must be held by bolts, which must be screwed in many times manually, this type of flange usually exhausts the workers, every time they need to do maintenance or fix a leak. Luckily in my workplace we have this type of valves, which provide us with a degree of security.
It is necessary to know the correct use of this Onis valves, first of all, the alternative methods of closing and blocking must be understood first. The most basic, a metal lever is used, which is inserted manually between two flanges.
In the following image you can see an ONIS valve, which was removed for a respective maintenance.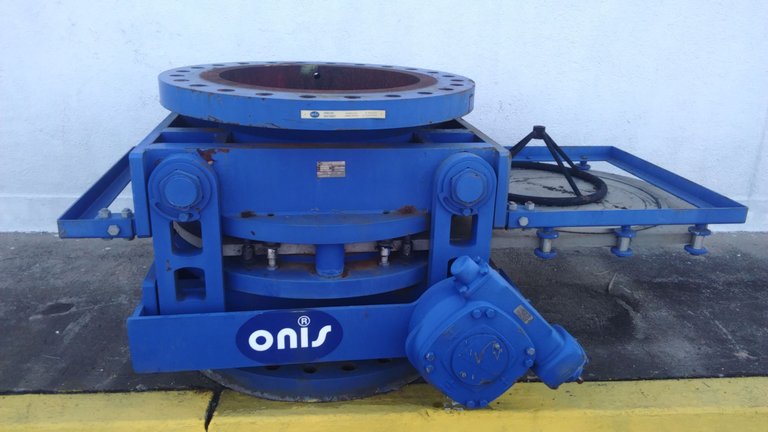 Los sistemas tradicionales de cierre tienen algunas desventajas entre ellas les mencionare las siguientes:
Compresión de la junta de cierre no equilibrada.
Corrosión externa de los pernos roscados.
Exigencias de mantenimiento de las juntas complicadas.
Traditional closure systems have some disadvantages, among them I will mention the following:
Unbalanced seal gasket compression.
External corrosion of threaded studs.
Complicated joint maintenance requirements.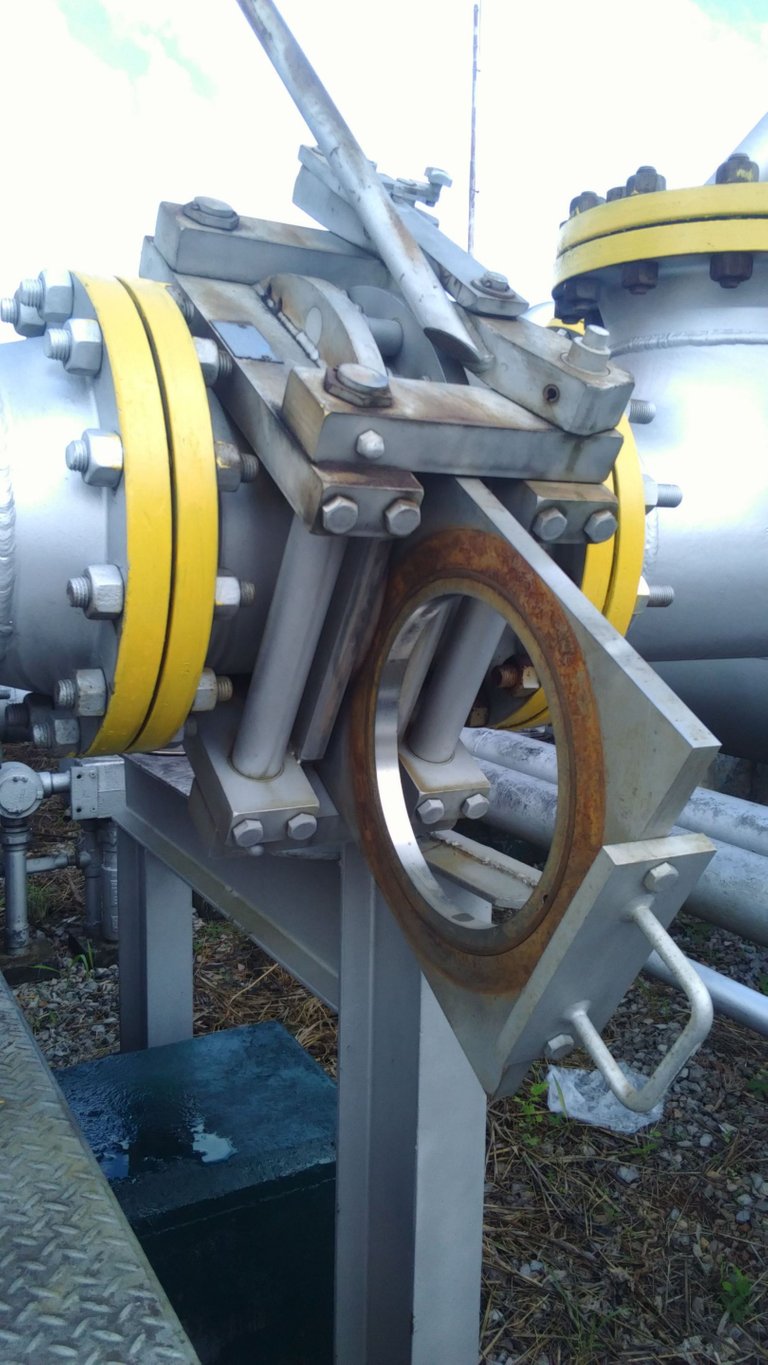 Con la tecnología de las válvulas ONIS se ha logrado superar esos problemas de cierre totales o la instalación de ciegos. Mejorando el cierre en lo que respecta peligros de fuga a la atmósfera, en productividad y sobre todo la seguridad del operador. Los sistemas de cierre rápido ONIS reducen dramáticamente el tiempo de paro en muchos casos de mantenimiento.
With the technology of the ONIS valves, it has been possible to overcome these problems of total closure or the installation of blinds. Improving the closure with regard to leakage hazards into the atmosphere, in productivity and above all the operator's safety. ONIS quick release systems dramatically reduce downtime in many maintenance cases.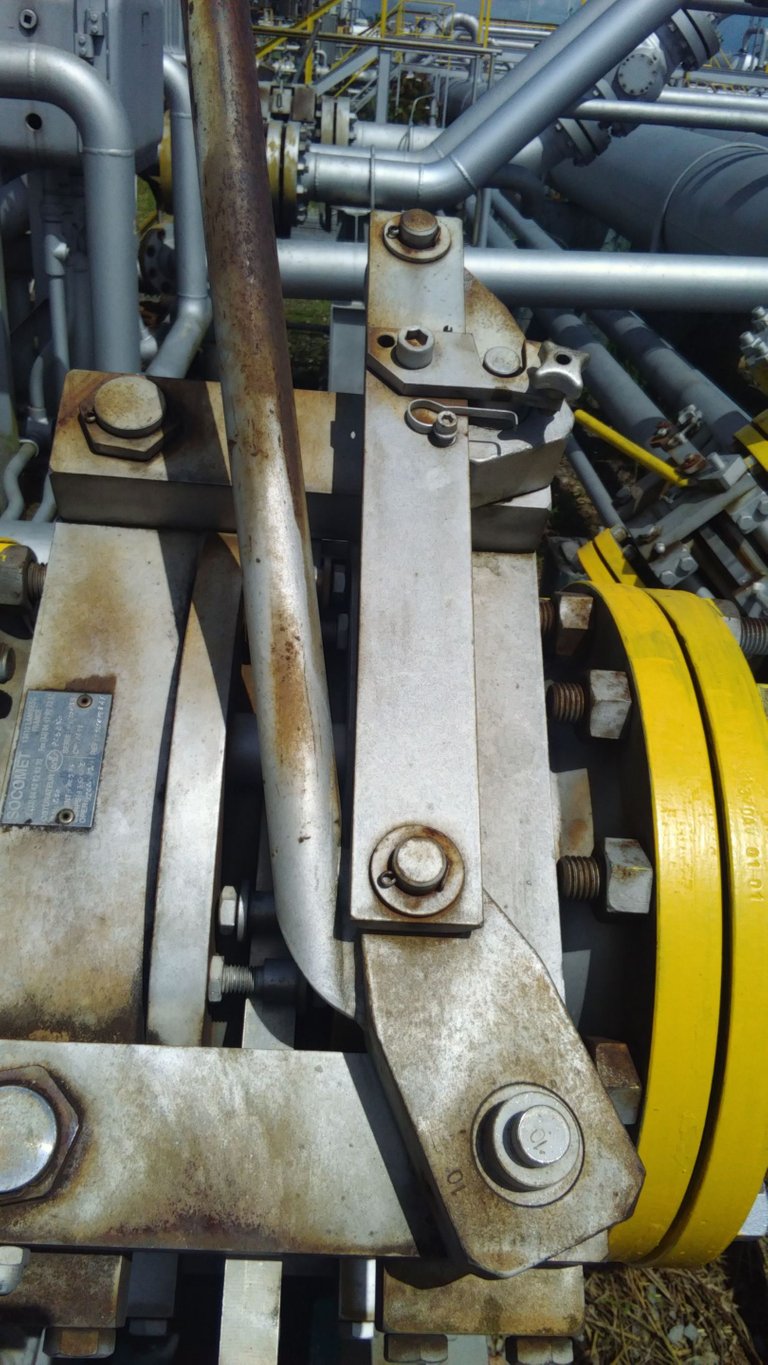 En la imagen anterior pueden observar el seguro de la válvula ONIS, el cual se ha colocado después de haber cerrado la compuerta de la válvula. Las industrias petrolera ha logrado reducir en muchos casos en los mantenimientos de las plantas. Son muchas las compañías en el mundo que hoy día cuentan con este tipo de equipos, facilitándole a los trabajadores el trabajo. Existen muchos diferentes uso de estos equipos, dependiendo la actividad, el equipo instalado tendrá un objetivo diferente.
Espero que mi contenido les haya sido de gran conocimiento.
In the image above, you can see the ONIS valve safety, which has been placed after closing the valve gate. The oil industries have managed to reduce in many cases the maintenance of the plants. There are many companies in the world that today have this type of equipment, making work easier for workers. There are many different uses of this equipment, depending on the activity, the installed equipment will have a different objective.
I hope that my content has been of great knowledge to you
@lesliekat
Te comparto mi Post, te invito a seguirme, comentar y compartir. Sí quieres saber más de mí, no dudes en visitar mi perfil, @ lesliekat .
Las fotografías son de mi propiedad
.
@lesliekat




I share my Post, I invite you to follow me, comment and share. If you want to know more about me, do not hesitate to visit my profile, @ lesliekat.




The photographs are my property

.