Soy Ingeniero Industrial | I am an Industrial Engineer 👷‍♀
¡Hola Hivers! Feliz inicio de fin de semana. Yo estoy con buen animo y cargada de buenas energías. No podía continuar el reto de 30 días sin antes contarles como pase mi día de graduación, el pasado 17 de diciembre. Este es un momento único y memorable. Me llena de satisfacción haber alcanzado esta meta, tan soñada y anhelada, no solo por el hecho de recibir el titulo sino porque todo el esfuerzo se materializo y tantas horas de estudio y sacrificio valieron la pena. 💪
Hi Hivers! Happy start to the weekend. I am in good spirits and full of good energy. I could not continue the 30 day challenge without telling you how I spent my graduation day last December 17th. This is a unique and memorable moment. It fills me with satisfaction to have reached this goal, so dreamed and longed for, not only because I received the title but because all the effort was materialized and so many hours of study and sacrifice were worth it. 💪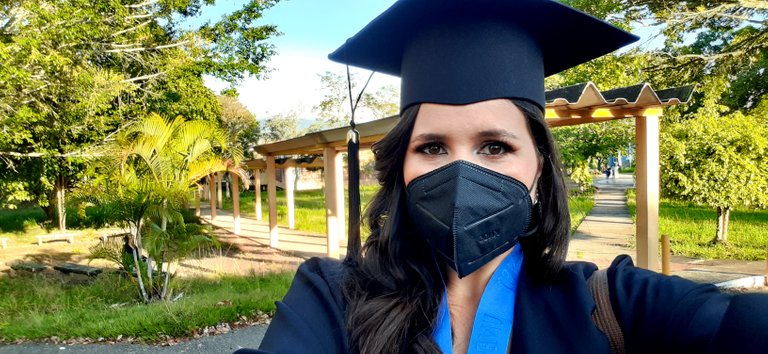 Momento de felicidad en mi alma mater la UNET | Moment of happiness in my alma mater the UNET
---
Antes de iniciar la cuarentena, estaba en pleno inicio de mi proyecto especial de grado, y tenia previsto que mi graduación seria en Agosto. Pero luego el COVID-19 nos cancelo los planes a muchos, entre esos a mí. Toda la planificación que tenía para este año, tuvo que ser adaptada a la nueva normalidad. Sabiendo todas estas condiciones, y sumando a esto la paralización total de la universidad por la pandemia, de igual forma me propuse graduarme en Diciembre. Esa era mi meta personal e iba hacer lo posible porque así sucediera. En mi apellido llevo la palabra determinación jaja. 😂
Before the start of the quarantine, I was in the middle of my special degree project, and I was scheduled to graduate in August. But then COVID-19 cancelled plans for many of us, including me. All the planning I had for this year had to be adapted to the new normality. Knowing all of these conditions, and adding to this the total shutdown of the university because of the pandemic, I also set my sights on graduating in December. That was my personal goal and I was going to do my best to make it happen. In my last name I carry the word determination haha. 😂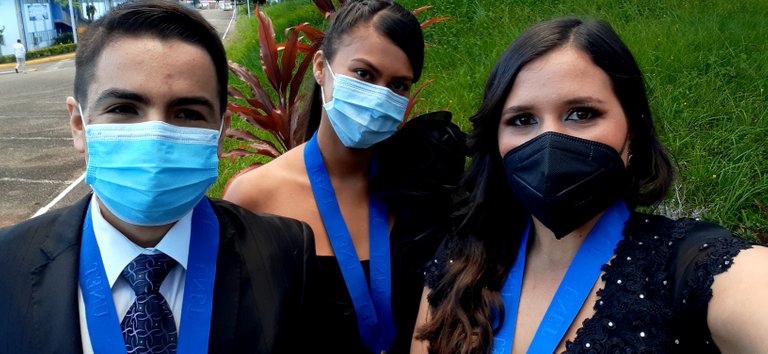 Mis colegas y amigos Carlos y Katiuska | My colleagues and friends Carlos and Katiuska
---
De igual forma en cuarentena, seguí trabajando con mi compañero de tesis en nuestro proyecto. A pesar de las adversidades, aplicamos el ingenio que desarrollamos en la universidad y las herramientas virtuales, para poder aplicar encuestas, medir clima laboral, nivel satisfacción de los clientes, entre otros estudios necesarios para nuestra investigación. 🔎 Claro trabajamos a nuestro ritmo, debido a que mi compañero es dueño de la empresa donde hacíamos el proyecto y siempre tenía que resolver asuntos del negocio.
Similarly in quarantine, I continued to work with my thesis partner on our project. In spite of the adversities, we applied the ingenuity we developed at the university and the virtual tools, to be able to apply surveys, measure work climate, level of customer satisfaction, among other studies necessary for our research. 🔎 Of course we worked at our own pace, because my partner owns the company where we were doing the project and always had to solve business issues.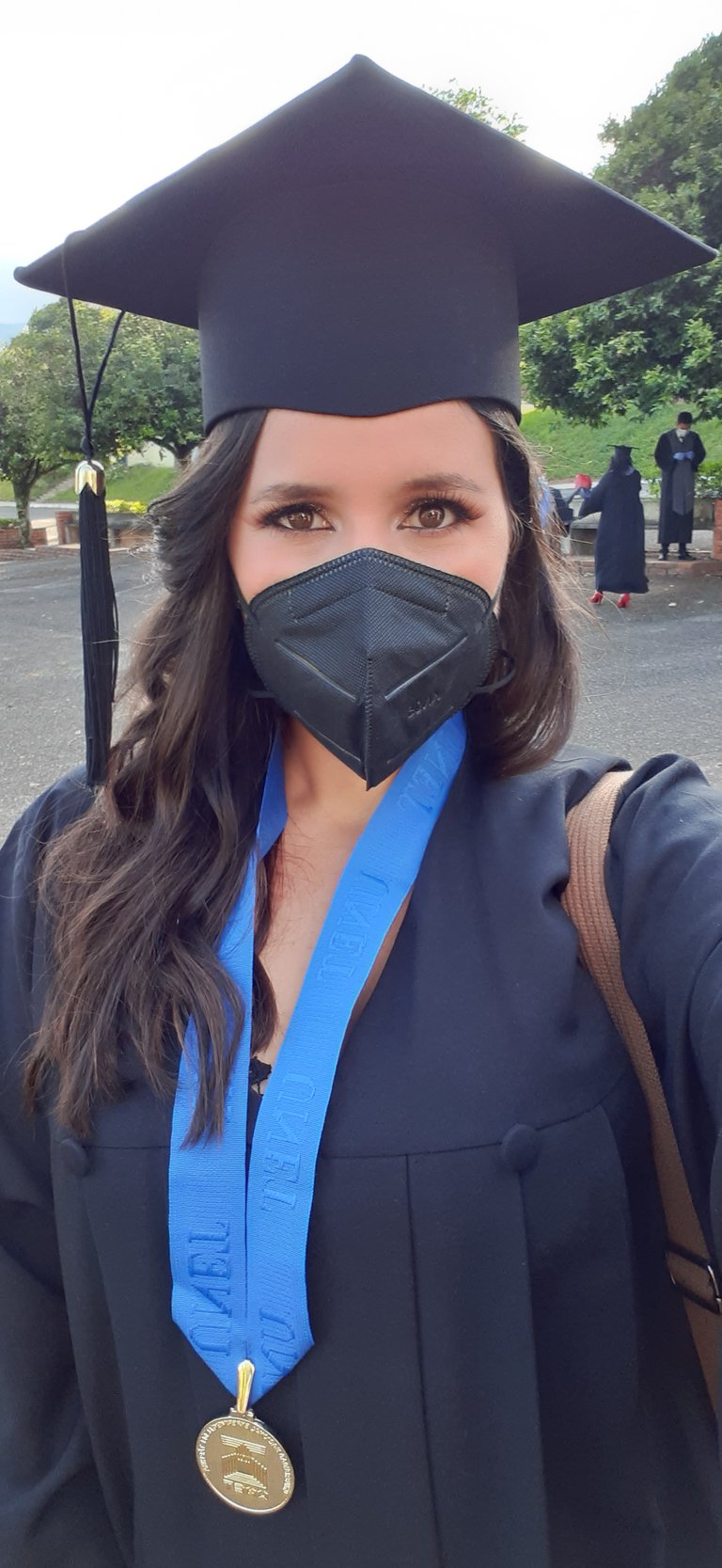 El día más feliz | The happiest day
---
Lo mejor de todo, es que nuestra tutora académica a pesar de que la universidad no estaba laborando y a pesar de su bajo salario, ella siempre estuvo para nosotros, revisando y haciendo seguimiento de nuestro proyecto, fue una ventaja tenerla. Gracias a ella y a que nos asignaron jurados (profesores) increíbles y con vocación, logramos terminar nuestra tesis a tiempo. 🎉
Best of all, our academic tutor, despite the fact that the university was not working and despite her low salary, she was always there for us, reviewing and following up on our project. Thanks to her and to the fact that we were assigned incredible jurors (professors) with vocation, we were able to finish our thesis on time. 🎉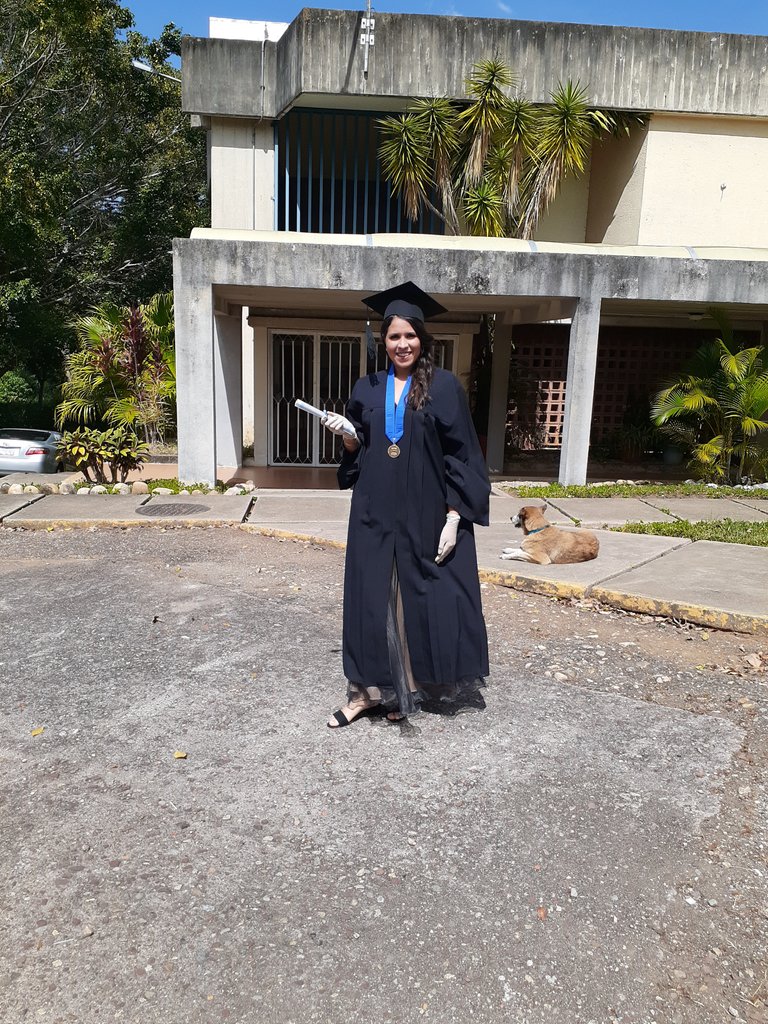 Con mi título | With my title
---
Estábamos preparando todo para poder hacer nuestra defensa presencial, buscamos un sitio acondicionado, con video beam y oscuro para poder proyectar las diapositivas, porque en la universidad no se podía, mandamos a hacer los refrigerios para la tutora y los jurados, yo había preparado unas carpetas con el nombre de cada uno, con hojas y su respectivo lapicero para sus anotaciones. Íbamos a defender el lunes 07 de diciembre a las 2pm. Pero faltando 2 días para defender, mi compañero empezó a sentir los síntomas del COVID 🤡😱.
We were preparing everything to be able to do our defense in person, we looked for a conditioned place, with video beam and dark to be able to project the slides, because in the university it was not possible, we sent to make the refreshments for the tutor and the jurors, I had prepared some folders with the name of each one, with leaves and their respective pen for their notes. We were going to defend on Monday, December 7th at 2pm. But with two days left to defend, my partner began to feel the symptoms of COVID 🤡.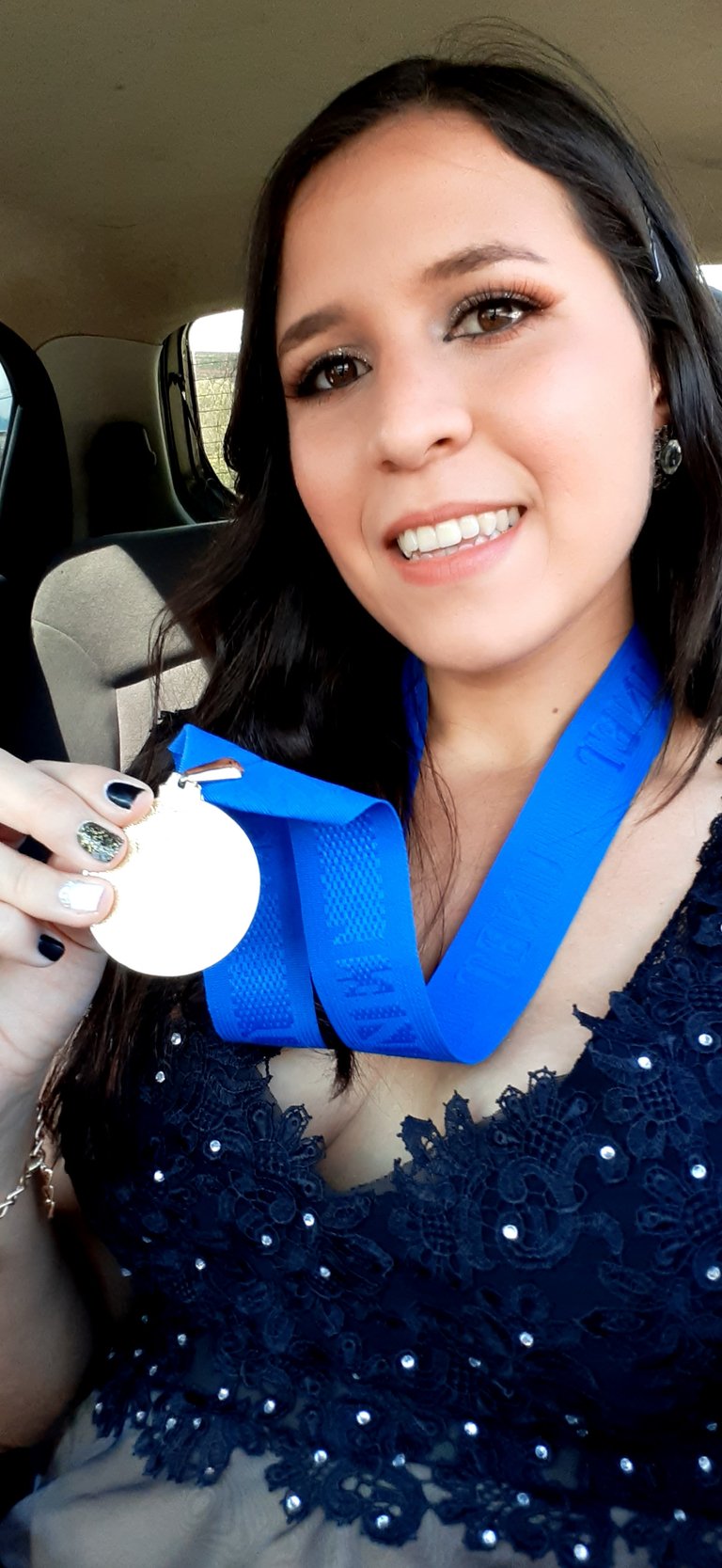 Este momento se llama: FELICIDAD | This moment is called: HAPPINESS
---
Pero la historia no termina así. Mañana les cuento a detalle como hicimos para defender y el protocolo de seguridad para asistir al acto de grado. Por poco cancelan el acto un día antes. Así que en mi próximo post les cuento con detalle. Gracias a todos por haber llegado hasta aquí. Les deseo éxitos y buenas vibras 🌠
But the story does not end like this. Tomorrow I'll tell you in detail how we did to defend and safety protocol to attend the graduation ceremony. They almost cancelled the event the day before. So in my next post I will tell you in detail. Thanks to all of you for having made it this far. I wish you success and good vibes 🌠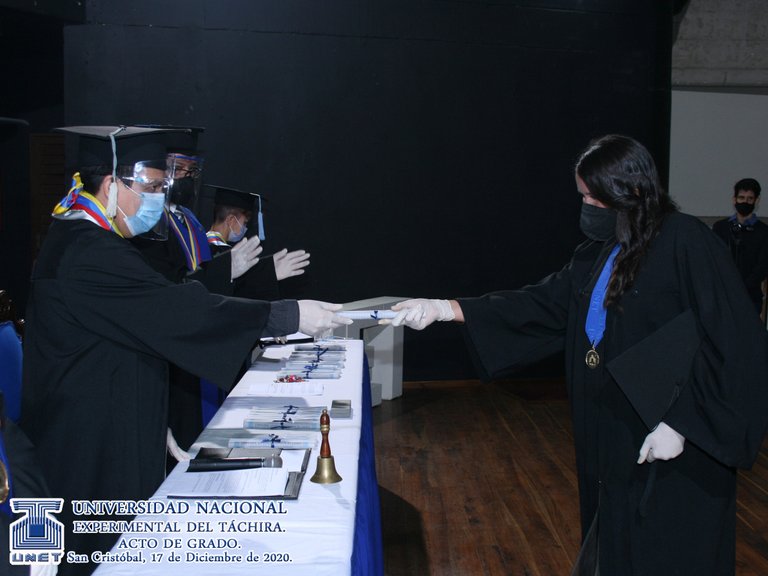 Entrega del título de Ingeniero Industrial | Delivery of the title of Industrial Engineer
---
Todas las fotos fueron tomadas con mi Samsung Galaxy A20 | All photos were taken with my Samsung Galaxy A20
---

📌Separador de texto: cryptocharon 📌Texto traducido en: DeepL

---