| | |
| --- | --- |
| Today there is a mix of the most beautiful waterfalls from my photo archive. | Heute gibt es einen Mix der schönsten Wasserfälle aus meinem Fotoarchiv. |
Mixed Water and Falls
Slovenia
| | |
| --- | --- |
| The following photos have spent quite some time in my archive and although I have posted other photos from the respective trips to Slovenia, these individual photos were left behind. | Die folgenden Fotos haben einige Zeit in meinem Archiv verbracht, und obwohl ich andere Fotos von den jeweiligen Trips nach Slowenien in Beiträgen gepostet habe, sind diese einzelnen Fotos übrig geblieben. |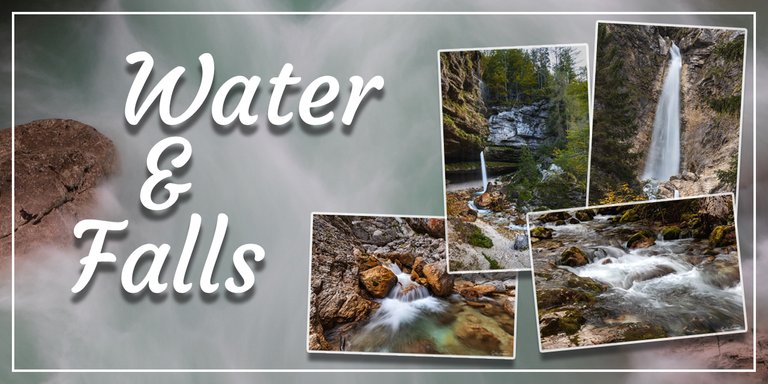 I can't say why I never posted them because they're not that bad. Maybe I wanted to save them for a special post ;)

So today is the time to summarize these lone loners and show the world a few gems from the places I have loved to visit most in the past few months.

Warum ich sie niemals gepostet habe, kann ich nicht sagen, denn so schlecht sind sie eigentlich nicht. Vielleicht wollte ich sie aufsparen für einen besonderen Beitrag ;)

Deshalb wird es heute Zeit, dass ich diese übriggebliebenen Einzelgänger zusammenfasse und der Welt ein paar Schmuckstücke von den Orten zeige, an denen ich in den letzten Monaten am liebsten gewesen bin.
Mlinarica Waterfall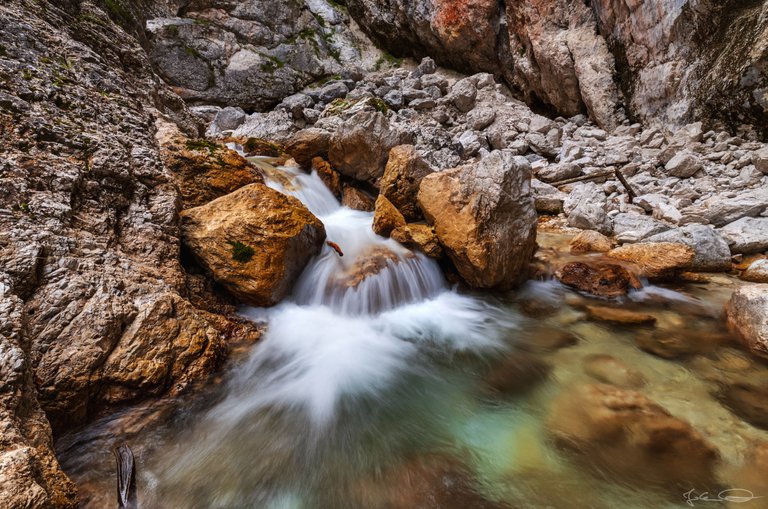 ❖ click the image for fullsize view ❖
Canon EOS R | EF 16-35mm 1:4L IS USM
ISO 100 . f/16 . 0.4 sec . @16 mm
This is of course not the Mlinarica waterfall, but the Mlinarica stream a few meters after the waterfall. I took this photo on July 13th of last year and I particularly like the intensely brown-colored to almost golden stones and rocks in this stream: Rock 'n' Colors

I published a report about the colored rocks at this waterfall about a month ago.

Das ist natürlich nicht der Mlinarica Wasserfall, sondern der Mlinarica Bach einige Meter nach dem Wasserfall. Dieses Foto habe ich am 13. Juli vorigen Jahres gemacht und an diesem Bach gefallen mir besonders die intensiv braun bis fast ins Goldene gefärbten Steine und Felsen.

Von den farbigen Felsen bei diesem Wasserfall habe ich vor etwa einem Monat einen Bericht veröffentlicht: Rock 'n' Colors
Šunikov vodni gaj / Šunik water grove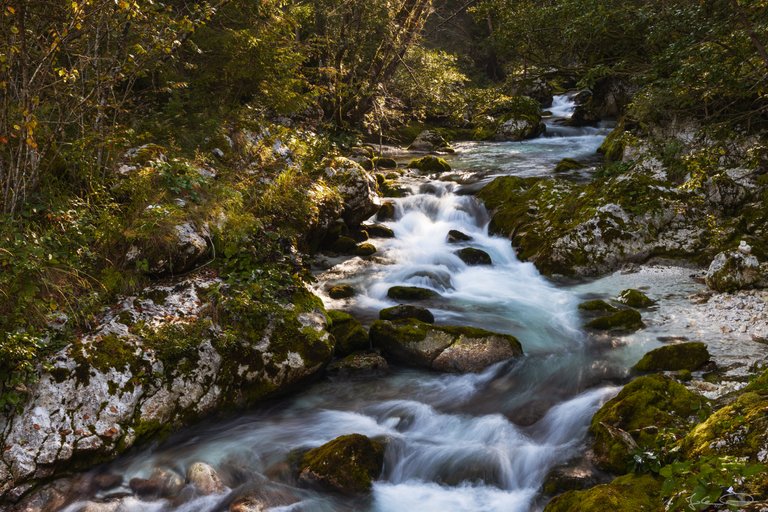 ❖ click the image for fullsize view ❖
Canon EOS R | RF 24-105mm f/4 L IS USM
ISO 100 . f/16 . 0.6 sec . @45 mm
These two photos show the Lepena stream in the Lepena valley shortly after it left the Šunik water grove, or better said the water grove with the waterfalls ends here in this area.

I took the first photo in mid-September and the second in early October 2019. I love being there because there are also a few "hidden" waterfalls where I have never seen anyone and a beech forest where I often practice my humble forest photography.

Diese beiden Fotos zeigen den Lepena Bach im Lepena Tal kurz nachdem er den Šunik Wasserhain verlassen hat, beziehungsweise endet der Wasserhain mit den Wasserfällen hier.

Das erste Foto habe ich Mitte September und das zweite Anfang Oktober 2019 fotografiert. Ich bin hier sehr gerne, denn es gibt auch ein paar "versteckte" Wasserfälle, bei denen ich noch nie jemanden gesehen habe und auch einen Buchenwald, wo ich des öfteren meine bescheidene Waldfotografie übe.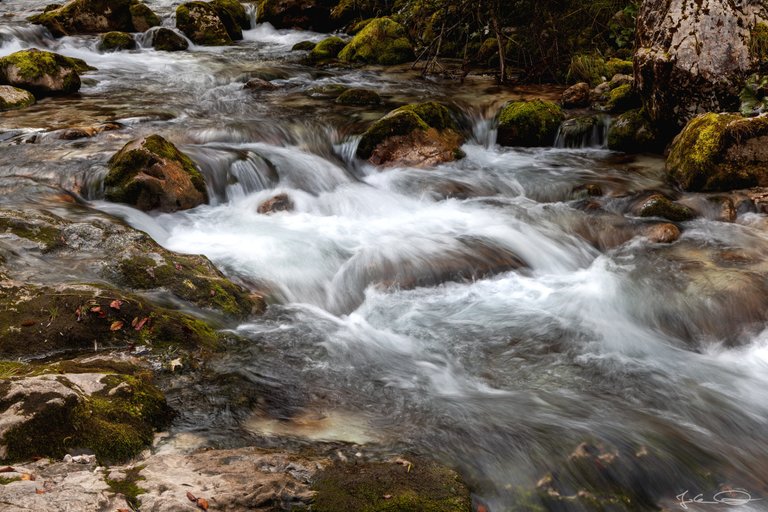 ❖ click the image for fullsize view ❖
Canon EOS R | RF 24-105mm f/4 L IS USM
ISO 100 . f/11 . 0.3 sec . @50 mm
Peričnik Waterfall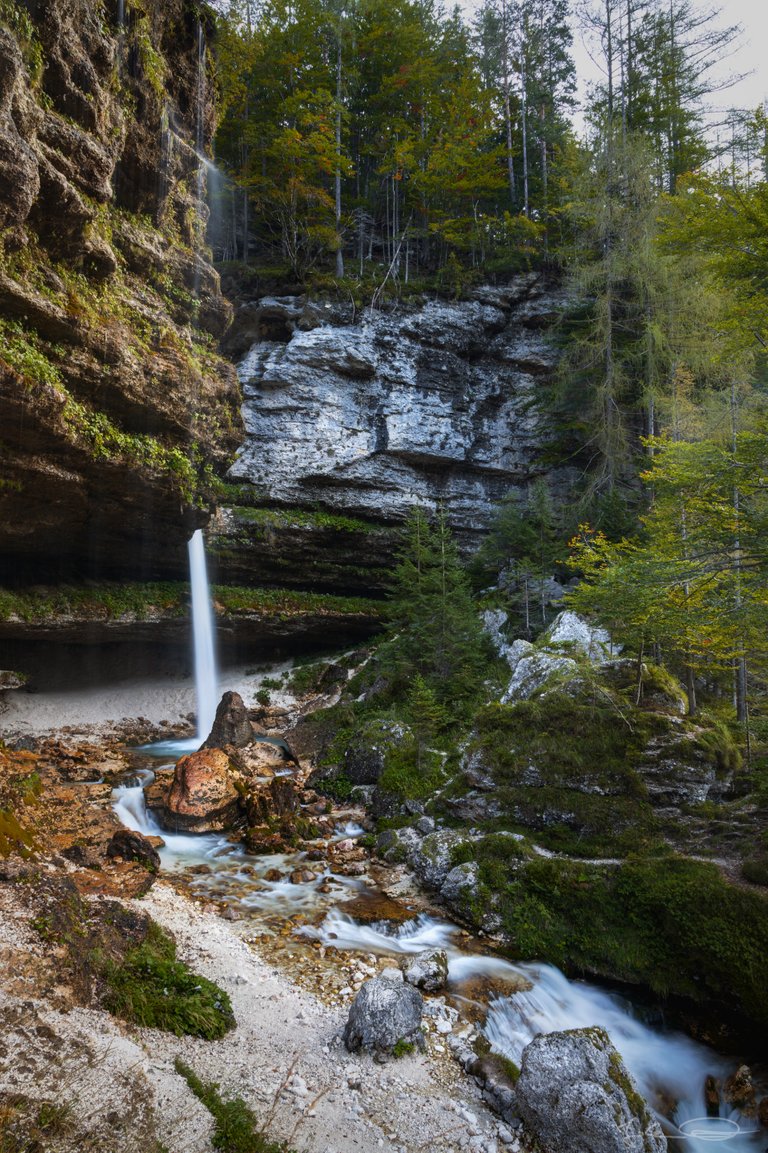 ❖ click the image for fullsize view ❖
Canon EOS R | RF 24-105mm f/4 L IS USM
ISO 100 . f/14 . 1.6 sec . @24 mm
At the Peričnik waterfall or correct said at the two Peričnik waterfalls, I actually only went once on September 20 last year, but I wanted to go back when the waterfall was frozen. Unfortunately, it did not work out.

In the photo you can see the 16 meter high upper waterfall. At the bottom right, just outside of the picture, the water falls down the 52 meter high bigger waterfall.

Beim Peričnik Wasserfall beziehungsweise bei den beiden Peričnik Wasserfällen bin ich letztes Jahr eigentlich nur einmal am 20. September gewesen, wollte aber wieder hin, wenn der Wasserfall gefroren ist. Es ist sich aber leider nicht ausgegangen.

Auf dem Foto sieht man den 16 Meter hohen oberen Wasserfall. Rechts unten, knapp außerhalb des Bildes fällt das Wasser dann den 52 Meter hohen großen Wasserfall hinunter.
Martuljek Waterfalls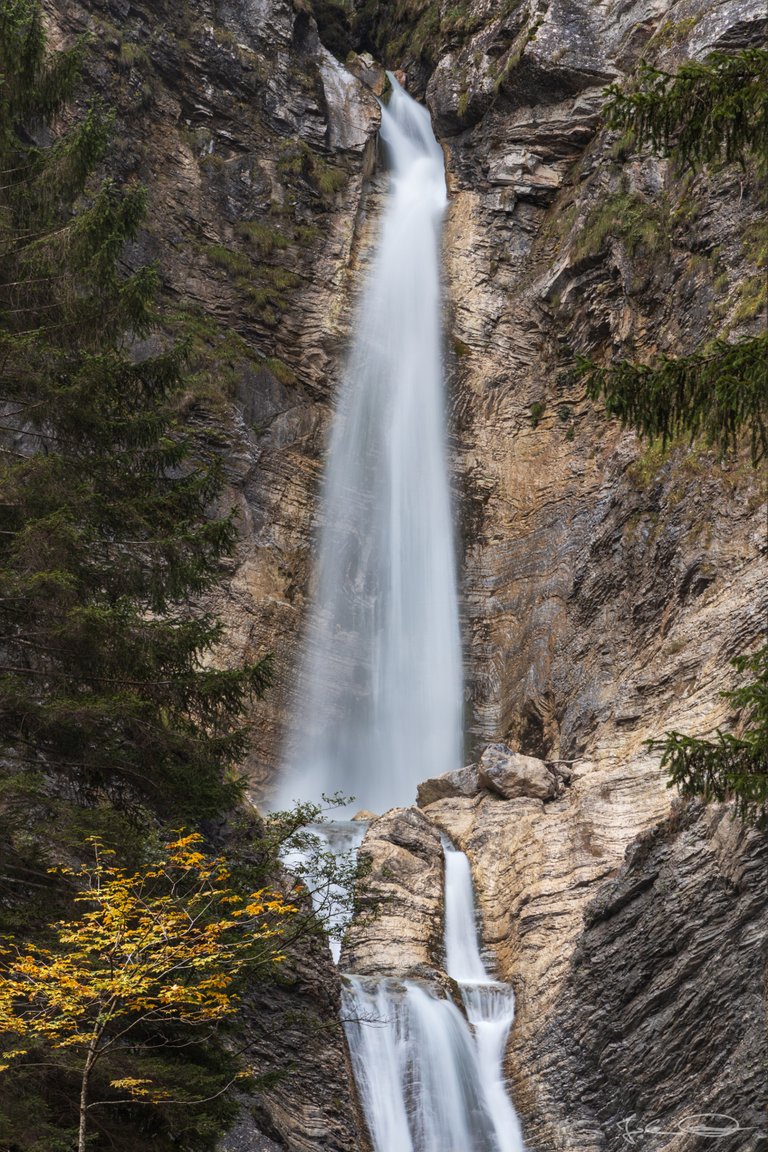 ❖ click the image for fullsize view ❖
Canon EOS R | RF 24-105mm f/4 L IS USM
ISO 100 . f/14 . 0.6 sec . @94 mm
On September 28th I went on a nice hike to the Martuljek waterfalls along the Martuljek river and in beautiful old forests up to the rocky mountains to the upper Martuljek waterfall.

The photos show the lower Martuljek waterfall "Zgornji Martuljkov slap", which I actually like much better than the upper one.

The waterfall falls in three steps over a 110 meter vertical rock face and looks spectacular. I also like the beautiful brown rocks, which are almost golden depending on the light.

Zu den Martuljek Wasserfällen habe ich am 28. September eine schöne Wanderung entlang des Martuljek Flusses und in wunderschönen alten Wäldern bis in felsiges Gebirge zum oberen Martuljek Wasserfall unternommen.

Die Fotos zeigen den unteren Martuljek Wasserfall "Zgornji Martuljkov slap", der mir eigentlich auch viel besser gefällt als der obere.

Der Wasserfall fällt in drei Stufen über eine 110 Meter hohe senkrechte Wand herab und schaut spektakulär aus. Mir gefallen hier auch wieder die wunderschön braun bis je nach Lichteinfall fast golden gefärbten Felsen.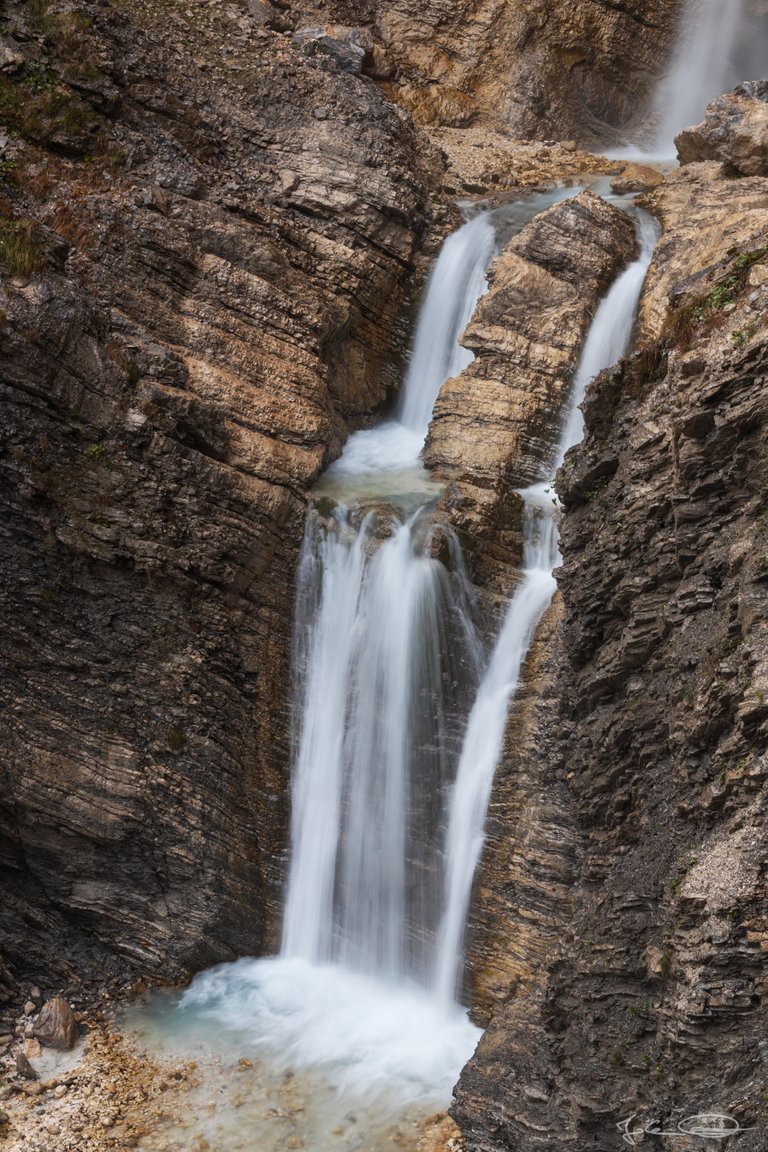 ❖ click the image for fullsize view ❖
Canon EOS R | RF 24-105mm f/4 L IS USM
ISO 100 . f/14 . 0.3 sec . @47 mm
The emerald Soča River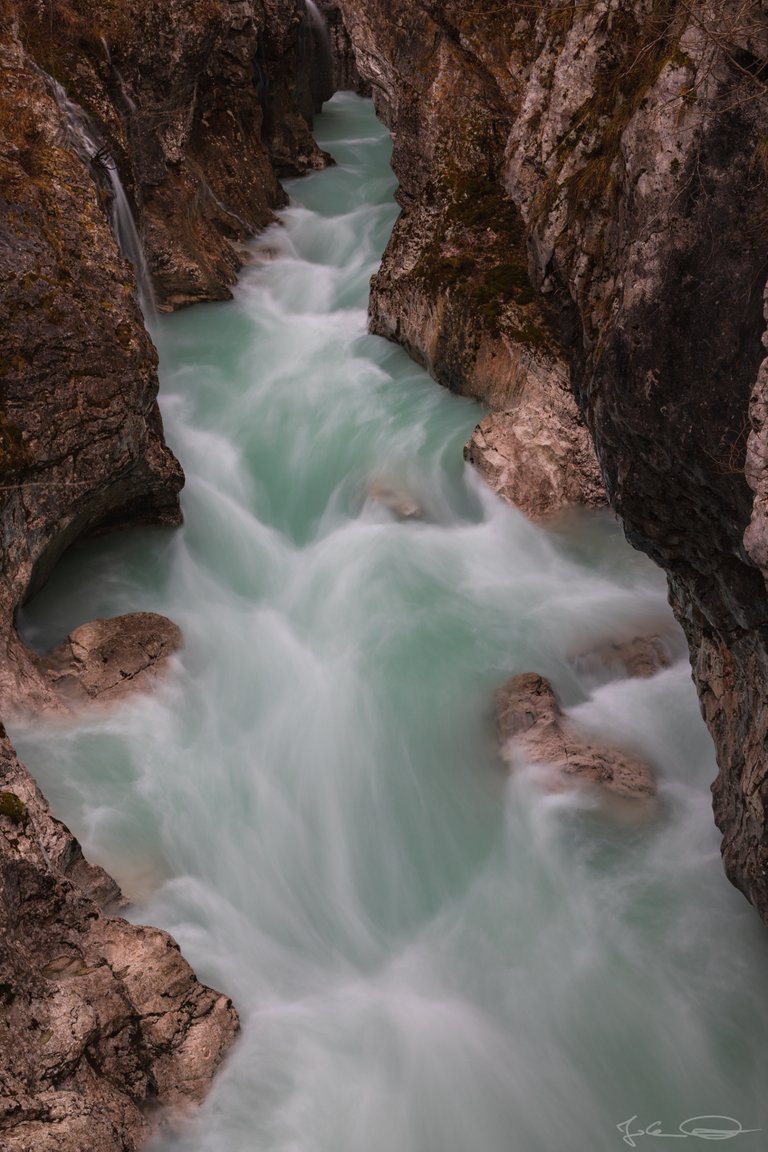 ❖ click the image for fullsize view ❖
Canon EOS R | RF 24-105mm f/4 L IS USM
ISO 100 . f/11 . 1/3 sec . @47 mm
Last, but not least, the Soča, that is the beautiful emerald green river that flows through the Soča valley and is called Isonzo in Italy.

The Isonzo flows south of Monfalcone into the Gulf of Trieste. I took this photo on November 17th at the large Soča gorge at the junction into the Lepena valley.

Last, but not least die Soča, das ist der wunderschöne smaragdgrüne Fluss, der durch das Soča Tal fließt und in Italien Isonzo heißt.

Der Isonzo mündet südlich von Monfalcone in den Golf von Triest. Dieses Foto habe ich am 17. November an der großen Soča Schlucht bei der Abzweigung in das Lepena Tal gemacht.
---
Of course I visited a few more areas and waterfalls last year, but these are among my best experiences and I finally had to free the photos from the loneliness of the archive.

If you want to learn more about the individual waterfalls and areas, feel free to rummage through my blog, where I have collected and written down a lot of information.

Natürlich habe ich noch einige Gegenden und Wasserfälle mehr im letzten Jahr besucht, aber diese zählen zu meinen schönsten Erfahrungen und ich musste die Fotos endlich aus der Einsamkeit des Archivs befreien.

Wer mehr zu den einzelnen Wasserfällen und Gegenden erfahren will, der kann sich gerne durch meinen Blog wühlen, wo ich viele Informationen gesammelt und aufgeschrieben habe.
Information
All photos were shot with the Canon EOS R and one of these lenses: Canon RF 24-105mm f/4 L IS USM, Canon EF 70-200mm f/4 L IS II USM, Canon EF 16-35mm 1:4L IS USM, SIGMA 105mm 1:2,8 DG MACRO HSM, SIGMA 150-600mm F5-6.3 DG OS HSM C.
I leave all EXIF and IPTC information stored in the pictures.
---
If you like my photos I would appreciate an upvote, nice comment or a resteem 😊 ... and maybe you would like to follow me, so that you never miss a post from me.
Thank you for visiting my blog,
have a nice evening,



Photos and Text: Johann Piber | All rights reserved - do not use without my permission
#originalcontent #originalworks
2020-02-28