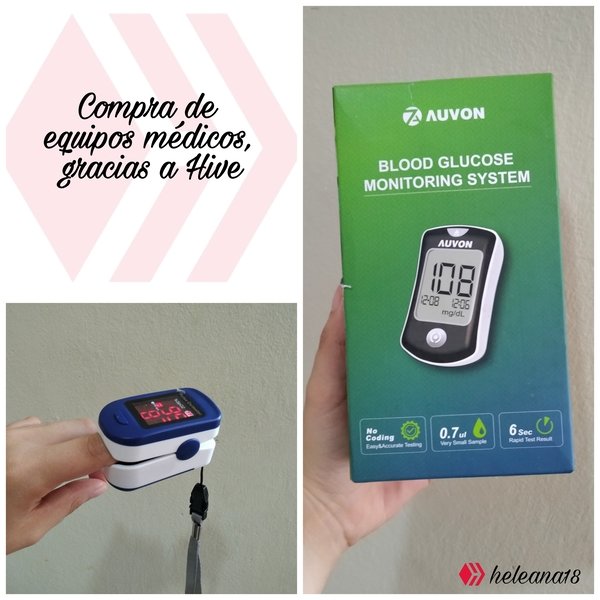 ---
[Español]
Saludos, hivers. Espero estén bien. 💙
Quería comentarles acerca de otra de mis compras realizadas, gracias a Hive. A finales del 2020 con los ahorros que tenía en mi wallet decidí que era momento de comprar un pulsioxímetro y un glucómetro pensado en estos meses en que retornara a mis pasantías en el hospital y estaría expuesta al rebrote de la Covid-19, motivo por el cual necesitaría otras herramientas para realizar despistaje rápido de pacientes que estén desaturando o con glicemia descompensada, por ejemplo.
[English]
Hello, hivers. I hope you are well. 💙
I wanted to tell you about another of my purchases made, thanks to Hive. At the end of 2020 with the savings I had in my wallet I decided it was time to buy a pulse oximeter and a glucometer thinking about these months when I would return to my internship at the hospital and I would be exposed to the resurgence of Covid-19, which is why I would need other tools to perform rapid screening of patients who are desaturating or with decompensated glycemia, for example.
---
🔹 ¿Qué es un pulsioxímetro?
Es un dispositivo usado para realizar la oximetría de pulso, un método no invasivo que permite la estimación de la saturación de oxígeno de la hemoglobina arterial y también vigila la frecuencia cardíaca.
En atención primaria es útil para detectar hipoxemia en pacientes con enfermedades respiratorias bajas que afectan la ventilación/perfusión, como por ejemplo en asma, neumonía o en bronquiolitis en pacientes pediátricos, de manera que se pueda tomar decisiones oportunas en el plan terapéutico y medir la efectividad del tratamiento aplicado.
Los sitios del cuerpo que generalmente se usan para medir la SpO2 son los dedos de la mano, dedo gordo del pie y lóbulo de la oreja, pudiendo variar según la edad, si es un paciente pediátrico.
🔹 What is a pulse oximeter?
It is a device used to perform pulse oximetry, a non-invasive method that allows the estimation of arterial hemoglobin oxygen saturation and also monitors heart rate.
In primary care it is useful to detect hypoxemia in patients with lower respiratory diseases that affect ventilation/perfusion, such as asthma, pneumonia or bronchiolitis in pediatric patients, so that timely decisions can be made in the therapeutic plan and the effectiveness of the treatment applied can be measured.
The body sites generally used to measure SpO2 are the fingers, big toe and earlobe, and may vary according to age, if it is a pediatric patient.
---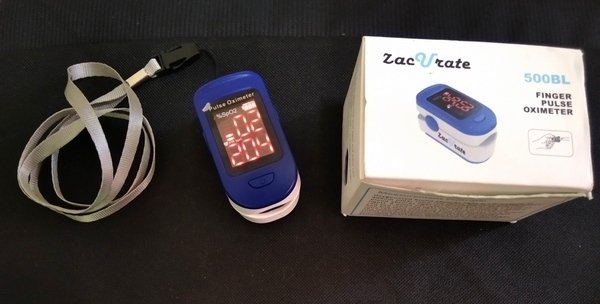 El oxímetro de pulso que compré incluía baterías y una cuerda para llevarlo colgado en el cuello. Costo $20.
The pulse oximeter I bought included batteries and a lanyard to wear it around the neck. Cost $20.

---
🔹 ¿Qué es un glucómetro?
Es un dispositivo utilizado para la medición de glucosa en sangre capilar sin recurrir a un laboratorio analítico, incluso es ideal para que los pacientes diabéticos realicen ellos mismos la monitorización de su niveles de glicemia cotidianos.
Este equipo requiere de un instrumento de punción con lanceta incorporada para conseguir una pequeña muestra de sangre capilar a través de la piel que se pondrá en contacto con la tira reactiva insertada en el glucómetro. Lo usual es que la toma de la muestra de sangre se realice en la zona lateral del pulpejo del dedo y en cuestión de segundos, se obtiene el resultado.
🔹 What is a glucometer?
It is a device used to measure glucose in capillary blood without resorting to an analytical laboratory, it is even ideal for diabetic patients to monitor their daily blood glucose levels themselves.
This equipment requires a lancing instrument with a built-in lancet to obtain a small sample of capillary blood through the skin that will come into contact with the test strip inserted in the glucometer. The blood sample is usually taken from the side of the thumb of the finger and in a matter of seconds, the result is obtained.
---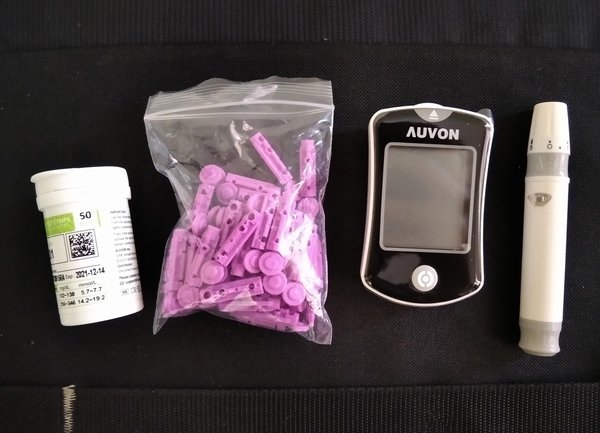 El glucómetro que compré incluía su batería, 50 tiras reactivas, 50 lancetas y un dispositivo para colocar la lanceta que facilita el procedimiento. Costo $20.
The glucometer I purchased included its battery, 50 test strips, 50 lancets and a lancing device that facilitates the procedure. Cost $20.
---
Realmente, Hive ha sido una oportunidad para adquirir varios de los elementos que requiero para mi práctica médica. ¿Cómo no amar este proyecto?
Truly, Hive has been an opportunity to acquire several of the elements I require for my medical practice. How can I not love this project?
---
¡Gracias por leerme! Cuídense mucho. Besos.
Thanks for reading me! Take care. Kisses.