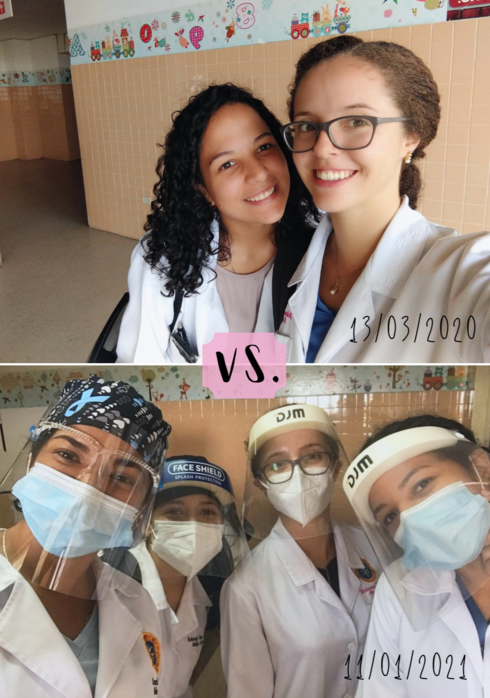 ---
[Español]
¡Saludos, hivers! Estoy de vuelta por aquí. 🧡
Ya retomé mis pasantías de último año de la carrera y quiero compartirles este leve contraste del antes y después del decreto del 13/03/2020 de inicio de la cuarentena en Venezuela, en el cual nos vimos afectados por el deterioro del sistema sanitario venezolano, ya colapsado desde hace varios años, donde los pacientes y médicos hacen malabares para conseguir resolver las diversas situaciones. Los estudiantes no escapamos de esta realidad, aunado a la gestión deficiente de las universidades públicas que ya he mencionado antes y, que nos obligó a suspender actividades temporalmente mientras buscábamos alternativas para costearnos nosotros mismos los equipos de bioseguridad que el Hospital escasamente aporta a sus trabajadores sanitarios.
Mis impresiones en este nuevo primer día
2 impresiones negativas:
La infraestructura del Hospital sigue deteriorándose y ni siquiera esta situación de pandemia ha motivado a cuidar más las instalaciones. Así mismo, se mantiene el déficit de insumos, donde hasta una simple camilla para trasladar un paciente es difícil de conseguir.
Con las mascarillas y las face shield se dificulta la comunicación, los demás no me escuchan bien cuando hablo ni yo escucho bien a mis compañeros, pero tocará adaptarnos durante este período. ¡Y ni hablar de las ocasiones en que se me empañan los lentes!
2 impresiones positivas:
Compartí con personas que no se rinden y perseveran aún en la dificultad. Cada semana me detengo un rato a admirar de dónde es que sacamos fuerzas para continuar formándonos a pesar de las condiciones.
Presencié gestos de apoyo muy bonitos entre las madres de los pacientes pediátricos que me hicieron sonreír.
Este es el resumen del inicio, seguimos informando ¡Gracias por leerme! Hasta luego, cuídense mucho.
[English]
Hello, hivers! I'm back. 🧡
I have already resumed my last year internship and I want to share with you this slight contrast of the before and after the decree of 03/13/2020 of the beginning of the quarantine in Venezuela, in which we were affected by the deterioration of the Venezuelan health system, already collapsed for several years, where patients and doctors juggle to manage to solve the various situations. We students did not escape from this reality, coupled with the poor management of the public universities that I mentioned earlier, which forced us to temporarily suspend activities while we looked for alternatives to pay ourselves for the biosecurity equipment that the Hospital barely provides to its health workers.
My impressions on this new first day
2 negative impressions:
The Hospital's infrastructure continues to deteriorate and even this pandemic situation has not motivated more care for the facility. Likewise, there is still a deficit of supplies, where even a simple stretcher to move a patient is difficult to obtain.
With the masks and the face shield it is difficult to communicate, the others do not listen to me well when I speak nor do I listen well to my colleagues, I feel that we had to speak in a high tone to be able to understand each other, but it will be necessary to adapt ourselves during this period, and not to mention the occasions in which my glasses fog up!
2 positive impressions:
I shared with people who do not give up and persevere even in difficulty. Every week I stop for a while to admire where it is that we get the strength to continue training in spite of the conditions.
I witnessed very nice gestures of support from the mothers of the pediatric patients that made me smile.
This is the summary of the beginning, we continue to report Thank you for reading me! See you later, take care.
---