¡Hola amigos de la colmena!… Les saludo a todos con mucho cariño, hoy voy a chequear las altas voces que hace algún tiempo se habían dañado.
Hello friends of the hive! ... I greet you all with great affection, today I am going to check the loud voices that some time ago had been damaged.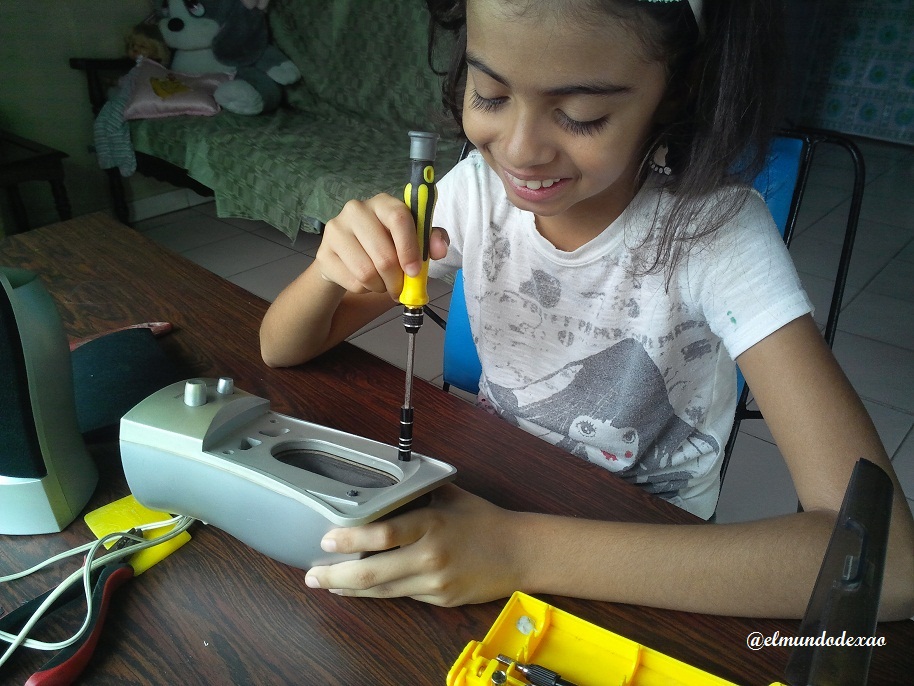 Comenzaron presentando una falla que hacía, que se escucharan entre cortado, las guardamos para que no se terminaran de dañar, y ahora como estoy aprendiendo a reparar mi Pc quise aprovechar de darles un vistazo a ver qué puedo hacer.
They began by presenting a fault that they made, that they were heard between cuts, we saved them so that they did not end up being damaged, and now as I am learning to repair my PC I wanted to take a look at them to see what I can do.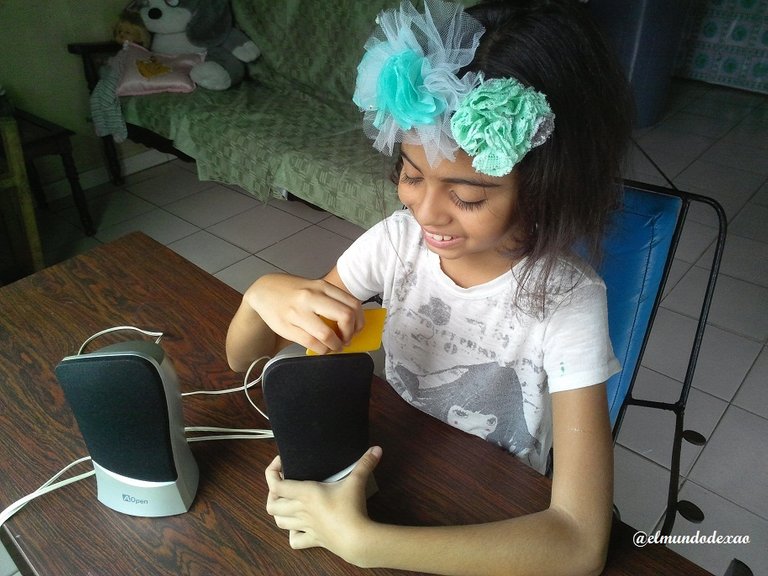 Comencé buscando como destaparlas por un momento creí que venían selladas ya que no tienen tornillos a simple vista, tuve que remover el foro del frente con una pequeña espátula plástica porque viene colocado a presión.
I started looking for how to uncover them for a moment I thought they were sealed since they do not have screws to the naked eye, I had to remove the front panel with a small plastic spatula because it is fitted under pressure.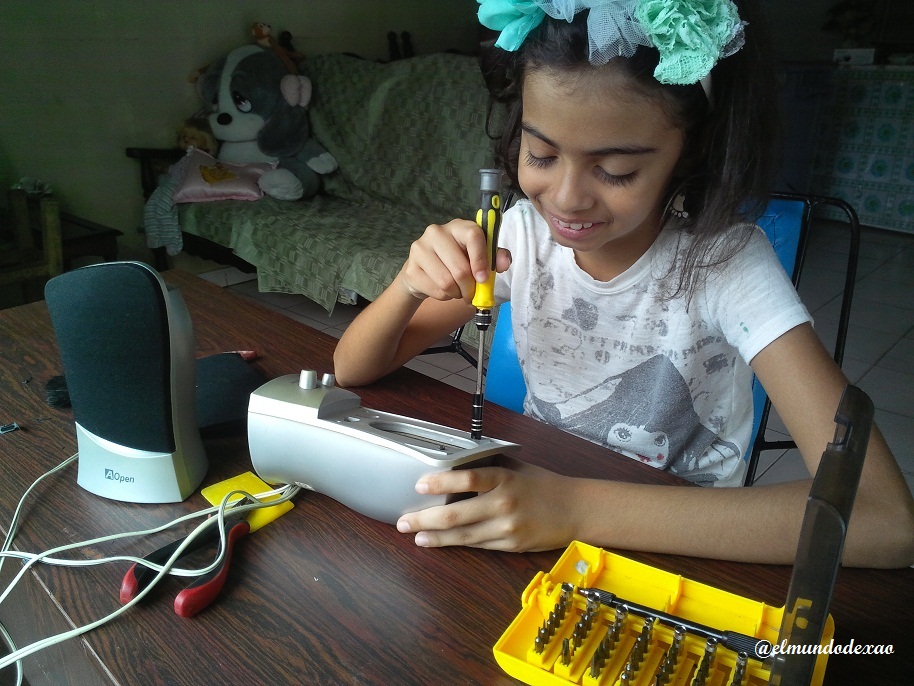 Una vez removida la tapa pude ver los tornillos, me explicaron que vienen así por estética es decir para que se vean mejor.
Once the cover was removed I could see the screws, they explained to me that they come like this for aesthetics, that is, to make them look better.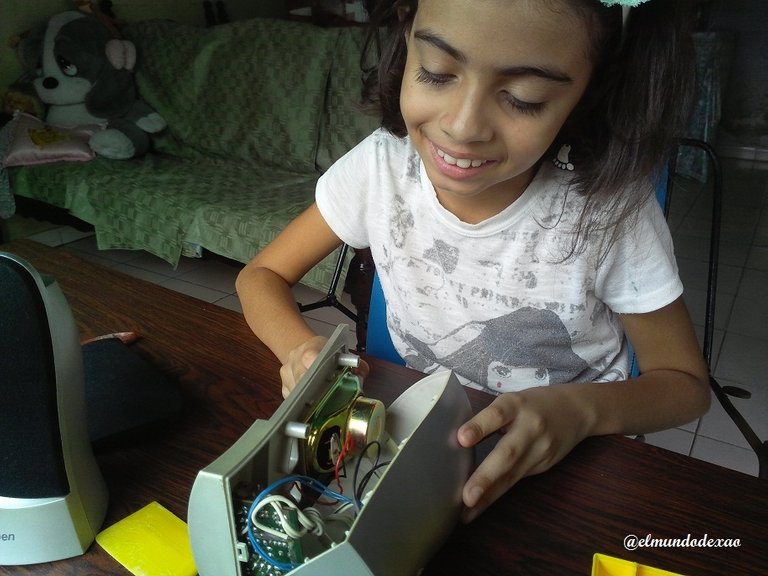 Al quitar lo cuatro tornillos pude abrirla con facilidad y así poder revisarla y ver si la falla estaba a simple vista, espero que sí, por lo que se puede ver hay circuitos dentro, yo pensé que eran más simple…
By removing the four screws I was able to open it easily and thus be able to review it and see if the fault was visible to the naked eye, I hope so, from what you can see there are circuits inside, I thought they were simpler...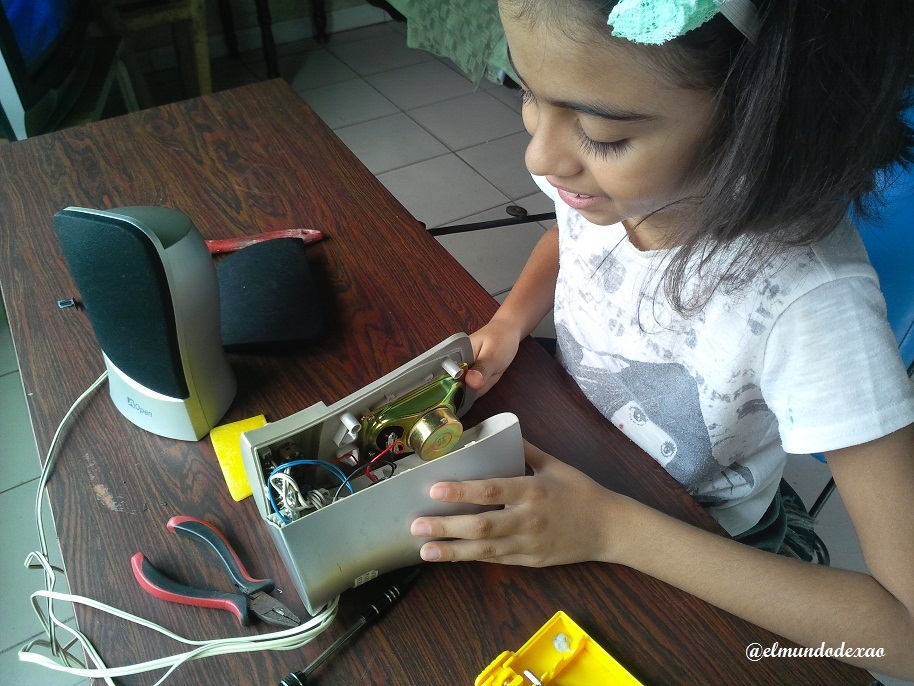 Al revisarla pudimos observar que unos cables estaban enredados entre ellos mismos, quizás por mover tanto las corneta de un lugar a otro, yo me la paso intercambiándolas del Pc a la Laptop. A continuación les muestro de qué cables me refiero.
When we checked it, we could observe that some cables were tangled between themselves, perhaps because of moving the cornets so much from one place to another, I spend it all the time exchanging them from the PC to the Laptop. Next I show you which cables I mean.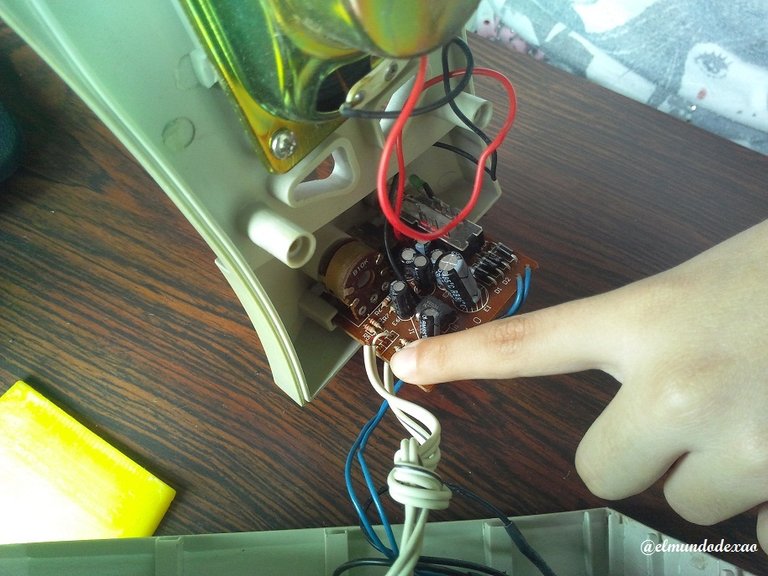 Este nudo que pueden observar a continuación evita despegar esos cables con algún jalón y debería haber una pequeña goma que evitara que el cable se fuese enrollando dentro de la corneta, pero esa goma se dañó.
This knot that you can see below avoids detaching those cables with some pull and there should be a small rubber that prevents the cable from winding inside the horn, but that rubber was damaged.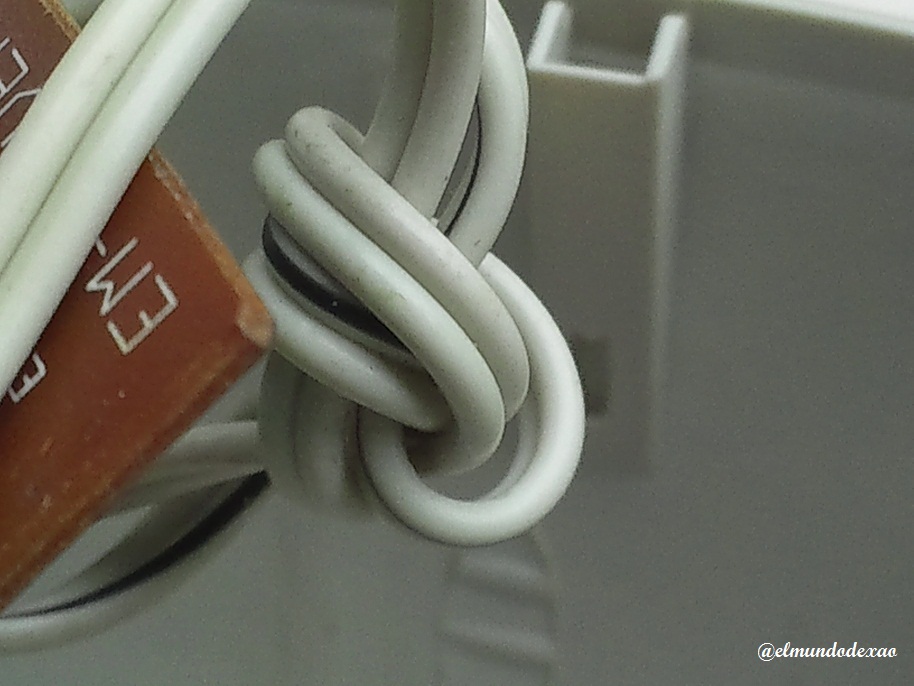 Aquí les muestro los cables con más detalle para que me entiendan y puedan ver claramente a lo que me refiero.
Here I show you the cables in more detail so that you understand me and can clearly see what I mean.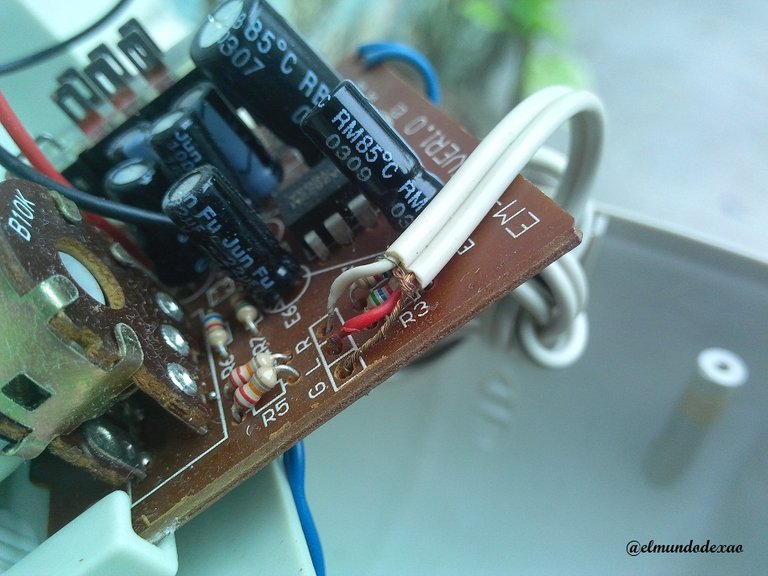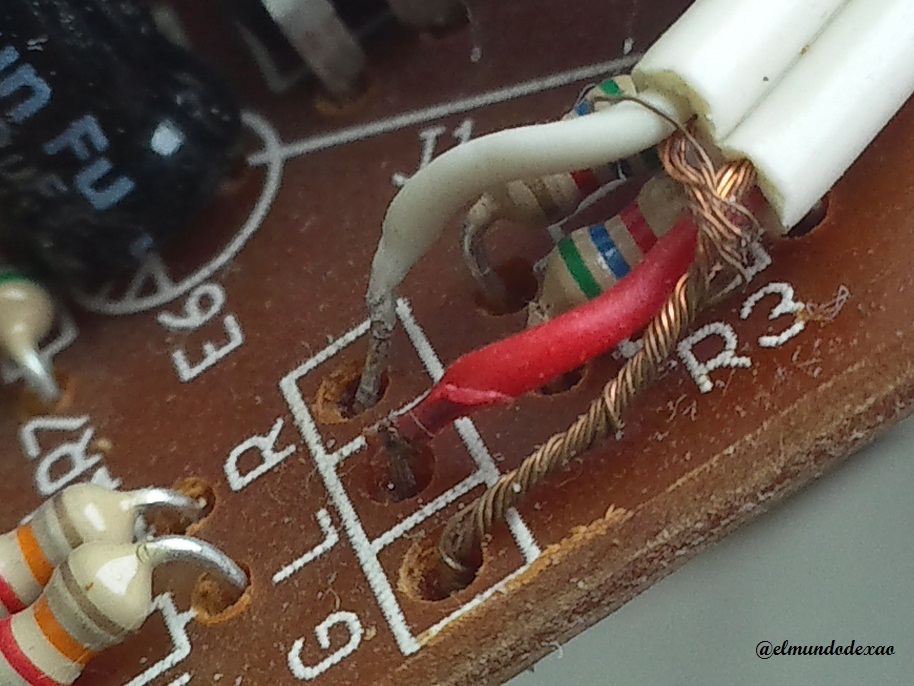 Me dijeron que pensara en una solución, la más acertada es soldar bien esos cables en su sitio con estaño, pero no ser hacer eso y tampoco tengo estaño a la mano (El estaño lo anotare como pendiente) así que la única solución que se me ocurrió fue colocarle un tipo de cinta adhesiva temporalmente…
They told me to think of a solution, the most successful is to solder those cables well in place with tin, but not to do that and I don't have any tin on hand either (I will write it down as a pending) so the only solution I can What happened was to put a type of adhesive tape temporarily...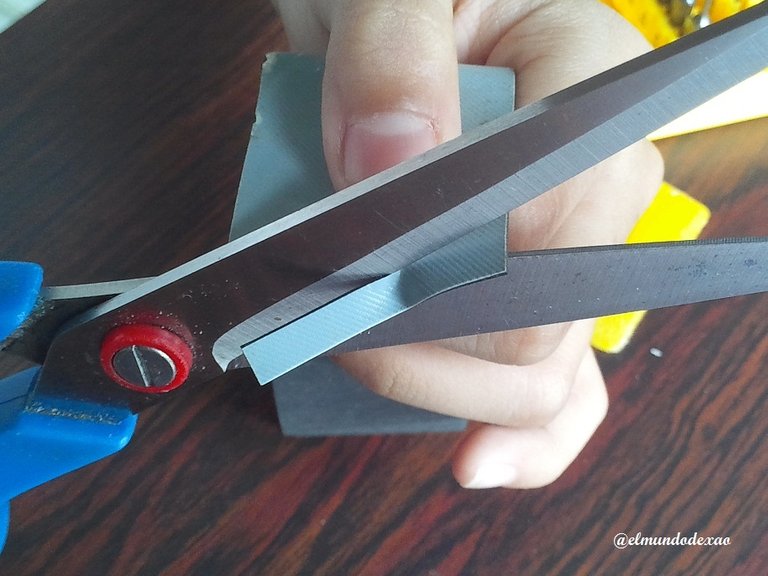 Fue muy incómodo colocar la cinta en el cable, tendré que buscarle otra solución. Pero primero debo probar las cornetas a ver si en realidad esta era la falla.
It was very uncomfortable to put the tape on the cable, I will have to find another solution. But first I must test the horns to see if this was actually the fault.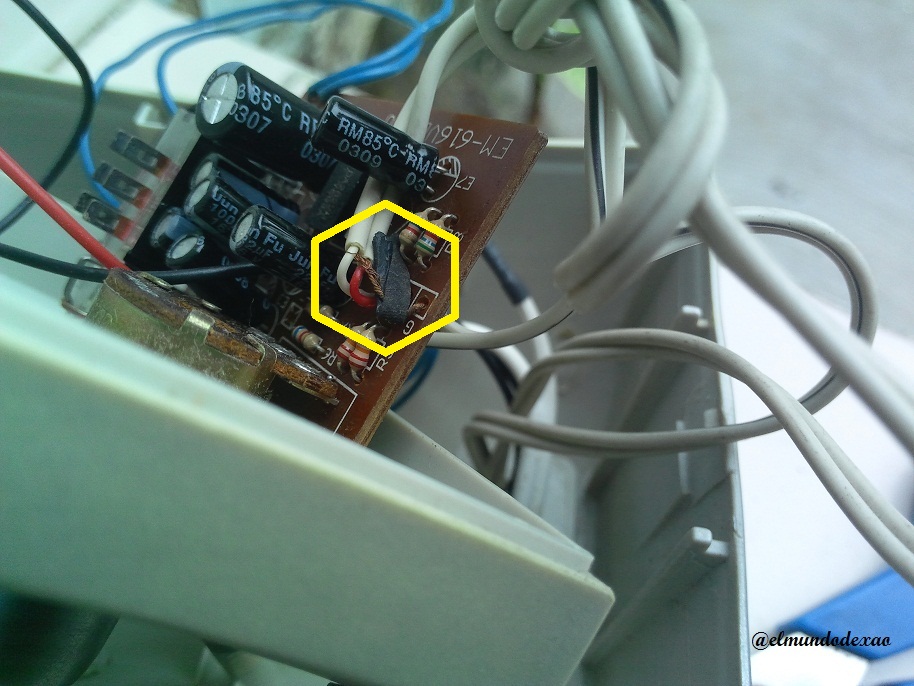 Ahora las probare, espero que por lo menos ahora se escuchen mejor… esto ha sido un poco estresante pero como dicen mis padres es mejor aprender y practicar con mis cosas y no con la de los demás.
Now I will try them, I hope that at least now they are heard better ... this has been a bit stressful but as my parents say it is better to learn and practice with my things and not with those of others.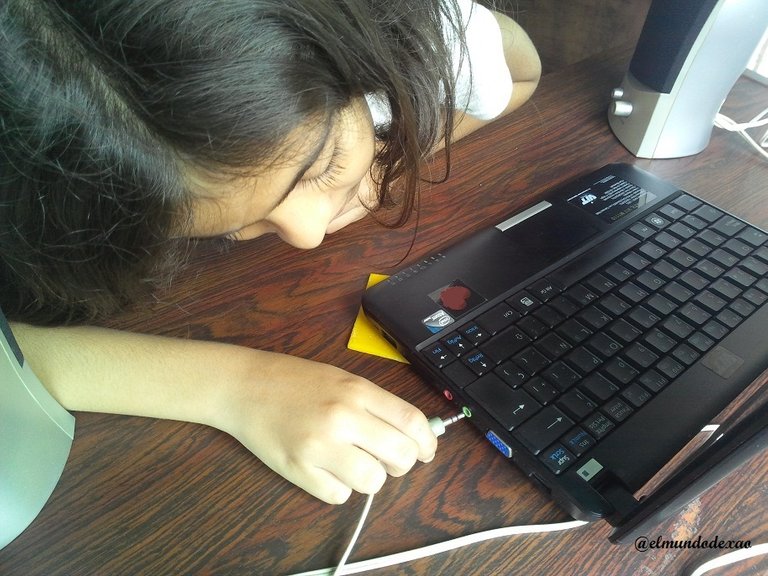 A ver… A ver… A ver… Prendan por favor, que me hacen falta.
Let's see… Let's see… Let's see… Please turn on, I need them.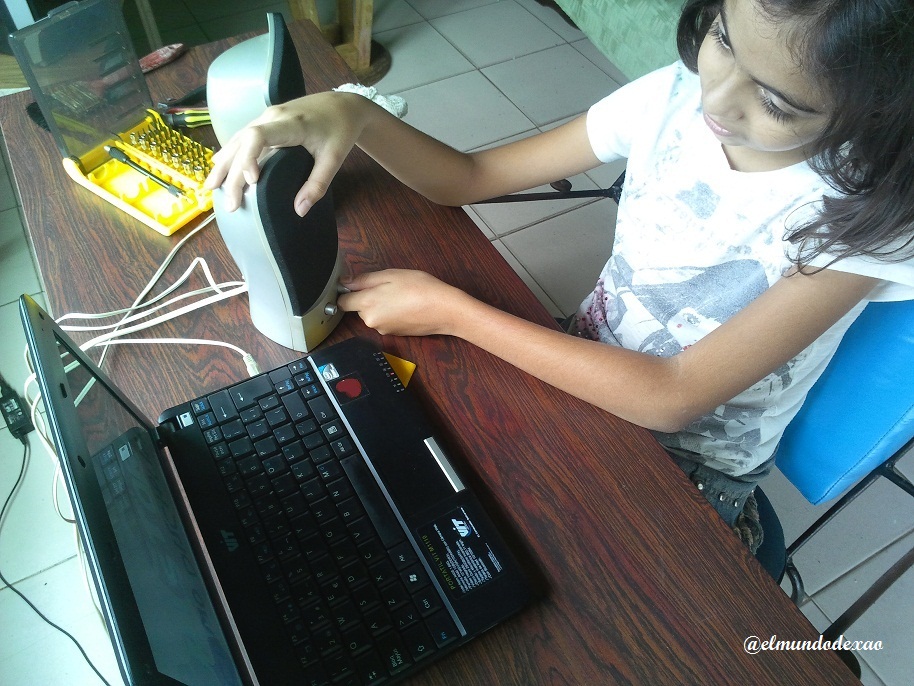 ¡¡¡ "GENIAL"!!! El problema si eran los cables y me alegra mucho haber podido solucionarlo, pensare que puedo colocarle a esos cables para que se mantengan separados.
"GREAT"!!! The problem was the cables and I am very happy to have been able to solve it, I will think that I can place those cables so that they stay separated.

Fuente de Fotos: Propias capturadas con una cámara Síragon.
Modificado el tamaño: Con el Programa Paint.
Photo Source: Own photos captured with a Síragon camera.
Modified size: With the Paint Program.
Espero hayan disfrutado y aprendido algo de esta publicación como lo he hecho yo, hasta la próxima.
I hope you have enjoyed and learned something from this post as I have, until next time.
Gracias por visitar mi Blog… ¡AH! No se olvide de votar, reblogear y comentar.
Thanks for visiting my blog... Ah! Don't forget to vote, reblogear and comment.
Traducido con / Translated with: