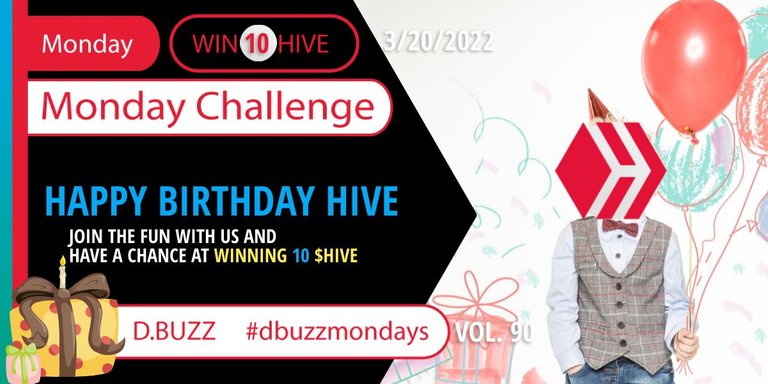 ---
Monday Challenges from D.Buzz
>> Round 89 << | >> Win 10 HIVE<<
---
Hello friends.
Show of hands, who here stayed up all night to celebrate Hive's 2nd birthday? 🖐🖐 Lol, we sure did. That blockchain knows how to party - that's for sure!
If you are not aware, yesterday on the 20th was a milestone for the Hive blockchain as it turned 2 years old. 2 Years of producing blocks, making memories, and changing lives.
There's just something special about birthdays, isn't there? They're a time to reflect on the year that's passed and to look ahead to the year ahead. They're a time to celebrate life and all that we've been blessed with. They're also a time for friends and family to come together and to enjoy each other's company. In short, birthdays are important. They mark another year of life gone by, and they remind us to be grateful for all we have.
Most people like to celebrate their birthdays with friends. This way, they can enjoy the company of those who mean the most to them and have some fun. Plus, it's a great way to get together and catch up on what's been going on in each other's lives.
This all brings us to today's Monday Challenge!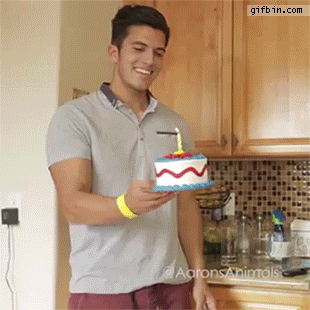 It's all about the Pi
---
Today's challenge
Join us in wishing Hive a happy 2nd birthday. This wish can be with a photo, picture, story, or video. However you like, you want to say thanks to the chain for all it provides.
In a post on D.Buzz, send out warm wishes and a Happy Birthday to Hive. Let us know one thing you like most about Hive. Tag it #hiveTurns2., #hiveTurns2
---
This week's challenge
At some point in the next 6 days...
On a post on D.Buzz, post a buzz wishing Hive a Happy Birthday the way or manner you feel is best.
Hashtag that post with #hiveturns2.
Post a link to your buzz on a comment below.
Buzz to Twitter for an extra high-five from us! ;)
---
Thank You
---
Rules:
After seven days (next Monday, at some point), we will select a winner from all valid entries.
We will then make an announcement post on the following Monday and tag you.
The prize will be sent to the winner soon after the winner is announced.
No, follow, or upvote required to join.
---
What is the prize?
The prize is 10 HIVE sent to you.
---
Last Week's Winner!
By random draw, the winner of last week's challenge is...
---
Who posted this Buzz:
https://d.buzz/#/@thinkrdotexe/c/s6klxnddhiek1xyr1deefr
Hmmmmm ... Strawberry rhubarb + Fork = Happy belly for sure. :)
Congratulations on winning!
You will receive the prize from our rewards account shortly. :)
---
Thank you for playing!
---
Questions? Concerns? Comments?
Just comment below.
---
---
A censorship-resistant short-form microblogging platform that empowers you to share your thoughts in 280 characters or fewer.
Censorship-resistant and built for the community with love.
---
We strive to have a fun and neutral stance on topics. If you have any concerns with the content, please contact @jacuzzi who writes and generates the content for our articles, or the @dbuzz team for clarification.
---
D.Buzz online at:
Join us on Discord at https://discord.gg/BKg5Ptg9ss