Hello dear community, today through this publication I want to explain one of the many factors with which you must deal when dieting.
We all have a favorite food, which is hard to stop eating but what happens if this food is considered "junk food" as is the case of pizza, hamburgers, hot dogs, and .... better leave it up to here hahaha.
Hola querida comunidad, el día de hoy a través de esta publicación quiero explicarles uno de los tantos factores con los cuales se debe lidiar a la hora de hacer dieta. Todos tenemos un alimento favorito, el cual nos cuesta dejar de comer pero qué ocurre si éste alimento es considerado "comida chatarra" como es el caso de la pizza, las hamburguesas, los perros calientes y....mejor lo dejo hasta aquí jajaja.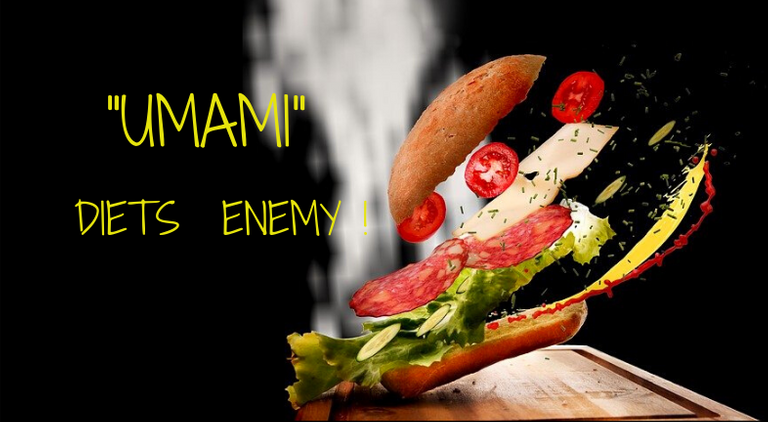 English

The truth is that many of these "favorite" foods are designed to succumb to them and not be able to resist, they have an evil component called "Umami" the enemy of any diet. Aha, are you interested yet? read on to see what this is all about.


Umami is the so-called fifth taste, it is attributed to the connotation of "very tasty". If we compare it with the basic known flavors such as salty, sweet, sour, and bitter, "Umami" is like a combination of salty flavor with a very light touch of sweet and bitter but capable of making a meal so irresistible, especially if it has some protein present.

Español

Lo cierto es que muchas de esas comidas "favoritas" están diseñadas para sucumbir ante ellas y no poder resistirnos, éstas tienen un componente maléfico llamado "Umami" el enemigo de cualquier dieta. Ajá ¿ya te ineteresaste? sigue leyendo para que veas de qué va esto.

Umami es el denominado quinto sabor, se le atribuye la connotación de "muy sabroso". Si lo comparamos con los sabores básicos conocidos como lo son el salado, dulce, ácido y amargo, "Umami" es como una combinación entre sabor salado con un toque muy ligero de dulce y amargo pero capaz de hacer tan irresistible una comida, más si ésta tiene alguna proteina presente.




Umami was first discovered by the Japanese chemist Kikunae Ikeda in 1908, who was curious as to why "miso soup" (a broth made from dashi, miso paste, kombu seaweed, shitake mushrooms, and other seasonal vegetables) was a common daily food preparation in the Japanese diet. Ikeda concentrated on the study of one of the ingredients of this soup, Kombu seaweed, and found crystals in it that corresponded to an amino acid called "glutamic acid. But this is not all, several Japanese scientists continued investigating the components of the "miso soup" and found that both in the dashi (pulverized or granulated dried kombu seaweed) and miso paste (soybeans or cereals and sea salt fermented with koji mushroom) as well as shitake mushrooms also had an abundance of this "glutamic acid", so it was not only the seaweed that gave this soup such an appetizing flavor, making it a real bomb of "delicious flavor" and this soup is a classic on Japanese tables.
Umami fue descubierto por primera vez por el químico japonés Kikunae Ikeda en 1908, a quien le causaba mucha curiosidad el por qué la "sopa miso" (caldo a base de dashi, pasta miso, algas kombu, hongos shitake y algún otro vegetal de estación) era una preparación de consumo diario y frecuente en la alimentación japonesa. Ikeda se concentró más en el estudio de uno de los ingredientes de esta sopa como lo es el alga Kombu, hallando en ella unos cristales que correspondían a un aminoácido llamado "ácido glutámico". Pero esto no queda aquí, varios científicos japoneses siguieron indagando los componentes de la "sopa miso" y encontraron que tanto en el dashi (alga kombu seca pulverizada o granulada) como en la pasta miso (semillas de soja o cereales y sal marina fermentada con el hongo koji) así como los hongos shitake también tenían en abundancia este "acido glutámico", así que no solo era el alga la que le daba ese sabor tan apetecible a esta sopa, convirtiéndola en una verdadera bomba de "sabor delicioso" siendo esta sopa un clásico en las mesas japonesas.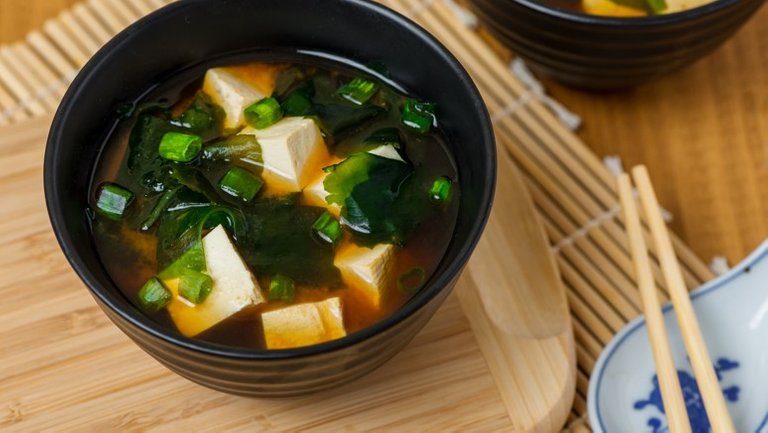 Source
With the advance of chemistry, the component that provides "umami" (very delicious) to foods was extensively studied, finding that the amino acid responsible for this, glutamic acid, was found in a wide variety of ingredients, which curiously are part of those foods for which we feel predilection. Among the ingredients that have abundant glutamic acid are tomatoes, mushrooms, truffles, asparagus, corn, potatoes, fresh peas, avocado, cocoa, paprika or panela, smoked foods such as bacon, pork chops, herring, hams and cured sausages, foods that go through the fermentation process such as pickles, anchovies, pickles, olives, soy sauce, miso paste, oyster sauce, eel sauce, matured cheeses such as all those high in fat (yellow), parmesan and pecorino, milk and those with the highest concentration are those of marine origins such as fish, crustaceans and algae.
Con el avance la química el componente que brinda "umami" (muy delicioso) a las comidas fue ampliamente estudiado, encontrando que el aminoácido responsable de esto, el ácido glutámico, se encontraba en una gran variedad de ingredientes, los cuales curiosamente forman parte de esas comidas por las cuales sentimos predilección. Entre los ingredientes que tienen abundante ácido glutámico se encuentran el tomate, los champiñones, trufa, espárragos, maíz, papas, guisantes frescos, aguacate, cacao, papelón o panela, alimentos ahumados como el caso de la tocineta, chuletas de cerdo, arenques, jamones y embutidos curados, alimentos que pasan por el proceso de fermentación como los pepinillos, anchoas, encurtidos, aceitunas, salsa soya, pasta miso, salsa de ostra, salsa de anguila, quesos madurados como el caso de todos aquellos altos en grasa (amarillos), parmesano y pecorino, leche y los que presentan mayor concentración son los de origen marino como pescado, crustáceos y algas.

So get ready to analyze in a scientific way why certain dishes are a temptation and a danger if our goal is to diet 😂😂😂😂.
Así que prepárense para analizar de forma científica por qué hay ciertos platos que son toda una tentación y un peligro si nuestro objetivo es hacer dieta 😂😂😂.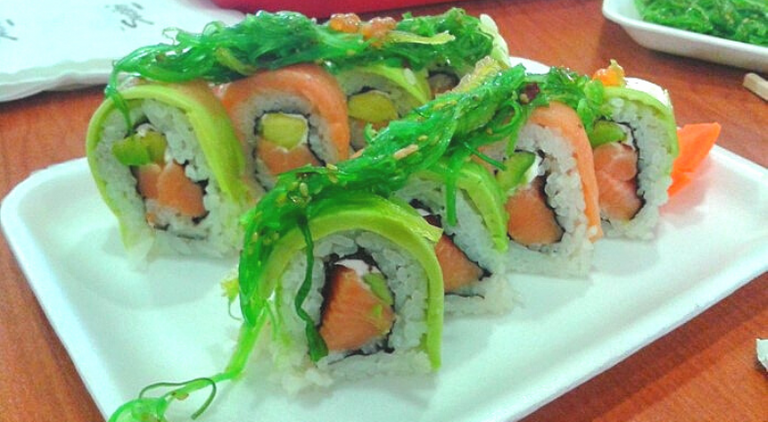 Umami ingredients: salmon, seaweed, avocado, cream cheese, soy sauce
Ingredientes umami: salmón, algas, aguacate, queso crema, salsa soya

Image property of the author / Imagen propiedad de la autora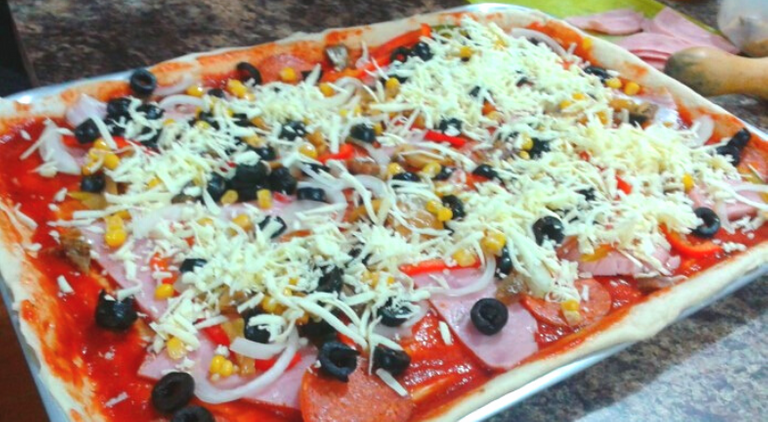 Umami ingredients: tomato, olives, corn, mushrooms, anchovies, pepperoni, smoked ham
Ingredientes umami: tomate, aceitunas, maíz, champiñones, anchoas, peperoni, jamón ahumado

Image property of the author / Imagen propiedad de la autora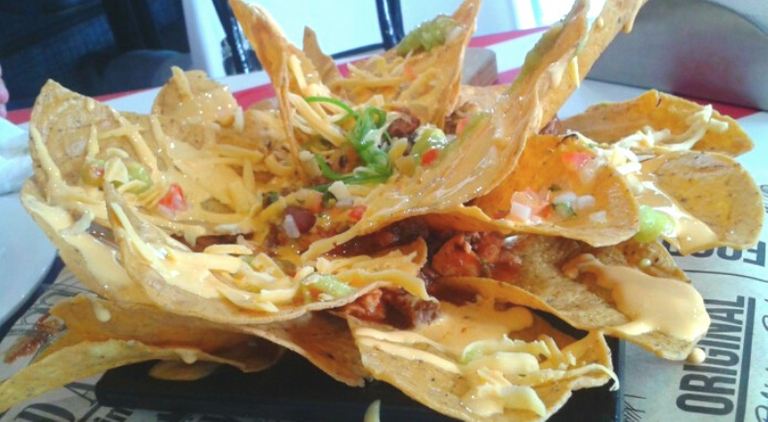 Umami ingredients: corn tortillas, tomato, avocado, chili, cheddar cheese
Ingredientes umami: Tortillas de maíz, tomate, aguacate, chile, queso cheddar
Image property of the author / Imagen propiedad de la autora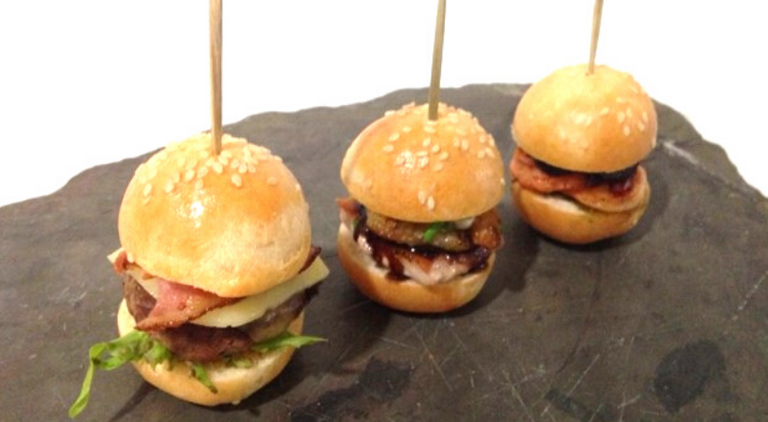 Umami ingredients: bacon, yellow cheese, tomato
Ingredientes umami: tocineta, queso amarillo, tomate

Image property of the author / Imagen propiedad de la autora

After seeing these pictures and knowing that in just one bite of these delicacies there are so many umami (very tasty) ingredients you will understand why it is sometimes impossible to stop eating them, so if you start a diet I assure you that it takes great willpower to avoid any of these foods.

Thanks for reading me, and in a future post, I will tell you about the presence of "umami" in desserts.
Después de ver estas fotografías y conocer que en un solo bocado de estas delicias hay tantos ingredientes umami (muy sabroso) comprenderás por qué es imposible a vecesdejar de comerlos, así que si comienzas una dieta te aseguro que hace falta una gran fuerza de voluntad para evitar alguno de estos alimentos.

Gracias por leerme, y en una próxima publicación te contaré de la prsencia de "umami" en los postres"