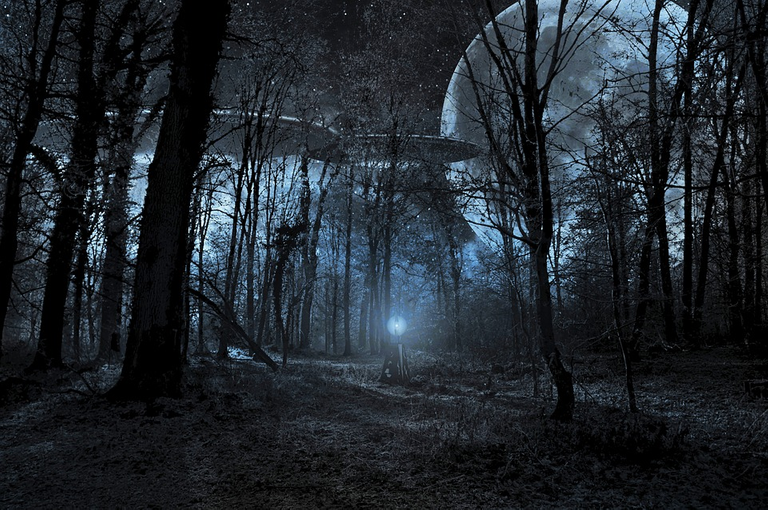 ---
For as long as I can remember, the night time sky has always fascinated me. There is something about the stars and planets that I just find magical/mystical, I don't know. I remember every year I would ask for a telescope for Christmas. Every year something else would take priority and it wasn't until I was into my thirties that I finally got my first telescope.
Unfortunately, I would soon realize they are much harder to use than I originally thought. I still have that telescope, but through a series of moves the stand was damaged, so I am not even sure it is usable anymore.
The idea of aliens was never at the forefront of my mind. Sure, I watched all the scifi shows and read all the scifi books when I was younger (and still today), but I never really saw aliens as something that could actually exist.
Fast forward to today and I am older and (hopefully) wiser. You would think that might make me even more skeptical about the idea that aliens exist, but in fact it is the opposite.
Knowing now how big the world is and how small we are in relation to it, it's difficult to imagine that somewhere out there, there isn't life.
I think part of the reason I never really gave the idea of aliens a second thought had to do with the way I was raised. I was brought up in a strict Christian household. Unlike some people who go the polar opposite of that upbringing as soon as they leave the nest, I still hold close and try to live out many of the values that were instilled in me.
That being said, being from that kind of environment it is pretty easy to understand why aliens were never top of mind for me. It wasn't until I was introduced to a series of books by none other than CS Lewis that things started to change for me. Unlike The Lion The Witch and The Wardrobe series, this other one is science fiction and takes place in space. It explores a world where there are many races across the galaxy, but still a God.
Very similar to evolution (despite what they may tell you), the two don't have to be mutually exclusive. If you choose to believe it, even created things can evolve.
I apologize, this isn't meant to be a theological post, it isn't about religion or dogma or any of that, it is about aliens. I just felt I should give you some background before diving in.
---
If you have been following the news over the past couple years, there has been some pretty exciting information released from the government. These classified files that they are finally making available to the public have some really interesting statements, videos, and other goodies.
It's safe to assume that given the propensity for the government to keep things secret, if this is what they are choosing to release to us, it is only the tip of the iceberg.
I've watched some of the videos and read some of the accounts. The videos honestly don't hit me quite as hard as the accounts do. I can understand why you may not accept the credibility of the person giving the accounts, but what was their motive then?
Was it a hoax? I have a hard time accepting that. Maybe I am wrong, who knows.
What I do know is up until now, we really haven't seen any real concrete evidence for the existence of aliens. It is still a lot of fringe stuff. Intangible thoughts, whispers, and hints that lie just outside our grasp.
No first contact, no invasion (thankfully), no nothing. I guess it depends who you talk to. There are some pretty wacky theories about aliens living among us, but I don't think even I would go so far as to accept that.
It turns out, there could be a reason we haven't made contact yet.
---
Good old Yahoo threw this article across my news feed the other day. Apparently some scientists infinitely smarter than myself have postulated that aliens have yet to contact us because they are busy minding their own business.
At least something like that.
Basically, the idea is, as worlds grow more advanced they require more and more resources and energy. Things like interstellar travel takes a lot of those things. Once they get to a certain point, they realize it is no longer sustainable. Instead of focusing on expanding and exploring, they pull back a bit and turn their focus inward.
Optimizing what they have in their small corner of space becomes the priority and while they are certainly capable of reaching Earth, it isn't a priority for them.
It's an interesting theory to be sure. It makes a lot of sense when you consider what is happening on our planet. While we still have a long way to go, there are also some things that the world has mutually agreed to change their focus to ensure a future for the planet.
What do you think? Do aliens exist? Why haven't we met them yet? Or have we? I look forward to reading your comments! Remember though, this is about aliens, not religion. I only brought it up for some background. Rants about (any) religion will be ignored. Maybe even downvoted depending on my mood.
---
---

---
All pictures/screenshots taken by myself or @mrsbozz unless otherwise sourced