Source
If you have read any news article lately then you probably have heard about the Apple vs Fortnite scene that is imploding right now. So let me explain the beef between them in short and then I will express my thoughts and views on this matter.
Fortnite is a Battle Royale Game from Epic Games and it is available on PC, Console as well as Mobile. Since it's available on Mobile Fortnite did have to go through Apple's App Store to get the Game in the App Store and Apple charged a hefty cut for that. But recently when Fortnite reduced the price of Vbucks which is their in-game currency there was no way to reduce the price of Vbucks on the App Store. So they did this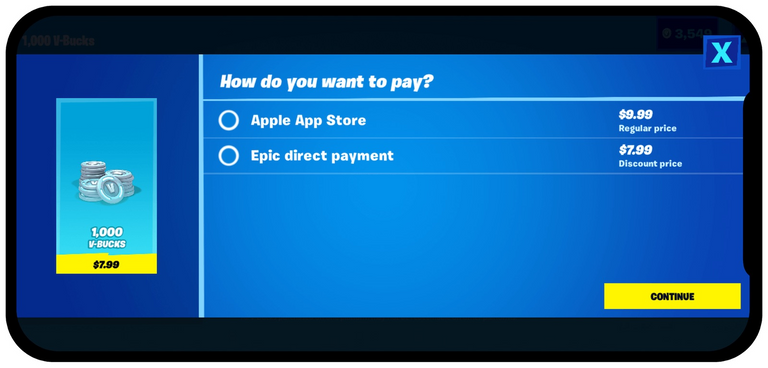 As you can see above Epic Games added their own payment gateway which obviously has a discounted rate for Vbucks. Now some of you may say that Epic Games did them dirty and that was a cheap blow to Apple. But the thing is Epic Games did ask the App Store to renew the prices which they didn't. Now Imagine a company as big as Epic Games which makes around Millions of Dollars per day just on Vbucks get accused of charging 9.99 USD instead of 7.99 USD for Apple Users. That's going to be a Multi-Million Dollar lawsuit for Epic.
But things took a whole new turn when Apple just downright kicked Fortnite from their App Store which I believe was the dumbest thing to do. As now Epic Games is up and ready with a freaking Lawsuit to Sue Apple for building a Monopoly in the Market.

So what do I think about this scenario that's the question right now?
For starters, I want to say that Apple charging a freaking 30% Fee for every transaction already seems like a Money Grab to me as most platforms charge around 2-3% for any transactions. So yeah if I was to judge I would have definitely judged Apple as Guilty but then again I am a little biased as I love playing Fortnite and I hate Apple Products due to their pricing. So yeah what are your thoughts on this matter please do comment below as I would love to hear some new perspective.