Yesterday I posted this in a certain crypto site/channel but it didn't get approved. 😂 It just got rejected today so I will just share it here with you all.
Anyway so you know I have never gotten anything from airdrops. Even a few years ago when I joined some, they always fail as a company and so they are never able to go thru with sending the airdrop.
Late last month someone suddenly added me in a Telegram (TG) group. Perhaps because I was in Binance Filipino group or whatever that's why a spam TG adder just managed to add me in an airdrop group. (Have already changed my TG setting.)
This time because it seemed like an interesting token, I went ahead and joined the airdrop. As you can see in the pics, there are only 3 instructions. Very easy to do so of course I was expecting to get some airdrop for the first time.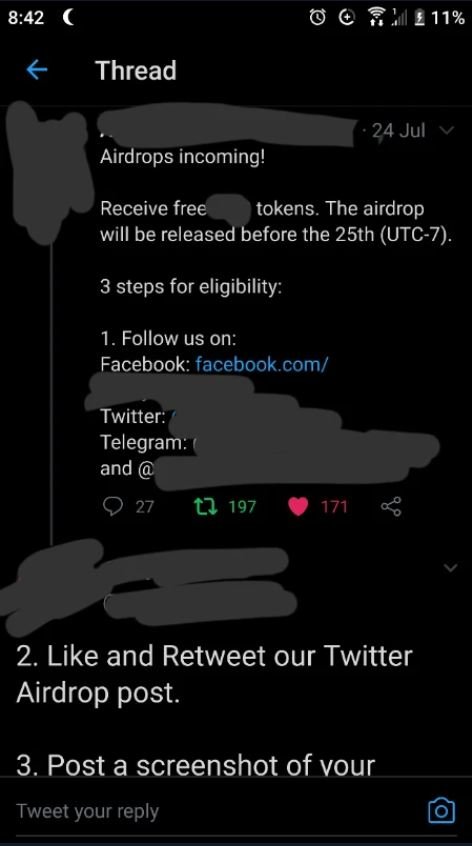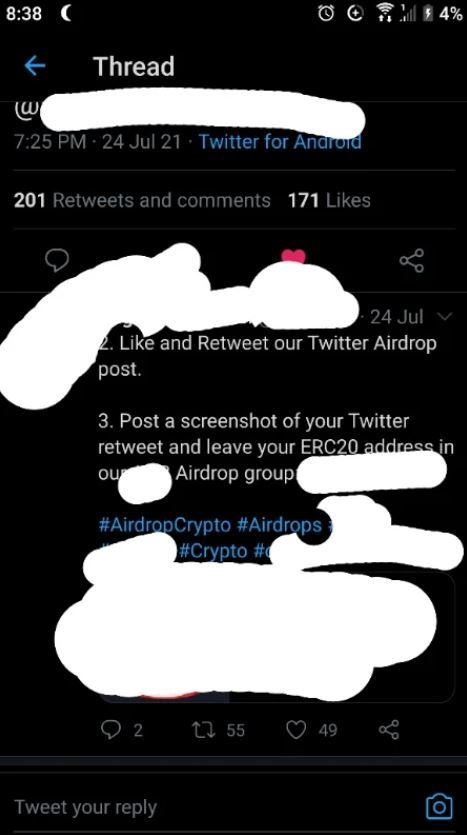 Well, guess what happened? No airdrop until now. 😂 All the rest have been given, even those who have already said they did not receive any. Well I waited until all the airdrops ended before I told the admin, mod or anyone abt what happened. And now they're telling me they will just send me the airdrop together with the new airdrop they're doing. 😆 They are having a new airdrop with the pre-buy event and such. Oh my goodness.
I looked forward to receiving such a hard to receive token. I'm not really into airdrops but if a simple one such as what I joined cannot even be guaranteed and isn't even easy to receive then what's the point of even joining the pre-buy? 😂
So of course until now I haven't received any at all. The admin is even telling me I should have ETH in my wallet (I took a pic and showed that the ETH and token is still zero). AFAIK if someone does an airdrop you'll get it even if you have no other crypto in your wallet, right? If that's not the case then it's not their worry as I can put some ETH in there.
I have my doubts about it as well for they are using a brand by a certain company. And on that company's website there isn't even any mention of the token. Oh big red flag for me. 😂
Yes the airdrop might be small but the point is, if they can't even properly handle small transactions like airdrops then who's to say they won't blunder about with anything major involving the token? 😆
And then last night I was told my ERC20 ETH wallet/token addresses aren't working at all. I mean come on, Metamask and even MyEtherWallet? Pffft. I was informed they did try to send some of the tokens but apparently both times failed. If that's the case I'm not going to bother with joining airdrops if it's such a hassle to do. Plenty of other ways to earn and not have to get bothered with doing too many things.
How about you, have you ever experienced what I experienced? What wallet do you use to receive ERC-20 token airdrops? Feel free to share below.
XOXO,
@artgirl
---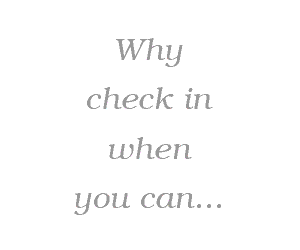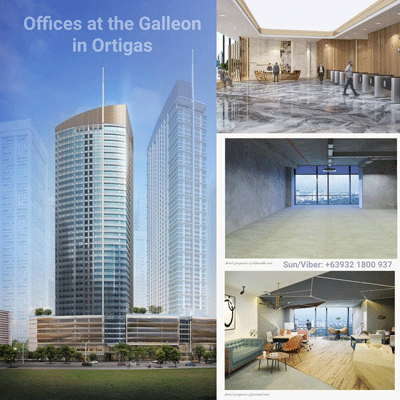 Read Philippine Condo Buying FAQs Here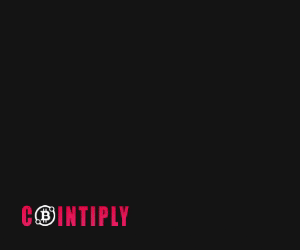 Spam or irrelevant comments will be downvoted if not revised upon warning.

Written by @artgirl for Steemit / Hive
© Art x Stephanie Rue / Lucy Stephanie

Join Hive thru ecency, Click Here!

@artgirl is a freelance writer/artist, online seller and real estate agent. My Steemit/Hive posts may contain referral/affiliate/merchandise links.
Contact me for your art, Writing/Research & Metro Manila (NCR) property needs.

For business inquiries, you can chat me up onTelegram or send me a Facebook message. Link in my bio.
Join us Today! Earn CASH (thru reward points): Answer Surveys, Polls, etc. | Create Quality Content and more!


Order One Opti Juice from me to help you fight illnesses!
---
Like it?
Upvote, Follow and Resteem/Share for appreciation.
♥ Thanks! ♥