#dBuzz became my recent favorite HIVE interface! The short post by nature incentives brief messages with as much information in as less words as possible.
Since I joined, I'm more engaged than ever on HIVE! It's easy to respond to posts on dBuzz because reading one costs only 10 seconds of reading instead of 5 minutes on the longer HIVE posts!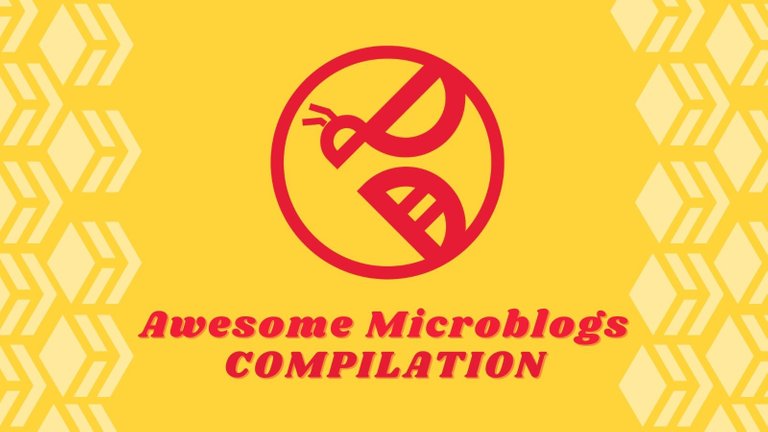 All posts on the platform are short microblogs with a maximum of 280 characters per post. It's a HIVE-based Twitter. I used to read all posts on latest section. Now I just read a few of them. Say "Hi" if you meet me on my sub account: @ahmadmangazap!
This is my fifth compilation article after testing the idea once and tried again three. times. In row! I did so on LeoFinance but since it doesn't fit the community, I'm posting this on GEMS community for now!
Today everyone on #dBuzz is talking about Bitcoin's All Time High which is around 22K at the time of writing!
Below is a compilation of some of the posts I found informative or stood-out to me in some way. There's no minimum quality or standard for these, I just found them interesting enough to compile together:
---
Just came a cross this list of #weird iOS apps. My favorites are Generation Lamp and K Blocker https://weirdios.tumblr.com/
Some of the apps in the link are funny others are just strange! I liked Simpler language Editor which only allows the 1,000 most used words in English.
---
Sometimes I'm still puzzled with 3 dimensions.


Website Link | Youtube Link
The video in the link "How to walk in the fourth Dimension" explains the 4th dimension and the theory behind it by comparing our 3-dimensional to the 2nd dimension. The examples in the video are interesting and they remind me of the video game FEZ in which 2D characters learn the existence of a 3D world. It blows my mind that this video is from 2014!
---
It's funny how people quickly change their mind after proven wrong. JP Morgan, once one of the most skeptical critics of Bitcoin is now singing a different tune.



(Screenshot)
In my opinion it's nice to see people change their minds from bad to good. I don't know if the guy is sincere but it's way better to change your mind than to stick to ideas that you don't believe in anymore just because of your past and the people's reaction to it!
---

While the rest of the world is taking steps against deforestation in order to mitigate climate change and conserve our biodiversity, my own people are busy destroying everything for cheap economic gains.
I'm assuming that the people talked about in this buzz are destroying the forest by cutting much more wood than the people need. This is so sad...
---
This is the answer. A lesson I learned in school, maybe for social media: https://peakd.com/hive-193084/@crrdlx/this-is-the-answer



(One of the article images)
I'm going to cheat and put this here because it's not the Buzz that's good but the linked HIVE article. @crrdlx tells a story about what he learned from Business Calculus and how it applies to Social Media. What he says is basically "diminishing returns" in practice, but the story is enjoyable to read.
---
Just watched a video about a newer PS1 emulator called DuckStation. I've never heard of it before but after watching the vid, I might have to give it a whirl.


Github Link | Youtube Link
Since my niche is gaming I had to add that! While PS1 emulators are being developed for many years now, it's rare to see a new PS1 emulator being praised over the ones that have been in development for +15 years now. (Like the one I've been using!)
---
---
So, that's what I have today... I want to link you to a good article by @dbuzz team. Proper Ways to Cite sources in Micro-Blogging It's important to cite your sources but it's very hard when you're limited to only 280 characters, so they teach some good tricks to do that with the least amount of space!
~ For now, I wish you all a productive day/night ~