Storm Race - Piper Aircraft - PA-32R-301T Saratoga II TC.
It is not often possible to photograph an airplane flying past you, or, at that moment, you did not take a camera with you, or, it has already managed to fly far enough away from you.
But, I managed to take a photo of a single-engine aircraft and did a little research.
If you see such a bird in the sky, then this is a single-engine, all-metal aircraft manufactured by Piper Aircraft under the name PA-32R-301T Saratoga II TC.
I was able to recognize this by the inscription on the lower part of the wings.
In my Renault Grand Scenic there is one more passenger seat than in this plane, it has six seats.
This is an updated model of the Saratoga aircraft, which began production after 1997 and was improved through an electronics upgrade.
This Piper PA-32R-301T Saratoga II TC aircraft makes flights across Ukraine and between Ukraine and Poland.
At the time of the photo shoot, the sky was clear but I wanted to see a subject photograph and I added a little drama in the form of black clouds, from which the hero of the photograph is trying to escape.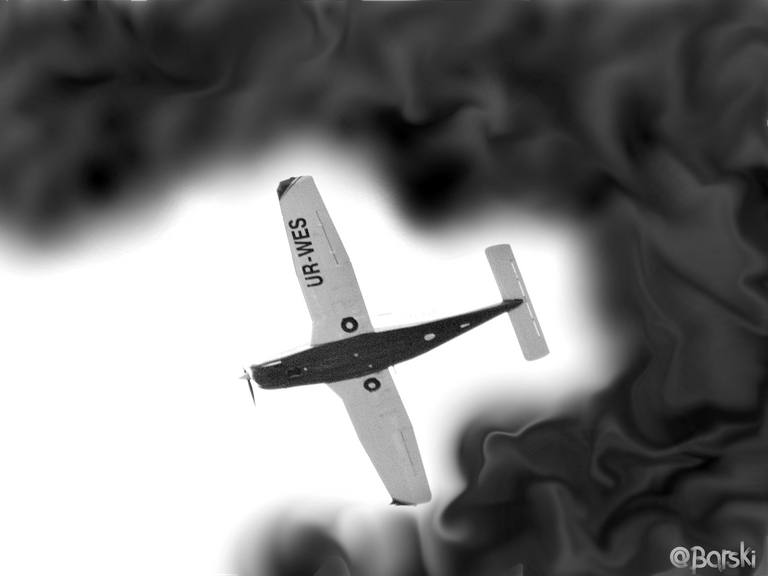 Photos taken with a Sony Cyber-shot DSC-HX300 camera
I edited a photo in the program PhotoDirector, which I also installed on my smartphone.
Author @barski
Ukraine
For my publications, I do not use stock photographs, it is fundamentally important for me to use photographs that I have made with my own hands for publication and I can name them - authorial work.