Loop Ventures was created to help projects on the Terra blockchain to reach the maximum requirements to be able to launch successful IDOs and obtain important funds from investors to start the development machine. The team behind Loop Ventures is made up of blockchain experts including the co-founders of Loop Finance: Thomas Norwood and Simon Rahme.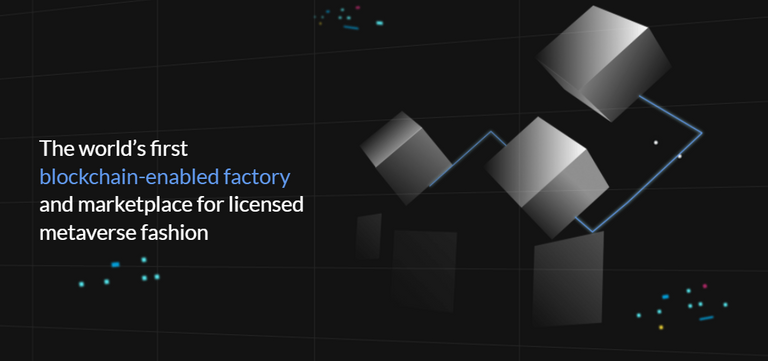 ---
Some projects have already been approved by the team and soon there will be the launch of the IDO of 3 important projects:
Solar BTC: The world's first BTC mining farms using 100% renewable solar energy, utilizing a novel solar infrastructure and patentable liquid cooling technology

Hybrid NFT: The world's first physical, digital, and metaverse NFT minting factory for luxury brands, using state-of-the-art Aeon printing machines.

LunArt: The first cross-chain artist launchpad for top digital and physical artists. This NFT marketplace will empower communities with underlying utility. Plus, give them the ability to vote on which artists they want new collections from
Hybrid NFT
NFTs are now more and more familiar with the system and people are more and more curious to know and buy digital art, also spending very important amounts. The absolutely original idea of the team is to transform an NFT usually a little abstract, not tangible as it can be a drawing, an avatar or an image into something more concrete.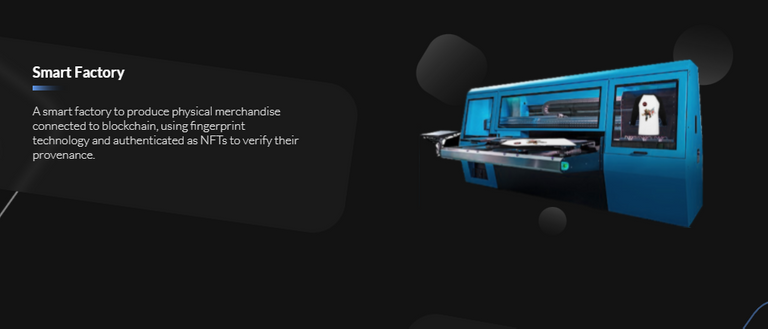 ---
The team behind Hybrid NFT aims to produce wearable NFTs, using innovative materials and techniques, such as sweaters, hats, watches and much more, forging important partnerships with the largest fashion companies and beyond.
It will be possible to produce original shirts with unique codes, limited collections, whose distribution and originality is guaranteed by the blockchain. It is difficult to decide whether to wear a shirt worth a few million dollars but surely being able to hold it in your own hands is something that has never been possible in the NFT sector so far.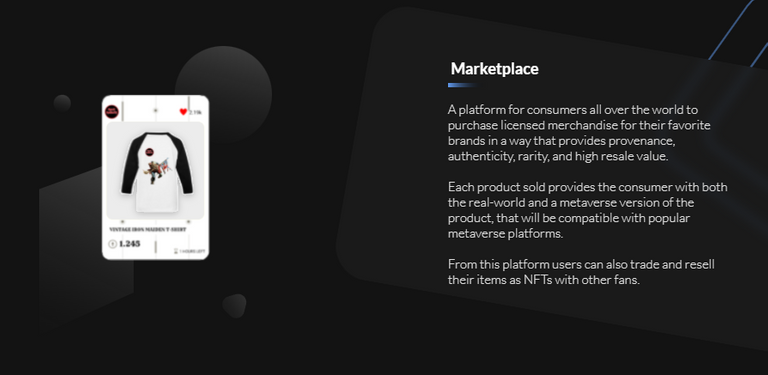 ---
A smart factory to produce physical merchandise connected to blockchain, using fingerprint technology and authenticated as NFT to verify its origin. This is the concept of hybrid NFT, the perfect match between blockchain technology and real life, the turning point for an incredible acceleration in mass adoption.
Hybrid NFT therefore represents the natural evolution of the sector, a further step towards mass adoption. The team will need to forge numerous partnerships with international companies. Imagine the production of Nike NFT shoes or Adidas NFT hats, D $ G bags or Armani suits. All this will be possible to order and print it and receive it comfortably at home!
The HYBRID token will offer additional incentives for users such as access to limited items, discount and many other options. In my opinion, the power of the project is exponential but the work of the team in development but above all in marketing will be fundamental. A single collaboration with a large fashion company could really launch the project towards incredible success.
The general view is that Hybrid will own the entire ecosystem to facilitate this:
The relationship with brands and talents combined with appropriate rights
The market from which to sell the product
The factory from which to produce the real world product
A content channel that broadcasts live drops to the world, leveraging the social reach of each brand and bridging the knowledge gap with mass market audiences with the use of presenters, live talented interviews and explanations
The ability to trade, trade and resell your limited edition pieces with other fans using the HYBD token
Official pop-up shops and events within popular metaverse platforms from which to promote and sell licensed fashion, clothing and merchandise to fans
In the coming years, more and more companies will invest in the metaverse, for example the social media giant Facebook, which has decided to change its company name to META. Imagine if Facebook users, about 2 billion to date, started requesting the NFT printing of their profile on a shirt, a hat. New lines and fashion brands will be born, there will be an exponential demand for NFT printing, so it is necessary right away to start building that impressive infrastructure that will be required in the coming years.
From a physical retail perspective, Hybrid is able to create high-quality clothing, fashion and merchandising directly from its new smart factory facility, the first of which will be built in the United Arab Emirates (Dubai Free Zone) and linked to the customs blockchain for global distribution.
The facility will initially be able to produce up to 5,000 individually printed garments per week, all on demand and made to specification. These will be limited edition items for licensed brands that will be linked to its metaverse counterpart via blockchain technology.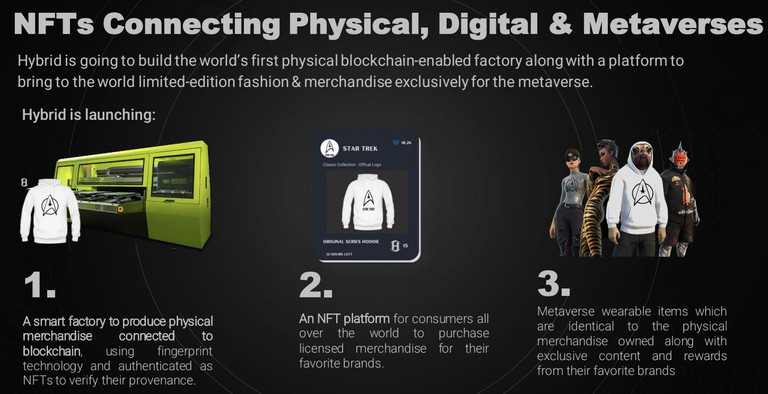 ---
In partnership with Aeoon Technologies, one of the world's leading manufacturers of direct-to-garment (DTG) printing technology, the smart factory will be able to produce clothing, art and fashion of the highest possible quality and quantity. But it is clear that a higher than expected demand, such as the one that will await us in the future, will require an increase in the number of machinery and factories all over the world.
AIRDROP Hybrid NFT
A 100,000 HYBD token airdrop is currently underway for everyone who will help the team publicize the project on social media. It is also essential to read all the details of the project on the group's website and stay up to date on developments and future communications, the official launch and the token sale that will be communicated in the coming weeks!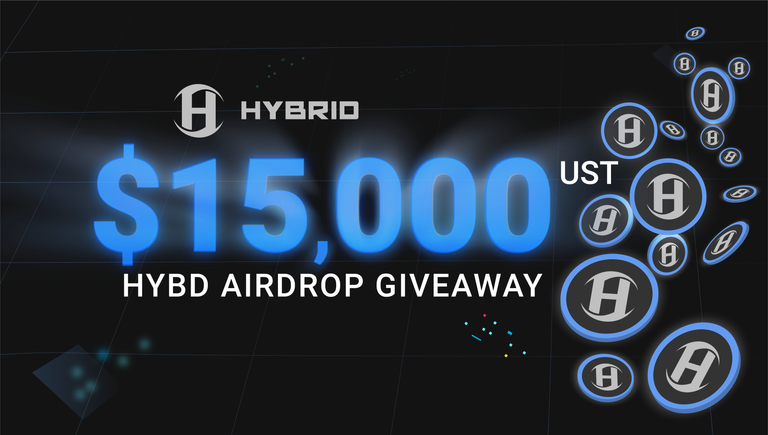 ---
5 vincitori saranno scelti tra i partecipanti aggiudicandosi una parte consistente dei premi. Per cui vi auguro buona fortuna! Per partecipare all'airdrop clicca sul link in basso
Conlusion
The foresight of a project is the characteristic foundation to make a real difference. Amazon created its success by creating an ecommerce platform by knowing the potential of the internet. Hybrid is following a similar path by knowing the potential of NFTs and anticipating the impact this will bring to our economy in the coming years.
The partnership with LunArt NFT is therefore strategic and complementary because while the latter aims to create an NFT platform for the exchange and creation of digital works, Hybrid will be the company that will take care of transforming the same digital works into something really concrete. through 3D printing technology.
This is not science fiction, as some might think, but it is the natural development of a technology that users like more and more and now even fashion companies, and not only, are interested in getting to the heart of it. The opportunities will be multiple and the advantage of being able to enter the sector well in advance, well you know what it is.
The team will also be led by Loop Ventures, a group of blockchain technicians who have a great goal: to disseminate the advantages of blockchain technology to all users and offer valuable support to those who can really offer a lot in the sector but do not have the right information or expertise.
Thanks for reading my post. If you liked the content, your rating or comment is welcome.
Website: https://www.hybridnft.io/
---
This is not financial advice and readers are advised to undertake their own research or seek professional financial services
ITA
Loop Ventures è stato creato per aiutare i progetti sulla blockchain di Terra a raggiungere i requisiti massimi per poter lanciare IDO di successo e ottenere importanti fondi dagli investitori per avviare la macchina di sviluppo. Il team dietro Loop Ventures è composto da esperti blockchain tra cui i co-fondatori di Loop Finance: Thomas Norwood e Simon Rahme.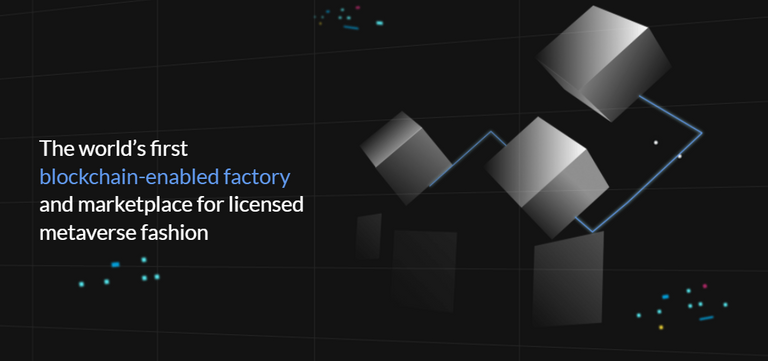 ---
Alcuni progetti sono già stati approvati dal team e presto ci sarà il lancio dell'IDO di 3 importanti progetti:
Solar BTC: le prime mining farm BTC al mondo che utilizzano il 100% di energia solare rinnovabile, utilizzando una nuova infrastruttura solare e una tecnologia brevettabile di raffreddamento a liquido

Hybrid NFT: la prima fabbrica di conio NFT fisica, digitale e metaverso per marchi di lusso, che utilizza macchine da stampa Aeon all'avanguardia.

LunArt: il primo trampolino di lancio per artisti a catena incrociata per i migliori artisti digitali e fisici. Questo mercato NFT autorizzerà le comunità con l'utilità sottostante. Inoltre, dai loro la possibilità di votare su quali artisti vogliono nuove collezioni
NFT ibrido
Gli NFT hanno ormai sempre più familiarità con il sistema e le persone sono sempre più curiose di conoscere e acquistare arte digitale, spendendo anche cifre molto importanti. L'idea assolutamente originale del team è quella di trasformare un NFT solitamente un po' astratto, non tangibile come può essere un disegno, un avatar o un'immagine in qualcosa di più concreto.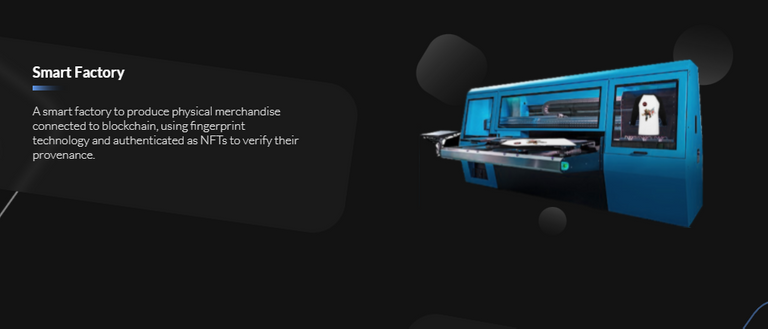 ---
Il team dietro Hybrid NFT mira a produrre NFT indossabili, utilizzando materiali e tecniche innovative, come maglioni, cappelli, orologi e molto altro, stringendo importanti partnership con le più grandi aziende di moda e non solo.
Sarà possibile produrre camicie originali con codici univoci, collezioni limitate, la cui distribuzione e originalità è garantita dalla blockchain. Difficile decidere se indossare una maglia da qualche milione di dollari ma sicuramente riuscire a tenerla tra le mani è una cosa che finora nel settore NFT non è mai stato possibile.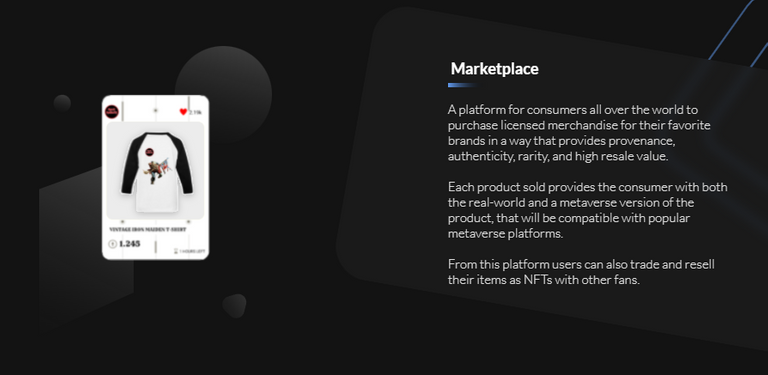 ---
Una fabbrica intelligente per produrre merce fisica connessa a blockchain, utilizzando la tecnologia delle impronte digitali e autenticata come NFT per verificarne l'origine. Questo è il concetto di NFT ibrida, il perfetto connubio tra tecnologia blockchain e vita reale, il punto di svolta per un'incredibile accelerazione nell'adozione di massa.
Hybrid NFT rappresenta quindi la naturale evoluzione del settore, un ulteriore passo verso l'adozione di massa. Il team dovrà stringere numerose partnership con aziende internazionali. Immagina la produzione di scarpe Nike NFT o cappelli Adidas NFT, borse D $ G o abiti Armani. Tutto questo sarà possibile ordinarlo e stamparlo e riceverlo comodamente a casa!
Il token HYBRID offrirà incentivi aggiuntivi per gli utenti come l'accesso a articoli limitati, sconti e molte altre opzioni. Secondo me la potenza del progetto è esponenziale ma il lavoro del team nello sviluppo ma soprattutto nel marketing sarà fondamentale. Una sola collaborazione con una grande azienda di moda potrebbe davvero lanciare il progetto verso un successo incredibile.
L'opinione generale è che Hybrid sarà proprietaria dell'intero ecosistema per facilitare questo:
Il rapporto con marchi e talenti abbinato a diritti appropriati
Il mercato da cui vendere il prodotto
La fabbrica da cui produrre il prodotto del mondo reale
Un canale di contenuti che trasmette live drop nel mondo, sfruttando la portata sociale di ciascun marchio e colmando il divario di conoscenza con il pubblico del mercato di massa con l'uso di presentatori, interviste e spiegazioni di talento dal vivo
La possibilità di scambiare, scambiare e rivendere i tuoi pezzi in edizione limitata con altri fan utilizzando il token HYBD
Negozi pop-up ufficiali ed eventi all'interno di popolari piattaforme del metaverso da cui promuovere e vendere moda, abbigliamento e merchandising con licenza ai fan
Nei prossimi anni sempre più aziende investiranno nel metaverso, ad esempio il colosso dei social media Facebook, che ha deciso di cambiare la propria ragione sociale in META. Immagina se gli utenti di Facebook, ad oggi circa 2 miliardi, iniziassero a richiedere la stampa NFT del proprio profilo su una maglietta, un cappello. Nasceranno nuove linee e marchi di moda, ci sarà una domanda esponenziale per la stampa NFT, quindi è necessario iniziare fin da subito a costruire quella imponente infrastruttura che sarà richiesta nei prossimi anni.
Dal punto di vista del retail fisico, Hybrid è in grado di creare abbigliamento, moda e merchandising di alta qualità direttamente dalla sua nuova struttura di fabbrica intelligente, la prima delle quali sarà costruita negli Emirati Arabi Uniti (Dubai Free Zone) e collegata alla blockchain doganale per la distribuzione globale.
La struttura sarà inizialmente in grado di produrre fino a 5.000 capi stampati individualmente a settimana, tutti su richiesta e realizzati secondo le specifiche. Si tratterà di articoli in edizione limitata per marchi in licenza che saranno collegati alla sua controparte metaverse tramite la tecnologia blockchain.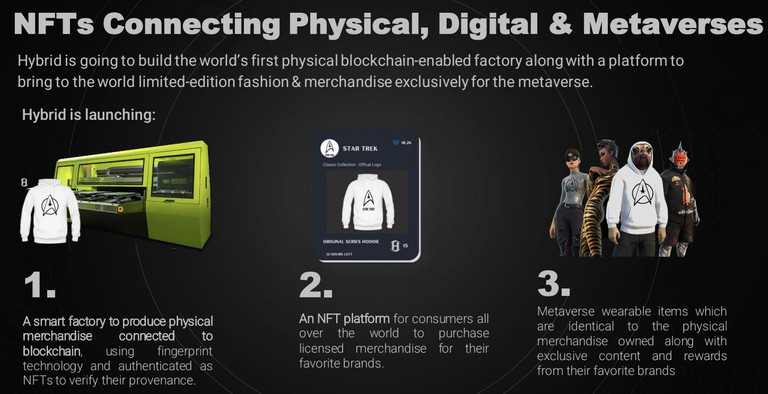 ---
In collaborazione con Aeoon Technologies, uno dei principali produttori mondiali di tecnologia di stampa direct-to-garment (DTG), la fabbrica intelligente sarà in grado di produrre abbigliamento, arte e moda della massima qualità e quantità possibile. Ma è chiaro che una domanda superiore alle attese, come quella che ci attenderà in futuro, richiederà un aumento del numero di macchinari e stabilimenti in tutto il mondo.
AIRDROP Hybrid NFT
È attualmente in corso un airdrop di 100.000 token HYBD per tutti coloro che aiuteranno il team a pubblicizzare il progetto sui social media. Fondamentale inoltre leggere tutti i dettagli del progetto sul sito del gruppo e rimanere sempre aggiornati su sviluppi e comunicazioni future, lancio ufficiale e vendita di token che verranno comunicati nelle prossime settimane!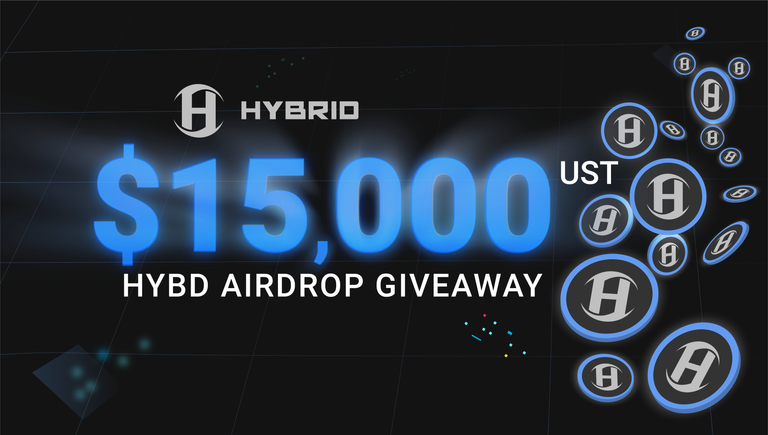 ---
5 vincitori saranno scelti tra i partecipanti aggiudicandosi una parte consistente dei premi. Per cui vi auguro buona fortuna! Per partecipare all'airdrop clicca sul link in basso
Conlusione
La lungimiranza di un progetto è la base caratteristica per fare la vera differenza. Amazon ha creato il suo successo creando una piattaforma di e-commerce conoscendo le potenzialità di Internet. Hybrid sta seguendo un percorso simile, conoscendo il potenziale delle NFT e anticipando l'impatto che questo porterà alla nostra economia nei prossimi anni.
La partnership con LunArt NFT è quindi strategica e complementare perché mentre quest'ultima punta a creare una piattaforma NFT per lo scambio e la creazione di opere digitali, Hybrid sarà l'azienda che si occuperà di trasformare le stesse opere digitali in qualcosa di veramente concreto. attraverso la tecnologia di stampa 3D.
Questa non è fantascienza, come qualcuno potrebbe pensare, ma è il naturale sviluppo di una tecnologia che piace sempre di più agli utenti e ora anche le aziende di moda, e non solo, sono interessate ad entrare nel vivo della questione. Le opportunità saranno molteplici e il vantaggio di poter entrare nel settore con largo anticipo, bene sapete di cosa si tratta.
Il team sarà guidato anche da Loop Ventures, un gruppo di tecnici blockchain che hanno un grande obiettivo: diffondere i vantaggi della tecnologia blockchain a tutti gli utenti e offrire un valido supporto a chi nel settore può davvero offrire molto ma non ha le giuste informazioni o competenze.
Grazie per aver letto il mio post. Se il contenuto ti è piaciuto, la tua valutazione o commento è il benvenuto.
Sito web: https://www.hybridnft.io/
---
Questa non è una consulenza finanziaria e si consiglia ai lettori di intraprendere le proprie ricerche o cercare servizi finanziari professionali