[ESP]Un Escarabajo (VW) hecho totalmente con piezas Lego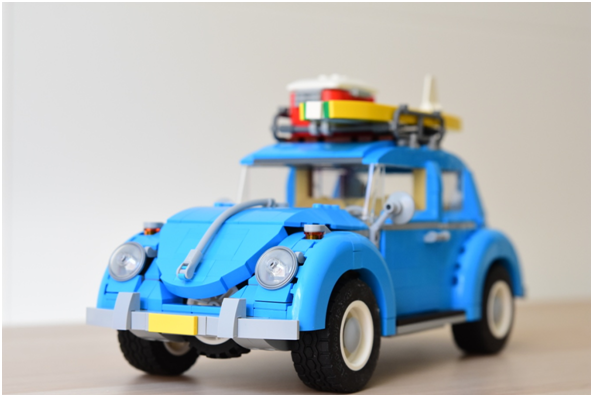 El escarabajo con su carga playera. Foto de Alfonso Celi @alfceli, 2020
     Quien de las generaciones de la segunda mitad del siglo XX no llegó a montarse o conducir un "escarabajo" de la Volkswagen; quien no tuvo el placer de hacerlo, seguramente disfrutó, o al menos se sorprendió, al verlo rodar por una calle o carretera de cualquier país del mundo.
---
Vista lateral del escarabajo, listo para ir de playa. Foto de Alfonso Celi @alfceli, 2020
     Recientemente escribí un post sobre el "escarabajo", desde un punto de vista histórico y técnico, así como otro sobre la ciudad del Lego en Orlando Florida (Legoland), buscando fotografías y material de apoyo para realizar ambos escritos me conseguí con que a mi cuñado Alfonso, ingeniero mecánico, le había regalado su hijo menor Ernesto, ingeniero como él, un Volkswagen escarabajo hecho con piezas de lego. Mi cuñado, amante de la fotografía, había hecho unas cuantas tomas, desde diversas ángulos, del regalo casi en detalles milimétricos, lo que me incentivó a compartir con ustedes esa belleza de la ingeniería y del entretenimiento lúdico a través de este pequeño escrito y las magníficas fotografías.
---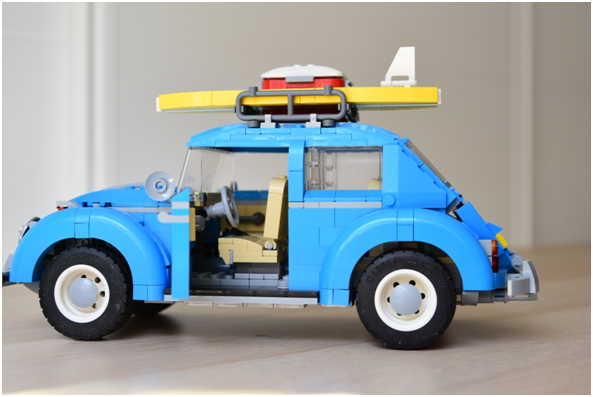 Con la puerta abierta mostrando su belleza interior. Foto de Alfonso Celi @alfceli, 2020
     Sólo para recordar el origen del escarabajo, les señalo que fue un vehículo pensado para transportar cuatro pasajeros con sus equipajes, llegar a alcanzar 100 km/h, de bajo consumo de combustible, alto rendimiento y un precio razonable alcanzable por los trabajadores y la clase media; lo que logró el ingeniero Ferdinand Porsche en 1938, tal vez no consciente de que estaba revolucionando la industria automotriz.
---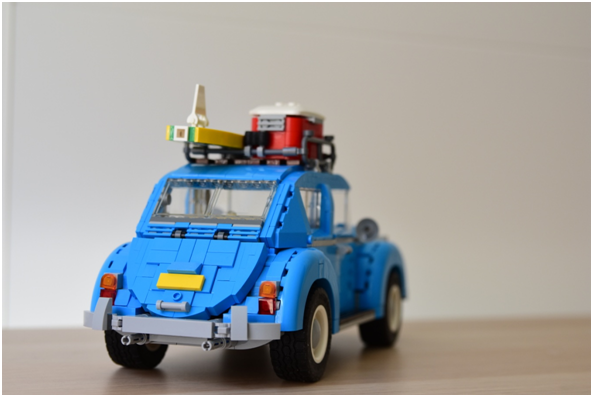 Vista de la parte trasera. Foto de Alfonso Celi @alfceli, 2020
     Este automóvil originalmente de baja cilindrada, llegó a colocar en el mercado modelos de 1600 cc, hasta 1974, cuando se cerró la fabricación en Alemania, aunque continuó saliendo de las factorías de México y Brasil; cerrando definitivamente su producción en México en julio de 2003, luego de haber sacado al mercado mundial, entre todas las fabricas, más de 21 millones de ejemplares.
---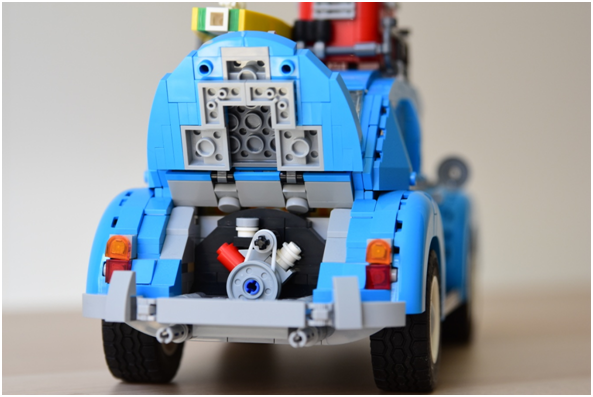 Mostrando sus entrañas en todo su esplendor .Foto de Alfonso Celi @alfceli, 2020
     El 22 de junio se celebra anualmente el Día Mundial del Escarabajo, en conmemoración al día en que se estampó la firma para su fabricación. De hecho, existen cientos de clubes de fanáticos del Escarabajo que le rinden tributo, añorando que tal vez alguna vez se retome su fabricación. El clásico coche nunca pasa desapercibido y tiene fans por todo el mundo. También en muchos otros países, como Sudáfrica, Bélgica, Australia e Indonesia, continuó la producción de escarabajos. El auto concebido para el pueblo alemán se convirtió en un vehículo popular en gran parte del mundo. En muchas partes, especialmente en países del tercer mundo este automóvil sigue usándose, y es un ejemplar de museos o de coleccionistas en muchos países donde circuló a sus anchas este magnífico auto del pueblo.
---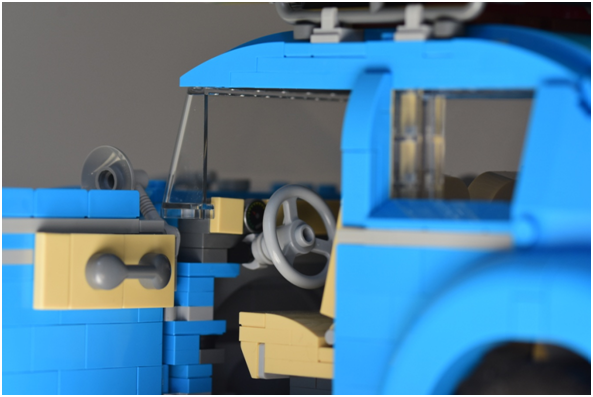 Invitando a entrar. Foto de Alfonso Celi @alfceli, 2020
     Lo que presentamos aquí es un modelo especial del Escarabajo, hecho en casa con piezas de Lego por mi cuñado Alfonso, quien disfrutó de lo grande en el montaje de este modelo. Las fotos muestran en detalle todo el trabajo realizado y es increíble que se haya hecho con piezas rígidas de Lego.
---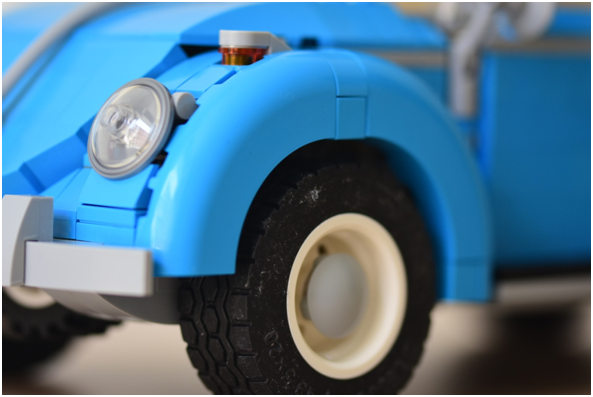 Con las llantas nuevas y los faros relucientes. Foto de Alfonso Celi @alfceli, 2020
---
[ENG] A Beetle (VW) made entirely with Lego pieces
Does my headlight look better like this?(¿Se ve mejor así mi faro?)
Foto de Alfonso Celi @alfceli, 2020
     Who of the generations of the second half of the 20th century did not get to ride or drive a Volkswagen beetle; Whoever did not have the pleasure of doing it, surely enjoyed, or at least was surprised, to see it roll down a street or highway in any country in the world.
---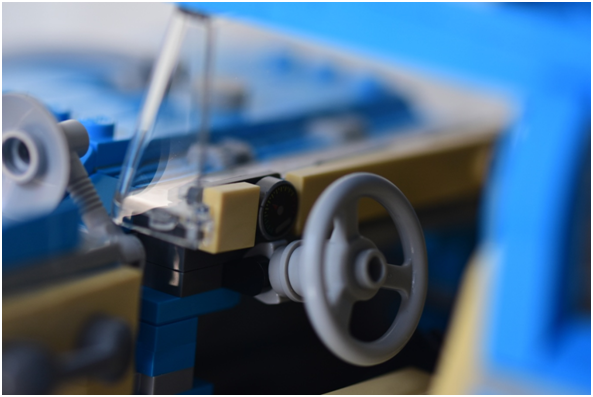 Steering wheel detail (Detalle del volante). Foto de Alfonso Celi @alfceli, 2020
     I recently wrote a post about the beetle, from a historical and technical point of view, as well as another about the city of Lego in Orlando Florida (Legoland), looking for photographs and support material to carry out both writings. My brother-in-law, Alfonso, a mechanical engineer, had been given a gift by his youngest son Ernesto, an engineer like him, a Volkswagen beetle made with Lego pieces. My brother-in-law, a lover of photography, had taken a few shots, from different angles, of the gift almost in millimeter details, which encouraged me to share with you that beauty of engineering and playful entertainment through this little writing and the magnificent photographs.
---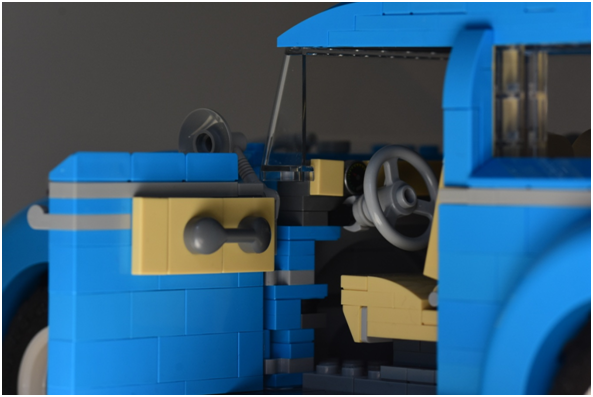 With the door open, the bodywork is better visible (Con la puerta abierta se nota mejor la carrocería). Foto de Alfonso Celi @alfceli, 2020
     Just to remember the origin of the beetle, I point out that it was a vehicle designed to transport four passengers with their luggage, reach 100 km / h, low fuel consumption, high performance and a reasonable price achievable by workers and the middle class; what the engineer Ferdinand Porsche accomplished in 1938, perhaps unaware that he was revolutionizing the automotive industry.
---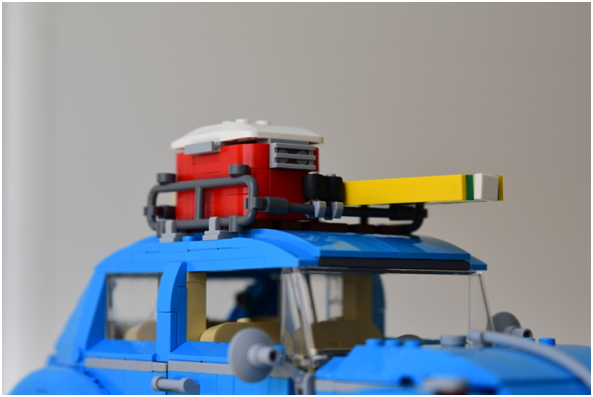 Travel luggage on the roof (En el techo el equipaje de viaje). Foto de Alfonso Celi @alfceli, 2020
     This car, originally of low displacement, came to place 1600 cc models on the market, until 1974, when production was closed in Germany, although it continued to leave the factories in Mexico and Brazil; definitively closing its production in Mexico in July 2003, after having released to the world market, among all the factories, more than 21 million copies.
---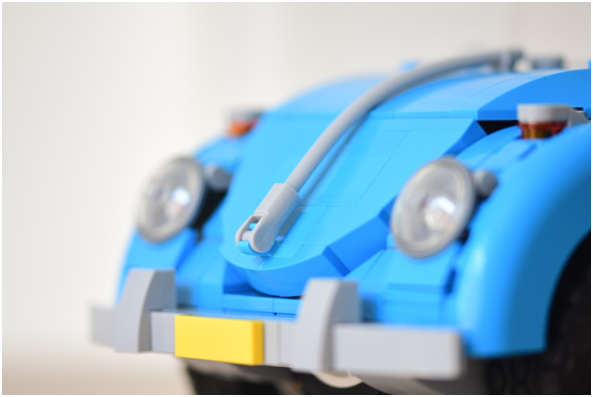 The front in its entirety (El frente en su totalidad). Foto de Alfonso Celi @alfceli, 2020
     On June 22, "World Beetle Day" is celebrated annually, in commemoration of the day the signature was stamped for its manufacture. In fact, there are hundreds of Beetle fan clubs that pay tribute to it, longing that it may one day resume its manufacture. The classic car never goes unnoticed and has fans all over the world. Also in many other countries, such as South Africa, Belgium, Australia and Indonesia, the production of beetles continued. The car conceived for the German people became a popular vehicle in much of the world. In many parts, especially in third world countries, this car continues to be used, and it is a museum or collector's item in many countries where this magnificent people's car circulated freely.
---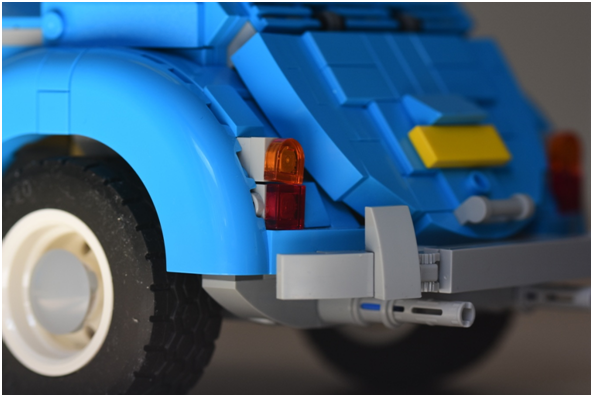 Look at the exhaust pipe (Veáse el tubo de escape). Foto de Alfonso Celi @alfceli, 2020
     What we present here is a special model of the Beetle, homemade with Lego pieces by my brother-in-law, Alfonso, who had a great time assembling this model. The photos show in detail all the work done and it is incredible that it was done with rigid Lego pieces.
---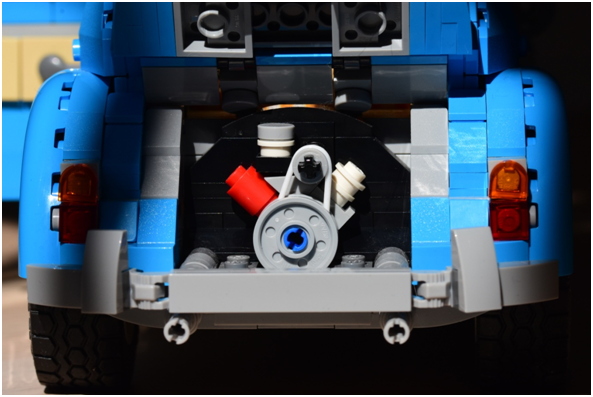 The 4-cylinder engine (El motor de 4 cilindros).Foto de Alfonso Celi @alfceli, 2020
---
[ITA] Uno maggiolino. (VW) realizzato interamente con pezzi Lego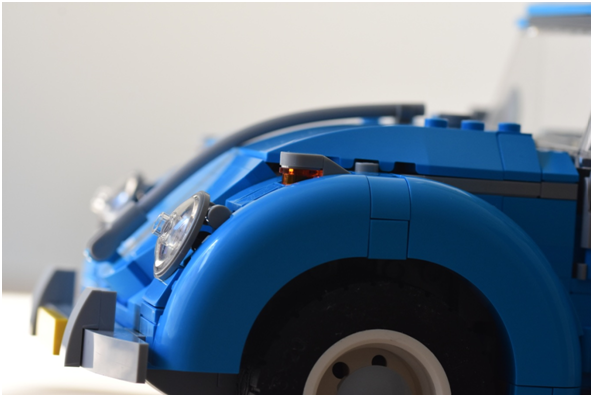 Vista laterale della parte anteriore (Vista lateral de la parte delantera). Foto de Alfonso Celi @alfceli, 2020
     Chi delle generazioni della seconda metà del 20 ° secolo non è riuscito a guidare o guidare un maggiolino. Volkswagen; Chi non ha avuto il piacere di farlo, sicuramente si è divertito, o almeno è rimasto sorpreso, di vederlo rotolare per una strada o un'autostrada in qualsiasi paese del mondo.
---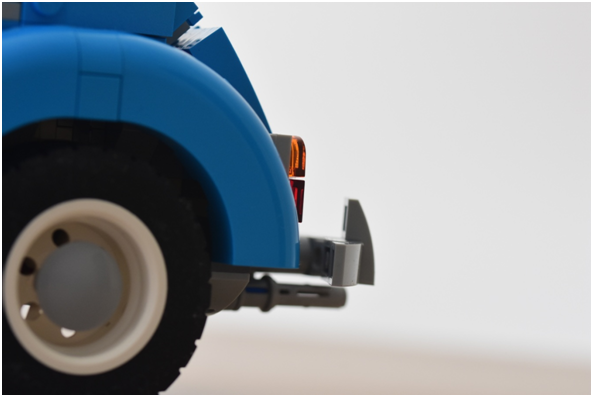 Vista laterale della parte posteriore (Vista lateral de la parte trasera). Foto de Alfonso Celi @alfceli, 2020
     Recentemente ho scritto un post sul maggiolino. dal punto di vista storico e tecnico, oltre a un altro sulla città di Lego a Orlando Florida (Legoland), alla ricerca di fotografie e materiale di supporto per realizzare entrambi gli scritti. a mio cognato, Alfonso, ingegnere meccanico, era stato regalato dal figlio più giovane Ernesto, un ingegnere come lui, uno scarabeo Volkswagen realizzato con pezzi di Lego. Mio cognato, amante della fotografia, aveva scattato alcuni scatti, da diverse angolazioni, del regalo quasi in dettagli millimetrici, il che mi ha incoraggiato a condividere con voi quella bellezza dell'ingegneria e dell'intrattenimento giocoso attraverso questa piccola scrittura e il magnifiche fotografie.
---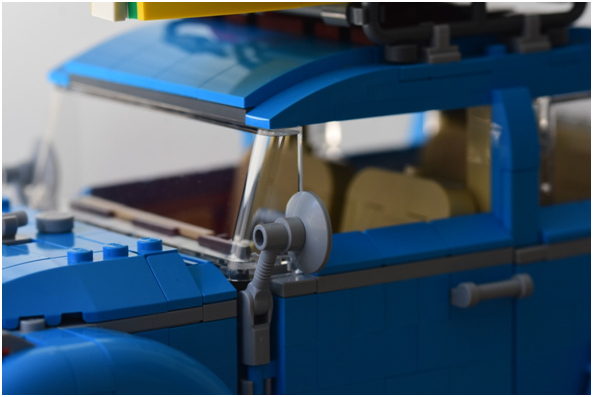 Specchietto retrovisore (El espejo retrovisor). Foto de Alfonso Celi @alfceli, 2020
     Giusto per ricordare l'origine dello maggiolino, segnalo che si trattava di un veicolo concepito per trasportare quattro passeggeri con il loro bagaglio, raggiungere i 100 km / h, bassi consumi, alte prestazioni e un prezzo contenuto raggiungibile dai lavoratori e dalla classe mezzo; ciò che fece l'ingegnere Ferdinand Porsche nel 1938, forse ignaro di rivoluzionare l'industria automobilistica.
---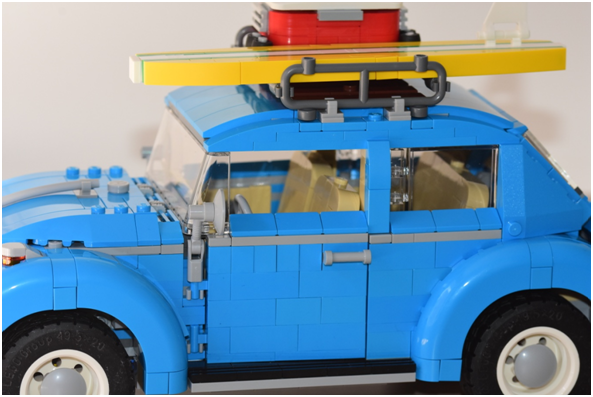 Un altro punto di vista, anche se senza faccia o culo (Otra vista, aunque sin cara ni trasero). Foto de Alfonso Celi @alfceli, 2020
     Questa vettura, originariamente di bassa cilindrata, arrivò a immettere sul mercato modelli da 1600 cc, fino al 1974, anno in cui la produzione fu chiusa in Germania, anche se continuò a lasciare gli stabilimenti in Messico e Brasile; chiude definitivamente la sua produzione in Messico nel luglio 2003, dopo aver rilasciato sul mercato mondiale, tra tutte le fabbriche, più di 21 milioni di copie.
---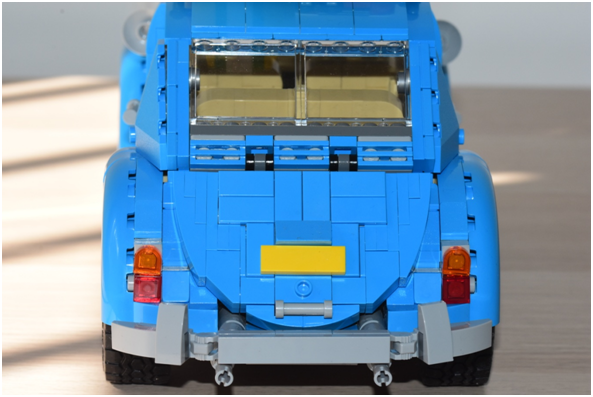 Dettagli posteriori (Detalles de la parte trasera). Foto de Alfonso Celi @alfceli, 2020
     Il 22 giugno si celebra ogni anno la "Giornata mondiale dello maggiolino", in commemorazione del giorno in cui la firma è stata timbrata per la sua fabbricazione. In effetti, ci sono centinaia di fan club di maggiolino che gli rendono omaggio, desiderando che un giorno possa riprendere la sua produzione. L'auto d'epoca non passa mai inosservata e ha fan in tutto il mondo. Anche in molti altri paesi, come Sud Africa, Belgio, Australia e Indonesia, è proseguita la produzione di maggiolino. L'auto concepita per il popolo tedesco divenne un veicolo popolare in gran parte del mondo. In molte parti, specialmente nei paesi del terzo mondo, questa vettura continua ad essere utilizzata ed è un oggetto da museo o da collezione in molti paesi in cui l'auto di questa magnifica gente circolava liberamente.
---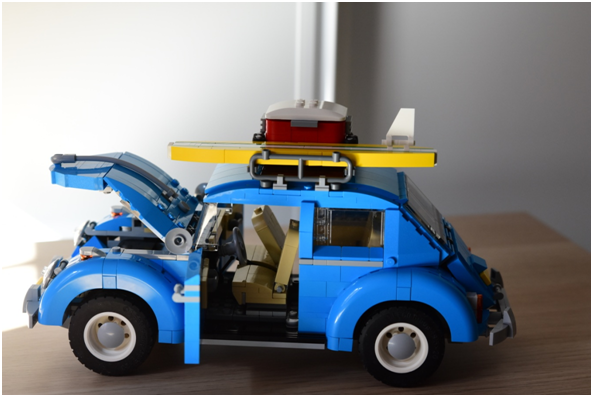 A piena vista, l'unica cosa che mancava era mostrare il motore (Vista completa, solo faltó mostrar el motor). Foto de Alfonso Celi @alfceli, 2020
     Quello che vi presentiamo qui è un modello speciale del maggiolino", fatto in casa con pezzi Lego da mio cognato Alfonso, che si è divertito moltissimo a montare questo modello. Le foto mostrano in dettaglio tutto il lavoro svolto ed è incredibile che sia stato fatto con pezzi rigidi di Lego.
---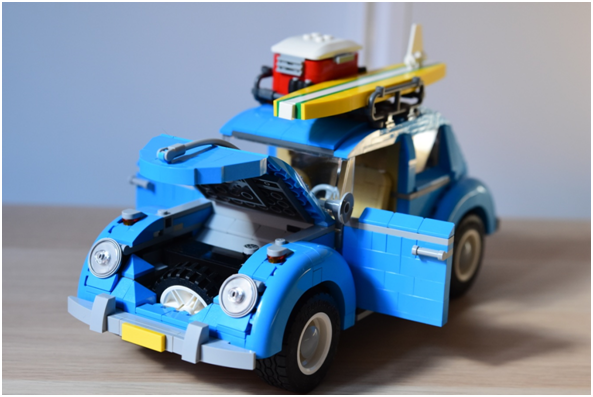 Per chiudere eccomi in tutto il mio splendore (Para cerrar heme aquí en todo mi splendor). Foto de Alfonso Celi @alfceli, 2020