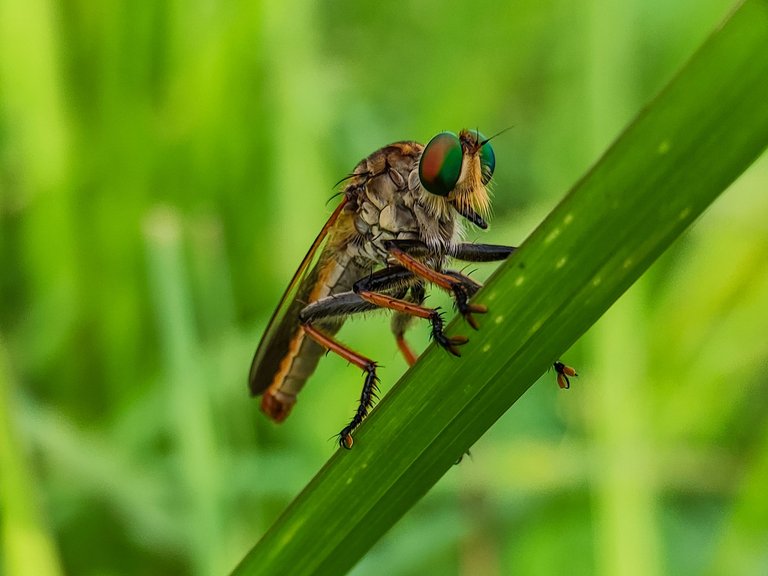 ---
English
This is a fly, but different from the types of flies that we often find usually, this fly is larger than several other types of flies, please also note that there are several different types of flies, including; house flies, fruit flies, green flies, and several other types.
Indonesia
Ini adalah lalat, namun berbeda dengan jenis lalat yang sering kita temukan biasanya, lalat ini berukuran lebih besar dari beberapa jenis lalat lainnya, perlu diketahui juga bahwa lalat mempunyai beberapa jenis yang berbeda, diantaranya adalah ; lalat rumah, lalat buah, lalat hijau, dan beberapa jenis lainnya.
---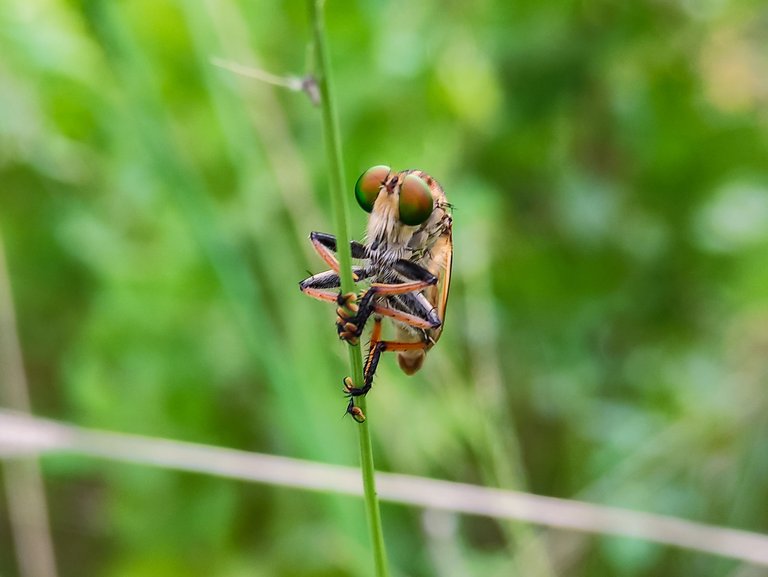 ---
English
You can easily distinguish the types of flies that I share with other flies, the flies in my post this time are commonly called robber flies, this is because these flies are predators of other types of flies, and these flies belong to the Asilidae family, from As far as I know, Aslidae are aggressive in looking for prey, and they usually eat other insects. For more information on Robber Flies, you can see the full link "here".
Indonesia
Anda dapat dengan mudah membedakan jenis lalat yang saya bagikan ini dengan lalat lainnya, Lalat pada postingan saya kali ini biasa disebut dengan lalat perampok, hal tersebut karena lalat ini adalah predator bagi lalat-lalat jenis lainnya, dan lalat ini termasuk kedalam keluarga Asilidae, dari yang saya ketahui Aslidae adalah jenis yang agreaif dalam mencari mangsa, dan mereka biasanya memakan serangga lainnya. Untuk informasi lebih lanjut tentang Lalat perampok, anda dapat melihat tautan lengkapnya "disini".
---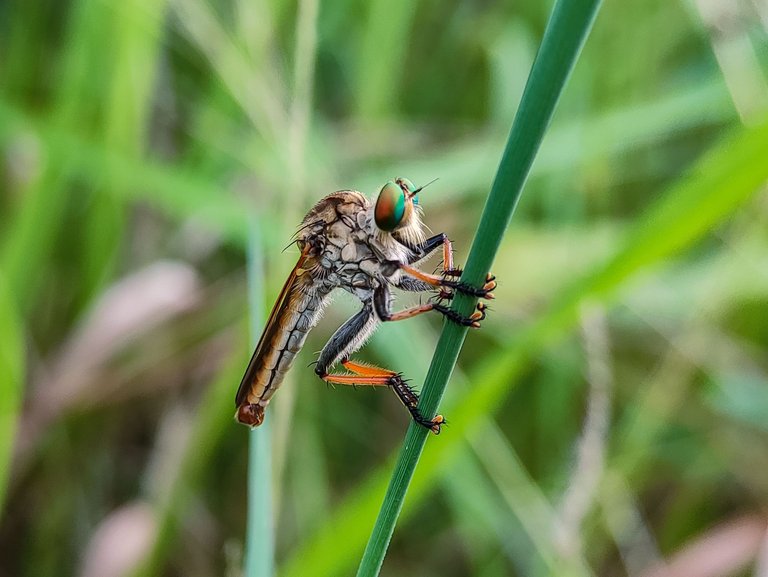 ---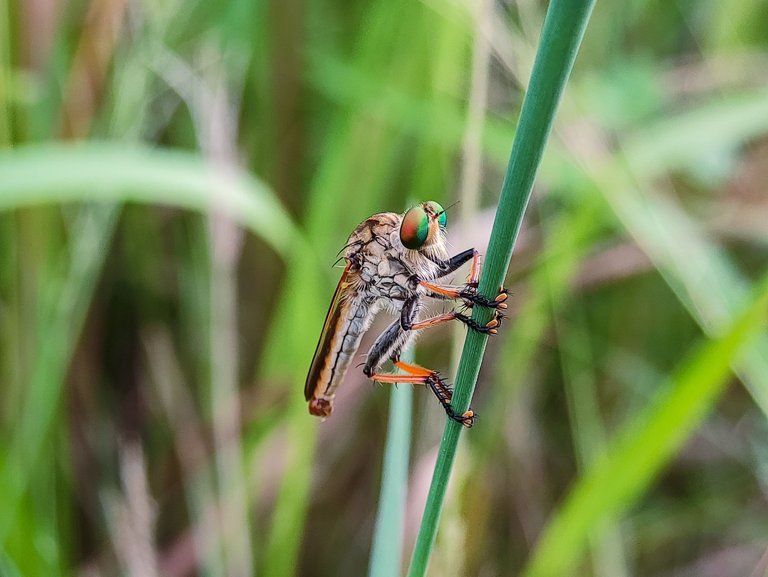 ---
English
And this is an immature robber fly, it can be seen from the shape that is not the same as the robber fly in the picture I show above, and the hair on its eyes is also not too thick.
Indonesia
Dan ini adalah lalat perampok yang belum dewasa, hal tersebut dapat dilihat dari bentuknya yang tidak sama dengan lalat perampok pada gambar yang saya tampilkan diatas, dan bulu pada matanya juga belum terlalu lebat.
---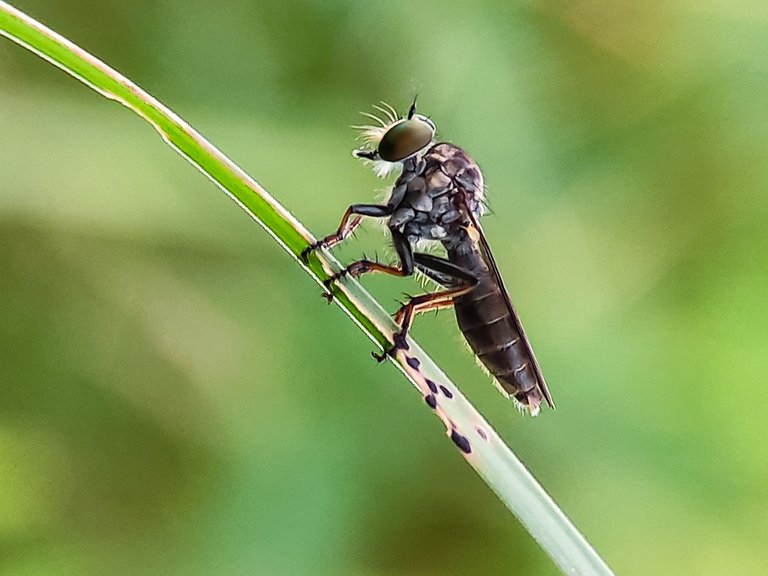 ---
English
Here you can see that he's eating another insect, I'm not sure what kind of insect he's eating, but you can see he's holding something that looks like it has eyes. If I was asked to guess; it's a grasshopper boy, but I'm just guessing. 😊
Indonesia
Disini anda dapat melihat bahwa dia sedang memangsa serangga lainnya, aku tidak tau pasti jenis serangga apa yang sedang ia makan, namun anda dapat melihat dia sedang memegang sesuatu hal yang sepertinya mempunyia mata. Jika saya menebak ; itu adalah anak belalang, tapi saya hanya menebaknya. 😊
---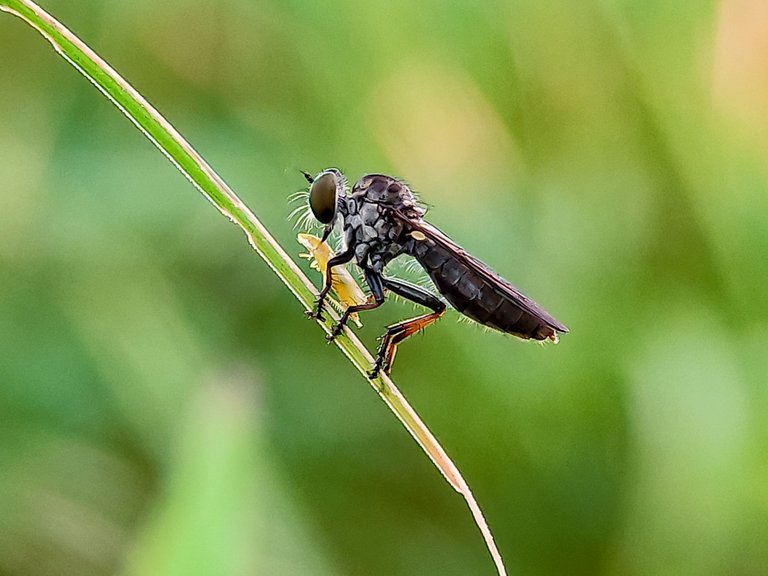 ---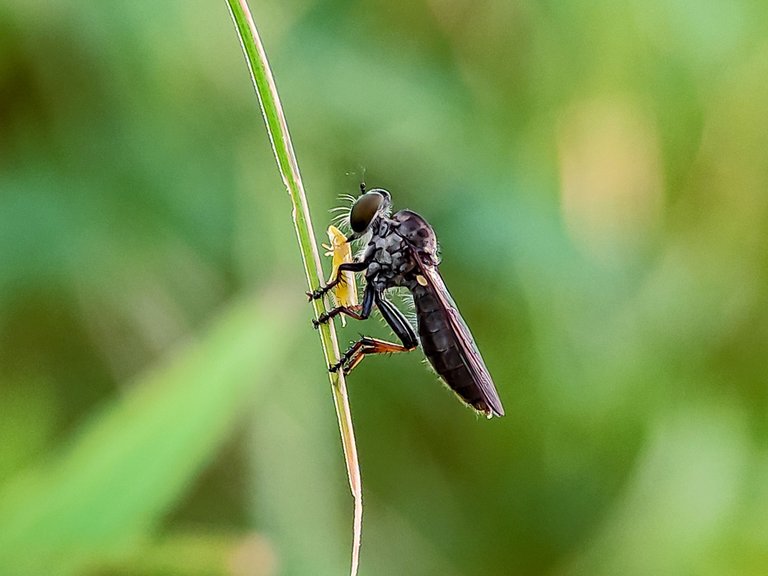 ---
English
All the photos that I show in this post I took using a smartphone camera and the help of a 35mm macro lens, when I tried to change the 25mm lens this insect ran away. because using a 25mm lens requires a closer distance than a 35mm macro lens. Okay buddy, see you in my next post, and I hope you like it. 🤗
Indonesia
Semua foto yang saya tampilkan di postingan ini saya ambil menggunakan kamera smartphone dan bantuan lensa makro 35mm, saat saya coba ganti lensa 25mm serangga ini kabur. karena menggunakan lensa 25mm membutuhkan jarak yang lebih dekat daripada lensa makro 35mm, saya harap Anda menyukainya. 🤗

INFORMATION
| Camera | Poco X3 NFC |
| --- | --- |
| Lens | Sony 25mm |
| Photography | Robber Fly |
| Phylum | Arthropoda |
| Class | Insecta |
| Order | Diptera |
| Process | Mobile Lightroom |
| Location | Indonesia - Aceh |
| Photographer | @mirz |
---


M. Alan Mirza (@Mirz)
My name is M. Alan Mirza, I am currently 28 years old, I come from Asia, to be precise in Indonesia - Sumatra Island. I work as an emergency room administrator, namely in the Medical Record section at Cut Meutia Hospital. My hobbies are uncertain, my hobbies follow my mood, sometimes I like reading, sometimes I like writing, sometimes I like photographing small insects and other small object, sometimes I also like to play games for a long time.😁