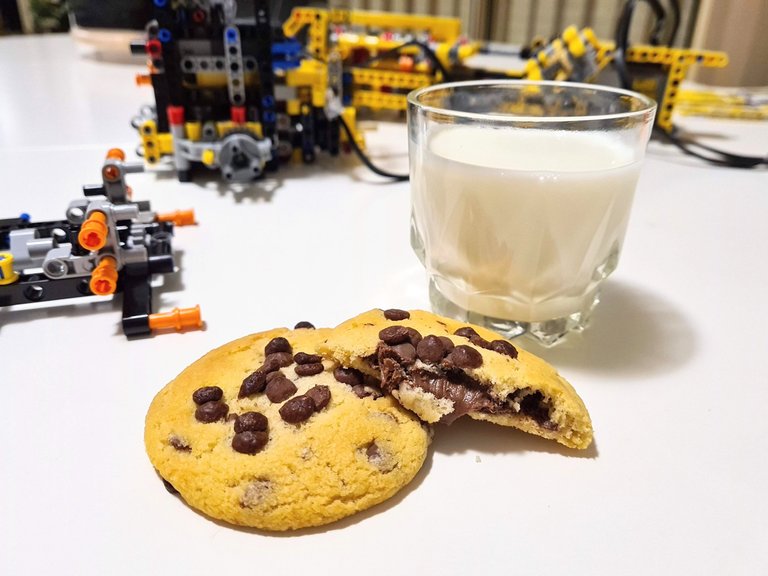 I don't usually waste time dwelling upon things I cannot change although I found myself doing so the other day when building my current Lego project and it made me a little sad. I still had a good time building of course, the process of piecing tiny bits together to create the larger whole always makes me happy, but I couldn't help thinking that a little buddy to build with would be so cool and that's what made me feel somewhat sad.
I've watched my brother build Lego with his daughter @smallsteps on video chats and I'll admit to feeling a little jealous - I have no children of my own, with no chance of it occurring, so it's just me when I build; I wish I could share the experience with a little person like my father did with me - Those Lego sessions are some of my best memories from my childhood days and I know my father valued those moments also.
As I said, I don't dwell on it but at times I lament the fact I've not got anyone to pass on my skills, knowledge and wisdom to, and to build Lego with. In lieu of a Lego-buddy I generally put some music on and build on regardless and sometimes there's milk and cookies the same as there would be if I had a little tacker with me.
Building a Volvo hauler
This fully articulated six-wheeler, when complete, will operate by remote control, change gears and speed, steer, go forward and back and the load-tub will raise and lower. It's been an enjoyable, although fairly complex, build so far and I put a few more hours into it the other day bringing the second of four build-stages to completion - It kind of looks like something now and below is some photos of that build-session.
---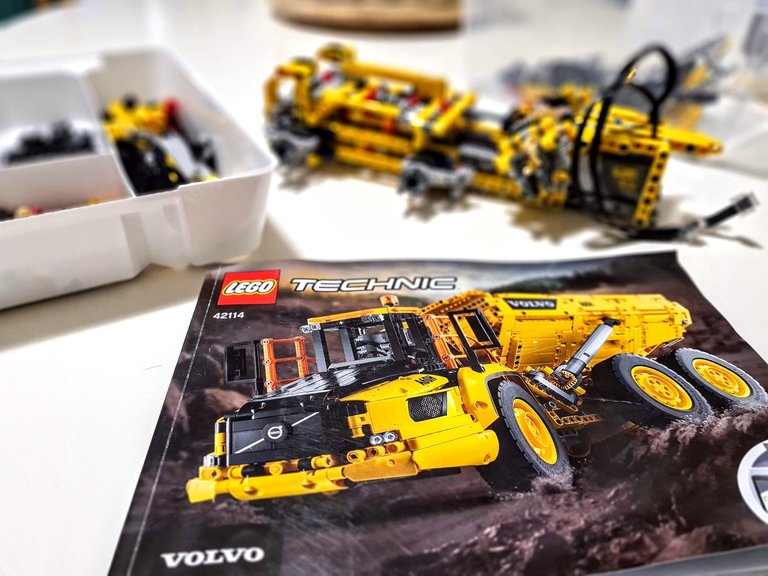 This is what the hauler will look like when complete - I'm hoping it works too. There's three electric motors that make the various parts operate and Lego's most complex gearbox ever to handle the gear changing. I have my fingers crossed it works. ⬆️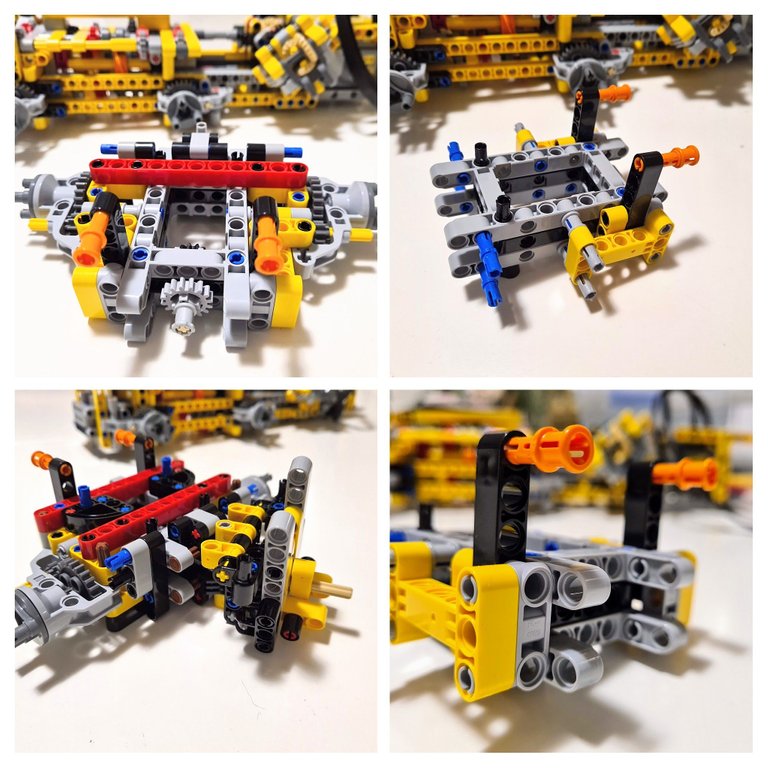 This is how stage two began. Above lower left shows the front steering axle and that part tilted off at an angle is the mechanism that articulates, making the cabin section turn independently from the load-tub. ⬆️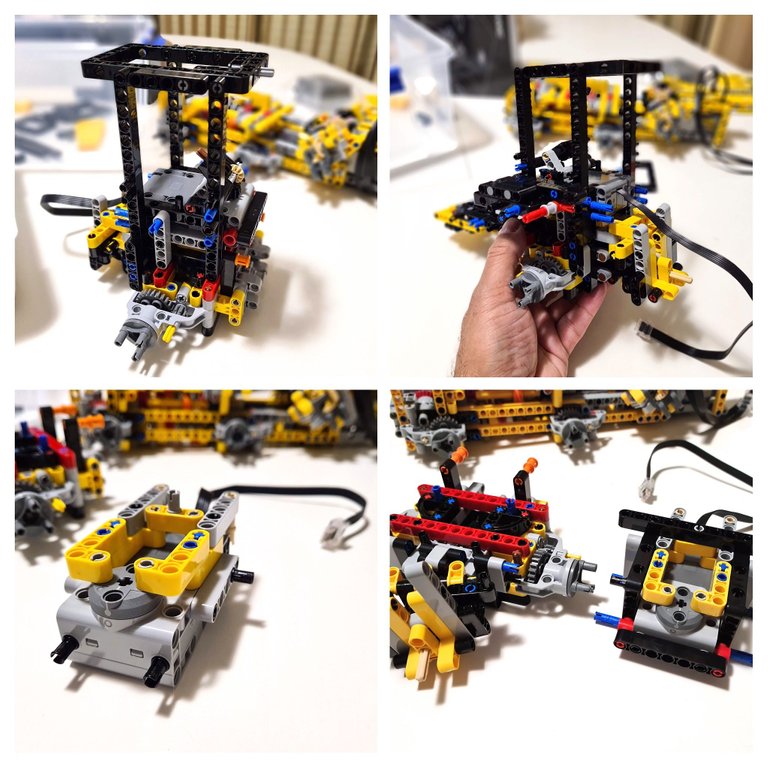 Here I'm constructing the cab itself and preparing the sub-frame to hold one of the electric motors which you can see at lower left. Some assembly's are built separately in modules and then connected together as you can see here. The two sections above lower right are joined to create what you see in the top two images. I've picked it up here to show perspective. ⬆️
The below image shows that motor section a little closer. That three-pronged thing to the lower right of the image is what the wheel will eventually connect to. The three motors will eventually all plug into the battery pack and the remote control fun will begin.
It was about this point when the milk and cookies happened as all that building had exhausted my energy and snacks were required. Those cookies were seriously good with soft chocolate on the inside...I had two...Ok, I actually had four!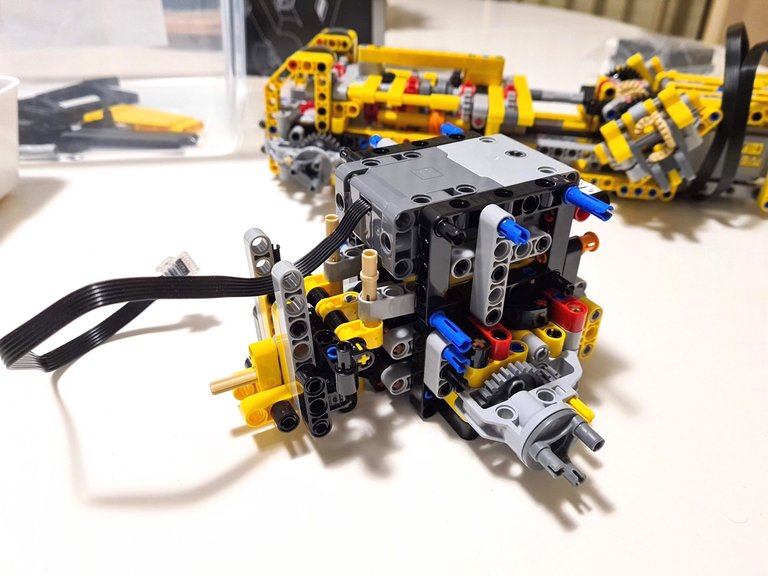 At this stage the hauler looks like a jumble of bits but as stage two of the build draws to its end the hauler starts to take shape and actually look like a truck. It's always good to see the set come together and start to look like an actual thing. It's exciting.
After my snacks I cleaned up, like a good boy, and got back to building knowing that before long the cab section will get married up with the back of the truck - I was eager to see it come together...I may have had a fifth cookie first though.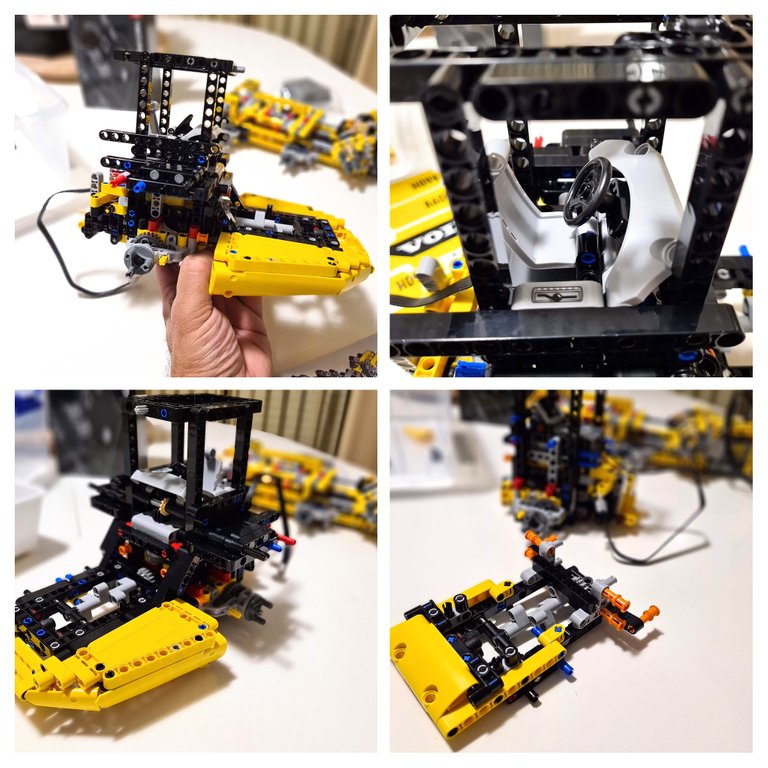 Part of the cabin section and front fenders are on now, and in the lower photos above you can see the camshaft that will operate the pistons on the engine as it moves forward. ⬆️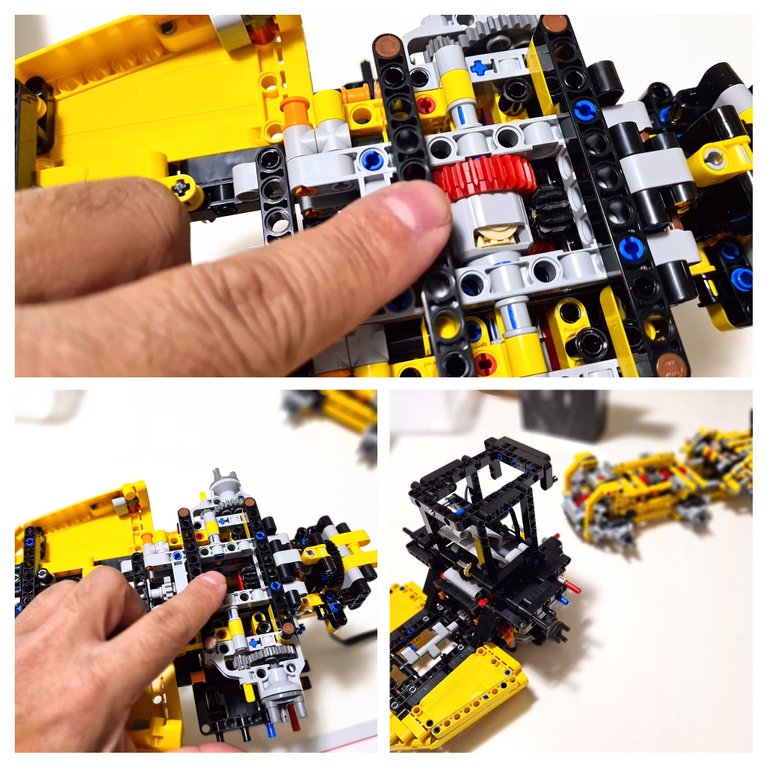 Here you can see me pointing to the front differential in the top image that will transfer the drive from north-south out of the electric motors to east west to the front wheels which is exactly what would happen in the real-life version. Lower left shows where it sits in the chassis and lower right shows the rear section ready to attach to the front. ⬆️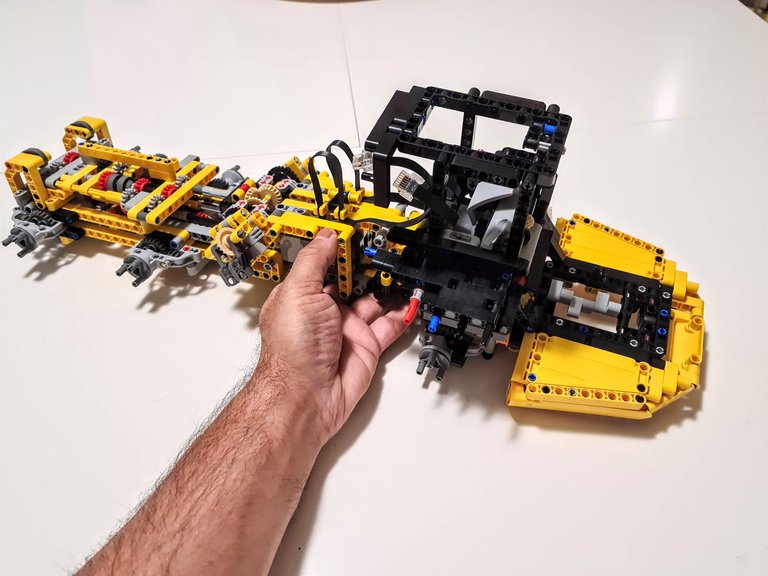 The front and back sections joined together and my hand to add size perspective; It's pretty big. This is the end of stage two of the four stage build. ⬆️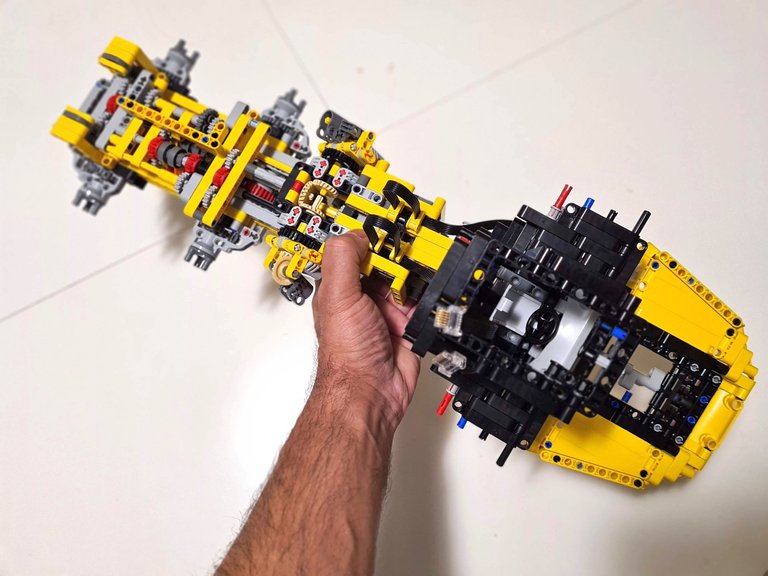 This image shows some of the gears and cogs that will eventually make the truck work. Towards the rear you can see some of the gearbox that will switch the gears. ⬆️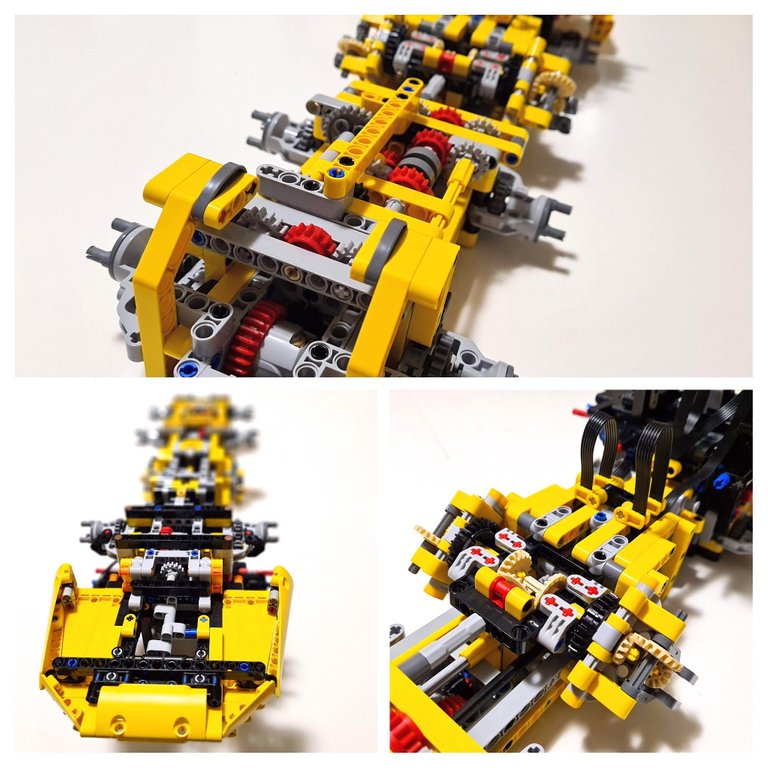 ---
Stage one of this build was frustrating as I had to pull it all apart after I had suspected I'd made a mistake - As it turns out I had not. Stage two went quite well though and was really enjoyable, helped along by milk and cookies of course. I'm not sure when I'll get to stage three but as the truck comes together I'll get more eager to see it completed so it could be soon...I'll need to buy more cookies first though.
I love building Lego and have done so since those early days building with my dad and playing with our creations, pulling them apart and doing it all again. I've made peace with having no children of my own and taking someone else's isn't much of an option so I'm on my own I guess - It's not all bad though, it means more cookies for me!
I think I might have made a good dad although who really knows until in that situation I guess. My dad, well he wasn't perfect because no one is; He did the best he could with what he had at his disposal, just like my mum did also. I have those early days of their influence to tank for allowing me the ability to discover who I was later, to be the person willing and able to develop into what I am today. I'll never have the chance to pass that on to a little person of my own and I have come to terms with it - Maybe that's why I'm a man-child myself?
Thanks for looking at the pictures.
---
Design and create your ideal life, don't live it by default - Tomorrow isn't promised so be humble and kind
Discord: galenkp#9209