I usually don't take as long as it's taken me to complete this build but life gets in the way sometimes and I've just not had the time to do much Lego building in the last couple of weeks. However at last I can finally present the finished product of this three-stage build!
This vehicle hasn't been an overly technical build, not compared with the others I've done, however there were a few interesting parts around the building of the drive-train and engine and overall it's been fun. Here it is below, all finished.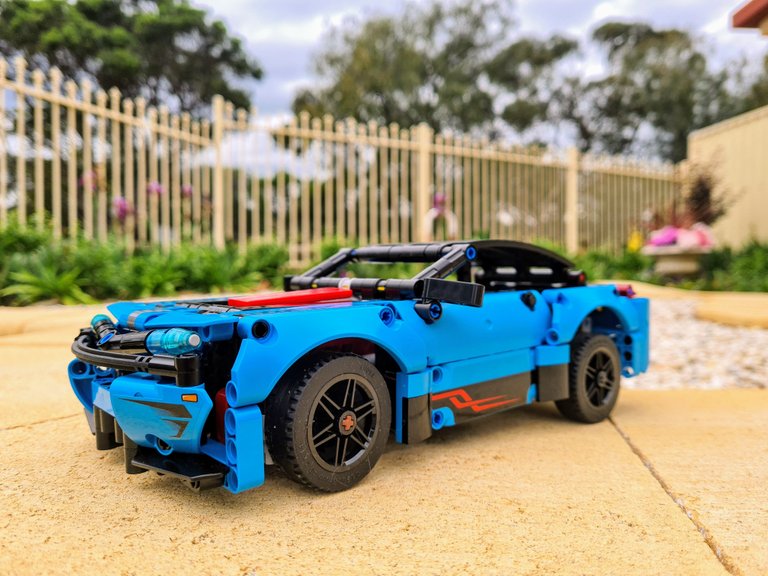 This model has working pistons in the V8 engine which pop up and down as the vehicle moves along - They work in a particular order too, set by the camshaft like in a real engine. There's an image below.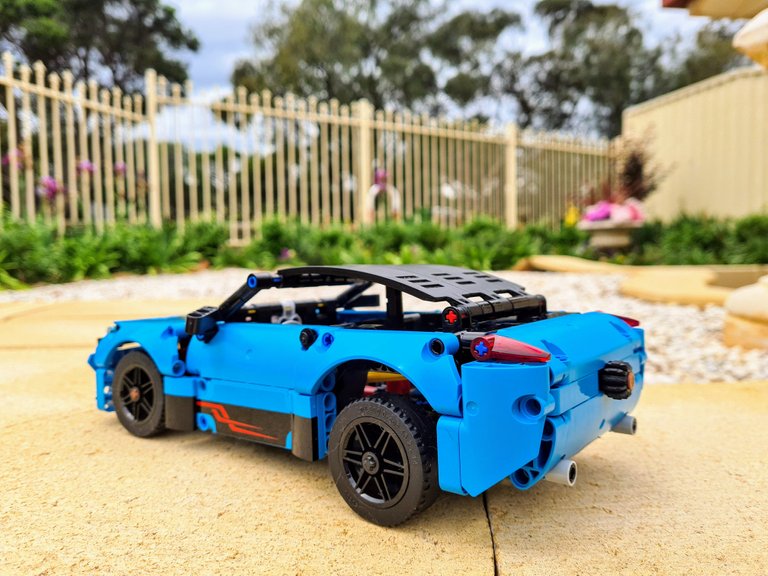 The steering is operated by that little black knob at the rear of the vehicle - It's connected via a series of shafts that allow left and right steering although the lock to lock doesn't travel as far as some of the other more complex models I've built.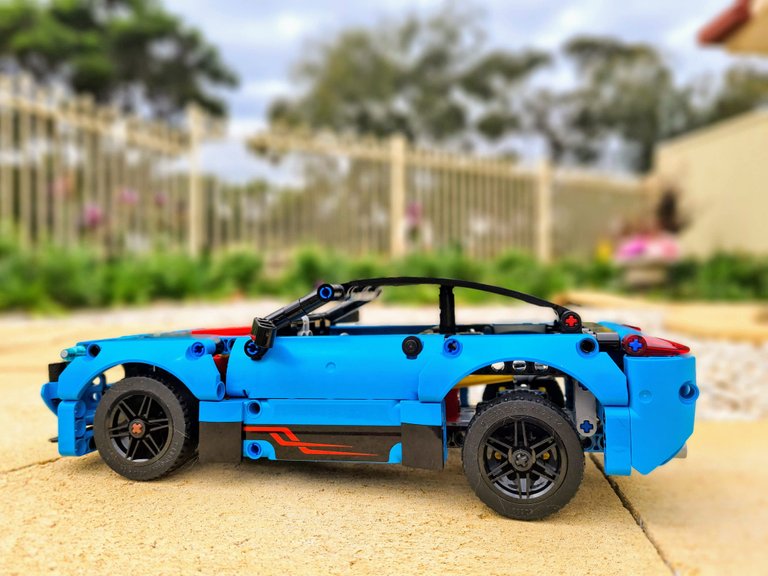 This vehicle is only one small component of a greater set, the transport truck and trailer that goes with it, and so whilst it's complete, there's still a lot of building to go to get the entire set completed.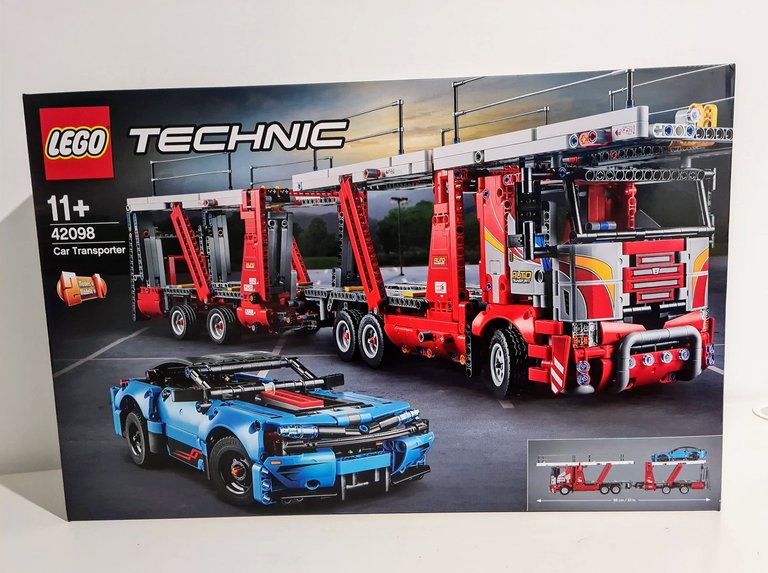 Once totally complete the set will look like this. You can see the scale of the car as opposed to the truck and transport trailer and below is a picture of me holding the car so you can see how big it is in comparison to my hand as a reference point. The set is almost a metre long in all, 39 inches, so pretty big.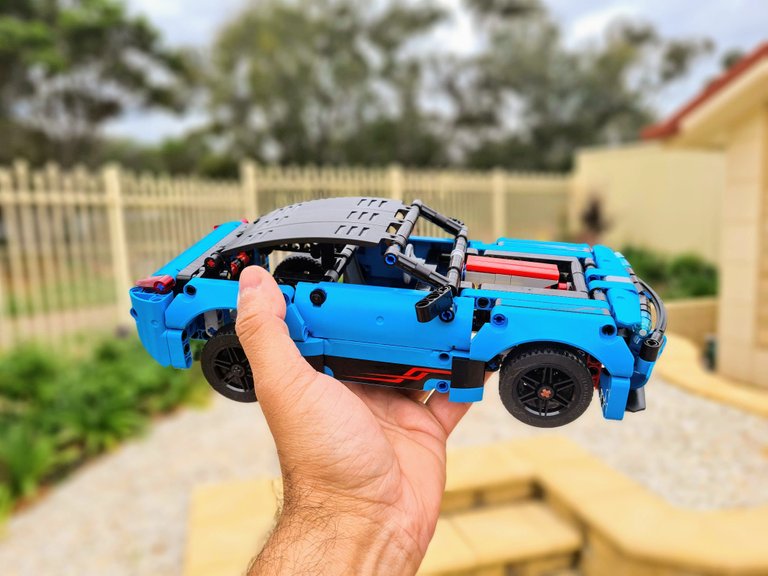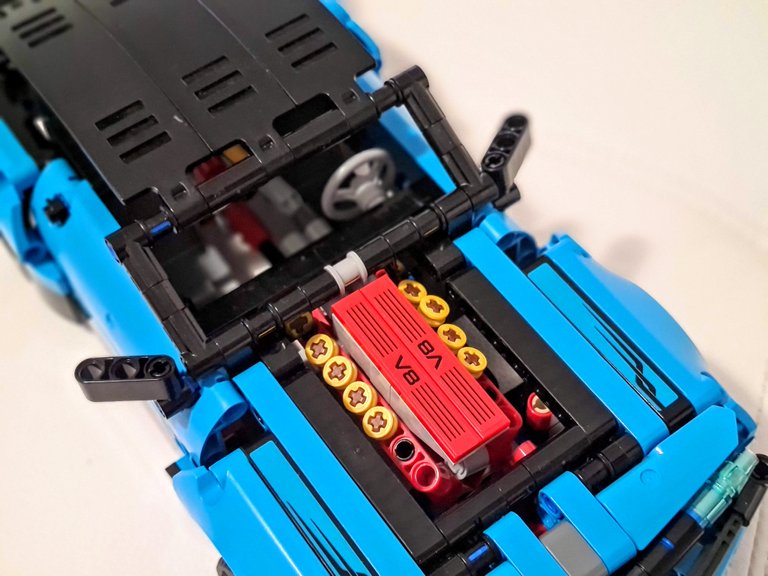 If you're keen on seeing the build process step by step you can take a look here at the previous two build-posts called The build begins and The build continues which shows the vehicle coming together little by little, and some of the more technical parts of the build.
As I said earlier, this build hasn't been as complicated as others although the truck and trailer stages are going to be much more technical as there's more moving parts and greater detail in the drive train. The trailer also has ramps that raise and lower to allow the car to be loaded and removed so it should be a bit of fun...What won't be fun is working out where I'm going to put the model once it complete as I don't really have any room left for something this big...But I'm sure I'll find a solution.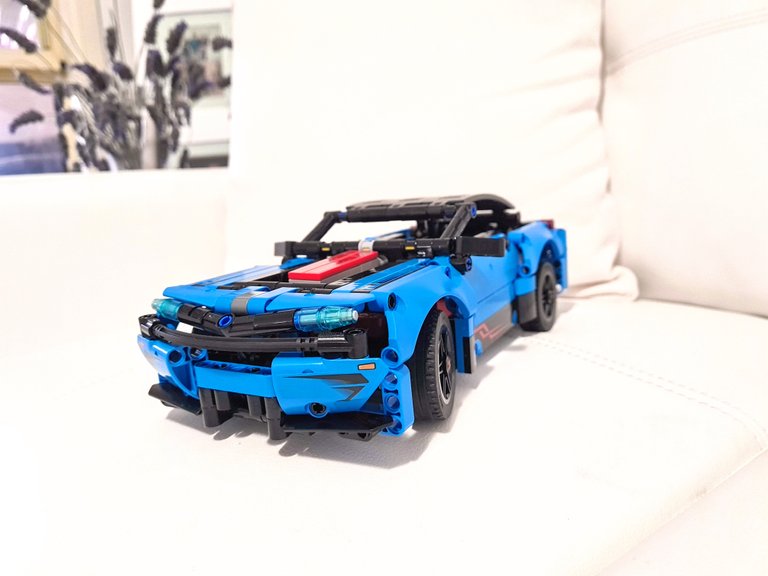 Overall I'm quite pleased with this part of the build and I think it looks pretty cool. It's not designed as the key focus-piece of the greater set and therefore isn't as detailed as it could have been but I think Lego did a great job at making it look right and I'm happy with it. It's also a two-in-one build meaning I can take it apart again and build it up into something completely different - Double the fun!
So thanks for taking a look at the pictures, and reading the words if you indeed did. Feel free to make some comments - That would make me really happy.
---
Design and create your ideal life, don't live it by default - Tomorrow isn't promised.
Be well
Discord: galenkp#9209