Hand of creation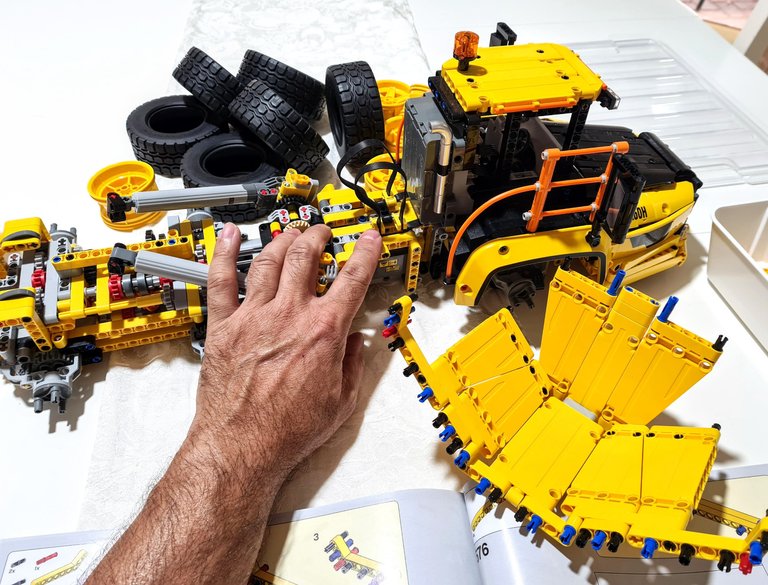 Imagination is the beginning of creation. You imagine what you desire, you will what you imagine and at last you create what you will.
- George Bernard Shaw -
---
---
I was going to lead off with a quote by Picasso: "Every act of creation is first an act of destruction," but Shaw won the day with his imagination quote.
I could have used Picasso's words though because this Lego creation began with total destruction. You see, when I started it (back in March) I was in a chat with someone close to me and...well, I might have gotten very distracted and messed up the build...Or so I thought.
Something in the gearbox didn't make sense to me and so I pulled the whole thing apart and started again. I wasn't best pleased, but it's all part of the fun. Anyway, a few days ago I got it completed and I'm pleased to say it all works fine, but more about that later.
This Volvo is a very complicated 2100+ piece build as it includes Lego's most complex gearbox to date (at time of writing). This is a remote control vehicle which changes gear and speed, goes forward and backwards, articulates, steers and even tips up the load bed via remote control. It's cool and you can read a little more about when I started it, and thought I'd messed it up, here if you'd like.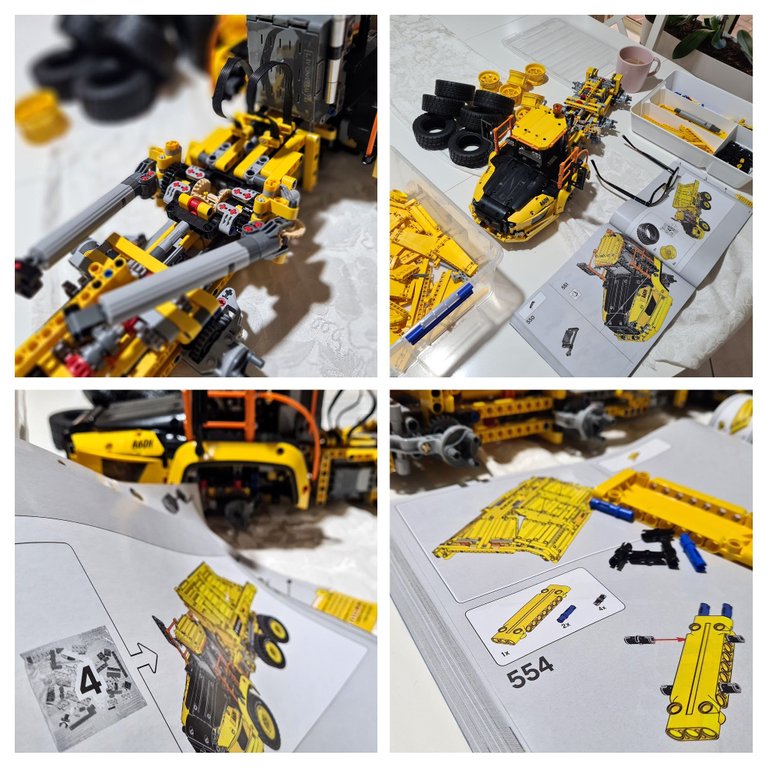 The beginning of stage four a few days ago. You can see it is step 554 in the instruction booklet and you can see in the top right my essential Lego-building equipment: Reading glasses and coffee...in a pink mug. No judgement huh? Pink is just a colour, not a sexual persuasion you know.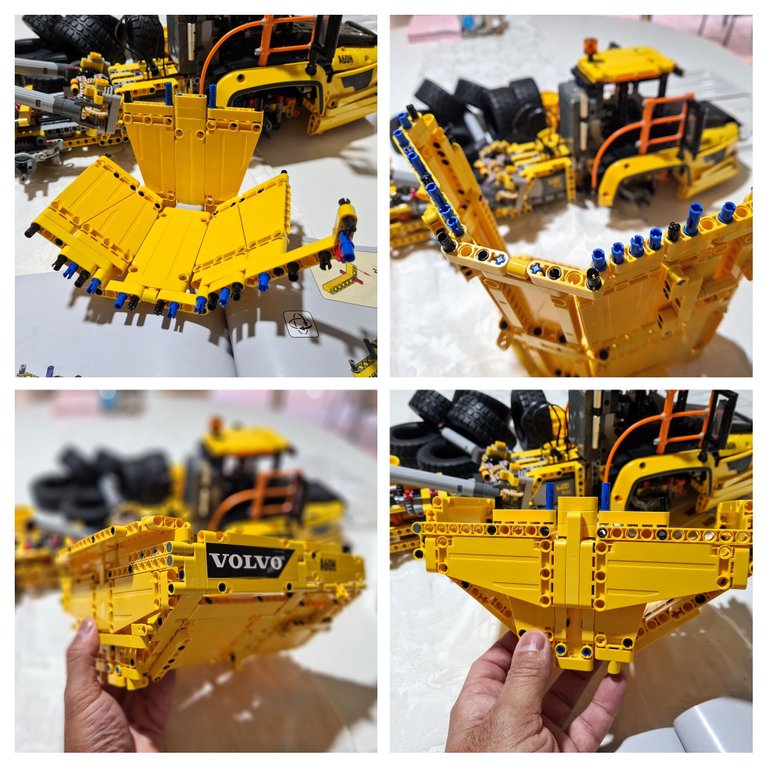 Stage four is all about the load bed of the hauler really. I had thought it might be boring but it wasn't at all; the way the parts come together was so interesting...Those boys and girls at Lego know their stuff!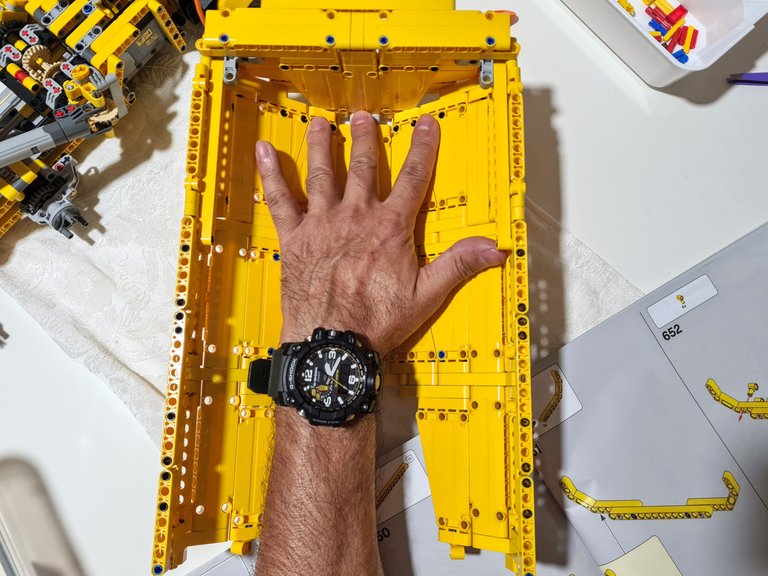 This set is pretty big. Here you can see my arm to mid-forearm inside the almost finished load bed...I'm a knucklehead so I can't work out the volume to give you specifics. I'm not Archimedes y'all, cut me some slack!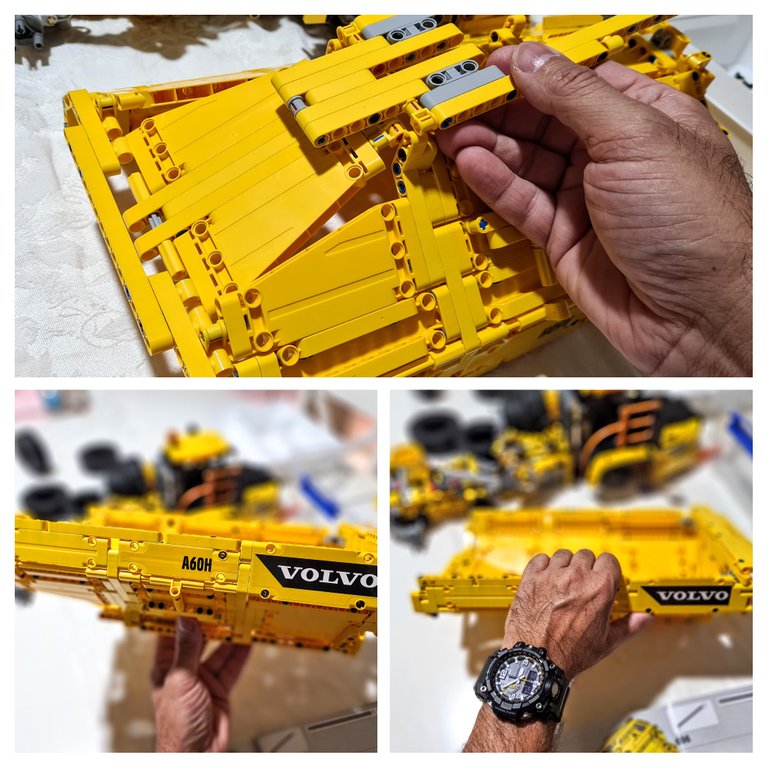 The last few parts go onto the load bed and it's done! Now to mount it to the chassis and connect the powered arms that will lift and lower it via the smartphone app.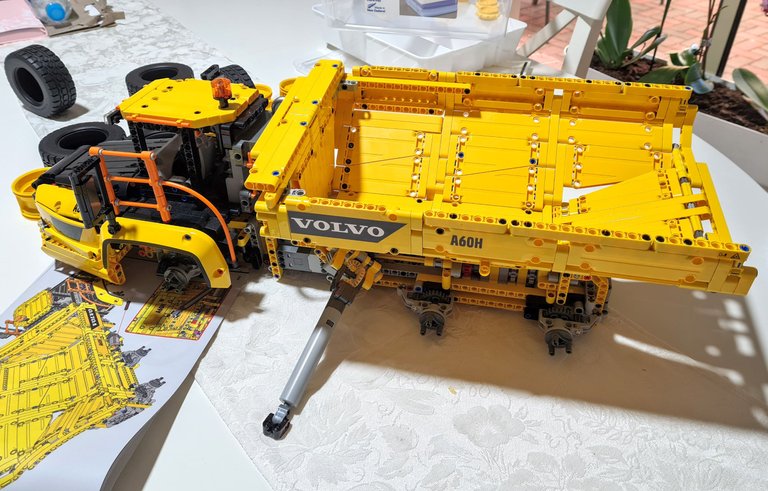 You can see one of those lifters in the image here. They're powered by their own motor (there's three individual motors on this vehicle) and a series of gearboxes do the work when asked on the control app. It's not fast but is very cool. I haven't had the chance to put a load in there yet, but I will - I'm planning to do a video for y'all.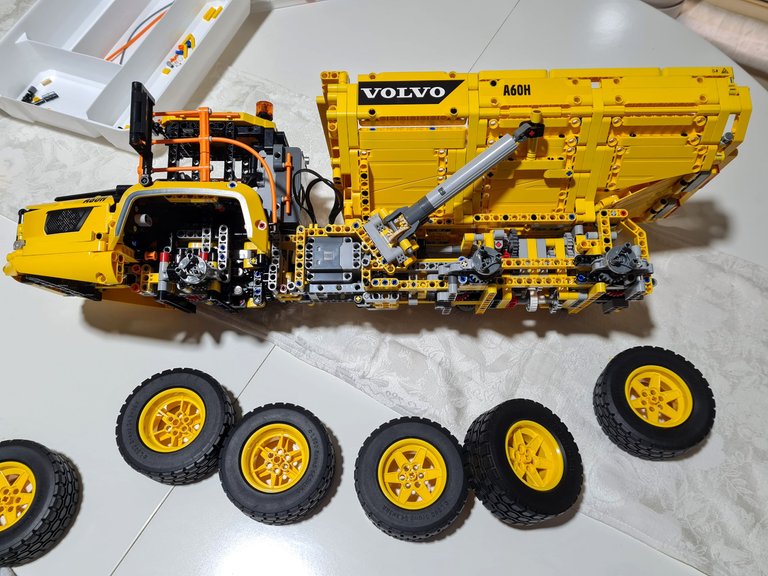 Wheels and the wheel caps are the final thing to go on and it's ready. Now the moment of truth...Did I get the gearboxes right and is this thing going to work.
I'm really pleased with this build as it was a lot of fun. This is a cool truck too, I mean in real life. I wrote this in a previous post:
It uses the Volvo D16F 16L diesel engine generating 639 horsepower, weighs in at 43,750 kilograms and can carry 55,000 kilograms for a gross weight of over 98,000 kilograms; That's heavy! It's 33.6 metres long and is designed to operate in extreme off-road conditions. It's a serious bit of equipment. These beasts are about $1.18 million (US) dollars to buy in ready-to-go trim with another $60,000 of accessories available for different conditions depending on where the unit will be operated. That's a lot of money, and shipping is extra.
Naturally, I didn't pay $1.18M for my Volvo A60H but one doesn't always need to spend a lot to get value right?
When complete I threw six AA batteries into the power pack and opened the Control+ App on my phone. The firmware needed to update which took a while but once done I hit the calibration button. The vehicle went through a series of self-driven moves: Forward, back, steer left and right, the articulated section worked left and right, and the load-bed went up and down a few times...I got the green light and...It ran flawlessly. The hand of creation created something that worked. Yes, I was relieved.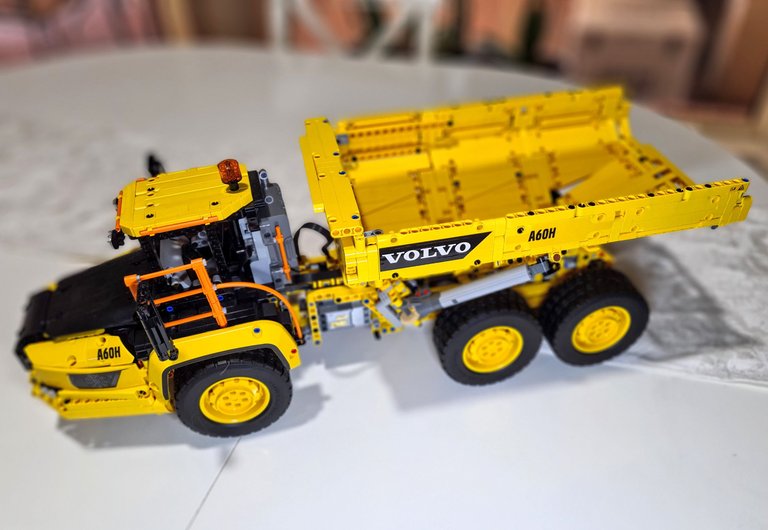 The screen capture below is off the control app on my phone. You can see I was actually driving when I captured it.
The gear and RPM are shown. On the left that little red light means the load bed is locked but you can see the up and down buttons to the left of it. It even has a horn that sounds. I know right? COOL! To the left of the screen you can see a toggle with a little image of the vehicle...That's how it is controlled once in gear. Also note, three forward and three backward gears...That's what makes the gearbox so complicated.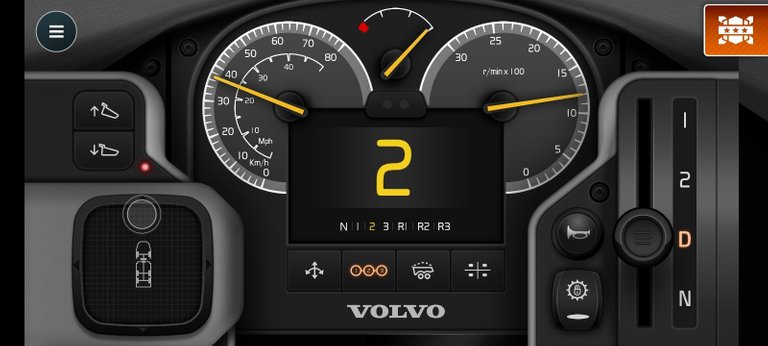 ---
My plan is to do a video of this vehicle moving. I'll have to use my GoPro for it though as my phone is required to operate the vehicle. I'll also take some better pictures with my camera to show it off a little more. The engine cover tilts to reveal the engine with moving camshaft and pistons and I'll flip it over to show some of the inner-workings.
For now that's it...The longest build I've ever done; March to December. It only took me thirty hours to actually do the building but a lot has happened that required my time so...yeah, months!
---
Design and create your ideal life, don't live it by default - Tomorrow isn't promised so be humble and kind
All images were taken by me
---
---