Growing Enthusiasm with Student KKN ( UTU )
Hello friends, wherever you are, whatever your activities, I pray that we will always be in good health, and what we aspire to be realized quickly.
On this occasion, I will return again to accompany friends who are still active and loyal in this beloved community,
This post talks about the arrival of student guests at Teuku Umar University (UTU) in Melaboh, West Aceh. In the framework of Real Work Lecture (KKN), at my place is Gampong Alue Tho, Krueng Sabee District, Aceh Jaya Regency, Aceh Province. The goal is to realize family independence to prevent stunting in the Agro and marine industry.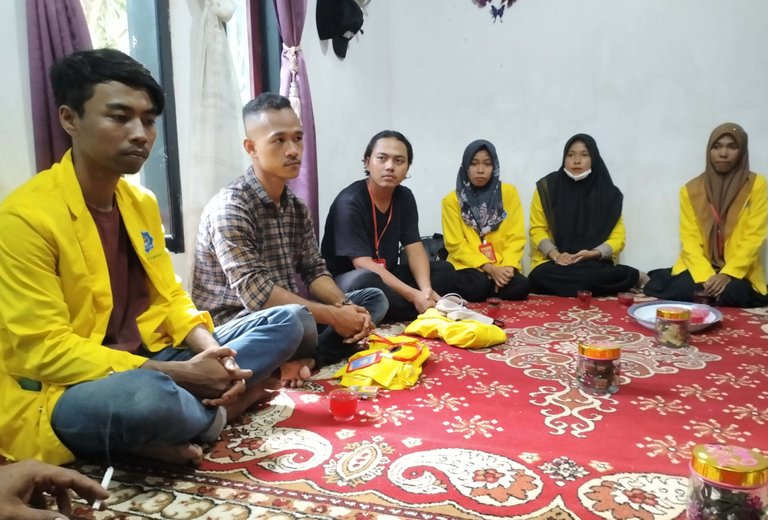 In our brief meeting with student children dressed in yellow, as a welcome we are from village officials and also represent the whole community, we are very grateful, for the arrival of the students with the programs that have been arranged, they also bring privileges to us, too their extraordinary concern for overcoming stunting so that there is no stunting in this village.
But unfortunately I can't display their activities on preventing stunting and malnourished children. Because at that time I had another event outside the village. 🙏😄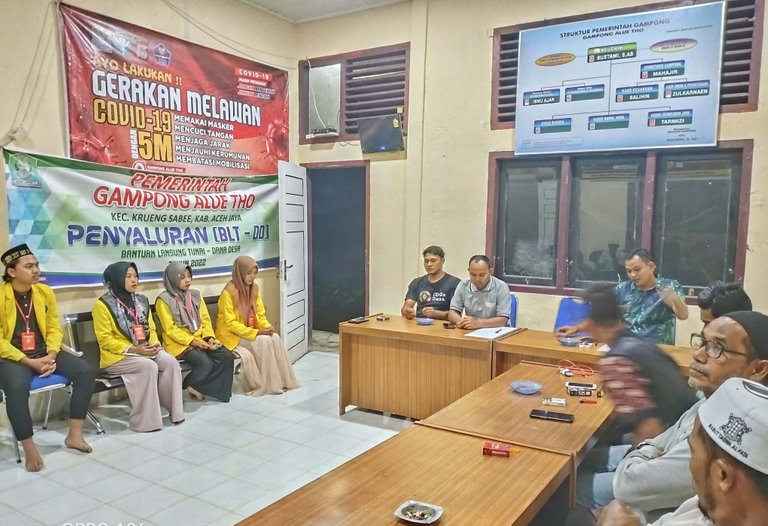 This is the activity of installing nameplates in front of each house of the village apparatus as an indication or sign that it is the house of the Village Head, Village Secretary and others.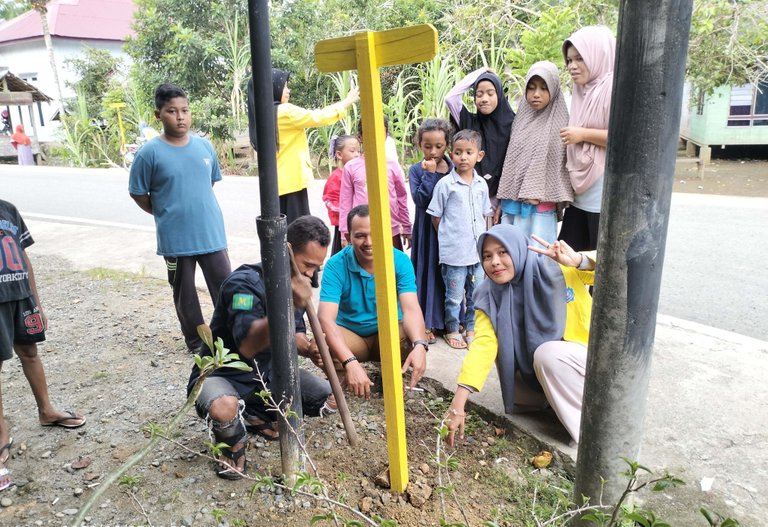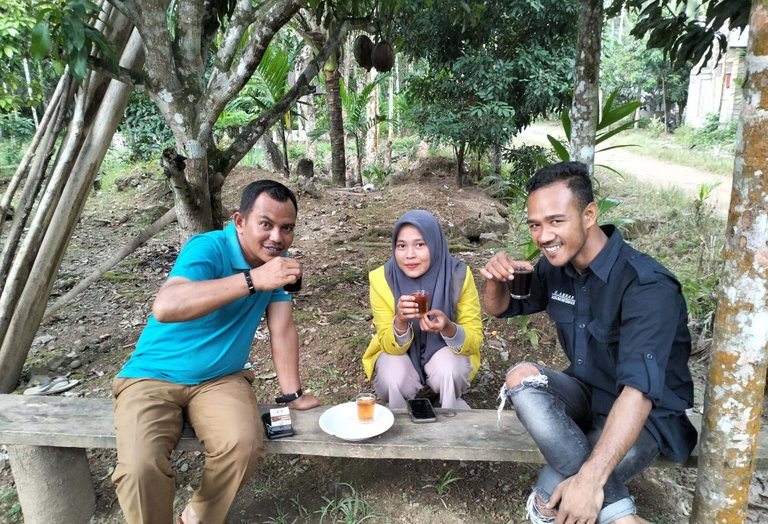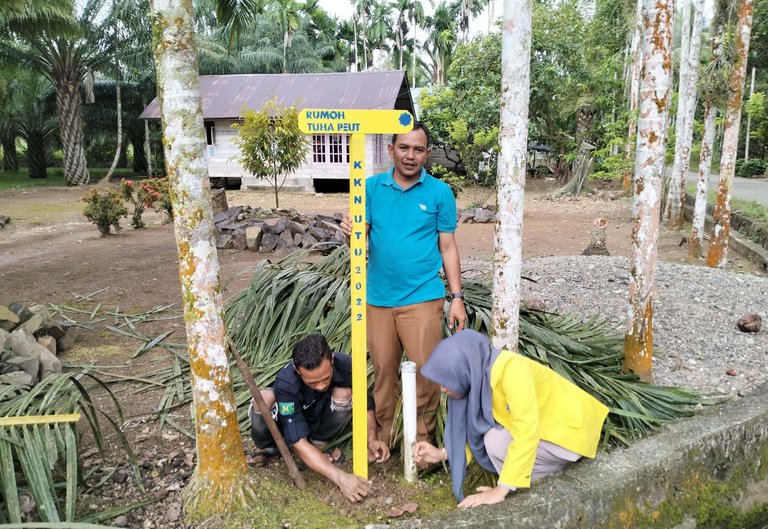 And they do many other things or activities that are useful, they even make village children live with enthusiasm both in terms of learning and when playing. And they also have some games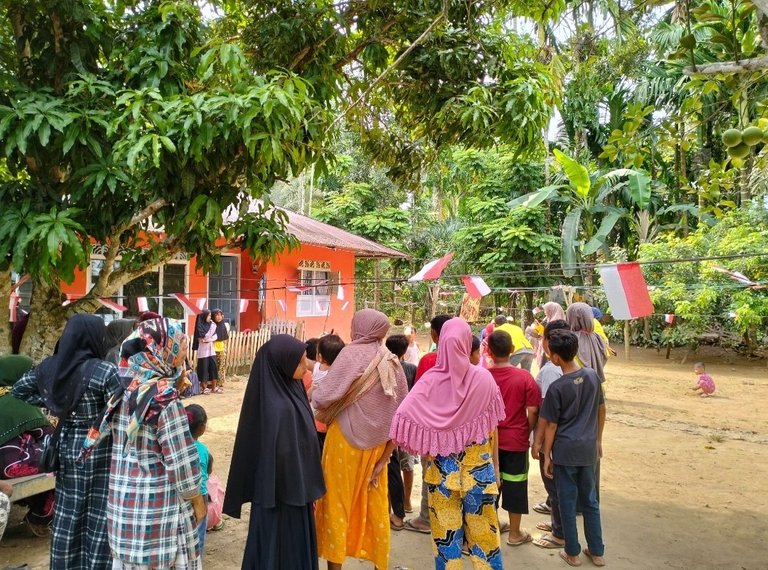 The game eats the crackers that are hung by the students parallel to the heads when the participants stand, so the one who finishes the crackers quickly is the winner no. 1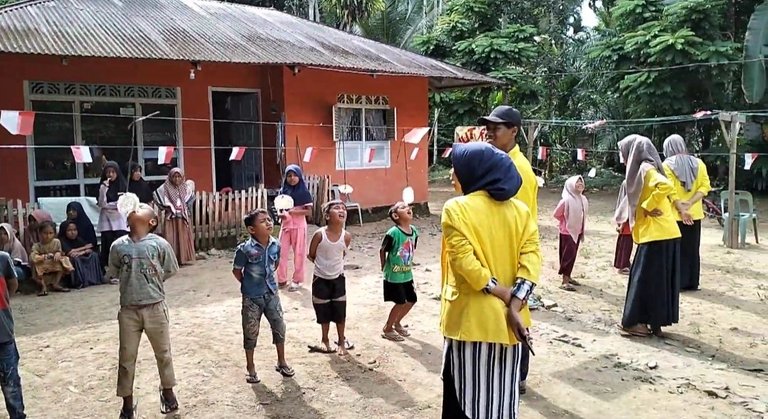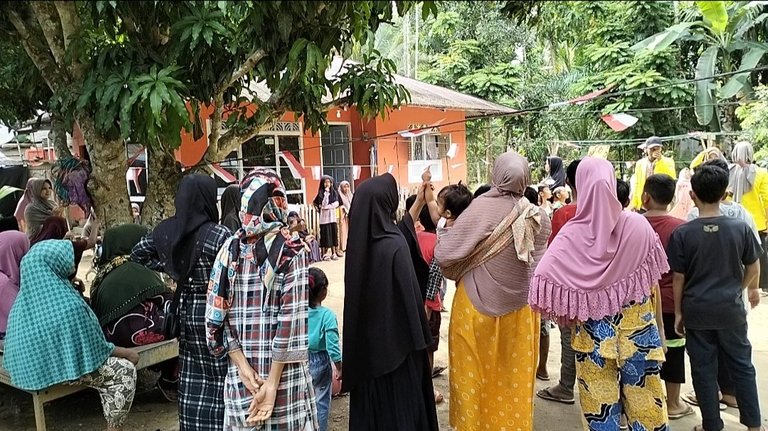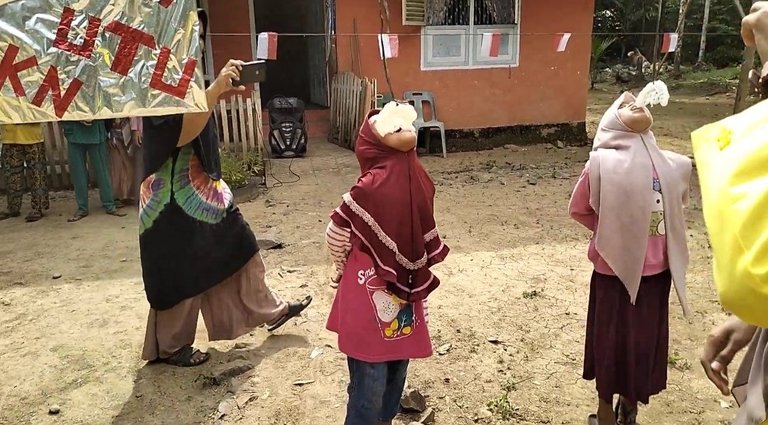 Game of tug of war, tug of war is played by two groups. Each group must be able to keep from crossing the predetermined center line, and whoever can keep from crossing the center line will be the winner number 1.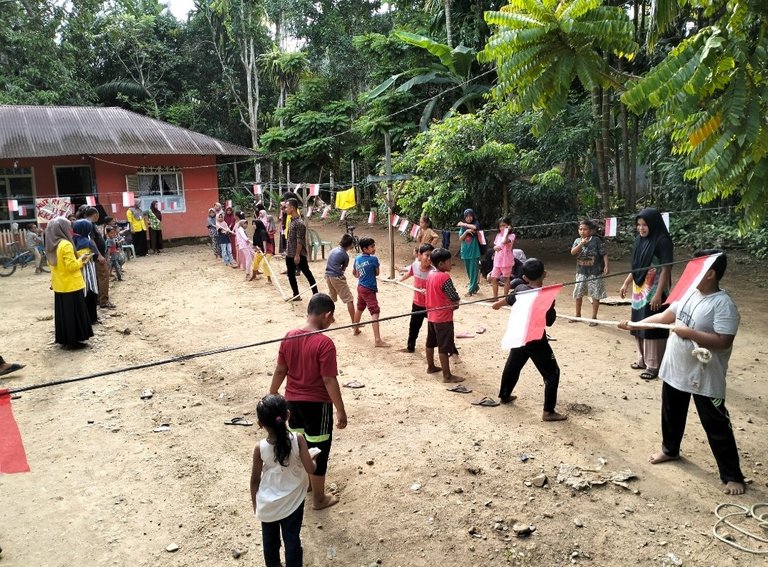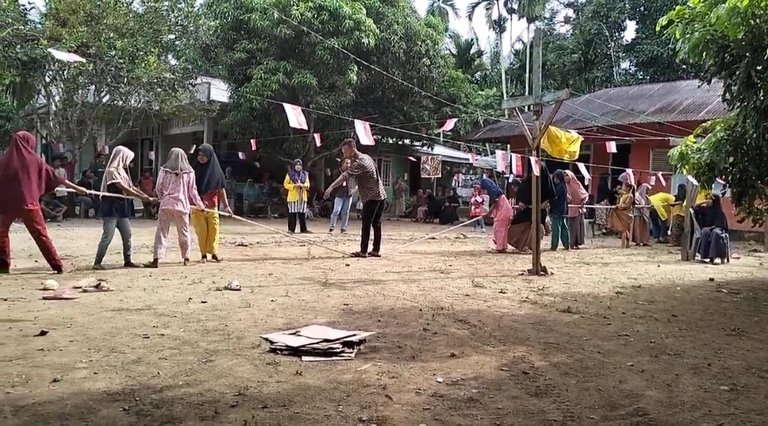 The game of sack racing, sack racing is for the participants to enter both their feet into the sack, then run for 20 meters. Whoever is the fastest to the pins line is the first winner. This is very funny because the run is rather difficult and of course many people fall
All of this is only aimed at opening the mindset of the children in the village so that in the future they will be quicker in pursuing something they aspire to, just as they are in a game trying to catch up to speed wanting to be at the forefront to get number 1.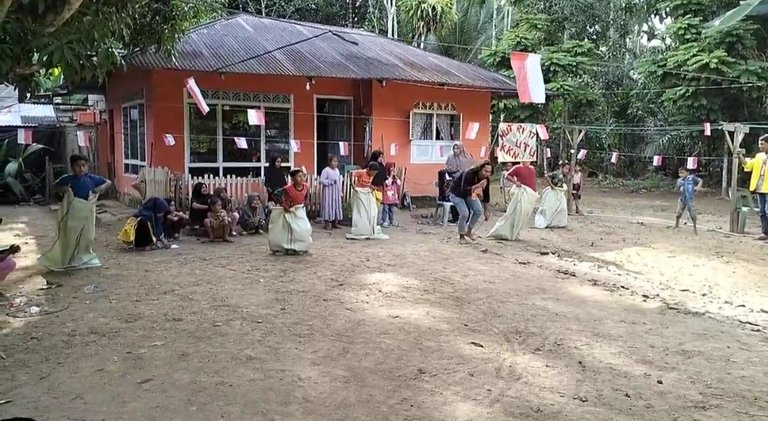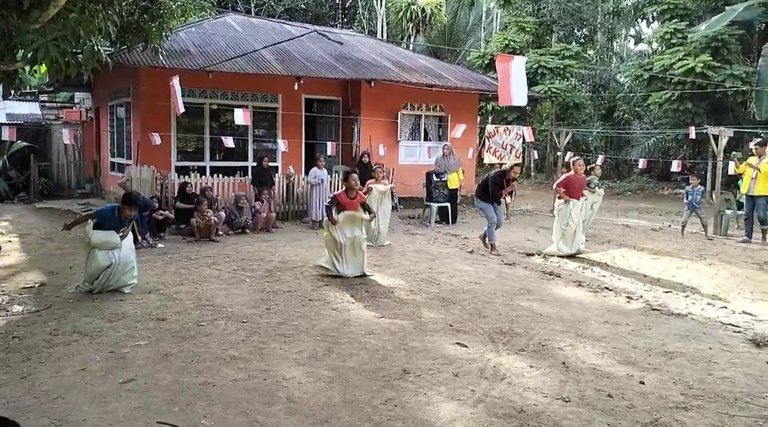 In addition, they also prepare nutritious food to be given to village children who are toddlers and also children who are 2/3 years old, according to their concept. On the other hand, their arrival is very useful, especially for the village community, because many of our people are economically disadvantaged, of course they are also less able to provide for children's needs, one of which is nutrition, with activities like this the benefits are extraordinary, besides that they also complete the task them as KKN. Our village children also receive what they have to get from their families
Then on the last night, they also made a farewell as their thanks to the people who had behaved well towards them.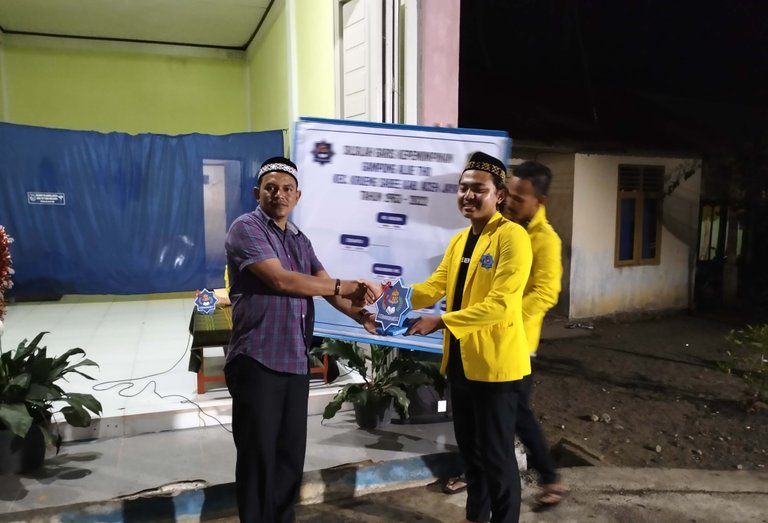 And this is also done by distributing gifts to village children as a sign of the affection they have always been together. And take photos together as memories when they miss village children. What is very special from us to UTU Melaboh students. They did very good things, after they returned to campus with enough time limit, so they left lots of memories of their past good deeds, we have a lot to thank and be thankful for helping us. And we will always remind him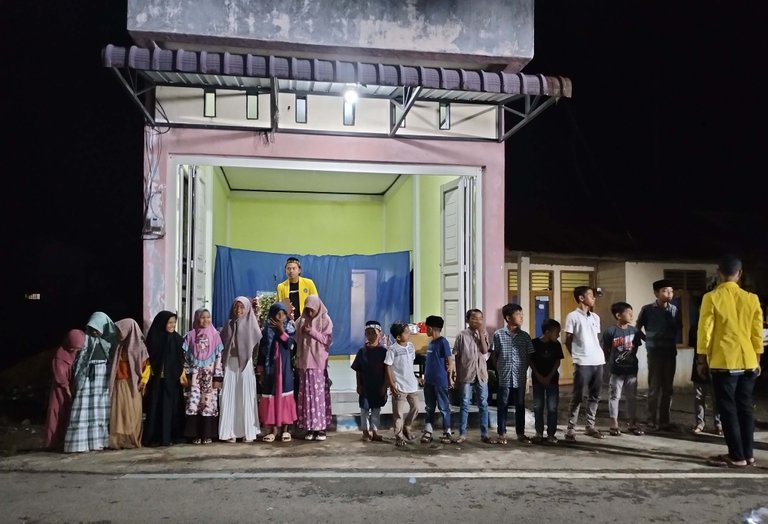 That's all and thank you, see you again in my next post
Greetings from @ajirdeal to all friends who are always in this hive.
---
---