I posted this post out of order of the growing sequence but you can easily find the others here and here.


It's definitely Tomato time around here in Gawler. The time of the year is right for planting both tomatoes and (non-violent) revolution. There are thousands of seedlings on sale literally everywhere. On the weekend, I helped out at the Port Adelaide Food Gardening Heirloom Tomato sale where I gladly helped boxfuls of seedlings make their way to their new homes in people's veggie patches.


So here's some simple tips to planting great Tommies –
Soil prep tips:
Mix some powdered eggshells into the soil. This gives a supply of calcium which is needed for strong cell walls as well as preventing the dreaded blossom end rot. You can learn about other benefits of adding eggshells to your garden here.










Mix some chopped up Dandelion leaves or Banana skins into the soil. Both of these contain heaps of potassium which is said to promote flowering, retain flowers, promote fruiting and fruit retention, giving you MORE TOMATOES. These two additives will be broken down and available by the time the plant needs them.
You can get info on how to make your own potassium rich extract in this recent post.


Planting tips:
PLANT THEM DEEP. Planting with plenty of the stem below the soil level will encourage roots to grow from the stem, giving you a more resilient plant.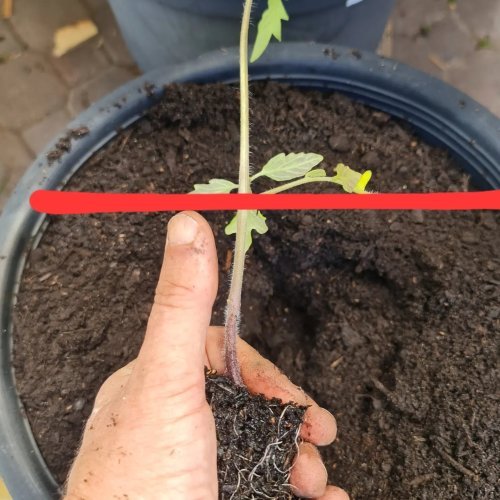 Planting the seedling at least to the depth marked by the red line will give you a healthy plant. Some folks trim off any lower leaves that will below the soil level but I just bury them.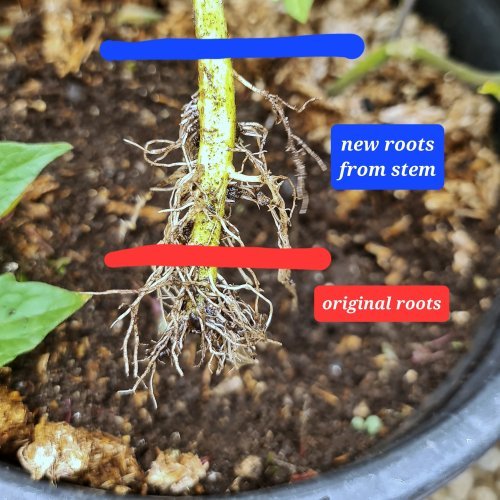 The pic above is of the original seedling roots and the new ones that have grown from the buried stem. They only took a couple of weeks but the plant will be much stronger now.


---

---