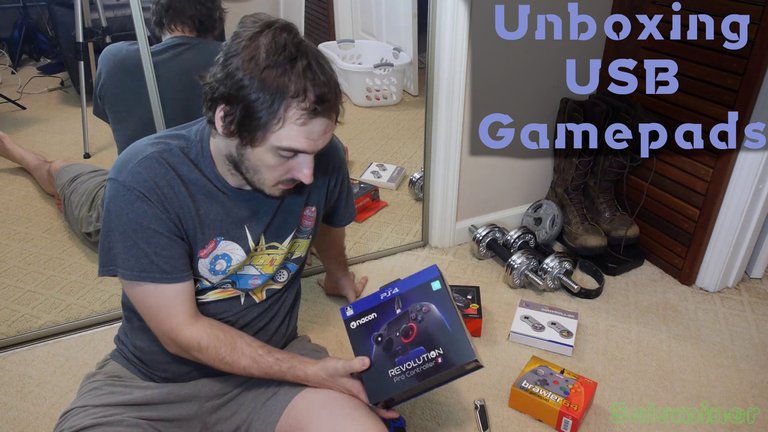 As I get more into console emulation, I find myself wanting controller layouts as close to the original hardware as possible. Buying authentic controllers meant for consoles requires extra hardware to make them work on PC. A converter is usually needed to make console controllers work on PC, and this is one extra thing to break or mess up so I am avoiding those kinds.
I focused on USB based third party controllers and found many kinds. I found some for the super nintendo, sega genesis, nintendo64, PS4 and xbox 360. By using this with the console I emulate makes it much easier to understand onscreen help with the games. For example if I am playing a PS2 game with an Xbox controller and it says on the screen to press X, I have to think which button goes to that on the xbox controller. I have been having troubles remembering which ones go to which so thought I should just invest in controllers with different layouts.
I show off a couple controllers that I have had for years, and also open some new ones I just bought. Most of them were in the range of $20 to $50 but the Nacon was over $120 making it my most expensive controller.
Having a playstation controller already seems a bit redundant. But the Sony controller has poor USB seating for gaming, and seems its just meant to charge. It supports bluetooth, but I have moved away from using wireless technology. As it seems the dongle I use every once in awhile fails to connect to the controllers and I have to reboot my computer to get it to work. Tired of doing that I now am going for wired controllers.
These controllers can also be used on PC games, which is nice as just playing on keyboard and mouse is tiring and sometimes I like to switch up the experience. Of course mouse is more accurate than the sticks on a controller. So depends on the game and the difficulty I am playing on. I guess I am so used to mouse and keyboard its something I learn more towards than a controller for that reason.
Though sometimes my wrists hurt from hovering my hand over the mouse and keyboard. So by using this system of switching I can avoid discomfort.
As I start using these controllers I will do a follow up post talking about them, but in this video I just unbox them.
Controllers shown in this video:
Retro-Bit Official Sega Genesis USB Controller 6-Button
2 Pack SNES Retro USB Super Controller Gamepad
Retro Fighters Brawler64 USB Edition
NACON Revolution Pro Controller V2
PowerA Enhanced Wired Controller
DualShock 4 Wireless Controller for PlayStation 4 - Wave Blue
---
Addresses below to help me buy better camera equipment and support me to travel to locations to do photo and video and overall great blogs in new places.
| Coin | Address |
| --- | --- |
| BTC: | bc1qhfmvd2gywg4fvrgy2kkkkyqta0g86whkt7j8r7 |
| LTC: | ltc1qdyzm5cwgt8e2373prx67yye6y9ewk0l8jf3ys9 |
| DASH: | XkSqR5DxQL3wy4kNbjqDbgbMYNih3a7ZcM |
| ETH: | 0x045f409dAe14338669730078201888636B047DC3 |
| DOGE: | DSoekC21AKSZHAcV9vqR8yYefrh8XcX92Z |
| ZEN: | znW9mh62WDSCeBXxnVLCETMx59Ho446HJgq |