Since I already know how to play table tennis, I found from playing this VR table tennis game (Eleven Table Tennis) that it is almost identical to playing real table teenis. In this series of videos I will take on the Artificial Intelligence in this game from easiest to hardest. The scale of difficulty ranges from 0 to 100. Last video I showed you that I was able to beat difficulty 0. Now it's difficulty 10. Progressively we will get to level 100!
When I'm playing the AI it feels like they responded to my spins really well. I would say human players are not as good as reading my spin as the AI. However, sometimes the AI would deliberately not get to a ball to lose against you. I guess they programmed that in so people won't feel too bad about losing. But I would say it's very hard to beat AI if you turn the difficulty all the way up. Unless you are a world champion? Just like a chess game, haha, it will be very hard to beat AI.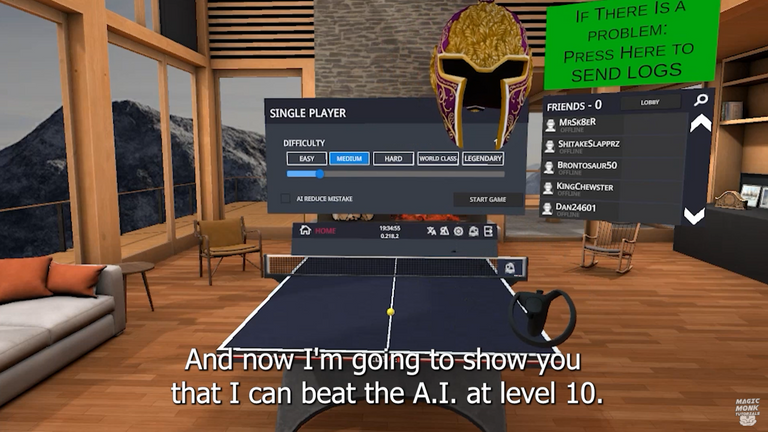 Initially I thought it would be great to play VR videos with the Oculus Quest. However my first video in this game turned out to be very shaky. This is because your head is moving around all the time and the gaming footage does not automatically stabilize, so the footage recorded natively using the Oculus Quest was almost unwatchable. I looked through a lot of Youtube videos of people playing this game and found that some of them were recording from a spectator perspective (i.e. not from the eye of the player).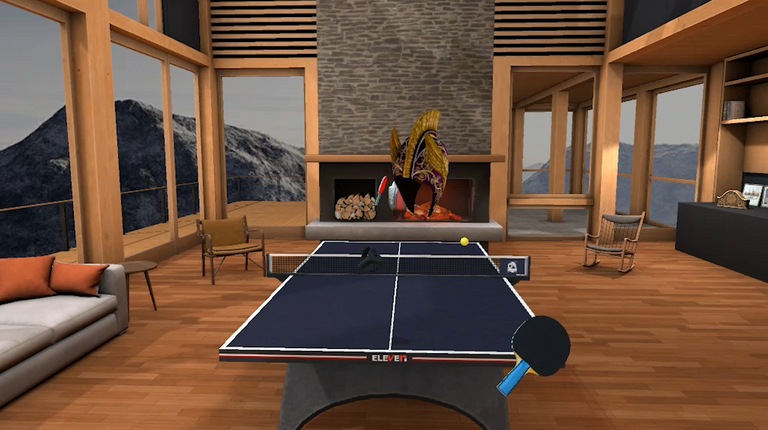 After googling several hours on how to make a video from spectator mode, I found that there is a Eleven Table Tennis Discord server that explains how to do it in their FAQ section. https://discord.gg/forfunlabs However the way they provided (using a PC version of the game to join as a spectator when you are in a room, then record from PC) is only good for recording multiplayer gameplay against other players or the ball machine, not for singleplayer AI, as you won't be inside a "multiplayer" room for another player to join in.
To make a video recording when playing against an AI componnent, I had to it on the PC version of this game, which I downloaded through the Oculus app and then played it through Oculus Quest using a Oculus Link cable. This version has a spectator mode built in, so I can spectator using PC and play on the Oculus Quest, without trying to join myself as a spectator. The cable was quite limiting and also introduced a lag, so I didn't play my best. However, still good enough to beat the AI.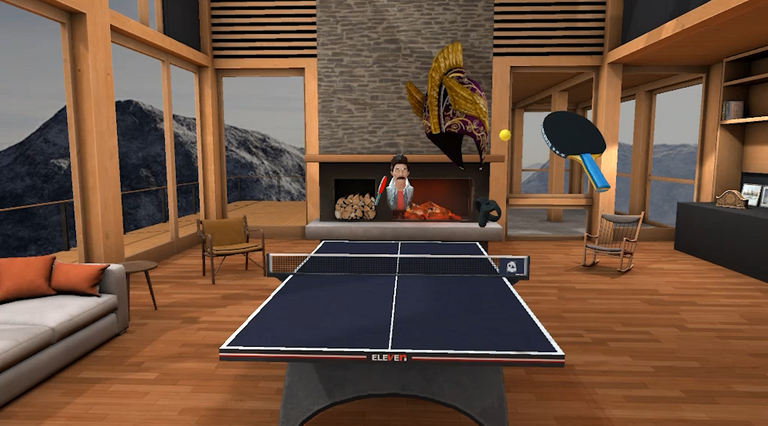 Last but not least how amazing is the view? I would love to have a house somewhere in the mountains and playing indoors in winter while watching the snow outside and enjoying the mountain view. The house looks incredible and has everything, including couches, kitchen, bed, etc. You would have to play it to get the whole experience though, as if I try to make a recording of it in VR you will get a wobbly shot.
Would love to play anyone who knows how to play table tennis. It feels just like playing in real life! Another thing I would say is that the latency is quite bad when you are playing people overseas. It's really smooth when I play against people in Australia but overseas gets difficult as the game requires nearly 0 latency to play.
---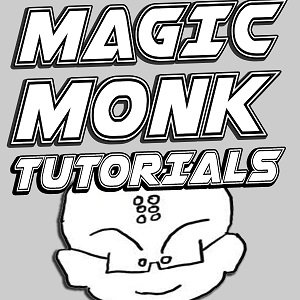 Mathematics & Digital Technologies Education

Videos, quizzes, and other learning resources

Eddie the Magic Monk has 17 years teaching experience as a high school teacher in Australia. He will explain things to you in the simplest way possible to help you fully understand high school mathematics and computer science concepts.

Eddie began his tutorial channel on Youtube in 2012. His videos have been well received all over the world and now has 27+ million views! He sees the benefit in multidisciplinary learning hence his tutorials cover topics ranging from maths to dance.

---