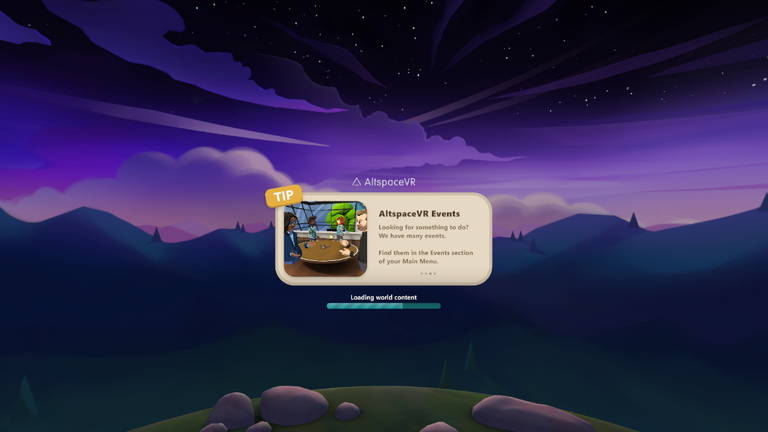 For many of us, this is our first time getting exposed to AltspaceVR including myself. I knew it since last year but only this year I am getting into it. Just a few days before Hivefest, it's best to get your setting ready and familiarize yourself with the environment. If you don't have the chance to, I am showing you some things that could help you familiarize yourself with the environment before Hivefest.
Though I downloaded altspacevr because of hive fest6 , I tried exploring everything and ended up getting hooked to it. I spent 19 hours getting to know the environment, talked to admin, moderators, and even attended a random seminar. So, today I am showing you some settings that could maximize your experience during hivefest6 and also get you hooked into AltspaceVR like I did.

The basics
The first thing that you can do is setting up your avatar. You can customize the face, the body, and the fashion that your avatar uses. As you can see from the screen below, there is an option of discover which is the tab where you can find worlds to visit and explore. Next to it, there is an event page that shows you some events that are live. There are many events in this place that may interest you from writing club to biohacker space. After that, the world is the place where you can discover places to explore and it's made by other users. Festival is for important events from altspacevr and the me tab shows our avatar and settings shows more settings of display, audio, and in game settings.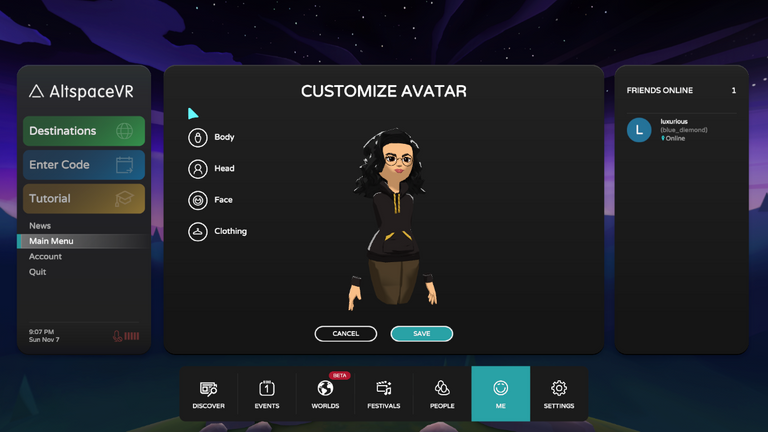 For example below, I clicked on tab events and it will show all events happening in the week. You can see below, there is Hive fest2 scheduled and 69 people are interested in attending it.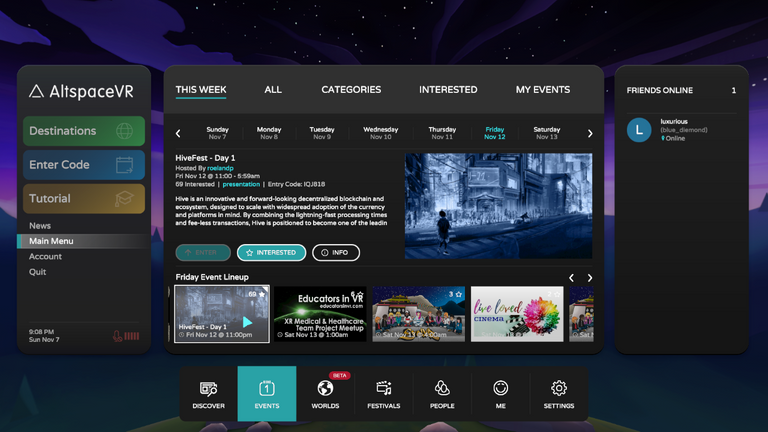 The other one is worlds which are still in beta.You can enable this option from settings- general- click on enable beta worlds. From this, you will see the options such as below :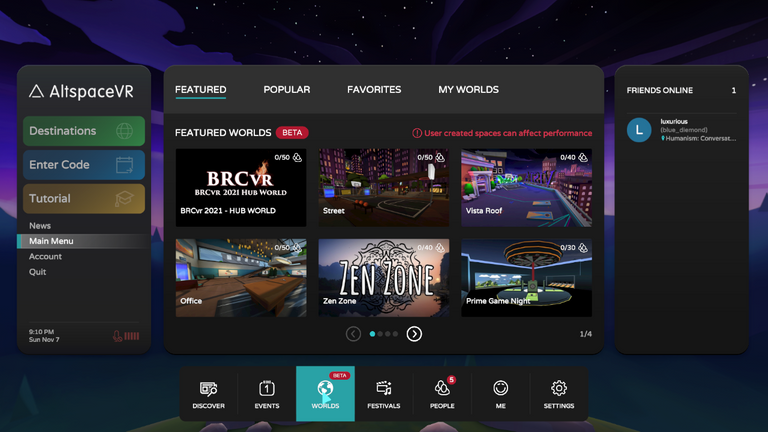 There are many worlds to explore in this space that may interest you. I joined some and it was a karaoke stadium where users can go there and sing karaoke. It was fun!

The settings
When I first joined the space, I had an issue with my headphones. I talked to people around the campfire that you can find in the discover tab. One of them told me a setting that helped me a lot. But first, let's familiarize ourselves with the general settings.
General settings
From this setting you can enable a username tag that allows people to see your username. Then, enable the open worlds beta to discover more worlds. The comfort page shows some settings that could be convenient. In the input page, you can see fly options which if the world is enabling fly option, you can enable that and you can fly around to places. Fun isn't it?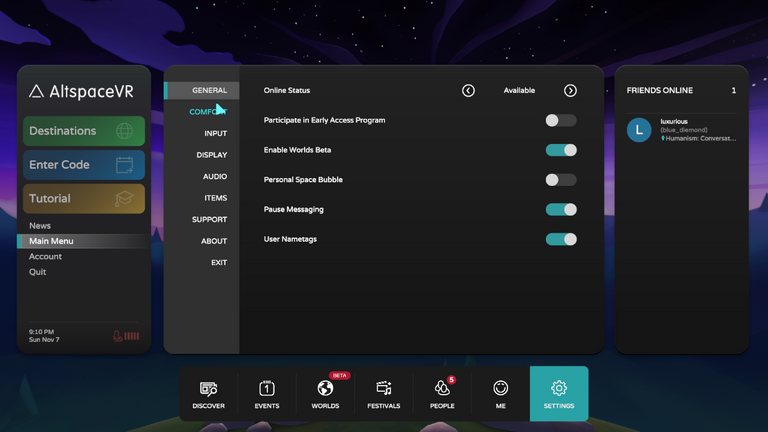 Audio Settings
Now the audio settings is where I think is most important for many of us who are attending the altspacevr in 2D experience. You can see below that I set the echo and noise low and the sensitivity low. So that others won't catch up to the noises that are around me and just focus on my voice.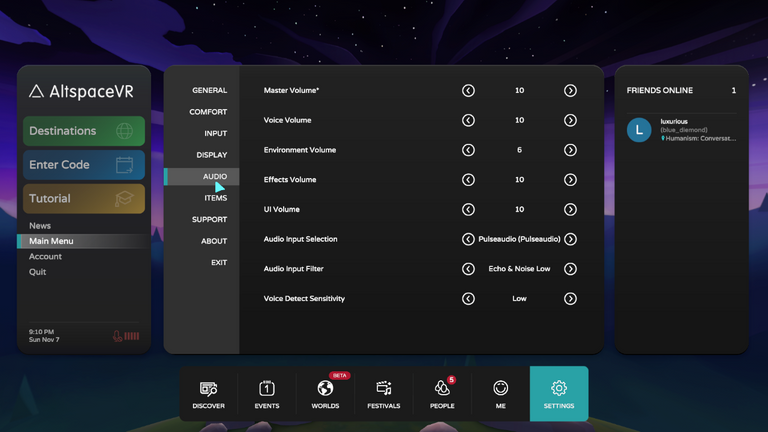 The Campfire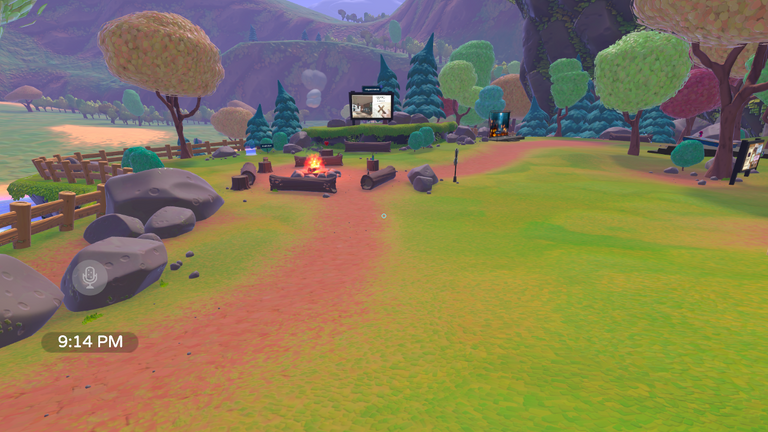 After everything is set, let me show you around the campfire. This is a default place where you can meet others randomly and strike a conversation. Altspacevr is heavily moderated and other people could hear your conversations. So, it's better to avoid private conversation in this place. Though, I found some people like to ask, " where are you from?" and some rather personal matter.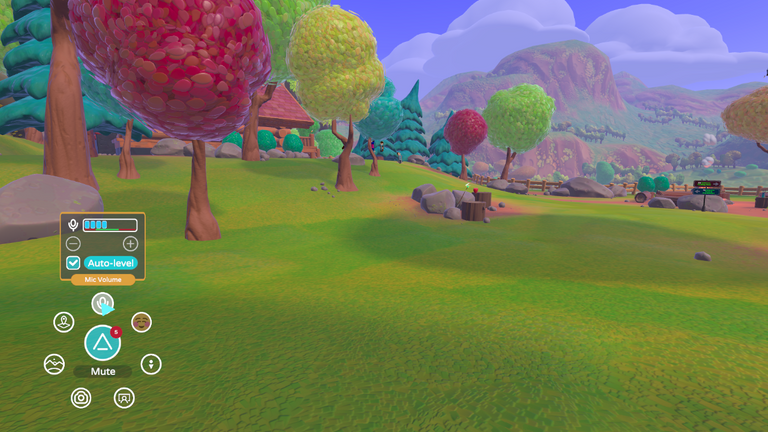 By default, you can see the triangle with some options to it. If you click on it, it will take you to the settings that I explained earlier. Other than that, there are mic buttons, selfie camera, camera, emoji, buble space, and you are here. If you are in a place that organizes seminars, you could rate it.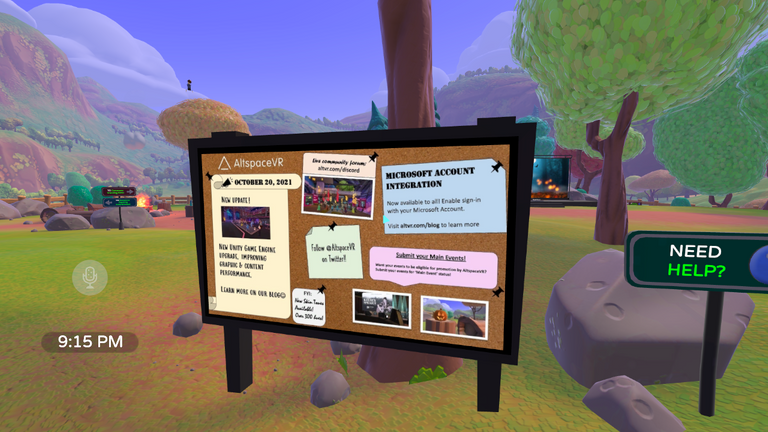 Around the campfire there are some billboards that show the announcement and important events. There are also some mini throwing games that you can do in this game. Oh, not to mention endless marshmallow that you could grill.

How to teleport and move around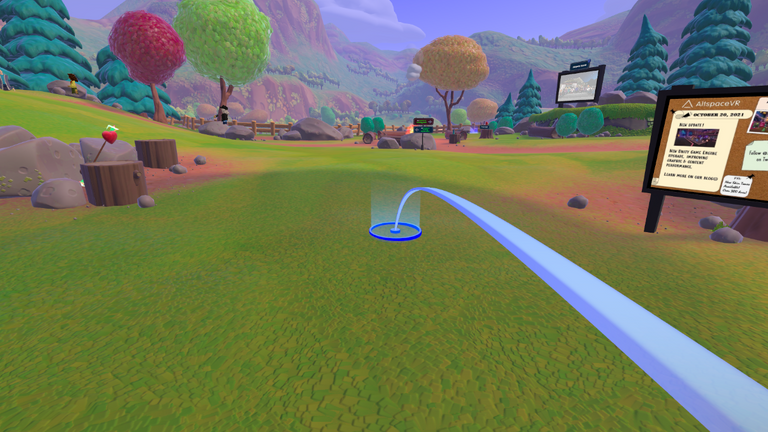 The basic move around is the WASD keys or up down left right. However you can also press F and aim with your mouse to teleport to many places even above the trees to be in a more private place. This option is also faster to move around places. This comes handy and you should try it out.

My experience spending more than 15 hours on altspacevr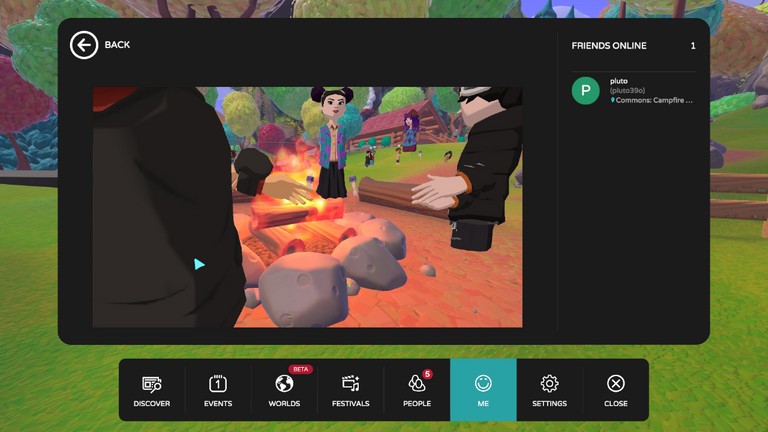 From getting asked to help someone with their homework to sharing information about NFTs and Metaverse.
If you are only going to use AltspaceVR for hive fest6 , you should consider checking it out for other things too. It is a nice place to socialize if you are bored and want to learn something new. There are many users from all over the world who are either interested in getting a job in the US to simply music and technology. If you are lucky, you could hear someone play their saxophone or other instruments in this game. I made a few acquaintances/friends from this game. We explored the place together and shared information about NFT and the world of metaverse. Not all people can be respectful, so it's just the matter of knowing your boundaries and information you are comfortable sharing.
The second time I was here, I learned how to organize an event. I attended an event called English conversational events. The organizer was a user called Carnegie who is an educator and was willing to talk to me about how I can make slides and do presentation in front of an audience.
He showed me how I could do it from a slide share and the buttons that are available in game. There are some paid and free versions to do it. I told him that I would like to organize an event too, especially about book clubs in this space as I talked to many in the campfire that it would be nice to have one like that.
In less than 24 hours, I have already made some friends, understood the basics of this game, and attended some events. Once you get the hang of it, being in this space can hook you in because it really is nice especially these days when we can't go out much. From many I talked to, it also offers alternatives to them to meet up and have movie night. I also heard that if you use VR you could actually feel it when someone touches your hand. With VR it is more lively and that reason alone made me want to get a VR headset because of the ability to do so much more than just point and click.
I hope this helps you get more basics of this video game. It's interesting to me how this is marked as a video game which is the reason why I post it on hive gaming as it is where it seems to be fitting. Perhaps because in this space you could create board games and play mini games too. See you in Hive Fest 6 too !

Don't hesitate to upvote for more content like this !

---
| | |
| --- | --- |
| | Mac is a jack of all trades. A typical introvert in love with literature, books, technology and philosophy. She is also so into nootropics, productivity, minimalist lifestyle, cybersecurity, and languages. Other than that, she is passionate about cooking and traveling. In her free time, she enjoys learning various things. If you like her content, don't hesitate to upvote, leave a comment or a feedback. A re-blog is also appreciated. |