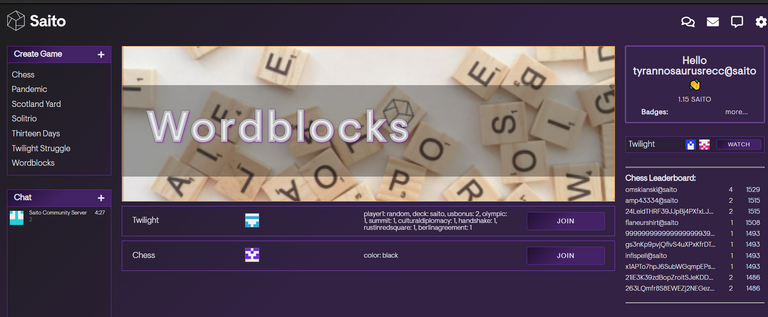 ---
The Saito Arcade is the flagship application on the Saito Network alpha. If you want to learn more about the underlying blockchain technologies you'll have to visit our official site for more info.
As mentioned above, we are still in the alpha stages of the network but the Arcade is fully working and there you can get a nice taste of all our blockchain features, including in-browser mining when playing games, essentially rewarding the players that generate transactions for the chain. Of course these tokens hold no value yet as we are still in alpha but the official release is at some point late this year.
We are a bunch of geeks at heart over at Saito and we have focused mainly on porting board games into the blockchain! Right now our crown jewel and the one game that brings us the most activity is Twilight Struggle.
Twilight Struggle is the one game where I have invested the most time since discovering Saito. You spend the whole game in a push and pull between the soviet union and the united states in a bid for world domination while also juggling DEFCON to prevent a nuclear war while doing political intrigue moves across the globe, doing coups and covert operations! It's engaging but not too complicated, making it a pretty balanced boardgame!
But we also have a couple of other games available in various states of development like Pandemic, Scotland Yard, Thirteen Days, Wordblocks, and more!
So what can you do right now? You can hop in, have some fun with our community, and start learning the ropes so that you're ready to play and earn when we officially release! We will have a fully-fledged referral system as well so you'll be able to take advantage of inviting all your friends to play as well!
---
Check These Out:
Trade Hive on Binance
Follow me on Twitter
Earn BTC Cashback with your Online Purchases using Lolli
Find me on Telegram
Come Play Some Games on the Saito Arcade