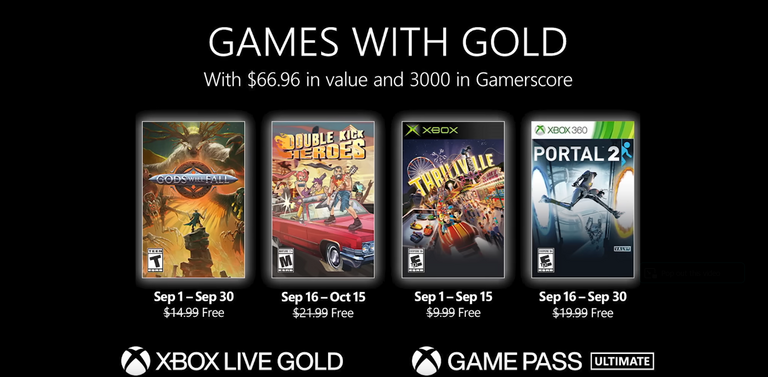 A couple of months ago, a headline was making the news about Microsoft annoucing the end of Xbox 360 games on the Games with Gold service via Xbox Live Gold, which is also available to all Gamepass Ultimate subscribers.
While this sounds inconsequential, it is ultimately the end of an era as Xbox 360 games were the only ones via Games with Gold where you could still access the game after your subscription ran out, not to mention that not getting anything new on the vast library of incredible 360 games available through retrocompatibility is a damn shame, specially when the Xbox One or next gen options have been underwhelming to say the least.
This month's selection is not really particularly bad, with the stellar Portal 2 taking the crown as this month's best game. Something I've played for hours on PC on both single-player and co-op, it'll be great to have an excuse to experience this again.
But... A part of me can't help but feel a little disappointed, I was hoping this would've been a big send off to Xbox 360 titles on GWG, maybe with more titles available and a couple of re-runs throughout the month.
It's pretty inconsequential for most users, but for those who cared, it's quite sad.
There's also the question of what'll happen to the void left behind by the discontinuation of 360 games giveaways. Will there be more recent titles included? Perhaps more classic Xbox games? Or will Microsoft just keep it at 3 titles and call it a day?
It's hard to complain about GWG right now with Gamepass being the current huge thing it is, but I feel reducing the selection of GWG titles entirely would be a little odd. It's been like this for as long as I can remember, and taking 360 games now to leave that spot empty would not make sense - both in the value proposition for GWG and for good faith of the customers.
Only time will tell however, and next month we'll get our answers. Hopefully the right thing is done here, if not I'll be at least a little disappointed.