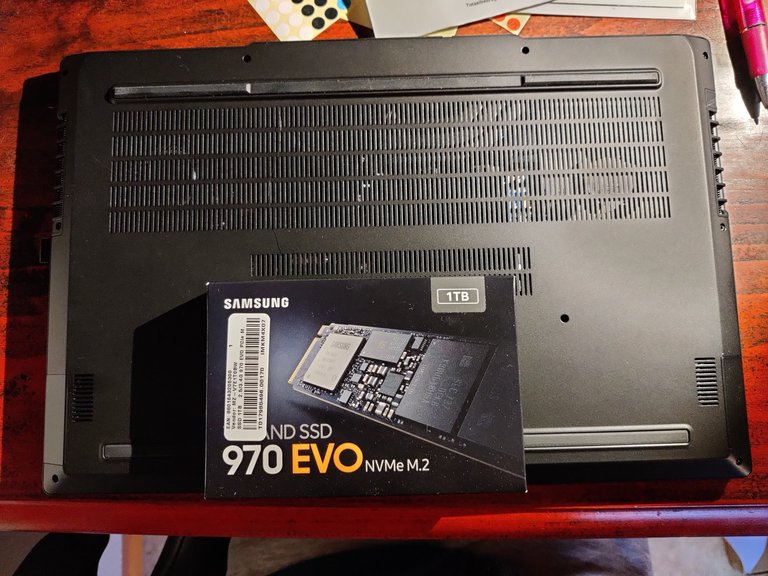 Black Friday isn't really that big a deal in Europe at the moment. Although there are the usual online shops and retailers having sales, the local shops don't really do that much with it. They have Black Friday sales, but they are really a bit of a non-event... usually with discounts of around 5% or something like that. Not really the sort of discount that gets you to drop your hard earned money on an impulse buy...
However, in the tech stores or the multinational webstores, there can be an occasional decent discount to be found... especially if it is something that you have been holding off on purchasing as it isn't urgent but would be a nice buy if it came in pretty cheaply.
Since the purchase of my new laptop, I've been trying to decide whether or not to populate the second M2 SSD slot. XMG has decent prices on the configurations at initial purpose, but I didn't want to really spend on storage expansion at that point in time... and these things tend to drop in price a year or two later as newer models of tech come out. These days, most things in the last generation or two are more than good enough!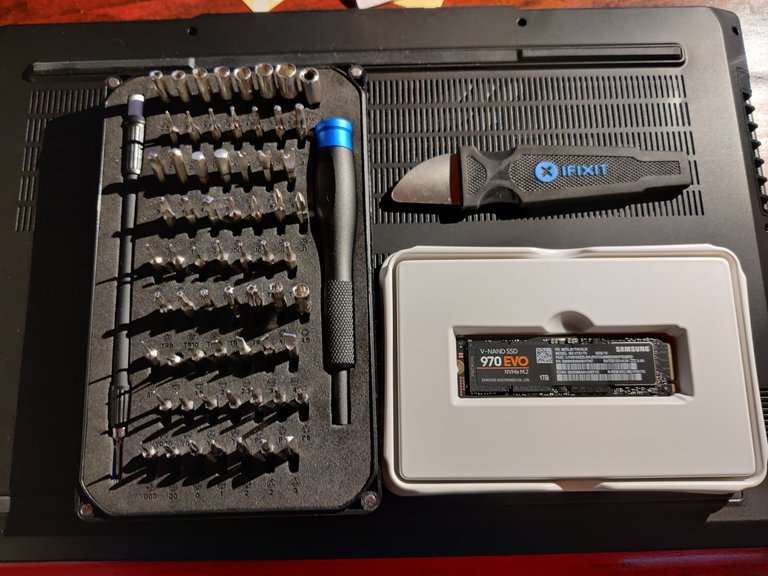 But when I saw the Samsung 970 (1 TB) Nvme M2 stick go on a really nice discount, I figured that I may as well pick it up to bring the laptop to a healthy 2 TB of SSD storage... more than enough for gaming and recording backups without needing to constantly prune files.
So, the XMG laptops are designed to be pretty easily user accessible... so a M2 drop-in is less than half hour's work with trusty iFixit kit. Just 10 backplate screws and you are ready to go!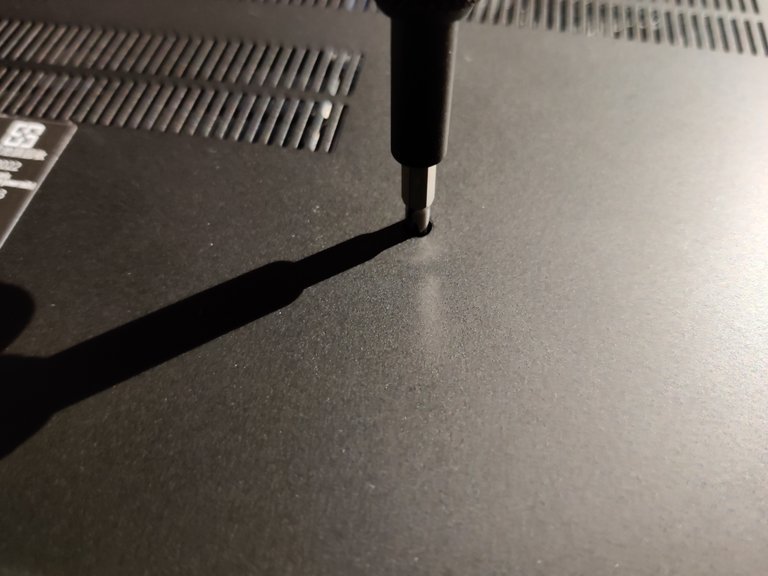 ... and trust me, the iFixit kit is truly stellar. The nice selection of different heads and the comfortable turning mechanism makes it a must have for any tinkerer. Plus, the heads are magnetic... which is something that you really appreciate when trying to get screws out of tiny spaces!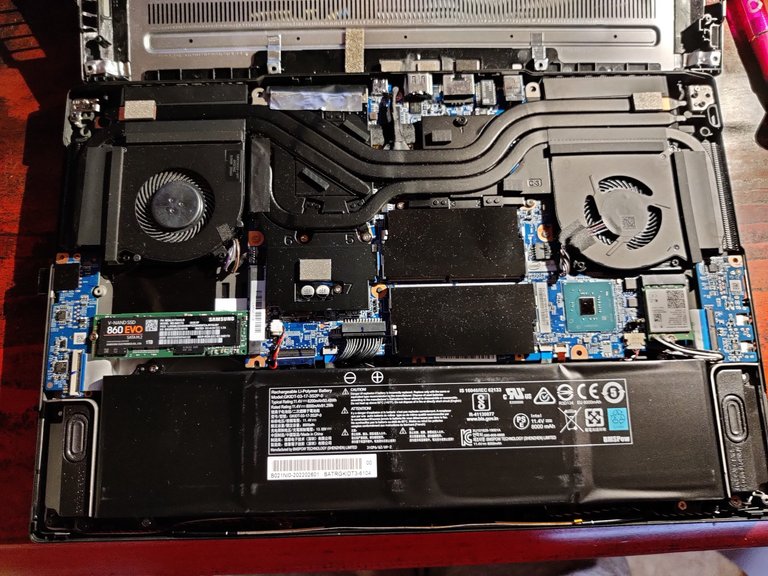 Actually, physically removing the backplate is always the part that I really hate doing for the first time. I like to take a quick look at an online video or manual to double check that there are no retaining clips on the inside that need to be deftly managed. It is all on the inside, so it can be easy to snap those things if you don't know that they are there... or maybe sometimes they just need to be coerced with a little bit of pressure.
So, there is the unpopulated M2 slot on the left under one of the cooling fans. It's nice to see that the battery is only screwed down and not soldered/glued, which will make for easier replacement in the future. Easy access to the RAM slots as well... although, at the moment, I have no real need for more than the 16 GB (8x2) sticks that are already there.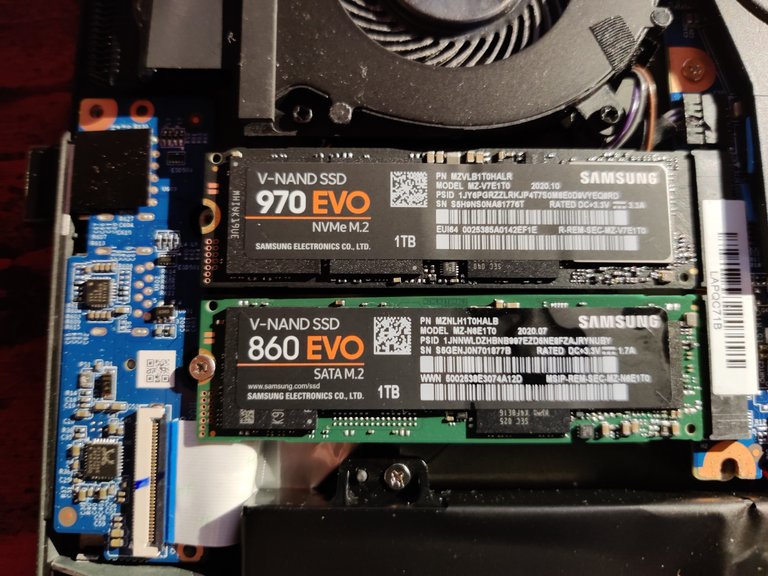 ... and when you think you have a simple job... things go wrong! As you can see on the top... there is no retaining screw. It should have come with the laptop, but for some reason they forgot to put it there... on the other hand, they could just package an extra one for a cent or two in the SSD package as well! Sigh... these things are not the sort of sizes that I have lying around without cannibalising something. I don't really want to buy a pile of them just to use one!
However, I do live near a light industrial area, and that means that there are some commercial electronics and computer repair shops close by. That means leaving the house and going for a walk... not really something that I had planned on.
Unfortunately, the first two shops that I went to were empty and dark (this was during the week...). Not sure why, but maybe they just have offices there are not the actual repair shop? The last one was a really nice computer and electronics repair centre... it would be really cool to work there! Anyway, there was a lady out the front stacking boxes and I asked if they happened to have a M2 SSD retaining screw that I could take or buy.... she told me that it wasn't a store, and that I should go to a shop instead. I tried to explain that the technicians should have a bucket-load of these little screws... and eventually she said that she would send the owner out.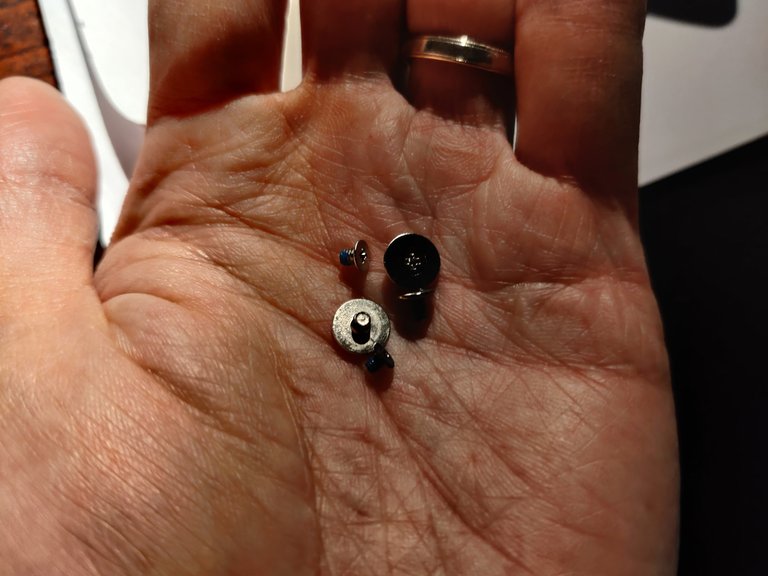 The guy was really nice! He said, no problem and went in a gave me a handful of screws of slightly different sizes. I knew that I only needed one of them... but he said take them all, just in case.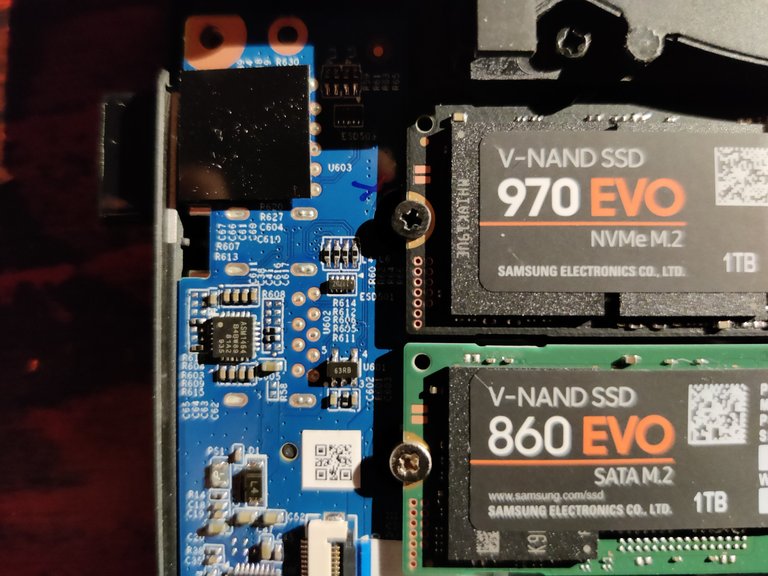 Technically, you don't need to have the retaining screw... but seeing as it is a laptop and likely to be being bounced around a bit... it would be really annoying to have the SSD unmount itself or start rattling around inside the case.
A quick format and it was ready to go (after closing up the laptop). So, now I find myself in the funny position of having a SATA boot drive and and MUCH MUCH faster NVME SSD as the storage... still, for the use case of games and recordings, the difference between the two isn't really that much.... maybe a handful of seconds on load screens or large file transfers.
Time to download my entire STEAM library!

Splinterlands (aka the best blockchain game out there!)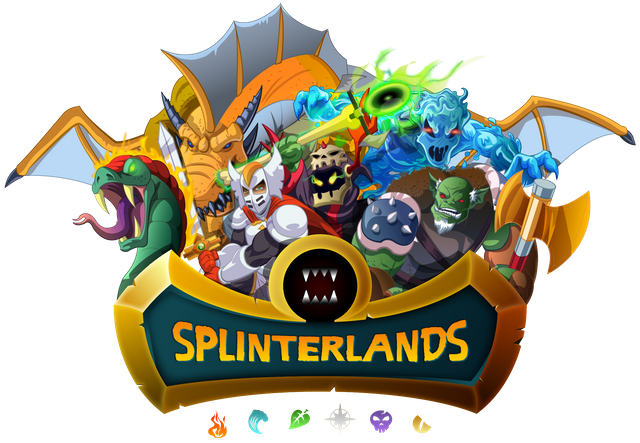 Have you heard of Humble Bundle? It's a place to get some really great deals on Games, e-books and comic bundles. However, if you sign up for a Humble Bundle Subscription (12 USD per month) you get some really nice bonuses!
A 100+ USD bundle of games delivered direct to you each month, redeemable on Steam, Uplay or direct download (depending on the game). This includes recent Triple A games!
Access to the Humble Bundle "Trove", a list of 60 games (and growing...) which are free to play as long as you remain a subscriber!
Additional Discounts on the Humble Bundle store, with the choice of supporting charities, Humble Bundle or developers in whatever percentage that you wish!
Humble Bundle Subscriptions, it's a no brainer for the dedicated gamer!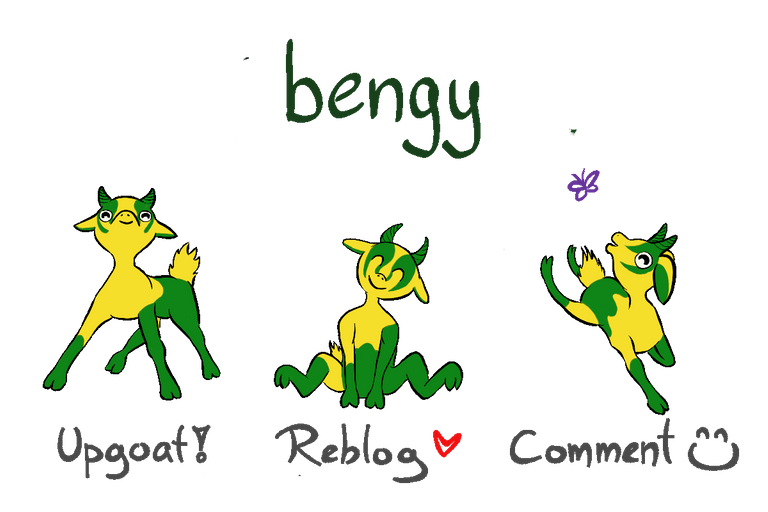 Upgoats by ryivhnn
Account banner by jimramones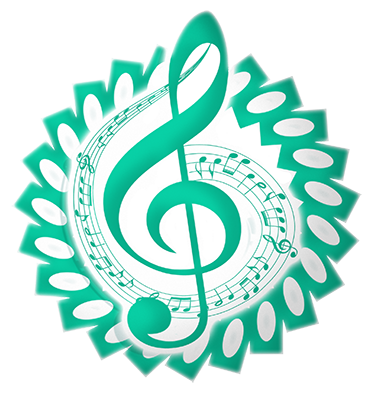 The classical music community (Subscribe at Steempeak and Peakd) at #classical-music and Discord. Follow our community accounts @classical-music and @classical-radio. Community Logo by ivan.atman