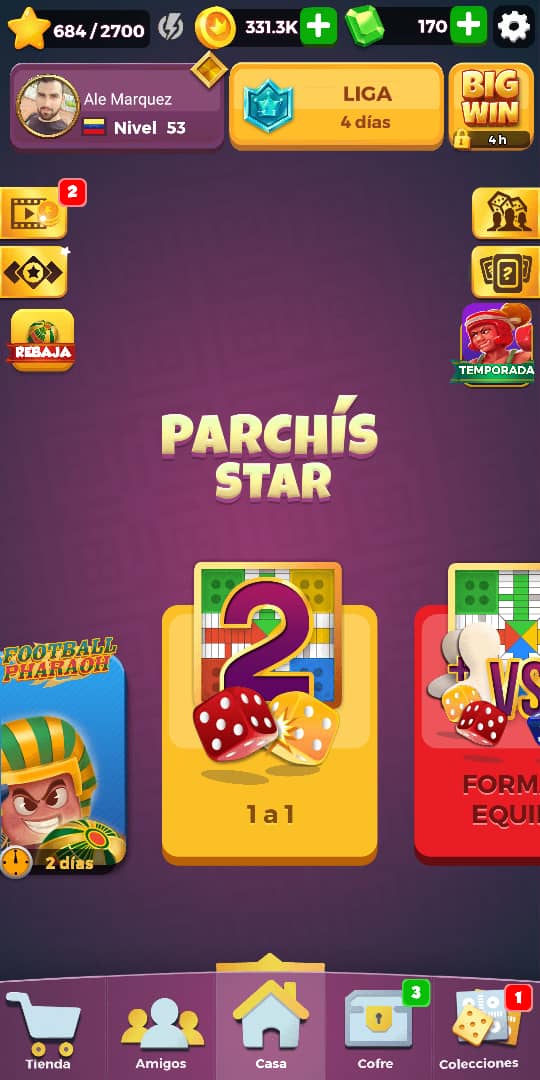 Hello to all hive friends, I hope you have a great day. Today I bring you this classic game, how many of you have not played this game with your friends and family? Remember those family Sundays at grandma's house or aunt's house where we could play this entertaining game. Now we can play it from our cell phone in our Play Store we can find it as Parcheesi Star.
Hola a todos amigos de hive, espero tengan un excelente día. El día de hoy les traigo este clásico. ¿Cuantos no han jugado este juego con sus amigos y familiares? Recuerdan Esos domingos familiares en casa de la abuela o casa de la tía donde podíamos jugar este entretenido juego. Ahora lo podemos jugar desde nuestro celular en nuestras Play Store podemos encontrarlo como Parchís Star.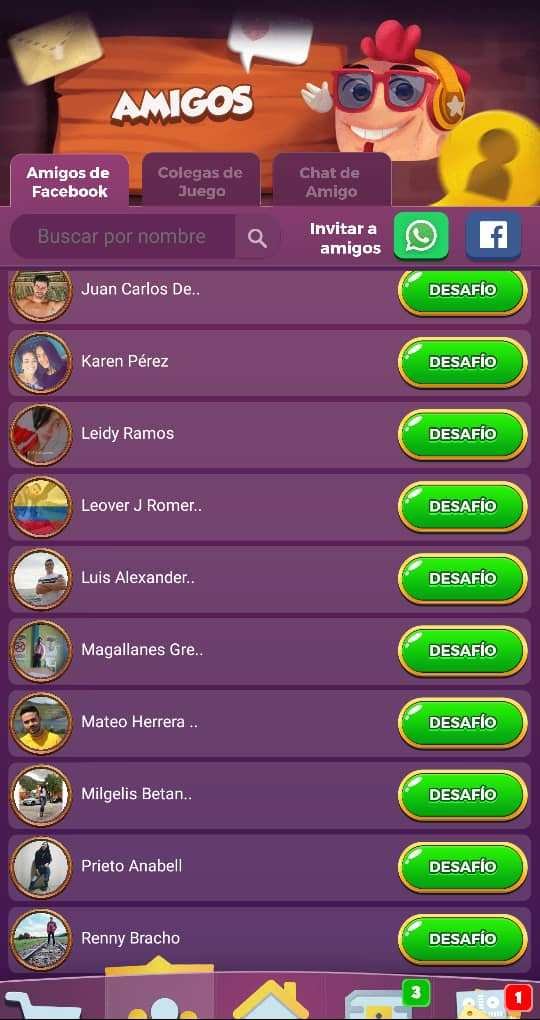 I have been playing it for a while now and I really find it entertaining. It is an online game that you can play with people from all over the world. But also with your friends and family.
Desde hace un tiempo lo he jugado y realmente me parece entretenido. Es un juego en línea que puedes jugar con personas de todo el mundo. Pero también con tus amigos y familiares.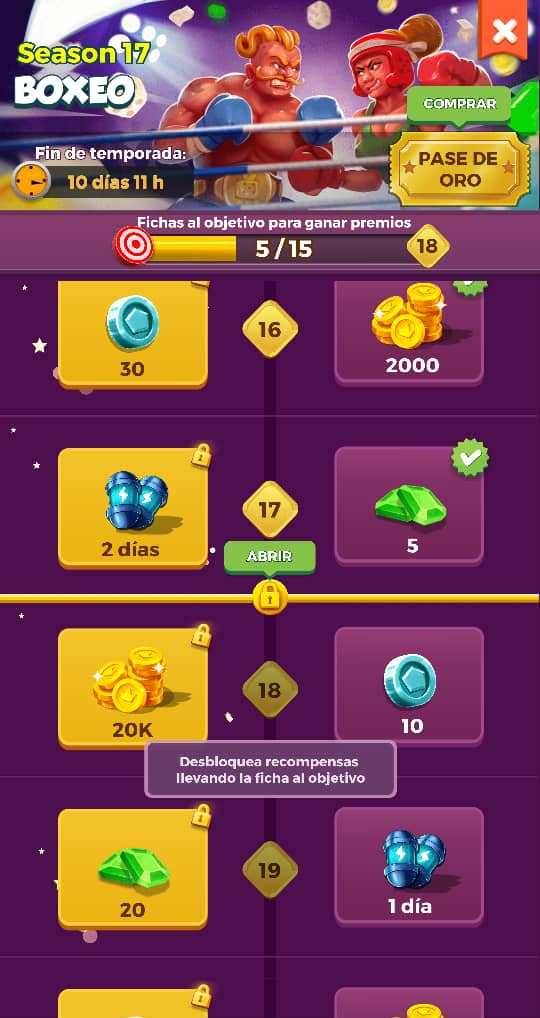 Every week they have tournaments for you to win fun prizes, and they also have monthly seasons in which they give you prizes for every fifteen chips you reach the goal, they give you gifts. This month's season is the seventeenth which is boxing themed.
Todas las semanas realizan torneos para que ganes divertidos premios, además mensualmente realizan temporadas en las cuales te van dando premios para ello por cada quince fichas que lleves a la meta te dan obsequios. La temporada de este mes es la diecisiete la cual es con temática de boxeo.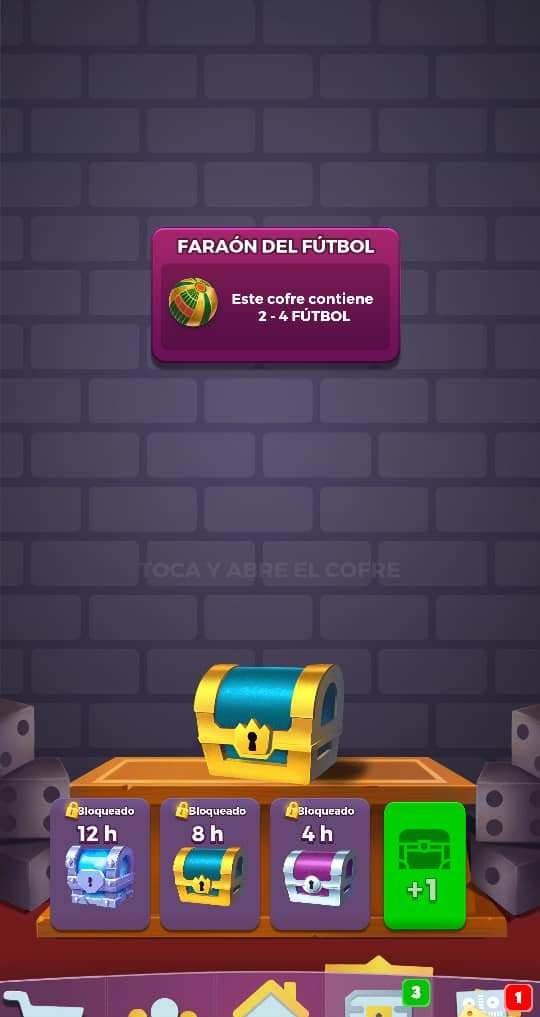 Also for each of the games you play and win you will get a chest, there are three types of chest, which have a time limit to open them, one that opens at four hours, another at 8 hours and another at 12. The crystal chests are the best and give the best rewards; all the chests give you dice and prizes to compete in the championship of the day.
También por cada una de las partidas que juegues y ganes te darán un cofre, hay tres tipos de cofre, los cuales tienen un límite de tiempo para poder abrirlos, uno que se abre a las cuatro horas, otro a las 8 horas y otro a las 12. Los cofre de cristal son los mejores dan las mejores recompensas, todos los cofres te dan dados y también premios para competir en el campeonato del día.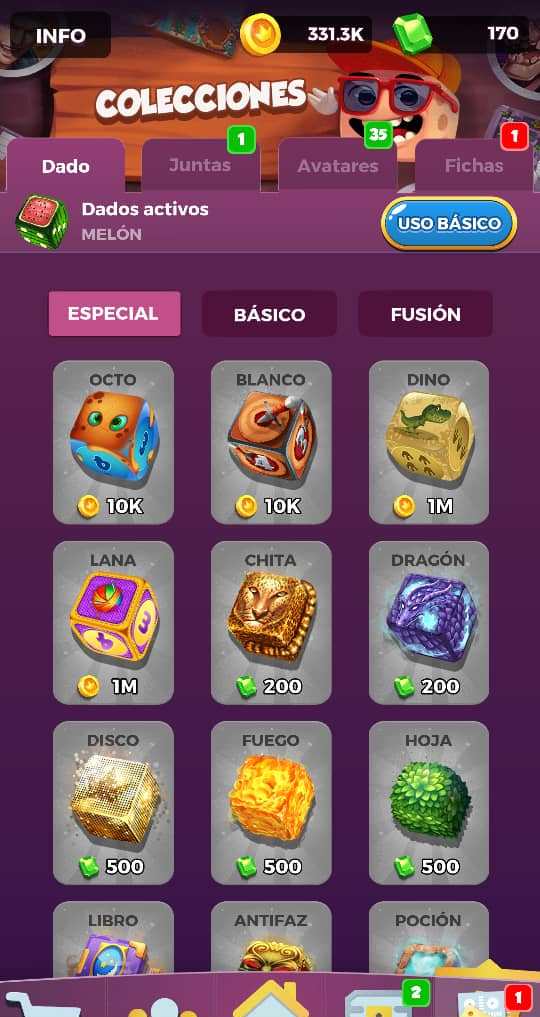 The dice that the chests give you go directly to your collection; you can find special dice, basic dice and fusions.
Los dados que te van dando los cofres van directo a tu colección, los que puedes encontrar dados especiales, dados básicos y fusiones.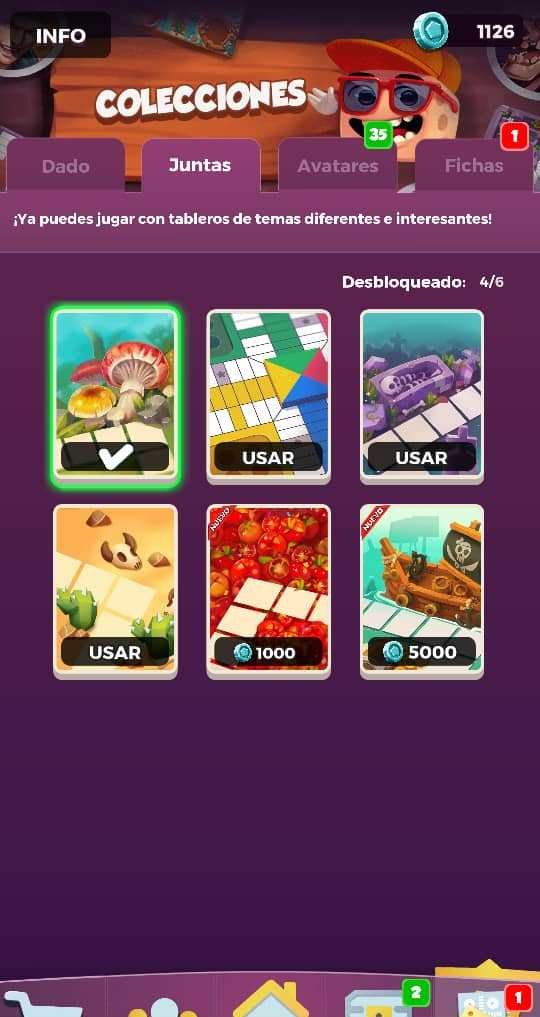 But besides that you will find what are the boards or better known as board which you must collect coins to acquire them. I have already got almost all the boards, I only need two more.
Pero además de eso encontraras lo que son las juntas o mejor conocido como tablero el cual debes reunir monedas para poder adquirirlos. Ya he conseguido casi todas las juntas solo me faltan dos.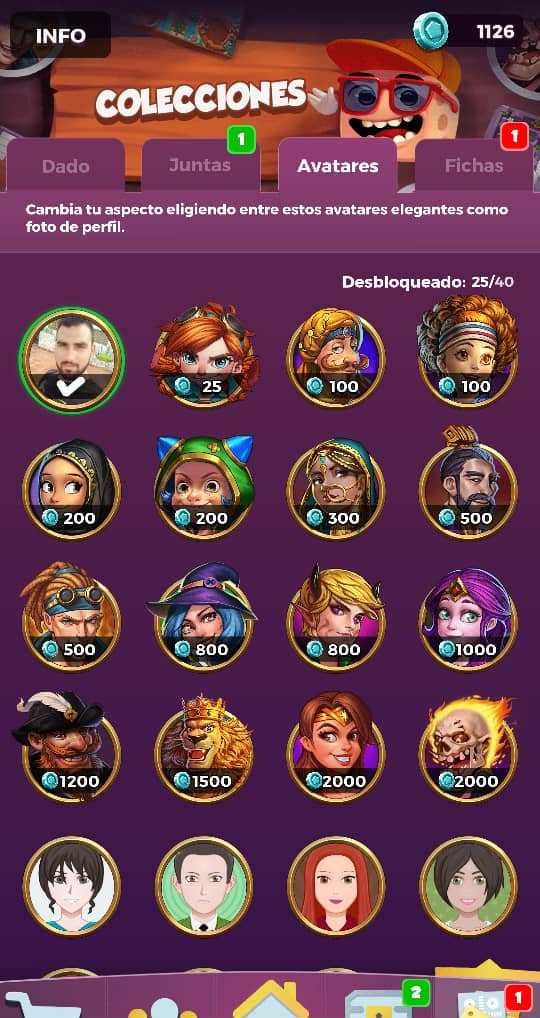 The avatars are the images that you choose to be seen in your profile while you are playing. In my case I use my Facebook profile picture.
Los avatares son las imágenes que eliges para que se vean en tu perfil mientras estás jugando. En mi caso yo utilizo mi foto de perfil de Facebook.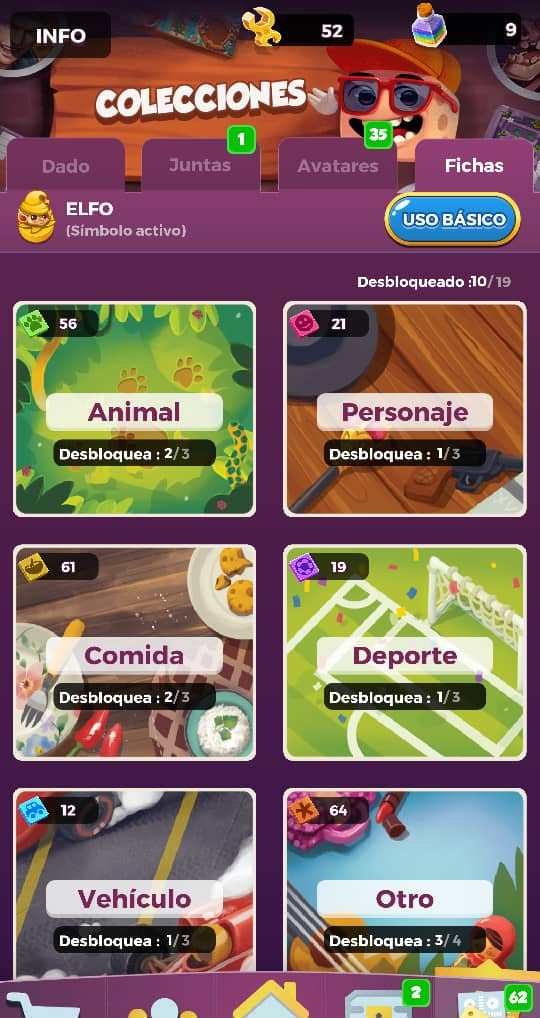 Finally there are the tokens; there are different types you can find animals, characters, food, sports, vehicles, among others. I am currently using one of an elf.
Por ultimo están las fichas, hay de diferentes tipos puedes encontrar de animales, personajes, comida, deportes, vehículos, entre otros. Actualmente estoy utilizando uno de un elfo.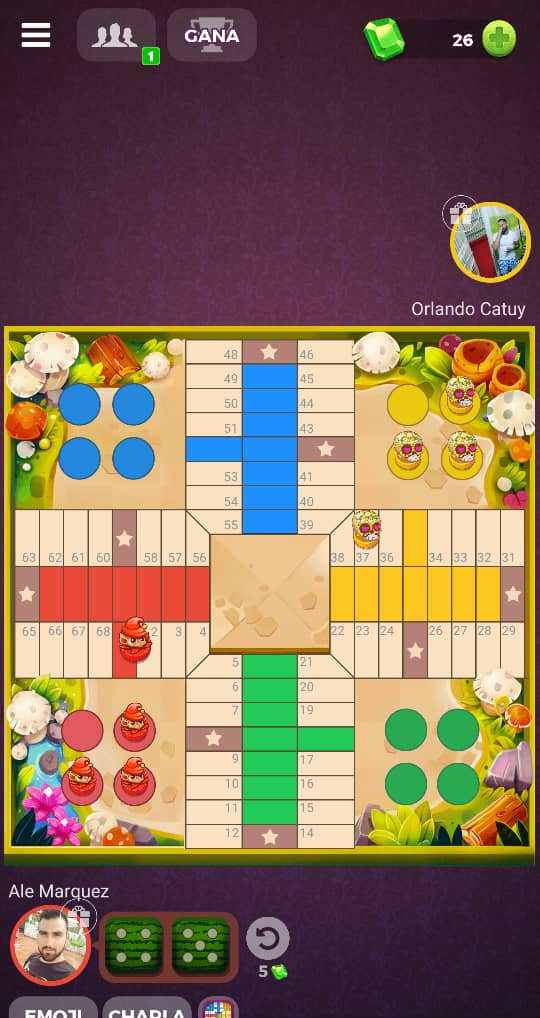 Now it's time to play, first I will play an individual game, my opponent was a guy from Panama, and in this game you use two dice. To draw your chips you must roll a five. Or numbers that added together give you five. Even when you roll the dice and they land doubles this allows you to roll the dice one more time.
Ahora muy bien ha llegado el momento de jugar, primero jugare una individual, mi contrincante fue un chico de Panamá, en este juego se utilizan dos dados. Para sacar tus fichas debes de sacar un cinco. O números que sumados te den cinco. Igual cuando tires los dados y caigan dobles esto te permite volver a lanzar los dados una vez más.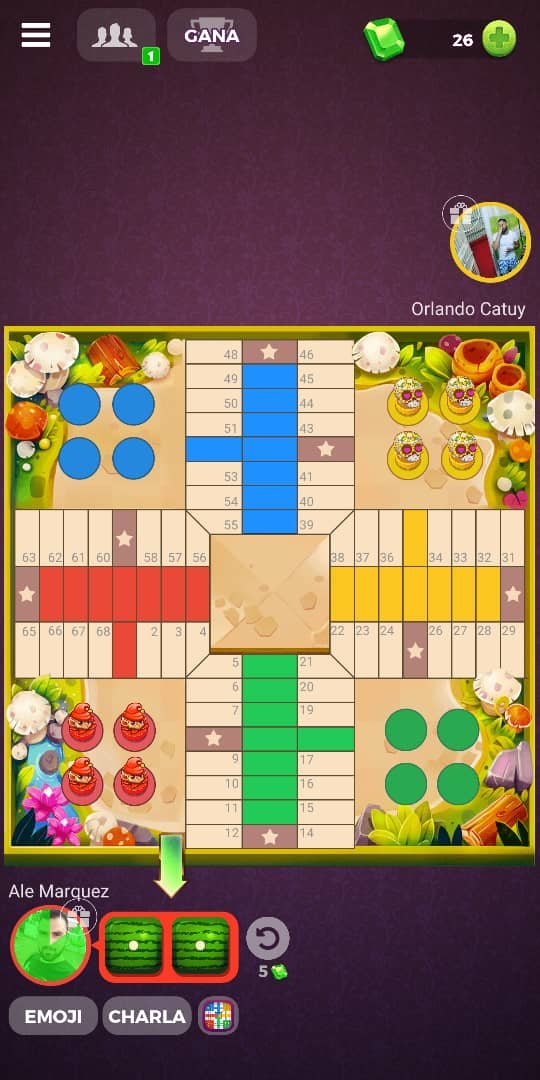 When you take the tiles to the goal for each one you receive a reward of ten moves for taking the tile to the house. Likewise, when you eliminate one of your opponent's checkers you receive a reward of 20 moves.
Cuando llevas las fichas a la meta por cada una recibes una recompensa de diez movimientos por haber llevado la ficha hasta la casa. De igual manera cuando eliminas una ficha de tu contrincante recibes una recompensa de 20 movimientos.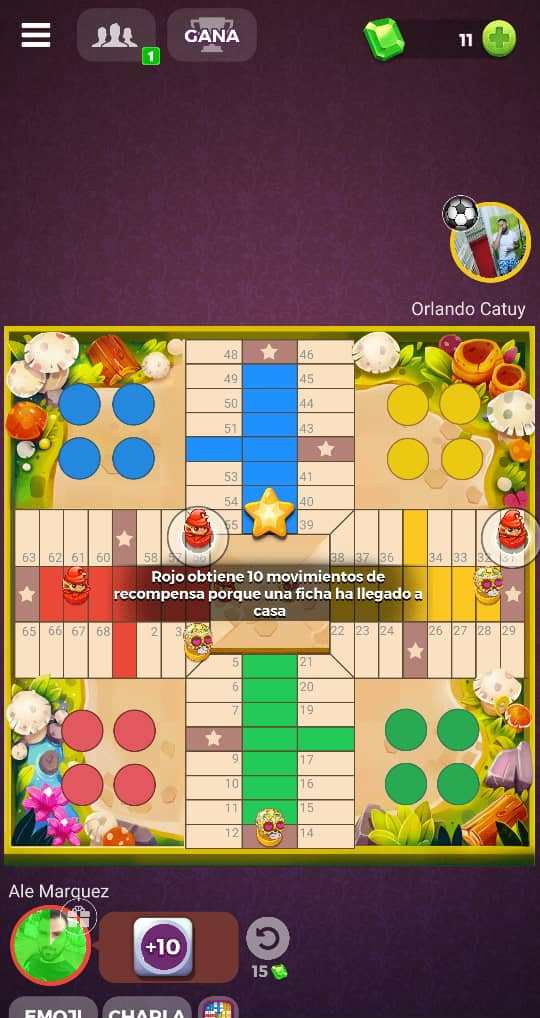 Today I was lucky I won!
El día de hoy estuve de suerte he ganado!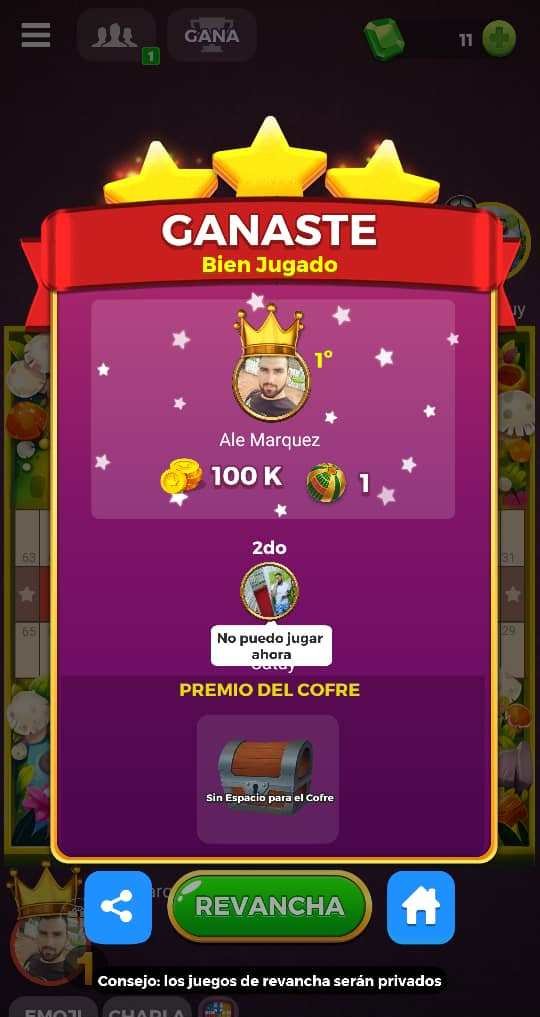 You can also play team games, you can choose a random partner or you can invite to play one of your connected friends, this time I chose a random partner, it was a girl from Mexico, and our opponents from Colombia and Ecuador.
También puedes jugar partidas en equipo, puedes elegir un compañero al azar o puedes invitar a jugar a uno de tus amigos conectados, en esta oportunidad elegí un compañero al azar, era una chica de México, y nuestras contrincantes de Colombia y Ecuador.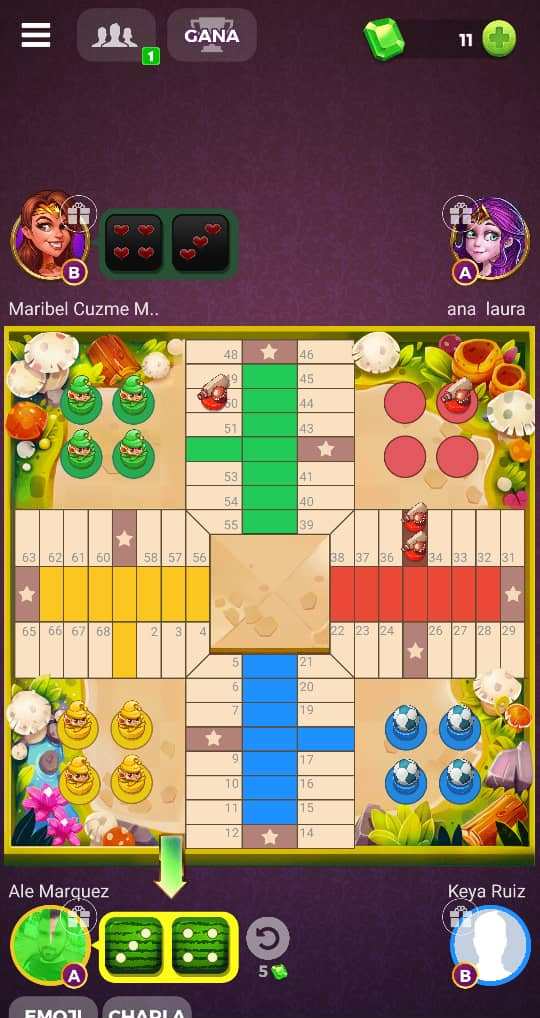 In this type of game, in order to win, both you and your partner must take all the tiles to the finish line. When the first one to take his four chips to the finish line, then continues playing helping his teammate.
En este tipo de partida para poder ganar tanto tu como tu compañera deben de llevar todas las fichas hasta la meta. Cuando el primero que lleve sus cuatro fichas a la meta, luego sigue jugando ayudando a su compañero de equipo.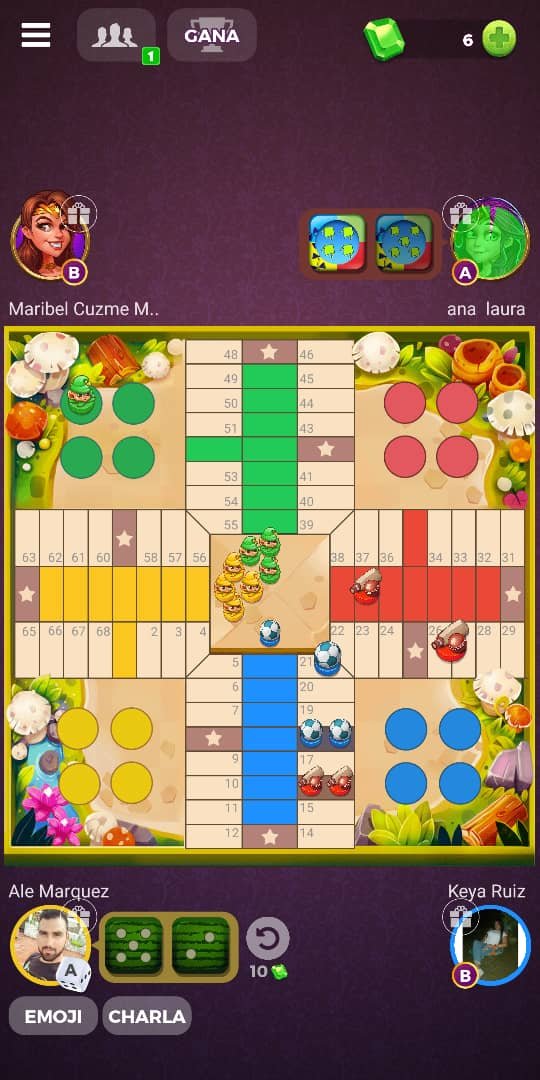 In this opportunity I was the one who took his four pieces to the goal and helped my partner with hers and we were the winners. I invite you to play this classic game, it is very nice and you spend a different moment.
En esta oportunidad fui el que llevo sus cuatro fichas a la meta y ayude a mi compañera con la de ella y resultamos los ganadores. Los invito a que jueguen este clásico es muy agradable y pasas un momento diferente.