August has closed itself upon us, welcoming the new month of September. We are continuing our program of rewarding our members and participants as outlined here. September 1st was the day that these and other monthly rewards have been sent out. Rewards for posts and successful referrals have already been sent out throughout the duration of the month.
We've also reached 200 members today! This means that we've quadrupled our membership in a span of <3 months – amazing.
The Rewards Sent Out on September 1st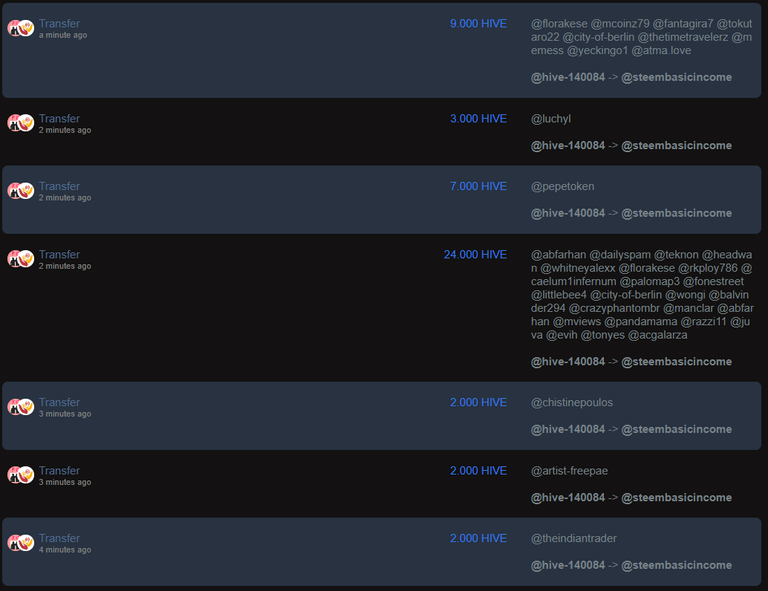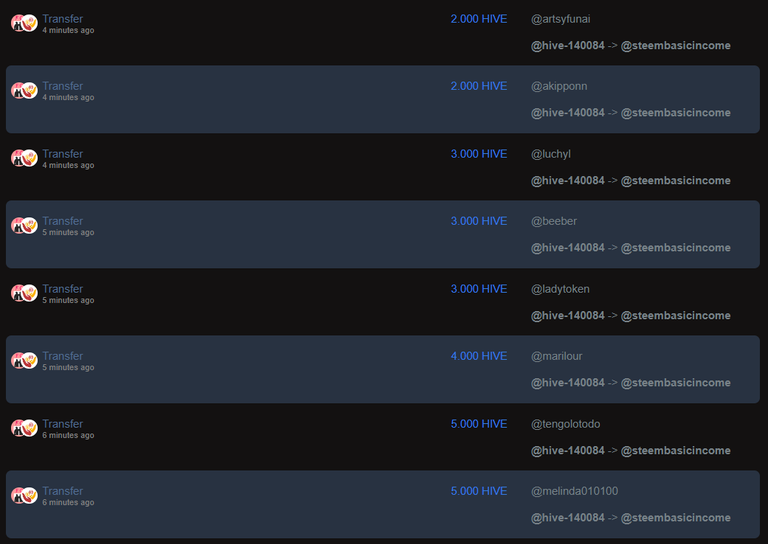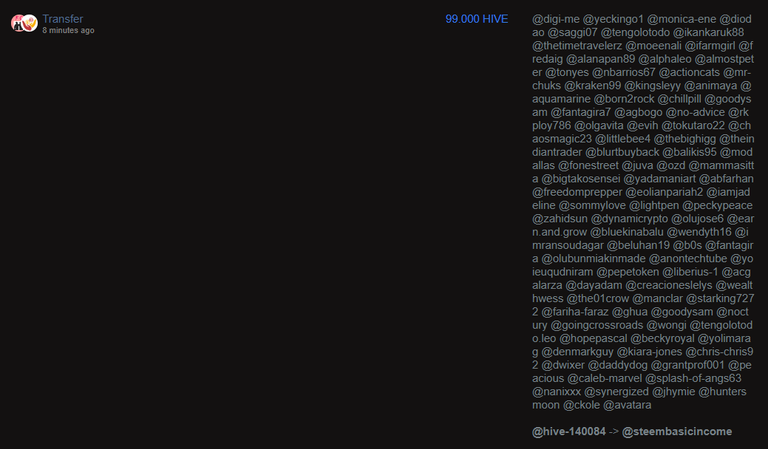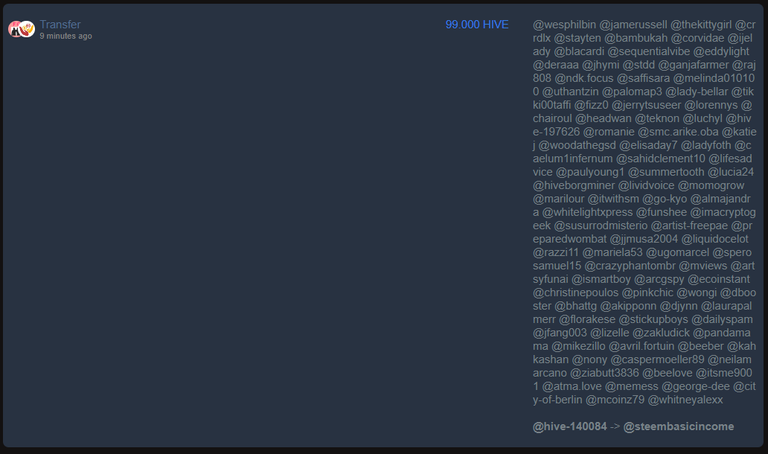 Mamma-mia! This is the first time that I had to split the monthly payment for all members into 2. The growth in this community has been absolutely spectacular.
I will mention that I rounded up on many of these rewards (i.e. someone with 5 comments or threads would be rounded up to 10 so they'd get 1 HSBI). This was not not only out of generosity, but due to a margin of error and appreciation of effort at contributing to the community.
Check if You've Been Rewarded Correctly!
We're all human here, and mistakes can happen. That's why it's best to double-check that you've been rewarded as promised.
The best way to check whether you received the rewards that you were due is to check up HSBI's website and input your username. You'll go here, enter your username, then click on transaction history, and finally on sponsored HSBI. Look for hive-140084 under "sponsor."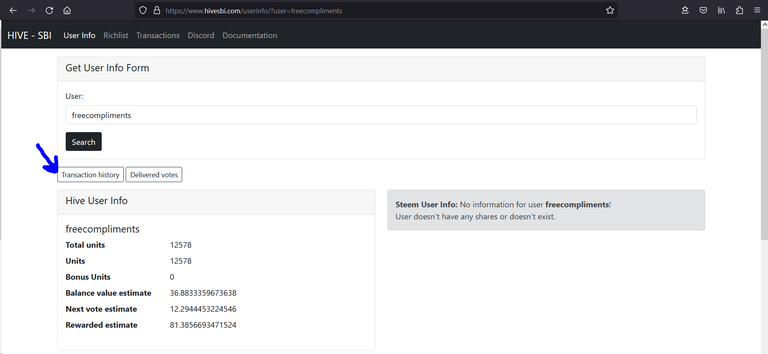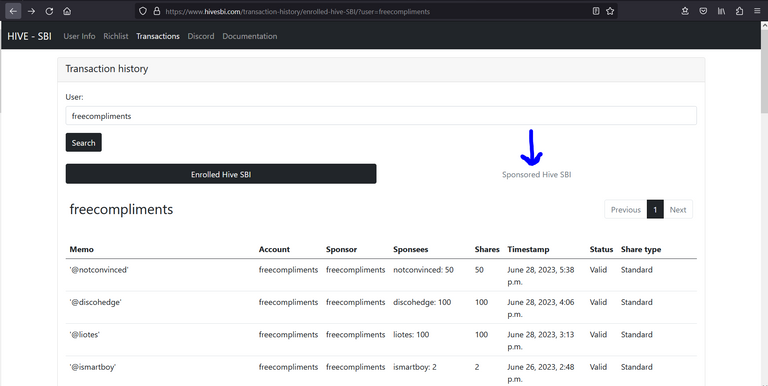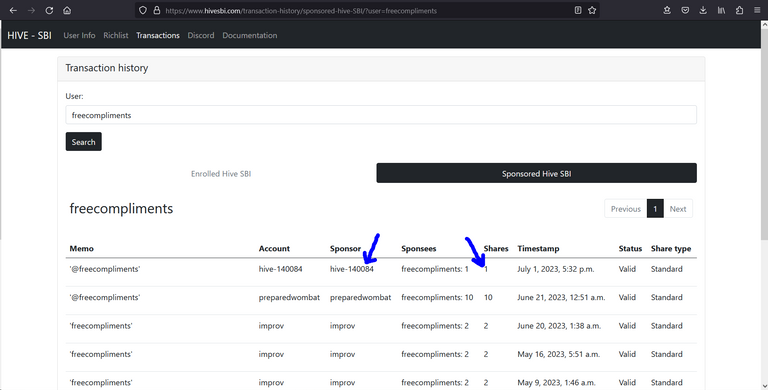 If I missed out sending you on any rewards, please let me know promptly so that I can correct it. It takes up to a day to process what I sent out, so if you don't see it by now, I'll send whatever you let me know is missing.
Curation Updates
We're gradually increasing our voting power, and some curation-related surprises are coming up (although you've already seen one of them floating around the community).
Future Contests!
Later next week, we're going to be introducing some contests to increase engagement soon. Stay tuned! We haven't forgotten about the post + compliment + non-compliment comment of the month contest, however. That's coming within the next few days, possibly even sooner.
Conclusion
We've completed HSBI Unit payouts for the third month, and are building up our curation power. There are more contests coming up, and our initiatives will continue to build over time. The community is growing wonderfully, and the foundations for its functionality have already been set in concrete. Once Hive as a whole has a resurgence of active membership, we're going to explode in activity, earn lucratively, and most importantly: spread joy far and wide!
---
Don't forget that if you add hive-140084 as a 10% beneficiary to your post, we'll give it a Boost of 150 Ecency Points (or more if the work is of very high quality!). This is a small incentive to help support our mutual growth.
---
Have I captured all of the rewards correctly? How else can we increase engagement within the community?
I would love to hear any and all opinions about these topics from everyone who is currently a member of FreeCompliments, since you're all inaugural members! Anyone else who finds this page is also very welcome to voice their opinion. We're all about free speech, and everyone's experience has value.
@wesphilbin @jamerussell @thekittygirl @crrdlx @stayten @bambukah @corvidae @ijelady @blacardi @sequentialvibe @eddylight @deraaa @jhymi @stdd @ganjafarmer @raj808 @ndk.focus @saffisara @melinda010100 @uthantzin @palomap3 @lady-bellar @tikki00taffi @fizz0 @jerrytsuseer @lorennys @chairoul @headwan @teknon @luchyl @hive-197626 @romanie @smc.arike.oba @katiej @woodathegsd @elisaday7 @ladyfoth @caelum1infernum @sahidclement10 @lifesadvice @paulyoung1 @summertooth @lucia24 @hiveborgminer @lividvoice @momogrow @marilour @itwithsm @go-kyo @almajandra @whitelightxpress @funshee @imacryptogeek @susurrodmisterio @artist-freepae @preparedwombat @jjmusa2004 @liquidocelot @razzi11 @mariela53 @ugomarcel @sperosamuel15 @crazyphantombr @mviews @artsyfunai @ismartboy @arcgspy @ecoinstant @christinepoulos @pinkchic @wongi @dbooster @bhattg @akipponn @djynn @laurapalmerr @florakese @stickupboys @dailyspam @jfang003 @lizelle @zakludick @pandamama @mikezillo @avril.fortuin @beeber @kahkashan @nony @caspermoeller89 @neilamarcano @ziabutt3836 @beelove @itsme9001 @atma.love @memess @george-dee @city-of-berlin @mcoinz79 @whitneyalexx @digi-me @yeckingo1 @monica-ene @diodao @saggi07 @tengolotodo @ikankaruk88 @thetimetravelerz @moeenali @ifarmgirl @fredaig @alanapan89 @alphaleo @almostpeter @tonyes @nbarrios67 @actioncats @mr-chuks @kraken99 @kingsleyy @animaya @aquamarine @born2rock @chillpill @goodysam @fantagira7 @agbogo @no-advice @rkploy786 @olgavita @evih @tokutaro22 @chaosmagic23 @littlebee4 @thebighigg @theindiantrader @blurtbuyback @balikis95 @modallas @fonestreet @juva @ozd @mammasitta @bigtakosensei @yadamaniart @abfarhan @freedomprepper @eolianpariah2 @iamjadeline @sommylove @lightpen @peckypeace @zahidsun @dynamicrypto @olujose6 @earn.and.grow @bluekinabalu @wendyth16 @imransoudagar @beluhan19 @b0s @fantagira @olubunmiakinmade @anontechtube @yoieuqudniram @pepetoken @liberius-1 @acgalarza @dayadam @creacioneslelys @wealthwess @the01crow @manclar @starking7272 @fariha-faraz @ghua @goodysam @noctury @goingcrossroads @wongi @tengolotodo.leo @hopepascal @beckyroyal @yolimarag @denmarkguy @kiara-jones @chris-chris92 @dwixer @daddydog @grantprof001 @peacious @caleb-marvel @splash-of-angs63 @nanixxx @synergized @jhymie @huntersmoon @ckole @avatara @simaroy @resiliencia
(If you were tagged, it's because you're an inaugural member – please let me know if you don't want to be tagged and I'll stop, pronto!)
More posts with further ideas incoming soon!
---
Disclaimer: FreeCompliments will be a beneficiary for this post, and I will attempt to boost it via Ecency points as well.
Here's a permanent invite link to the FreeCompliments Discord!